As you might recall I built a tray using a pallet this fall. Click
here
to read the post with the complete directions, because honestly now I can't remember exactly how I did it. 😉
About a month ago I got the a new Pottery Barn Catalog, and saw this tray in it. It made me realize my rustic tray could use a few improvements to really make it sing.
So I set out to add some more details to my pallet tray. An upgrade if you will.
I started by making a pilot hole about where I wanted the cut/notch to be, then attaching a hole cutter to my drill I made a big semi circle. (I'm pretty certain it's a door knob hole maker.)
When I finished with the hole cutter this is what it looked like.
I then took my jigsaw and cut the points off so that it was more smooth.
Next, I took a very deep breath and started on the handle holes. I really had no idea what I was doing or what I was going to end up with. I guess I should have done a little research. 😉
Here you will notice where I drew out the shape and made pilot holes.
Here's a lesson learned and a good tip. Make your pilot holes a little bigger, if possible with a larger bit and right at the edge of the round part of your handle. It's really hard to force the jigsaw into make that tight turn. If I had done this, I'm fairly certain I would have had more perfect looking handles holes.
But I'm really okay with it as it is, it's a rustic tray right?
Here are some finished photos. I'm still not 100% happy with the styling. It's a work in progress.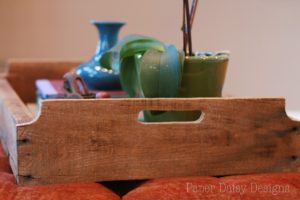 These simple updates definitely make it look more like a tray and less like a crate. 🙂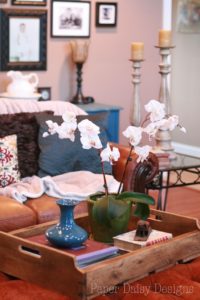 And I do hope to slip cover or reupholster this ottoman soon. I'm so over this color.
I loved being re-inspired to make an updated version of my free pallet tray! Palette Tray v2.0, pretty cool.
Sharing here.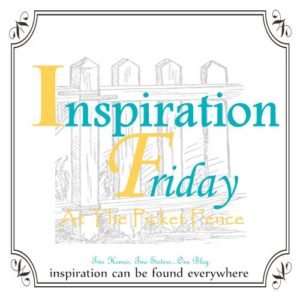 Honored to be featured here: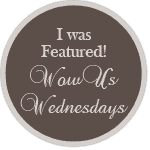 Thank you for subscribing to Paper Daisy Designs. Please continue reading on the blog. I appreciate having you as a reader.