rainy, cold, gloomy, surprising and thrilling!! The alarm went off at 5:30 Saturday morning and I quickly heard the pouring rain outside and thought to myself, why am I doing this? But as we got in the car, the rain let up and I thought all was going to be okay. By the time Richard dropped me off, it started to drizzle. I grabbed a poncho and waited for the start of the race.
Thankfully, there was a BBQ vendor who had set out a fire pit and I huddled around it with other racers. Just as the race was about to start, the rain stopped again and again I thought oh, just in time. I ditched the poncho and concentrated on stretching and listening intently for the start.
Finally, we were off and not 5 minutes into the race the rain started AGAIN and pretty much didn't stop through the whole thing. After a while though, it wasn't really an issue. I was drenched, but not really cold anymore.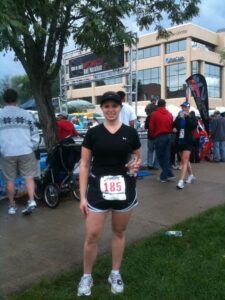 The surprising part was that I had forgot to factor in the switch back that was on the course map. It entailed going uphill about a quarter of a mile, running up a ramp, across a bridge that runs over the street and back down. That was probably the only time I really felt defeated. I had to stop and walk just a minute before I reached the top, but once I crossed the bridge I saw Richard, who was there volunteering, and I remembered the downhill drill I had learned and used momentum to pass every single one of those people who passed me while I was walking!! I was then pumped and ready to tackle the rest of the race!!
The second half of the race was on the trail and while it wasn't on an area I usually run, it felt familiar, although grey and kind of surreal. I just kept plugging along in the rain, trying to avoid as many puddles as possible. I had hoped to finish the 10 kilometers in about an hour and could tell my time was on track. I was thrilled to finish in 1:02!! I even finished 15th in my division!! (Sadly, I'm at the top end of my age division, but that made me even more proud really.)
Richard and I went back to the festival that night to listen to some bands and enjoy the BBQ. The rest of the weekend was pretty low key.
I finished up my freelance job today. It was great to use my creative efforts in something more formal. It was rewarding to complete a project and have clients that were really happy with the final product.
I do have this layout to share. It's a tribute to my friend Dana. Man, I miss her. Life has dealt her an unexpected hand right now and has interrupted our daily phone conversation routine!! She can't wait to get her old life back and I can't either!!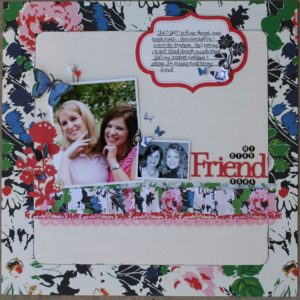 Thank you for subscribing to Paper Daisy Designs. Please continue reading on the blog. I appreciate having you as a reader.