Well, tomorrow is my 10k. I thought I was ready, but I went for a short run on Wednesday and came home defeated! My goal was to run all the hills in the neighborhood. I started out way too fast and came home with a hurting shin. (I refuse to call it shin splints at this point, maybe I'm just in denial.) Hoping taking a few days off and reminding myself to start slow will work for the run tomorrow.
I have been busy with work, Yes, you read correctly I said work. I have refused to really pursue my freelance graphic design business since we moved here, because it seems like every time I get a few clients we up and move. I had decided that if I was going to do any work, it would just have to drop out of the sky. 🙂 Well, low and behold, a little project came my way. Before I started, I was worrying, do I still have it in me? But, once I got to work, everything started to flow and I remembered why I loved this job! Now, I'm waiting to see what the client thinks. 🙂
Here's a page I created over the last few days. It was definitely done in the style of a minute or two here, a minute or two there. The September Studio Calico kit had a "B" side of paper with these funny dogs and I just couldn't resist creating a layout about Tucker, our goldendoodle. I'm always asking Tucker, "Who's a good boy?" And he is for the most part. 🙂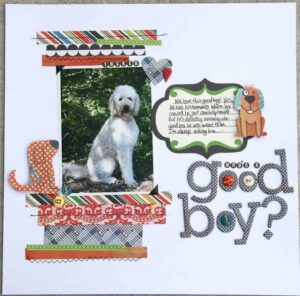 Thank you for subscribing to Paper Daisy Designs. Please continue reading on the blog. I appreciate having you as a reader.