Well, Happy Spring everyone! I did not intend to take such a spring break from the blog. I've been as busy as this little bee, that's for sure.
Days just slipped by and before I knew it I had totally gotten out of the rhythm of posting.
Not that I don't have loads to still share. I've been busy working on some of projects in the garage with the warmer weather. Yea, for heading back into the old garage and getting paint all over!
I even tackled a really big project, so big I had to include several helpers! I'll share photos soon. All pieces are in place, but still some decorating to do. 😉
And since Easter Sunday is fast approaching here is my Easter mantle. (Put up several weeks ago. I do love it.)
I'm still working with the palette backdrop from the fall, which provided the perfect place to hang my iron cross. The bunnies you see here used to brown. They were always cute, but with the brown walls they just kind of disappeared. So I painted them Old White and then hit them with this fabulous product.
This has been my "go to" finish on accessories for quite a while now.
Looks like ceramic, huh? I just adore the finished results and these bunnies now!
So there you have it. Just a little peek at what I've been up to. I promise to return soon. I will admit that March turned out to be a great month for my new little business I mentioned in my last post! I know that had a lot to do with my absence. It was great fun too!
Sharing here:
Lines Across my Face
Creative Crafts
BlackBerry Vine
Coastal Charm
Jennifer Rizzo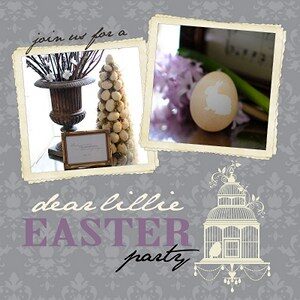 Thank you for subscribing to Paper Daisy Designs. Please continue reading on the blog. I appreciate having you as a reader.