When life gets too crazy to handle, the blog is one of the things that can just wait.
Yesterday, I had about 20 women at my house for a meeting. Which means that right after spring break I was deep into re-decorating and then deep cleaning the house. So glad it's over and everything was lovely. (It's amazing what you can do with $25 worth of flowers from Wal-Mart. I now get to bask in a perfectly clean house. Now that's a sweet reward. 🙂
I'm making this post short today. I still have a mountain of clean clothes to fold and other things on my to-do list that need attention.
I thought I'd share at one of my favorite photos. Pioneer Woman's readers are sharing their "brother" photos and I immediately thought of this one.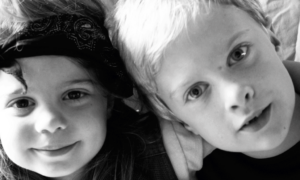 Technically, it's not great. It was taken with my first digital camera, a PowerShot G2. It was really quite an accident photo. The kids were busy playing and my sister was coming over with her new baby. I wanted to check the lighting in this spot, so I asked them to sit by the window and let me take a few shots.
She loved her big brother like no one else, (and even though they are different now and are growing up, I know she still loves him.) I love how she's wearing her pirate bandana and how she has her arm around him.
I'm tearing up now writing this. I miss these little people. This is definitely an age I'd like to go back to. Such laughter and fun and make believe. It was indeed magical.
I'll try and collect myself now. 🙂
Be back tomorrow to share some fun stuff from spring break and a project
Thank you for subscribing to Paper Daisy Designs. Please continue reading on the blog. I appreciate having you as a reader.