I have been promising to post the big reveal on the Media Room for quite awhile. Well, today I'm almost making good on that promise. 🙂
Whenever I watch a room makeover on TV, I'm always fascinated with the complete transformation and the peek into the behind the scenes of a room redo.
This fall we started the transformation of this room from Play Room to Media Room. Initially, this room was a play room for our kids.
After they stopped "playing" in the room, they pretty much just watched television on this small loveseat, but really only one person could sit comfortably. Two if you wanted to be cozy. 😉 And while Miles and Emily get along fine, teenage siblings aren't really into being cozy.
It was obvious that the room needed to be more functional. While we have a living room downstairs, with a television, there aren't enough kick back and relax seats in that room. We needed a room where we could watch television comfortably as a family, a fun room for teenagers, girls mostly, to hang out for sleep overs and a happy space for game nights etc.
To design this room, I used my good friend Pinterest to create a design board. I started with a color palette that was fun and bright. Of course, just painting over that brown color with a nice light neutral was a great place to start.
Next, I found fabrics that were fun and hip and worked with the chosen color palette and pinned them to my board.
It was so helpful to have these images handy. I could easily pull the board up on my phone and curate ideas. All of the patterned fabrics were purchased online, so it was a good place to see them all together before I actually ordered them.
Some of ideas I collected made it to the final design, some are still in consideration for one spot in the room that needs a little something.
Here's a peek at the side. I love that still feels playful to me. I think you can see how the board is reflected in the room.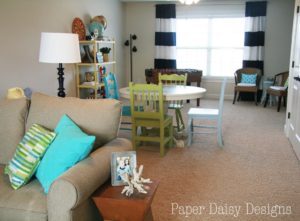 The sectional was the only big ticket item in the room. But actually, it only cost me in my time because I bartered services/products with a decorator friend of mine. I painted and refinished her dinning room furniture (another reveal to come) and she purchased the sectional. A win, win for both of us. 🙂 The rest of the room was done on a tight budget. Lots of thrifting and mini makeovers.
Lots of great tips and tutorials to follow on all the little details in the room! I'll be back tomorrow to share more.
Sharing Here:
Wow Us Wednesday @Savvy Southern Style
Show Off +DIY Show Off
Hooking up @House of Hepworths
Shabbilicious Friday @Shabby Art Boutique
Thank you for subscribing to Paper Daisy Designs. Please continue reading on the blog. I appreciate having you as a reader.