So the last two weeks Richard was out of town, and boy did we miss him. The hardest part of him being gone for me, was it left me doing all of the carpooling and dishes, which I despise, but over the two weeks I tried to come to grips with my issues 😉 Regardless, I was feeling very scattered and too busy for my comfort level. There never seem to be time to focus on a task and complete it.
Anyway, because I was out and about so much I made a few trips to Target. On one of my trips (I did make lots of returns too), I found a solution to my marker storage problems. What I had been using, a metal tea tin turned sideways had never really worked well. The pens were too deep into the container and it was really just a hassle to get the right pen out.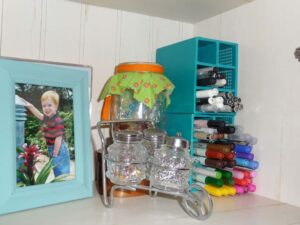 I found this basic pencil holder by Real Simple and because the little cells are tall, it still works great turned on it's side. I thought I'd share this little tip, as there may be someone else looking for a good way to store markers. I know I had been on a hunt for a couple months.
I have a project on my table I had hoped to finish yesterday, but darn the luck if the printer decided it would print not another page without a light cyan cartridge. And of course, the replacement cartridge I had on hand was black! So maybe to day I'll get it done.
This weekend was rainy and just yuck, but Richard and I had two weeks of our TV shows to watch. Namely, LOST! Oh man, it's getting good and what a relief to finally get some things sorted out about that show. Emily is so excited it's almost over. She says we listen to it too loudly and it keeps her up on Tuesday nights. lol
I do hope to participate in Ali Edward's Week in the Life, but obviously it would have been missing someone very important if I did it last week. Maybe next week will feel right. I did the documenting part last year, but I never put the album together. Need to get on that too!
I should go run, but it's cold and dreary. But at least it has stopped raining. We'll see if my Thai chai tea will warm me up enough this morning to get me out the door!
Thank you for subscribing to Paper Daisy Designs. Please continue reading on the blog. I appreciate having you as a reader.