So, I ended my last post with a teaser of a really sweet story to tell.
While we were walking around the botanical gardens this weekend, there were times we were just kind of scattered around. I was usually behind the rest of my crew, stopping often to take photos. At one point, I was standing on a little bridge to take a photo of a small waterfall. Miles came up behind me and said "Let's have a Pooh sticks race." It took a minute for my brain to process what he was saying because it's not often that a 14 year old brings up Winnie the Pooh. Once I "got it," I immediately gave him a huge hug and was rushed with the realization that my sweet little boy is still inside that growing, taller than me, body.
I loved that he remembered the sweet stories we read about my favorite character, Winnie the Pooh. My heart just melted and filled with such tenderness. He is indeed the sweetest boy I've ever known.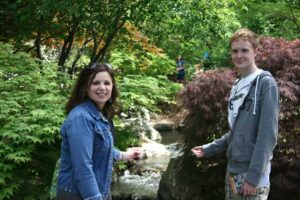 I called out to Richard to come and take our photo so we could capture this story in a photograph.
We each found a stick and dropped it on one side of the bridge and rushed to the other side to watch it come out. Unfortunately for us, their must have been a lot of rocks under the bridge because our sticks never came out. While it would have been fun to live out this little Pooh adventure, it was just such a great little moment we shared. There are times when I so miss that little boy who would crawl on my lap and I would read stories to or just come up and give me big hugs. This incident reminded me that little boy is still there covered in a teenage exterior. And, oh how I love him. (I do still get hugs occasionally from him now, but it's a little strange to have your boy bending over to hug you.)
And because I just can't help myself here are a few more of flower shots from the day.
Thank you for subscribing to Paper Daisy Designs. Please continue reading on the blog. I appreciate having you as a reader.