On a recent hot summer day I created this GCD Studios project for my daughter. I can't think of a better way to spend a scorcher of a day than inside creating!
We redecorated her bathroom recently and she needed some new artwork to coordinate. The colors in the room now are bright and cheerful, but are unique hues of orange, green and aqua. So, custom art was the perfect option.
I started with a 10×20 canvas and painted the background aqua. (I created suitable match by mixing two shades of aqua I had on hand.)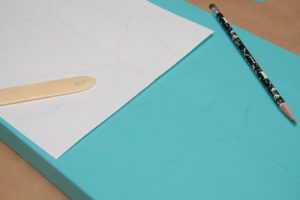 Next, I drew a basic tree with branches to scale on my computer and printed it out. I traced over the tree lines with pencil rather heavily. I turned the paper over and used a bone folder to rub the lead onto the canvas. Once those rough lines were there to guide me in painting my tree, I felt much more comfortable tackling hand painting the tree.
Once the paint was dry, I glued leaves leaves I hand-cut from various printed papers from GCD Studios that matched the shower curtain and towels in the room.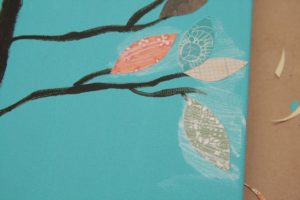 I also found the cutest little bird to perch on the tree from the large collection of chip art from GCD Studios. I painted the bird brown and glued him down with liquid glue.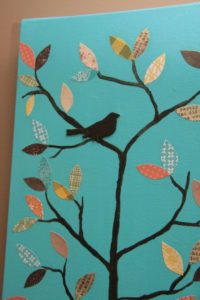 I used Matte Mod Podge as the glue for the leaves and finishing coat to protect the art. I may decide to spray with a clear coat finish since she is known to take really, really long showers. 🙂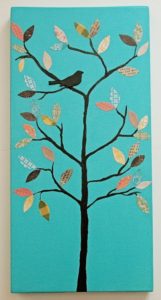 Don't hesitate to turn to your scrapbook supplies to create your own masterpiece for your home. My daughter loves her new artwork and so do I. 🙂
Thank you for subscribing to Paper Daisy Designs. Please continue reading on the blog. I appreciate having you as a reader.