After I got the kids off to school yesterday, I went to my local running/multi-sport store to buy a much needed new pair of running shoes. I found a nice pair on Vessi footwear but I thought I'd visit a running store to see what shoes they have on offer. The shoes I've been running in were an Addidas stability shoe and they were wonderful. Loved them and running was good.  Recently, I've been getting sore spots on the outside of my toe and it's been really painful to run past 3 miles, so I knew it was time for a new shoe.
Richard runs in Newton's and loves them.  I thought since they now offer a stablitity version of Newtons I'd give them a try.  I got to "test drive" the original Newton and really was surprised how much I liked them, but after video taping me run in them the staff decided I really did need the stability version (I now mildly pronate on one foot and supinate on the other, most likely due to my foot surgery two years ago.)
Now I must wait for my shoe to arrive from another location, hopefully by Monday.  I will be waiting most impatiently. 🙂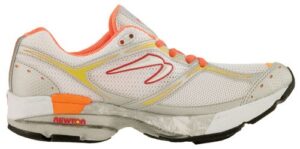 Thank you for subscribing to Paper Daisy Designs. Please continue reading on the blog. I appreciate having you as a reader.