Sorry I've been a little absent recently. Life is good and full.
Today I'm sharing some scrapbook love!
This layout is a celebration of our 20th wedding anniversary. It was a special day for us and it was made even more special when my dear husband came home with 2 dozen roses! This coming from a man who rarely buys flowers. He's just too practical to buy something that is only going to last a couple days. I guess I need to teach him how to make paper roses and then they will last forever.
So in honor of those beautiful roses and our special day I created this a layout using the GCD Studios Splendor Line. It's so romantic and lovely.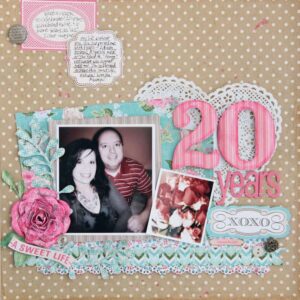 Here is a close up.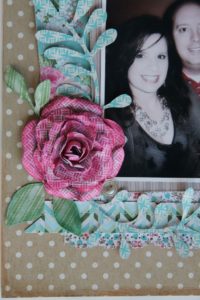 To create the rose, I started by die cutting flower parts. I'm sure there are lots of shapes that would work. Generally, rose patterns you find use a heart shaped edge. These are the parts I chose to work with.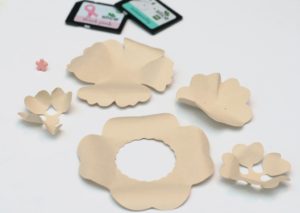 You'll notice that I cut one of the heart shapes off the left flower. That allowed me to close it in tightly to form the center of the rose.
Then I began water coloring. I used water soluble oil pastels, but any water color media would work. I like to use the oil pastel crayons because you can wet the crayon and drag it along the edge of what you want to color. Like this.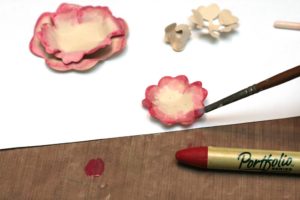 Then I blend the edges with a damp brush. Sometimes, I create a little puddle of paint on my plastic craft matte and add a little more color.
After I finish painting the edges, I carefully rolled the edges round a thin tool. I use a handle of a distressing tool, but a small paint brush edge would work too.
You want to take a little care here because the paper is rather delicate because it's wet.
I continue to shape it until it's dry. I also found that I needed to add a little glue to the inside edges of the middle to make them stay closed the way I wanted.
Here's another look at the final rose I created with the Splendor patterned paper. I like the depth the pattered paper added.
For the 20 in the title, I cut a similar color paper from the collection and painted the edges. When the edges began to curl, I exaggerated that curl and let them dry to that shape. I love the dimension that created.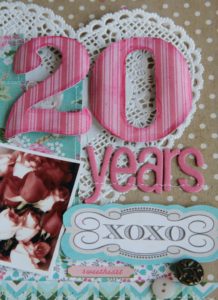 Here's another look at the final layout.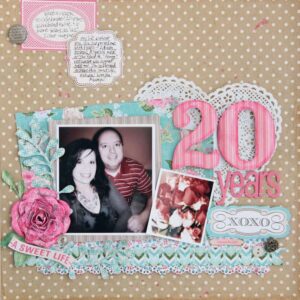 Supplies: Patterned papers: GCD Studios Splendor Collection, Water Soluble Oil Pastels: Portfolio Series, Die Cut Machine: Slice; Noteworthy, Think Pink &Vintage Findings cards, Stamp: Making Memories, Chipboard letters: American Crafts, Sticker: Studio Calico, Brad: Crate Paper.
Thank you for subscribing to Paper Daisy Designs. Please continue reading on the blog. I appreciate having you as a reader.