I mentioned last post that I was working on a few furniture painting projects and how I needed to get through "cue" of furniture before I could buy another piece. 🙂
I used Annie Sloan's chalk paint in Old White. Just like everyone in the DIY decorating blogo-sphere, I Love this paint. No sanding or priming needed. Just finish with a couple coats of wax after painting and your good! Here's a link to a giveaway to a complete starter kit.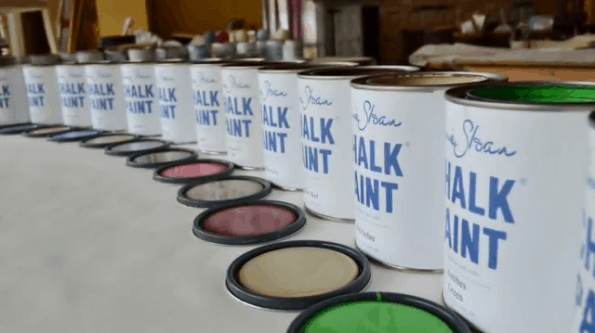 This desk has been sitting in the garage since probably May. Unfortunately, I don't have a before photo, but I can promise you it was in terrible condition. The paint was peeling on the legs and it was not very attractive, but I loved the shape and the size was right.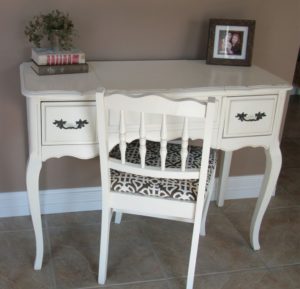 Initially, I wanted to keep the chippy finish on the original hardware, but once I had picked out a more modern fabric for the seat, I thought the hardware should be updated with an oil rubbed bronze finish.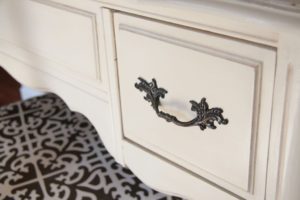 I used oil rubbed bronze paint from Rustoleum and then hit the edges with some bronze rub and buff. I finished it off with a spray clear coat to seal the rub and buff.
I used 2 coats of Johnson's wax on top of the chalk paint. It went on very easily since it was hot in my garage where I was working. It does have a slight yellow hue, but not enough to make me unhappy with the finished color.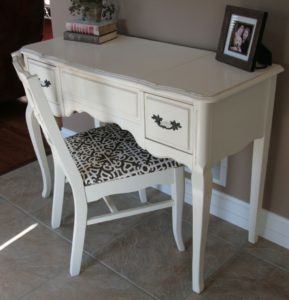 The desk now provides a functinal use of this pass through area. Previously I had a sitting area with two chairs, which pretty much was just used Emily's backpack holder. We are loving this new space!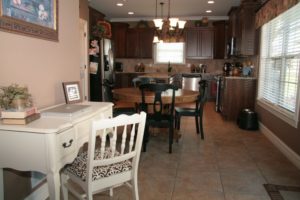 Here's a sneak peek at the next project to get finished. It's in place and just waiting for a final buffing.
Off to go rub this baby down and load her up with craft supplies in my studio. 🙂
Thank you for subscribing to Paper Daisy Designs. Please continue reading on the blog. I appreciate having you as a reader.