A friend of mine I hadn't seen in a while asked me what I'd been up to, "Have you been doing any scrapbooking lately?" I replied, "No, not in the last week, but we've been landscaping the backyard." Her reply, "In this heat? You need to be inside scrapbooking!"
And she was right, July is probably not the best time to build a small retaining wall around your back patio, plant huge trees, and move a bunch of dirt around, but that's what we've been doing. For the last few days though, I've just been planting a little here and there. I've been waiting until almost dusk to go out in the yard.
We still have to level the three walkways and add pea gravel in between the stones. Here's a peek at it almost done.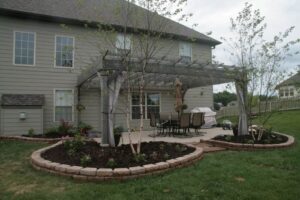 Despite how the trees look in the photo, they are doing good. The big one on the left was a little bare at eye level when we purchased it because of how close the trees were together at the nursery.
See, here's some new growth. 🙂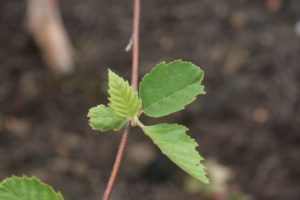 It's also not really the best time to buy plants because selection at the garden centers are pretty slim, but the prices sure are good, almost all the flowers I've bought have been on sale.
I was thrilled to find a crepe myrtle bush that is hardy for Missouri. Well, it may not be a bush forever, it might be a small tree. Either way, it reminds me of Louisiana and it makes me very happy.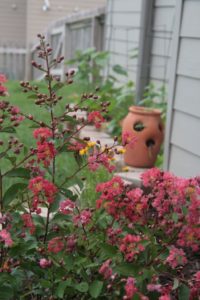 These flowers are making me happy too.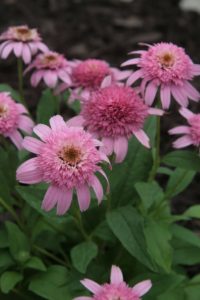 For the spring, I planted some white Rhododendrons, which I've never grown before. I have big plans to plant a slew of daffodils around the trees this fall.
I've also been working on a furniture painting project. I really thought I had a before photo, but sadly, I can't find it.
I must admit freely that I have become a Craig's list furniture junky. I have another piece I really want to buy right now, but Richard says I have to clean out my inventory first. ha ha!
Yes, it is that bad. Behind this desk "in my cue" is a dresser for my studio and an outdoor bench that used to be in our front yard, but once I get it repainted we'll move it to the back. (That reminds me, I need to buy paint, that's why I haven't done it yet.) Needless to say, our garage is a little too full of furniture for me to buy another piece. I am motivated now though, because I really have my heart set on this piece.
Well, time to put another coat of wax on my desk and the chair. Hopefully I can share it tomorrow? (And then I'll go back to the California trip.) 🙂
Thank you for subscribing to Paper Daisy Designs. Please continue reading on the blog. I appreciate having you as a reader.