I don't know about you, but I just love going to open houses and this event is like an open house for neighborhoods.  One of my favorite aspects of open houses is to peeking into homes and checking out each builder's take on the latest home design trends.  Of course, when I stumble upon a staged home, tastefully decorated and set for specifically for showcasing and selling I'm sure to come away with a great idea or two that make our own home feel more welcoming and inviting.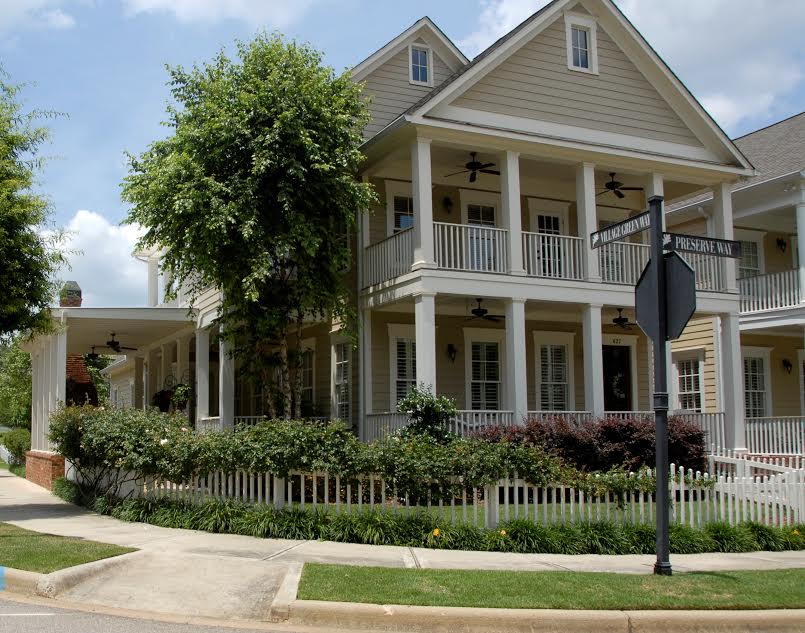 This fall I was invited to be a member of the B-Metro Blog team, showcasing neighborhoods in my community. I visited 3 of those neighborhoods and photographed some amazingly beautiful homes, most staged to perfection.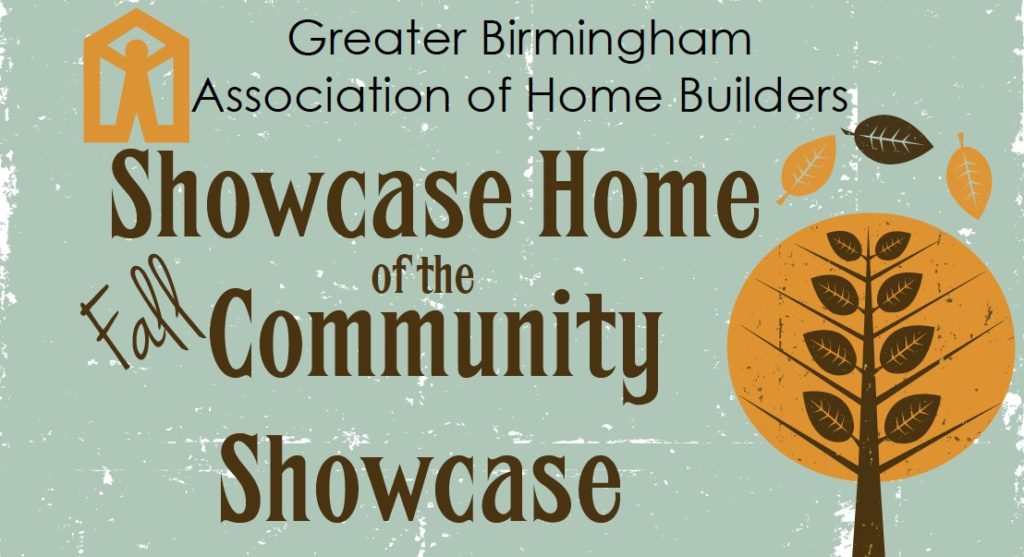 Each of these homes were part of the annual Fall Community Showcase hosted by the Greater Birmingham Association of Home Builders.
If you are local and didn't get a chance to explore the lovely neighborhoods in our area, the event continues this coming weekend,
October 17-18, Saturday 10am-6pm and Sunday 1-6pm.
There are 13 neighborhoods included in the showcase, so there's still much more to see than what I've featured here.So, today I invite you to come along with me as we explore some neighborhoods in my area.
The first stop on the tour was a neighborhood that quickly became one of my favorites when we moved here about a year ago.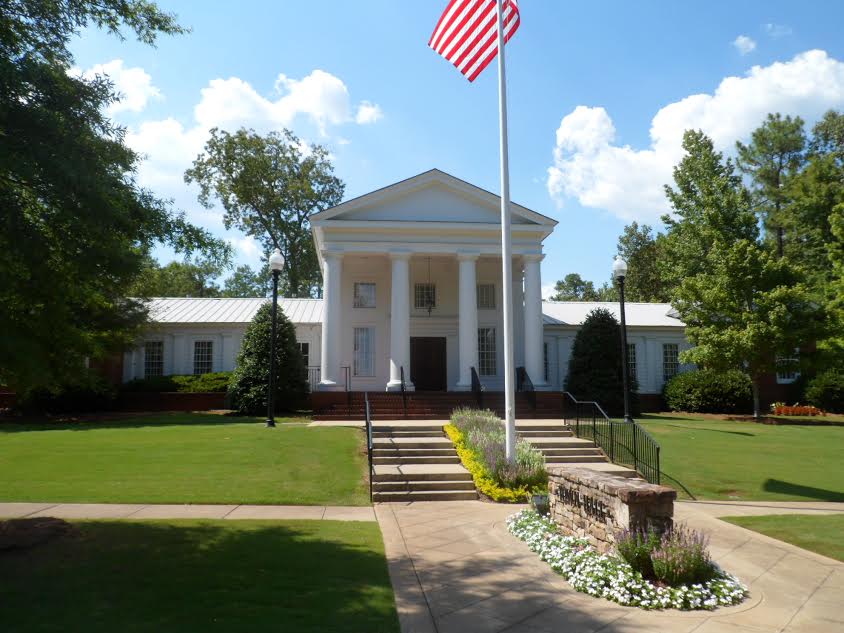 The Preserve in Hoover, Alabama, is a charming, historically inspired neighborhood, a hidden treasure nestled right next to Moss Rock Nature Preserve.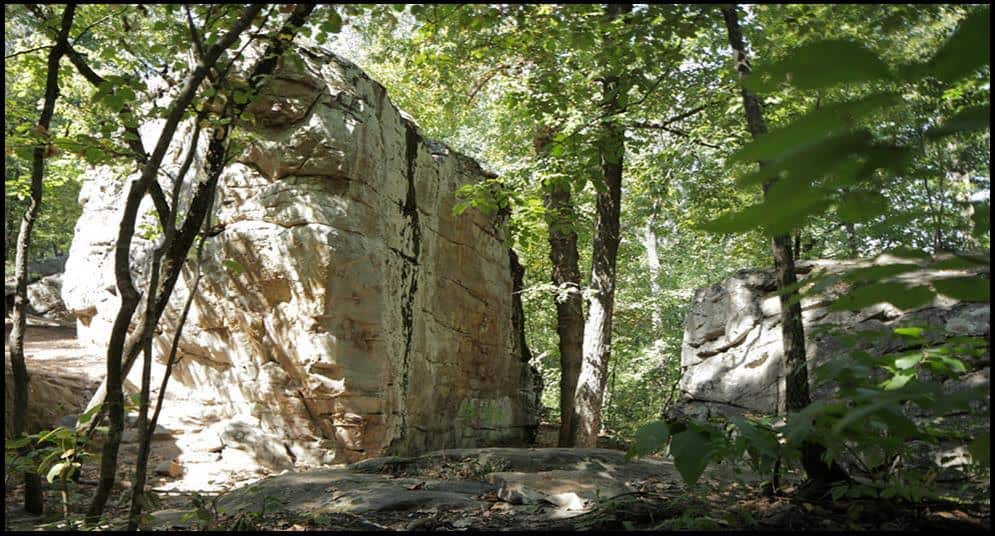 With 5 parks within walking distance of any home and the Moss Rock Preserve, there's plenty for nature lovers to enjoy here. It's kind of like being on vacation with your neighbors – who all live in classic American historical architecture.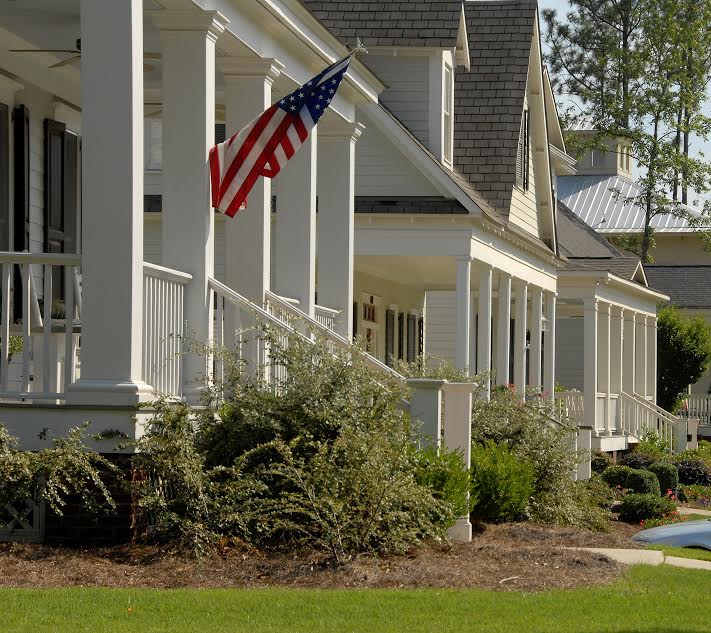 Let's have a look inside this spacious, new American traditional home open for Fall Community Showcase tour.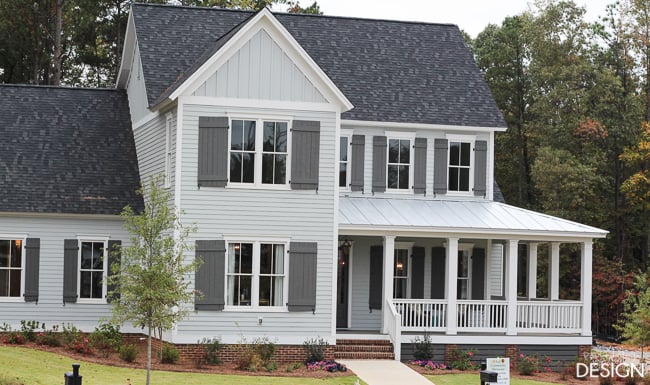 I'll try to leave you to enjoy these lovely spaces and just point out my favorite features as we go.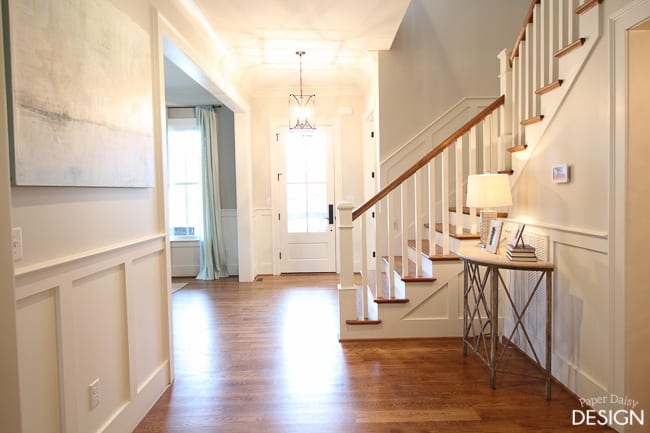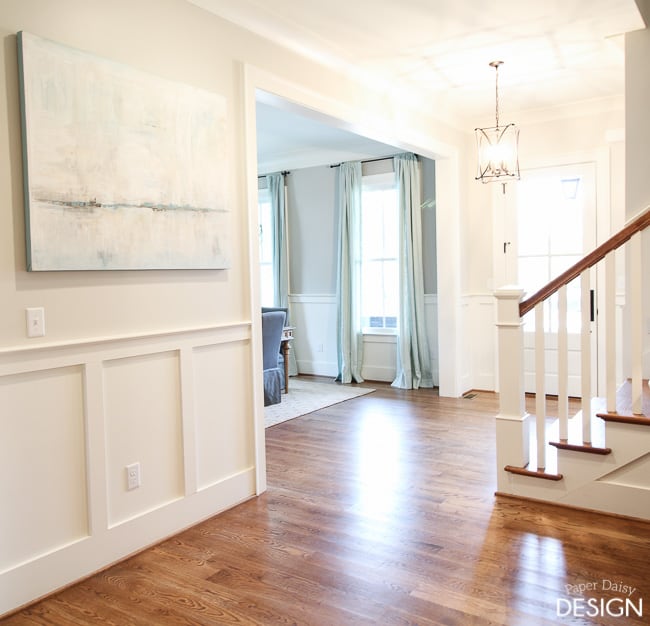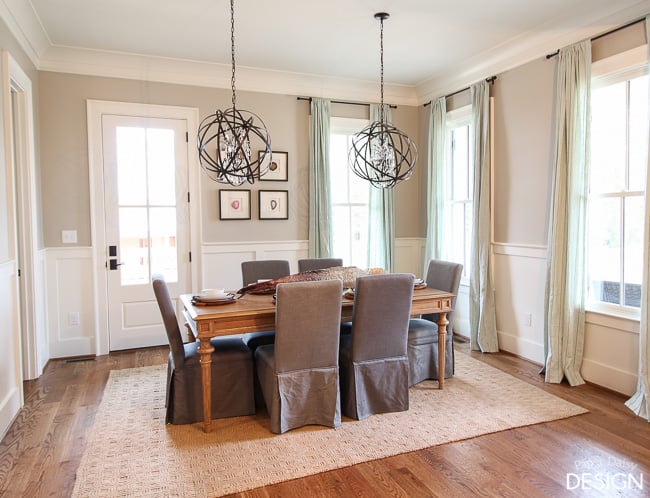 You'll notice here in the dining room, there is a door that leads out to the wrap around porch.  What a gracious way to encourage guests meander to the outside during a party.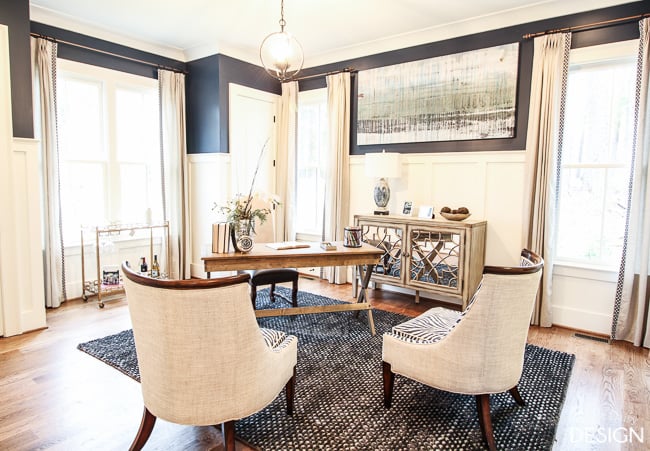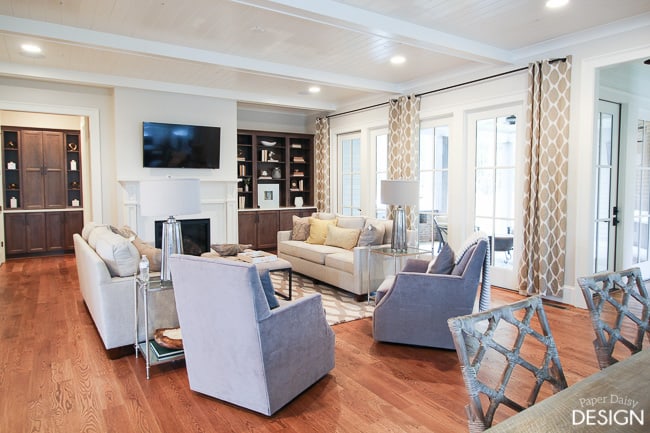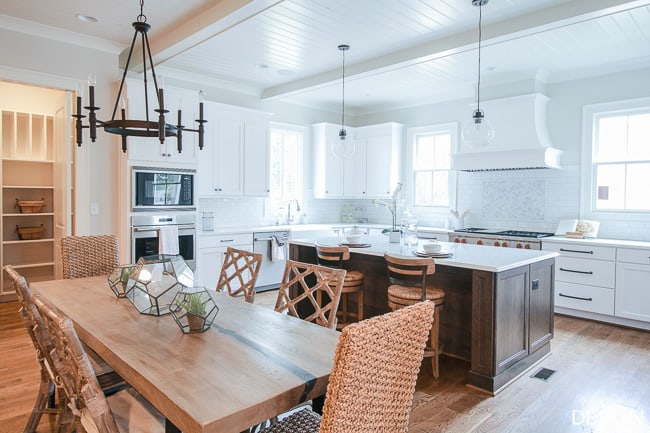 Y'all know I adore white kitchens and this one is just divine with an elegantly finished dark wood island. It brings a wonderful warmth to an all white kitchen.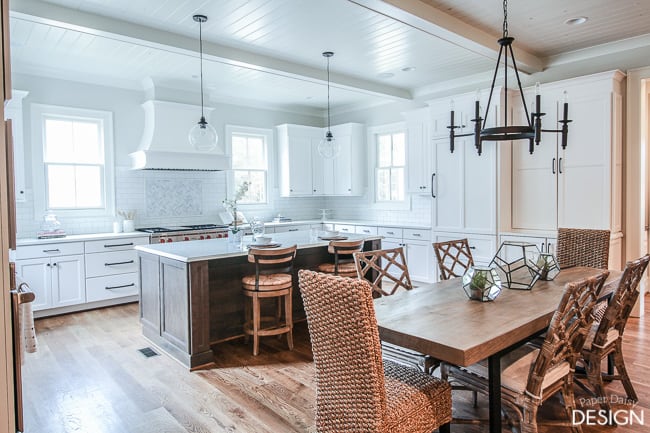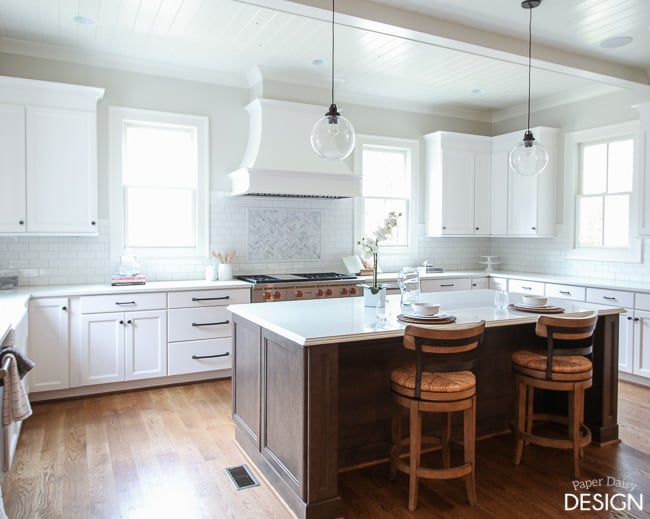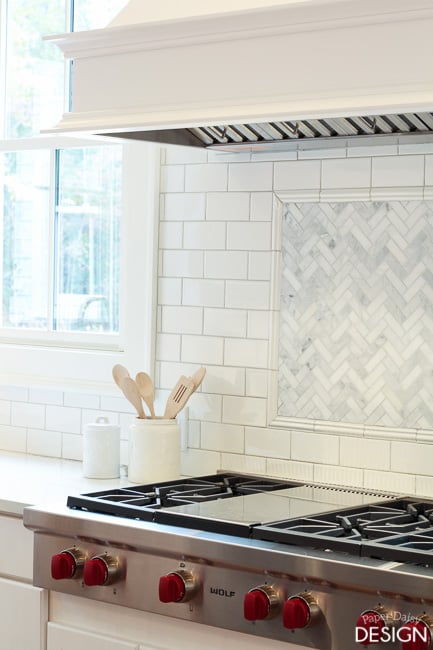 Classic subway tile with just a hint of marble chevron. This classic understated look is refined and sophisticated.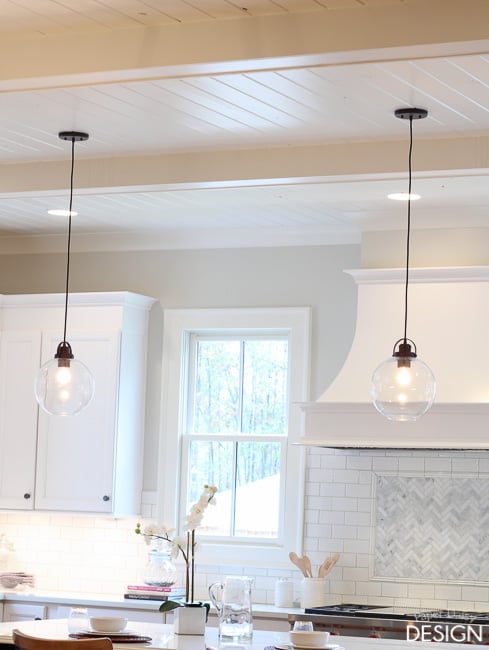 The beams and planked ceiling add architectural character, texture and charm.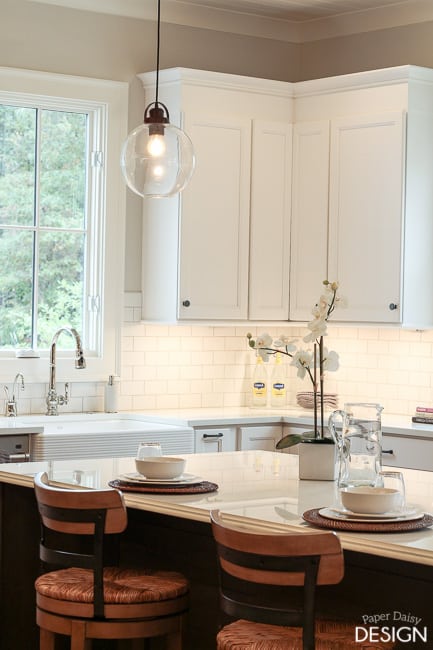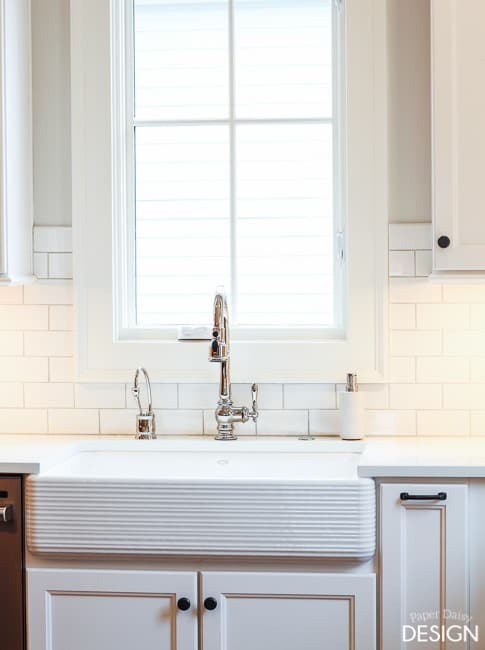 Who wouldn't love this spacious pantry?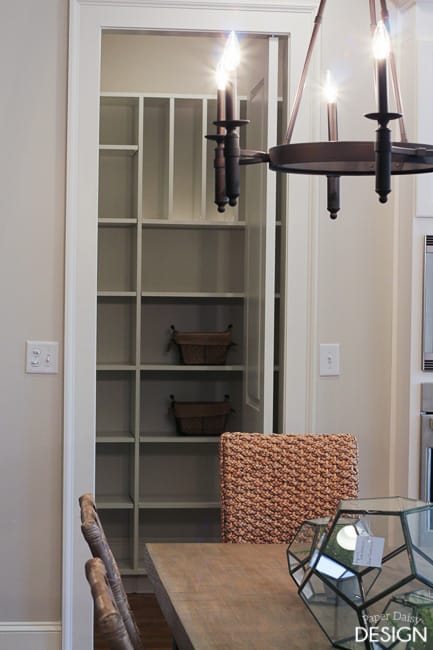 The sizable master bedroom offered a quiet sanctuary for future owners.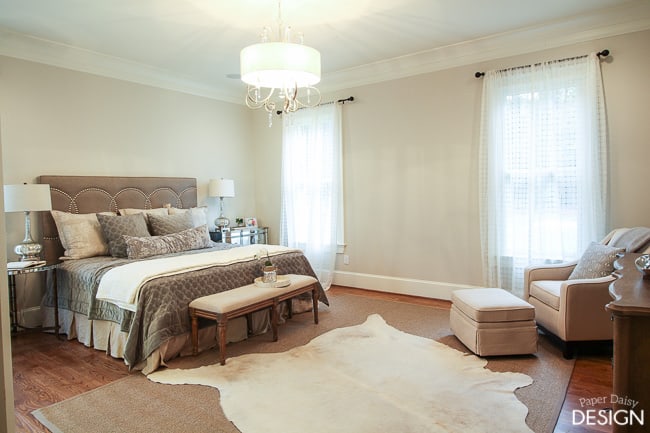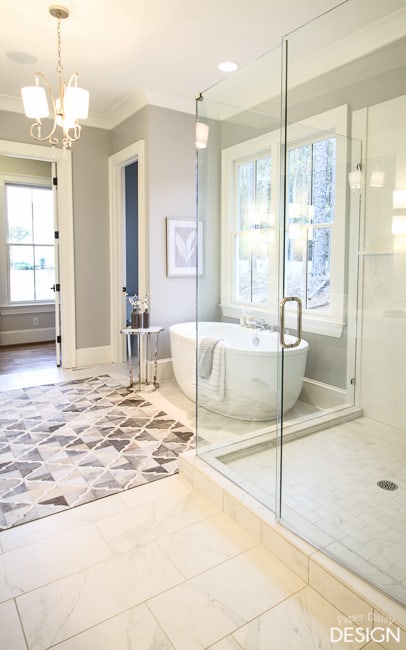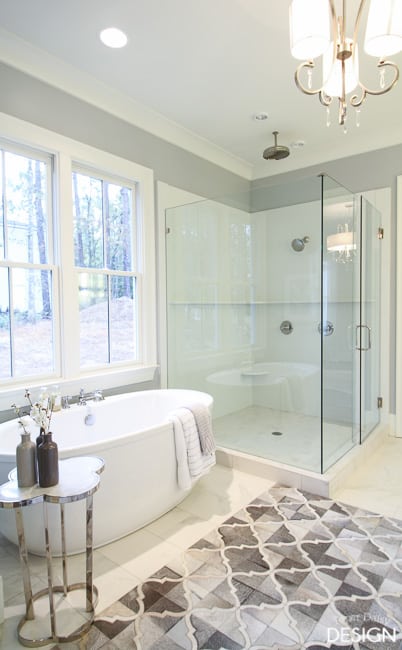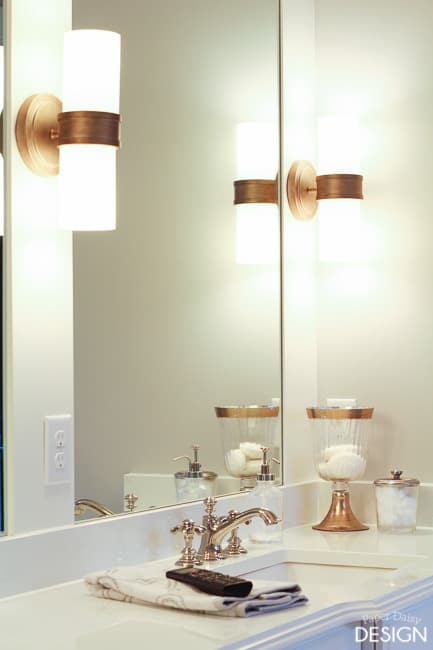 The luxurious combo of high-end chrome finishes and brushed gold in the master bathroom creates a striking contrast, and yet, it is balanced. The closet was a generously large and perfectly planned for optimal storage as well. I was pretty taken by the finish and hardware on the cabinetry in the closet.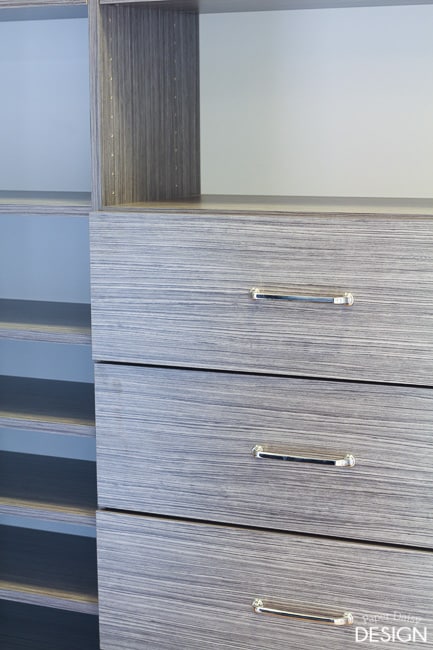 The living room overlooks an irresitable outdoor space.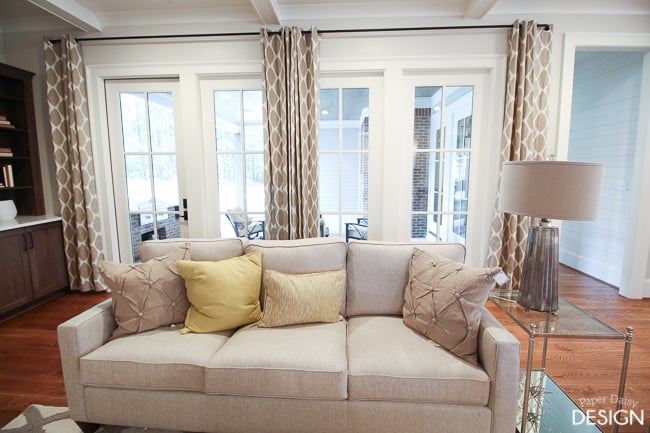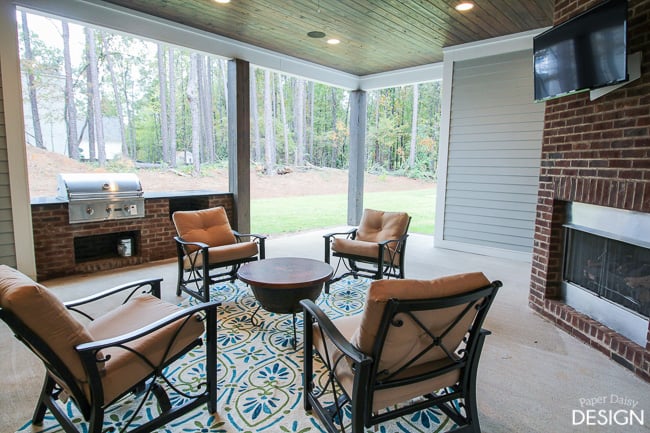 Down this beautiful planked hallway is a small dedicated office space perfect for keeping a family organized.  There is also a laundry room fitted with a drop zone.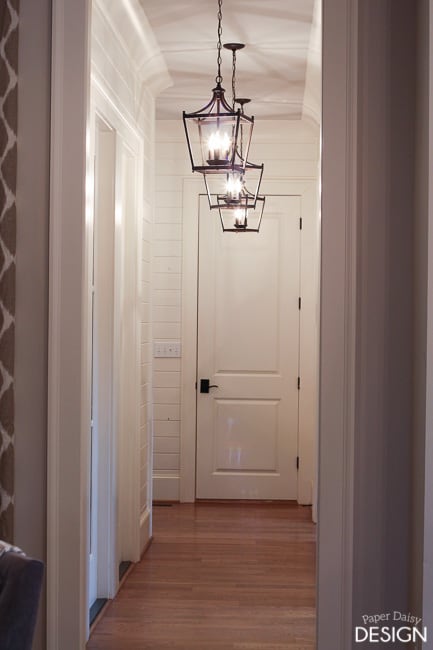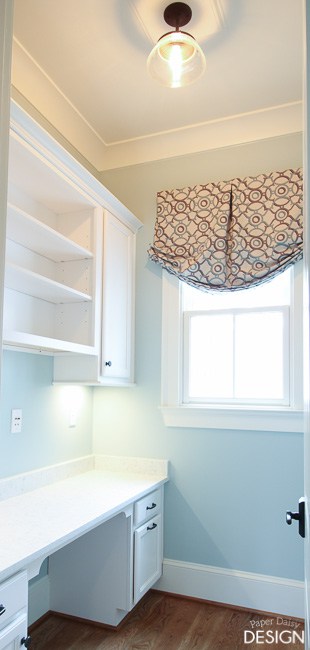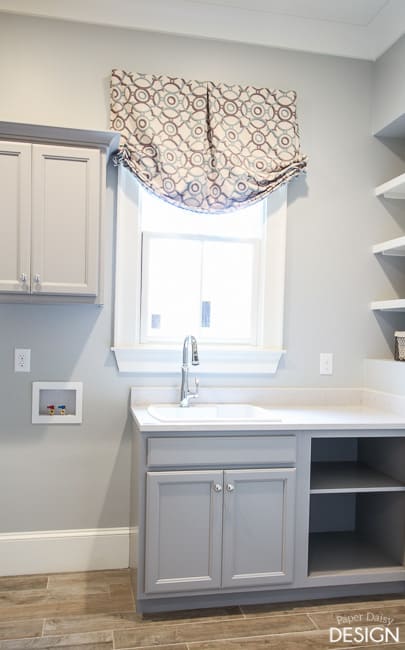 Home Design by Frusterio Design, Inc. and built by Fowler Custom Homes.
Then it was off to Hillsboro, in the heart of Helena, Alabama, which is also a planned community with an attractive porch lined parkway.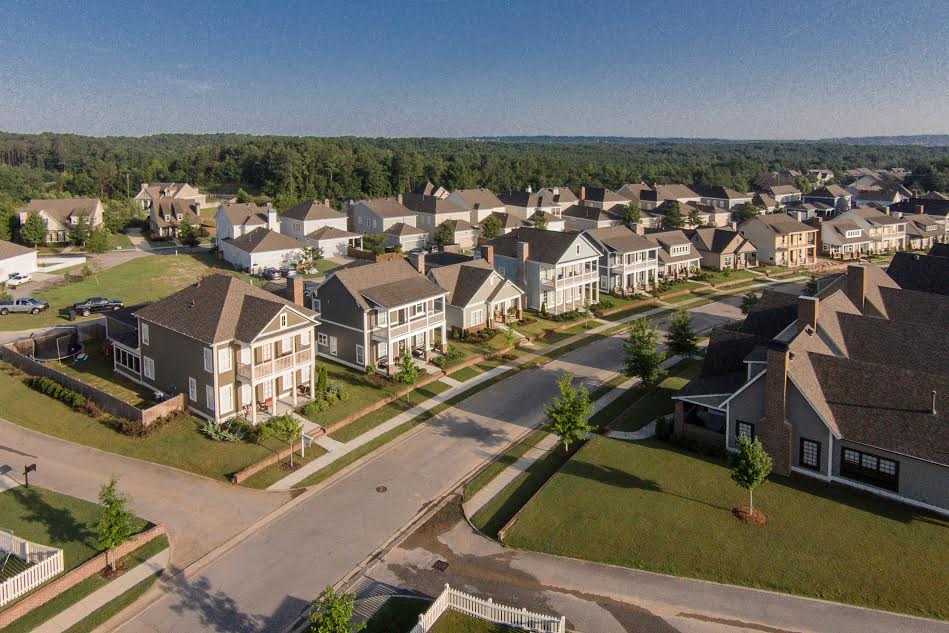 The neighborhood hosts community wide events in order to bring about a revival in the "American Dream" lifestyle where neighbors are friends and interaction with families is commonplace.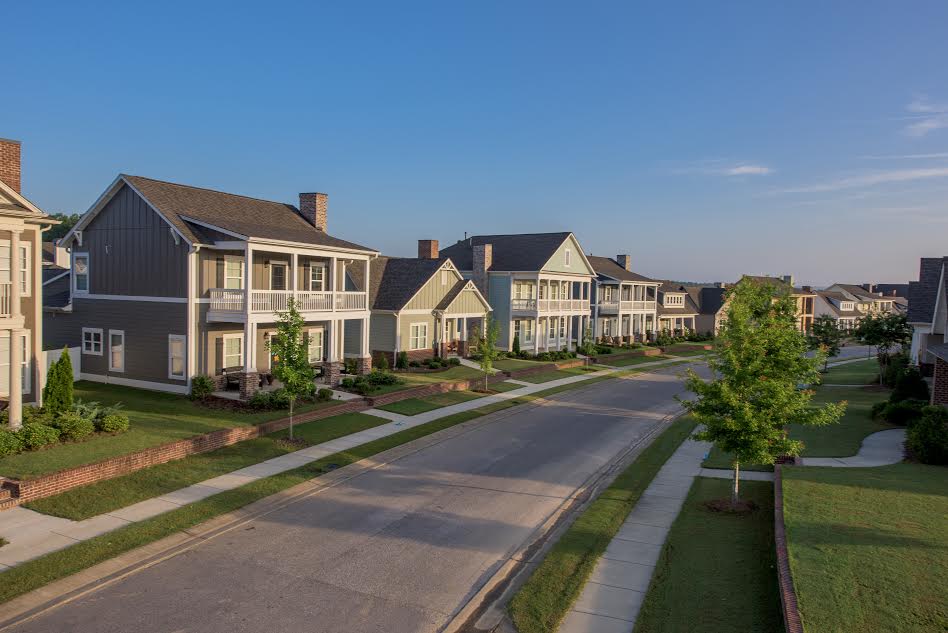 The homes I toured were in the mid-size range. Very nice 4 bedroom, 2.5 bath homes with modern amenities and open floor plans that are so desirable for today's lifestyle.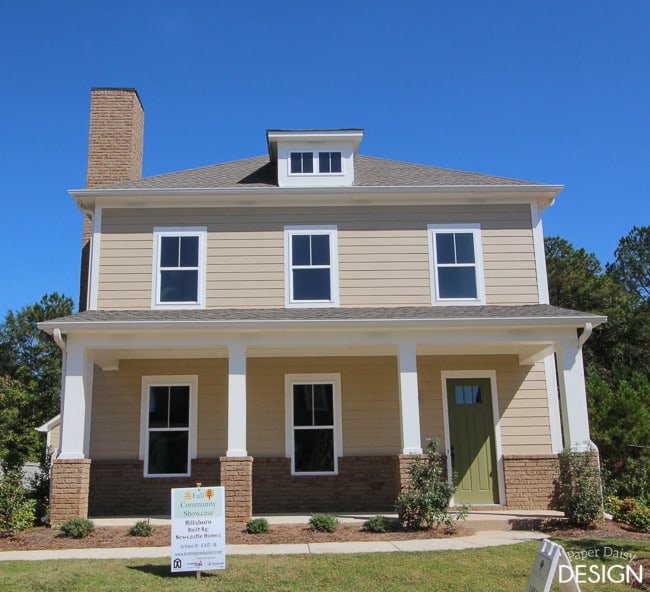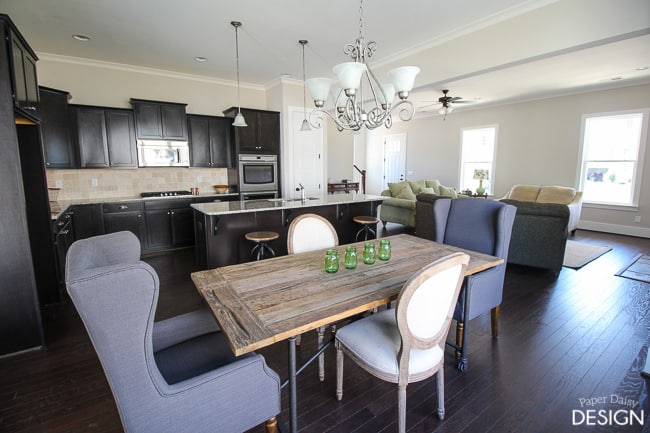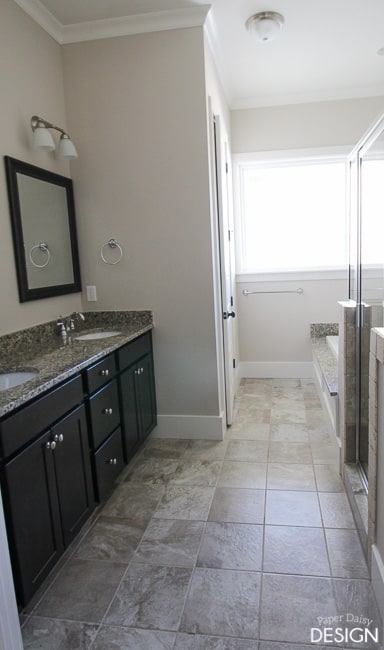 There was a nice variety of architecture, but even so, it was very cohesive and appealing. The one constant was a welcoming front porch which encourages neighbors to mingle outdoors. Just lovely I thought.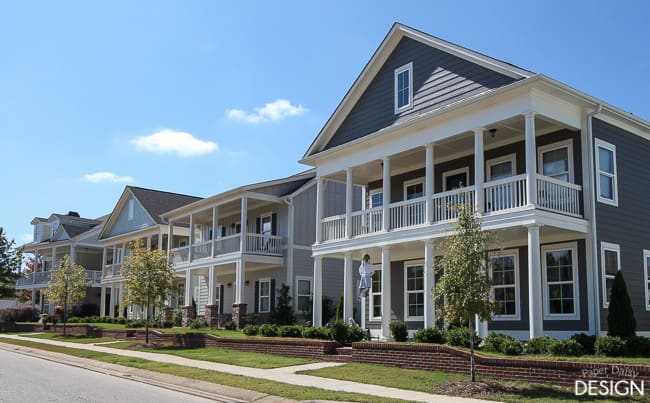 The photos below are from the model home in the community.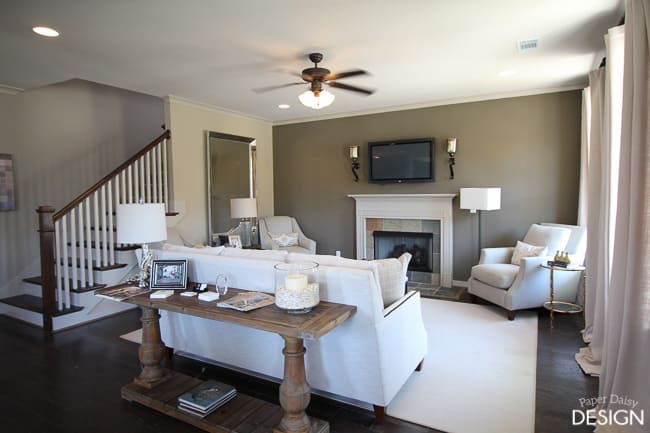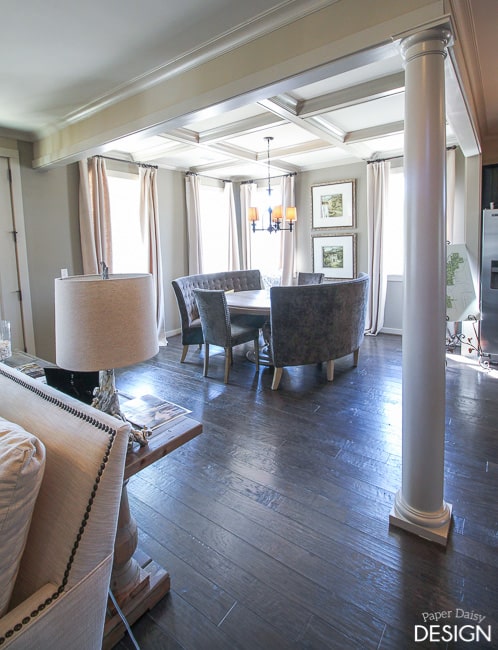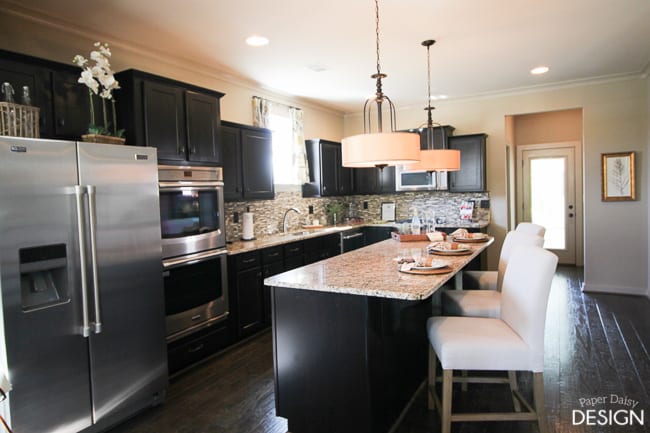 Continue the tour with a stunning home from the town of Mt. Laurel. You won't want to miss this one! Click here.
As a member of the B-Metro blog team, I have been compensated for this post.  But all opinions and words related to the tours are my own.
Because I love to share inspirational home with my readers, most of the photos are property of Paper Daisy Design. Photos not watermarked were provided by B-Metro magazine.