Now that the weather is finally cooling off, I'm just about ready to break out the fall decor. Without actually digging around in the attic today, I thought I'd poke around my older blog posts and see what I've done in the past.
I often find myself photographing holiday displays, not just for posting on the blog, but to remember what do each year. Does anyone else do this?
I think getting a fresh perspective, after some time has passed and critiquing your work, is a good thing. Notice I did not say, "criticizing", which often to do to my own past endeavors.
So, here's a look back at past Fall projects and decor.
Wow, this area of my home has had some significant changes, but these letter frames are still a timeless approach to fall.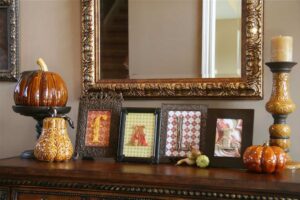 It's a simple project using scrapbook paper, large chipboard letters and various "fall elements" I found around the house. For detailed instructions, go here.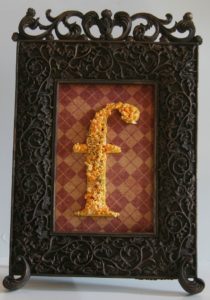 To create a rustic mood for both Halloween and Fall, I often use a piece of reclaimed or palette wood. I didn't realize how long ago palettes first hit the scene in DIY projects. This post is from 2011. 🙂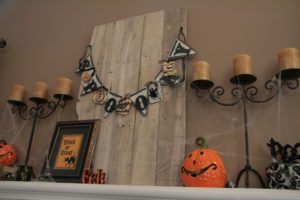 In this post, I talk about using palettes and how I built a tray out of a palette.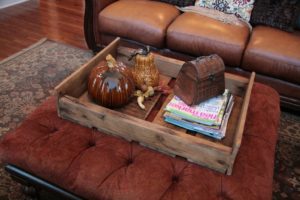 Here's a look at the same palette board decorated for Thanksgiving that year.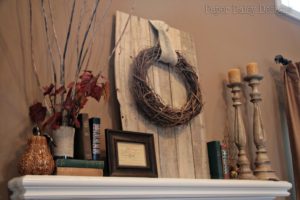 In the frame on the mantle is a printable I created. You can download it below in either horizontal or vertical orientation. You'll notice I printed my copy on a beige cardstock.
Last Halloween, my mantle looked like this. Just a little different with the black velvet silhouettes I picked up at a local florist shop. You can tell I like to pull out those candelabras each year. With cobwebs, I think they have a kind of creepy, yet formal, feel kind of like the Munsters. 😉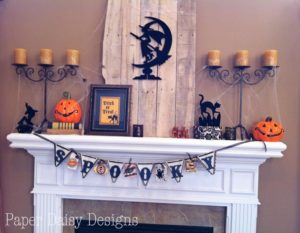 Again, I have a Halloween printable to share.
Then for Thanksgiving, I added a chalkboard with hand lettering, brought in some adorable stick owls from my friend's home decor store, mini pumpkins and antique spools.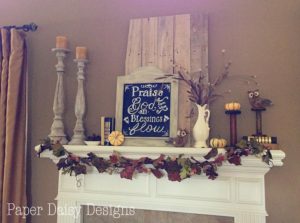 I'll have to get a new chalkboard if I want to do this again. I now use that chalkboard to write our Menu Plans on each Monday.
This year I've got big plans. I've been inspired by some displays I've seen at Anthropolgie. If you are at all familiar with their fantastic seasonal displays, then you'll understand how and why I've been so inspired.
Depending on how long it takes me to get the crafts done, I may just skip the Halloween mantle and focus on fall. I know I will at least find a place to display our collection of little Halloween toys. When the kids were little they used to move the parts and have fun with them, now we put them out purely for nostalgia. I love it!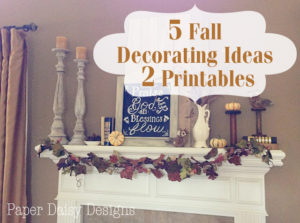 Pin ME Party @
Diana Rambles

/Weekly Creative Party @
The Creative Girl / Funky Fall Decorating @ Funky Junk Interiors / Amaze Me Monday@ Dwellings-Heart of your Home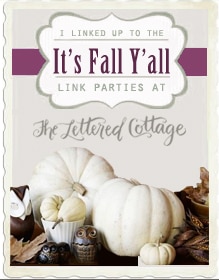 Thank you for subscribing to Paper Daisy Designs. Please continue reading on the blog. I appreciate having you as a reader.