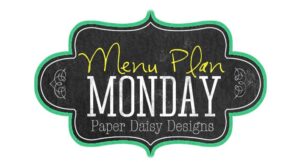 It's still Monday! Whew! Lots going on today. Squeaking in with our Menu tonight.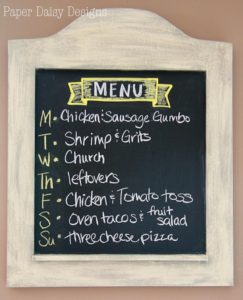 I know it's been busy when this menu is already been changed.;)
Monday: Oven Tacos
Yes, the chalkboard menu says Chicken and Sausage Gumbo, but by the time I got home from the store there wasn't much time left before I had to go to a meeting. So, this favorite quick meal got bumped up the list.
Tuesday: Creamy Shrimp and Cheese Grits with Spicy Andouille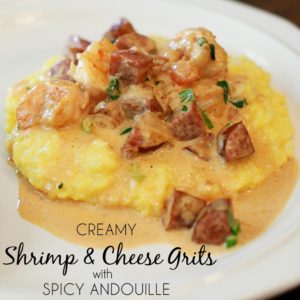 I realize this has been my only way to make shrimp recently, but we love it so much. I hate to waste our good Louisiana shrimp on an okay recipe.
Wednesday: Church Youth Group
Next time I'll have to share the pulled pork nachos I cooked for the teenagers last week. They were a big hit.
Thursday: Leftovers
Friday: Creamy Chicken and Tomato Toss
This will be recipe I kind of just wing. I had some leftover cream sauce last week and tossed together fresh tomatoes and zucchini. It was really great. I think it would make an excellent main course dish. I'll share next week as well.
Saturday: Three cheese Pizza
The sauce I will make for the pasta on Friday, will be the base for this pizza.
Sunday: Chicken and Sausage Gumbo, Gluten Free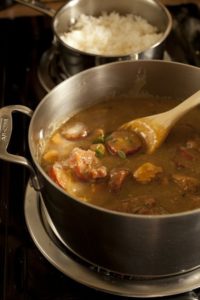 I've made lots of gumbos already in my lifetime, boy does that make me sound old, but I've been hesitant to make a gluten free one. I recently found this recipe by the the Lagasse girls, you know of Emeril Lagasse? I figured being his daughters, they what good gumbo tastes like. The recipe I generally use for gumbo isn't far off Emeril's.
Since I'm a little short on original recipes this week, I thought I'd share my 100% Corn Cornbread I made last night.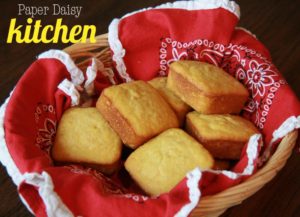 It is completely gluten free, using only corn flour and corn grits/polenta. I think they are pretty tasty. Much better tasting than some other gluten free flour versions I've tried.
Thank you for subscribing to Paper Daisy Designs. Please continue reading on the blog. I appreciate having you as a reader.