Yesterday, I shared with you a sneak peak into this room makeover and the
table I contributed
to the project, called "Room of Hope." Today, I'd like to tell you more about the deserving recipient and show off the rest of the room created by my friend and decorator, Sherry and our local home magazine.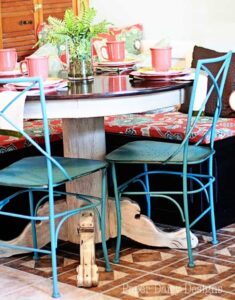 This first "Room of Hope" was created for a fabulously sweet woman named Fabiola. Last year she was diagnosed with cervical cancer with a prognosis that offered little hope. In addition to this difficult news, she had to face a future without the precious baby she was carrying and the initial reason for her doctor's visit. A time that was supposed to be filled with hope became the most difficult time in her life.
After much medical treatment, chemotherapy and prayer she is healthy and happy and most importantly to her, she can continue to be the mother to her two precious little boys.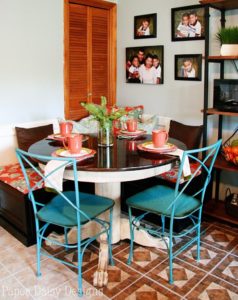 To get a better appreciation for the makeover, let's look at the before photos of the room.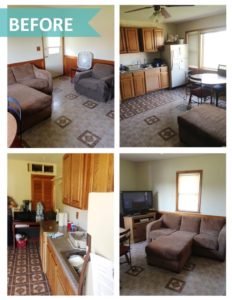 As with any great makeover, Sherry began with a new layout for this multifunctional space. She created an entryway where previously there was an awkwardly placed chair.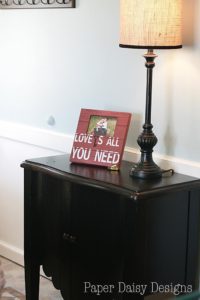 A fresh, light and bright color palette including Smoke for the walls and White Dove for the chair rail, both from Benjamin Moore, were also an integral part in this transformation.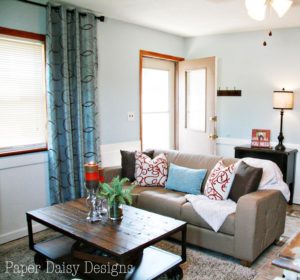 The seating area she created is warm, cozy and inviting. The little detail of mounting the TV on the wall freed up valuable floor space in the room.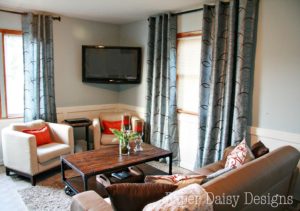 But the most radical transformation, in my opinion, happened on the opposite side of the room.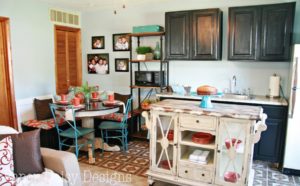 I love that even in a small space, she added a moveable island. If the boys need more space to play, Fabiola can easily move the island in front of the window.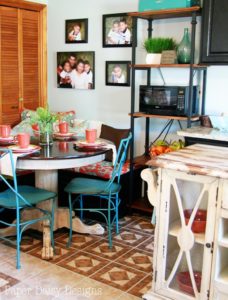 Relocating the kitchen table to this corner created an opportunity for my absolute favorite addition to any kitchen, banquet seating! I love this whole area, not because the table I refinished is there, but because it's an inviting space with family photos and functional storage in the seating and on the adjacent shelving unit.
Can't you just see those sweet boys snuggling up to those pillows each morning at breakfast?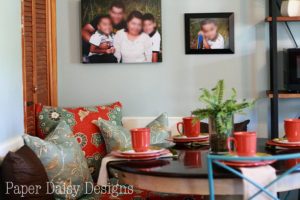 And can I tell you how much I adore these chairs? Oh yeah, I think I said that before. 😉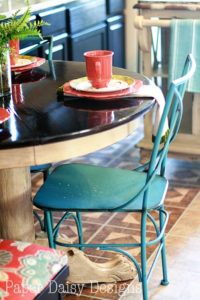 If you want to see how I transformed the table to work with the island, click here.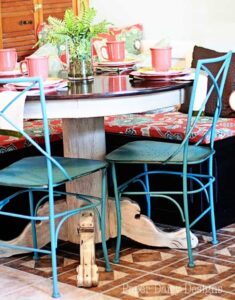 I was so happy Sherry invited me to be a part of this project and be able to see Fabiola's reaction to her new room.
To see the light in her face at the big reveal was a little glimpse into this beautiful, faithful woman's courageous happy heart.
I put together this animated gif from my photos so you could see her reaction.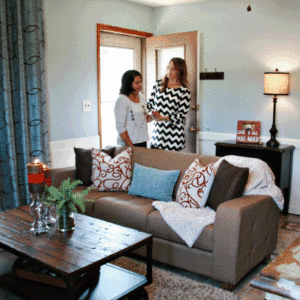 She said later in her interview, that the room was much more beautiful than she could have imagined.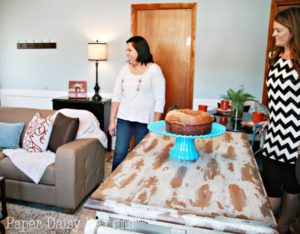 I think she was just a little overwhelmed with all the special touches Sherry had added to the room.
Now that you have seen it all what do you think? Terrific transformation right?
Before you go, there are several very important thoughts I would like to share.
Being part of this project and getting to see an "extreme makeover" take place around me was obviously a rewarding experience. Most importantly, I realize just by doing something I enjoy, I very well may have been sharing one of my "gifts," just as each of us are called to do.
It wasn't until I met Fabiola that I was struck by the importance of this table. Sure, I was able to transform this table from something tired, into a new table worthy of a makeover. But when you consider the importance of this place, a place where she and her family will share meals and give thanks to God for His goodness and mercy for the life she will have with those she treasures most, I was humbled.
I would like to encourage you to use your "gifts" whatever they are, no matter how insignificant they may feel. Know that our purpose is to use our gifts to be a vessel for the love of Christ.
Thank you for subscribing to Paper Daisy Designs. Please continue reading on the blog. I appreciate having you as a reader.