Call me crazy for titling this post about our new home, "Falling in love", but over our spring "break" we spent a week painting our home in Birmingham and I officially fell in love.
I realize I haven't shared much about the new house. Finding a home was quite a challenge this time. We had two other contracts that didn't materialize because of problems with either negotiations or the house. After totally regrouping to a new area of town, we finally "settled" on a house that checked off most of our wish list points.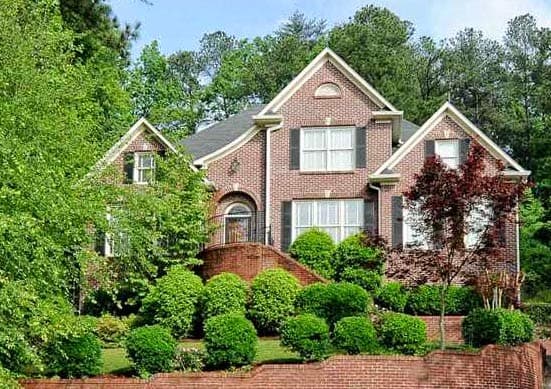 Admittedly, the house has great deal of curb appeal. The color of the brick and the varied architecture in the roof line made it very attractive to me, even from the first time I saw it.
But then, my eyes fixed on the driveway going up to the house and in an instant my jaw just dropped. That is one steep driveway!
After spending a week in the house, the negatives that I worried would out way the items in the house that met our "check-list", (the really steep driveway and a steep up-sloped backyard to name a couple) were easily overshadowed by the charm, character and peaceful setting of our new home.
And after numerous trips up and down the driveway to the local paint store, hardware store and grocery store, I realized it's just not that big of a deal. We are thinking of getting a new concrete driveway which we might need to clean at a later date, I hear Oasis Windows (https://oasiswindowcleaners.com/driveway-cleaning/) do a great job of cleaning driveways, to improve the appearance but it's still cold so we'll have to look at ahharris.com.
Locals don't seem to be concerned about it either. They know, like we quickly discovered during our three house hunting adventures, that nearly every house in Birmingham has either an up or down drive way. It's just a matter of how steep and what direction. Ha!
As a family, we jokingly came to the conclusion that those few lucky people who have a flat driveway, never, ever move. Because I promise you, not one house we looked at had a flat driveway.
Now, here's the fun part where I can share some "before" photos and "in progress" photos. 🙂
Come on in to the before.
I loved the staircase, but I can not, will not, live with brown anymore. I don't care if it's a nice color, or that it is warm and inviting, it is very similar to the color we have in our current house and I'm tired of it.
So, here is the light and bright version of the dinning room.
The ceiling and walls are Sea Salt by Sherwin Williams. It looks a little on the dull side here because it was a cloudy morning when I took these photos. Richard had actually painted this before we arrived for spring break. I loved walking into the new house with a fresh color already on the walls. 🙂
Our biggest project for the week was the foyer. What a doozy! Here's the before.
Be sure not to miss the textured stenciling over the door.
And now, it's white and bright and that texture is gone!
The color is White Duck by Sherwin Williams. It's a nice neutral white. With a super white trim it would definitely have more contrast, but our trim is an unknown, not so white color. 😉
Richard took one day off work during the week and the four of us finished painting what we started over the weekend. I knew we'd never get the whole house painted in a week and I wanted to be sure we worked on this one together. It was a beast.
We will still need to hire a house painter melbourne to touch up around the very top of the light fixture. Even with a great ladder and extension poles it was just too high. I'll be interested to see how the professionals tackle this one. Scaffolding, I would guess?
The next day the three of us painted Emily's room, a different white, Snowbound by Sherwin Williams. This is my favorite photo from the week. Makes a mom proud to see them working together.
I told Emily that her room will likely stay white for the next twenty years. I'm not a fan of heights and my job all week was to be the cut-in painter. I did not like painting this room. It was so high at the peak I had to pass the paint brush off to Miles to finish.
Another really big offender in this house was the Jack and Jill bathroom off of Miles' room. Get a load of this patriotic beauty.
Yikes! Just a bit busy wouldn't you say?
We decided to try and tone it down with a calmer color palette. There's too many other projects to tackle around here to replace these floors.
I think a larger rug will help even more. The color is Argos Gray by Sherwin Williams and has some light blue undertones that work nicely with the brighter blue in the tile.
We also painted the base of the cabinets in the kitchen, the half bath on the main level and Miles' room, but I'll share those another time.
The last day, while I painted the cabinets, Emily started on the other eyesore in the house. These windows! There are nine windows in the kitchen and living room that are painted red, not to mention a couple of doors.
She was only able to make a small dent on this project, but it was such a relief to our eyes to see some of that red go away.
While we were there we also came up with an outstanding solution to our backyard. I'll share the big plans we have in store for those rocks next time.
I'm so happy that we got to spend the week working hard in our "new" house. And I'm so grateful to be blessed with a beautiful home that I can truly say I love now. It was hard to leave both, the house and most especially my husband, but our graduating senior to get back to Missouri! We promised him we wouldn't move again until he finished high school.
I'm emotionally quite torn at this point. Part of me wishes time would fly by so that we can all be together in our new home. But then I'd be be wishing away the last months of Miles' high school career, and that is something I'm not ready to see come to an end.
Sharing Here:
French Country Cottage
Thank you for subscribing to Paper Daisy Designs. Please continue reading on the blog. I appreciate having you as a reader.