Finally making it back to the Mid-west, and more importanty, the blog! I've got so much to share!
I didn't get to post before we left because I was knee deep in a slipcover! My sewing machine decide to freak out at the last minute so I didn't get to finish.
I'll have sneak peeks from our spring "break". It wasn't much of a break in a literal way. The whole family was on a mission to paint our "new" house in Birmingham. We accomplished quite a bit but still lots walls yet to cover. I'll be sharing sneaks of the new house soon.
So, onto the Menu.
Focusing on quick and easy meals this week. I've got to focus on no carb eating this week to get lean and mean for the spring. 😉 I'll be eating all that is here, just as a salad and leave out the tortillas and buns.
Monday: Chicken Lime Fajitas
Tuesday: Homemade Pizza
I follow the recipe on the back of the Fleshmen's Pizza Crust package. It's super easy and super tasty. No rising and no kneading necessary. For my low carb version, I have a new recipe to try. I'll report back if it's any good.
Wednesday: Church Youth group
Thursday: Leftover Pizza
Friday: Chicken Lime Fajitas Quesadillas, using the leftover Chicken from the Fajitas
Saturday: Burgers
Sunday: Cauliflower Chowder
I'll be making this recipe from DamnDelicious, modifying it to be gluten free. Looks delicious!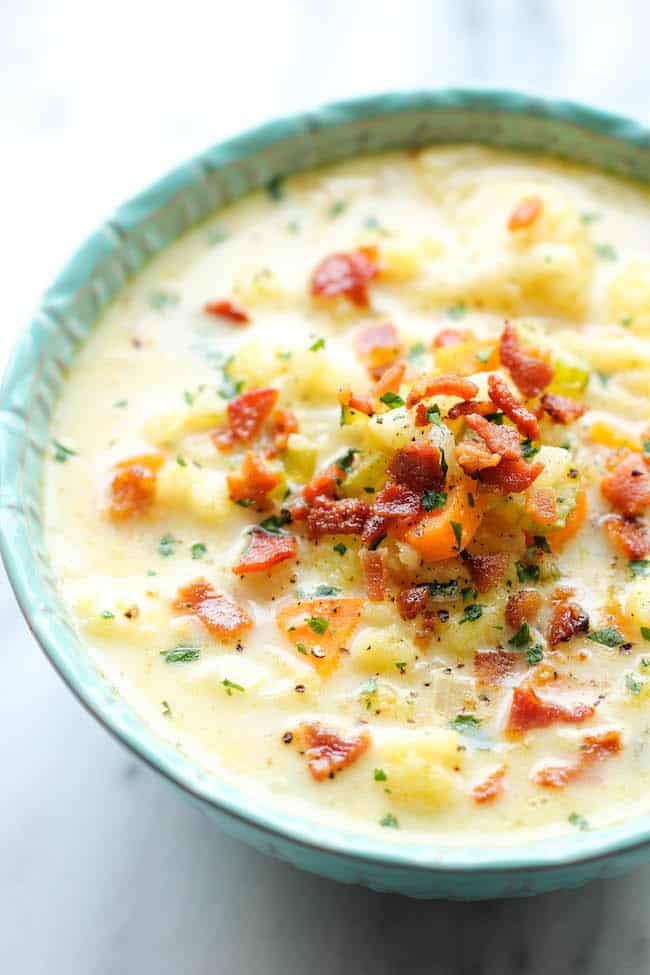 Source: Damn Delicious
Thank you for subscribing to Paper Daisy Designs. Please continue reading on the blog. I appreciate having you as a reader.