So, of course I'm happy because it's Friday!! It is also the most beautiful day here. (Which is extra special because tomorrow is supposed to be cloudy, cold and possibly snowy!)
This week flew by. On Tuesday, I went with Emily's class to the University of Central Missouri Children's Literary Festival, which according to several of the authors we saw, it is a favorite venue. The photos from the day are pitiful, so I won't even bother sharing. The sessions we had scheduled, especially the one's with Roland Smith and Peg Kehret were really fabulous, much better than I had expected. The auditoriums were packed with kids who had read and loved their books. It was very cool to see kids excited about writers almost as much as rock stars. I think every kid left the festival feeling inspired that they too could become authors, I know I did. (And then I wrote and rewrote this paragraph several times, over several days. URgh! Well, they said revisions and re-writes were crucial.)
Miles came home Wednesday with his model airplane from his Space and Aeronautics Tech class. Looks pretty great, if you ask me.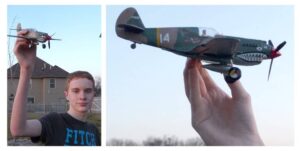 This week I recommitted myself to the Project 12 challenge. I was adding layouts to my albums and caught myself admiring the past Project 12 layouts I had done. I realized how much I love looking at our year in one concise place, especially since I don't scrapbook in any kind of order regularly. I decided I needed to get back to it!! Plus, I bought these awesome month stamps from Studio Calico that I had planned to use for 2010 and I surely don't want those to go to waste!
Here's where I left off, August 2009. I'm sticking to the basic sketch I started with, which gives a great continuity to the year, but every month is still quite unique.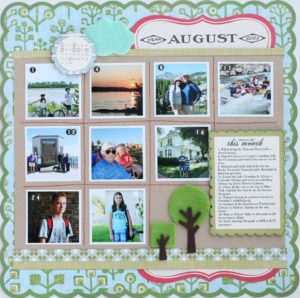 Thank you for subscribing to Paper Daisy Designs. Please continue reading on the blog. I appreciate having you as a reader.