Welcome to My Home Style Christmas Tree Blog Hop Edition, hosted by the very talented global style queen, Stephanie at Casa Watkins Living. This is the third year for the annual event and I am thrilled to be joining!
If you are new here and coming over from Linda of The Home I Create, then I should introduce myself. I am Leslie and I love all things southern and traditional, but not in a stale or boring kind of way. I am equally passionate about creating a fresh and current home on a budget through thrifty finds and creative DIYs.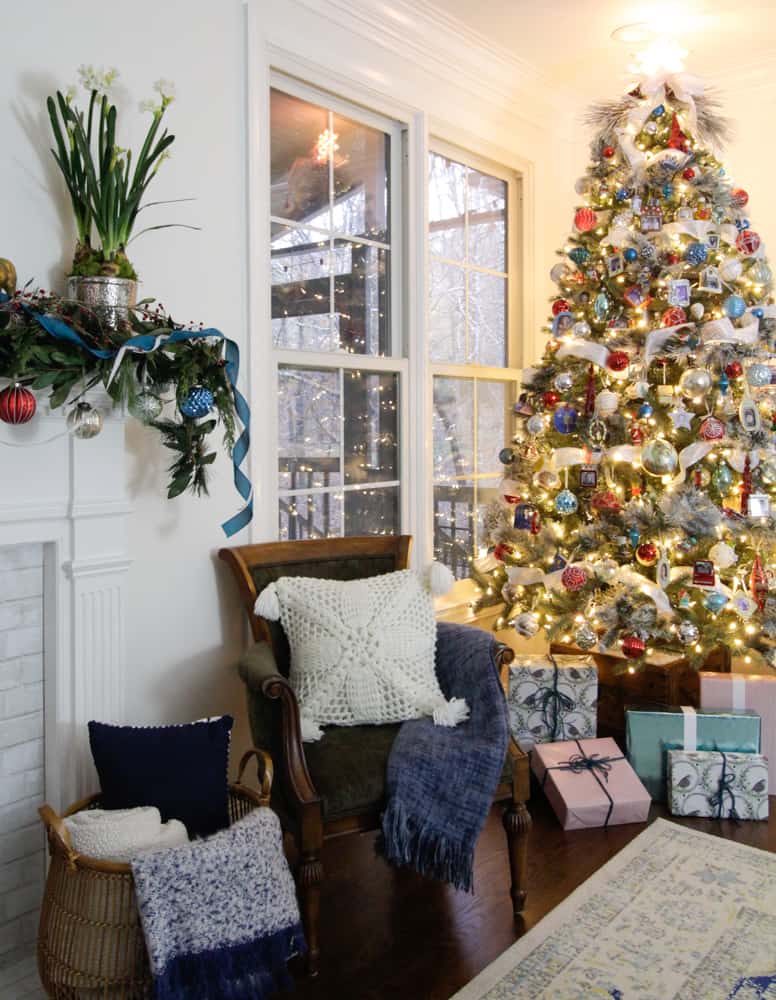 I am actually going to share 2 trees today that highlight my style and maybe inspire you to bring new life to your Christmas tree!
My favorite part of the My Home Style tours and this Christmas Tree Edition, is learning more about the bloggers by the three words they choose to describe their style and how it influences décor choices.
Classic, Collected & Bold
are the words I chose. Classic speaks to my style being rooted in a more traditional esthetic like I mentioned in my introduction. I strive to bring a fresh approach to classic decorating with modern choices in materials and finishes. Christmas trees by their very nature are classic, but that does not mean they have to be ordinary.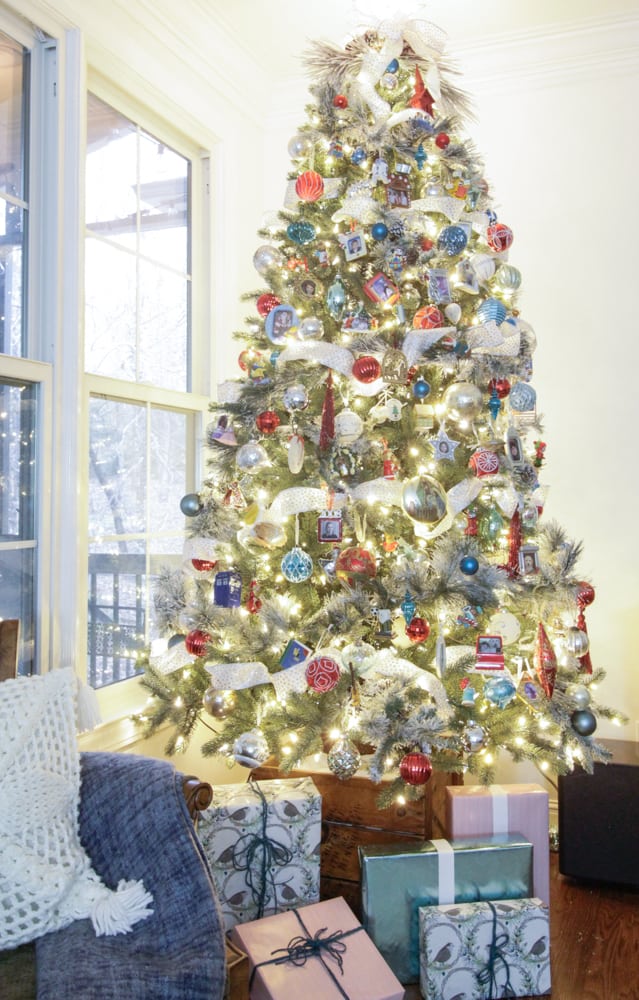 Collected denotes an interior that is gathered, thrifted, handed down. A room not necessarily pulled together in a weekend. A room that is curated with treasures, some old and some newly found. As for Christmas trees, the sentimental side of me always overshadows any other design choice.
I used Bold to describe my choice of color or unconventional take on a piece of furniture. While I love a white or often neutral foundation for a room, the creative side in me will not let me keep a room white or beige. I love a pop of color in just the right room or especially this year, on my Christmas trees.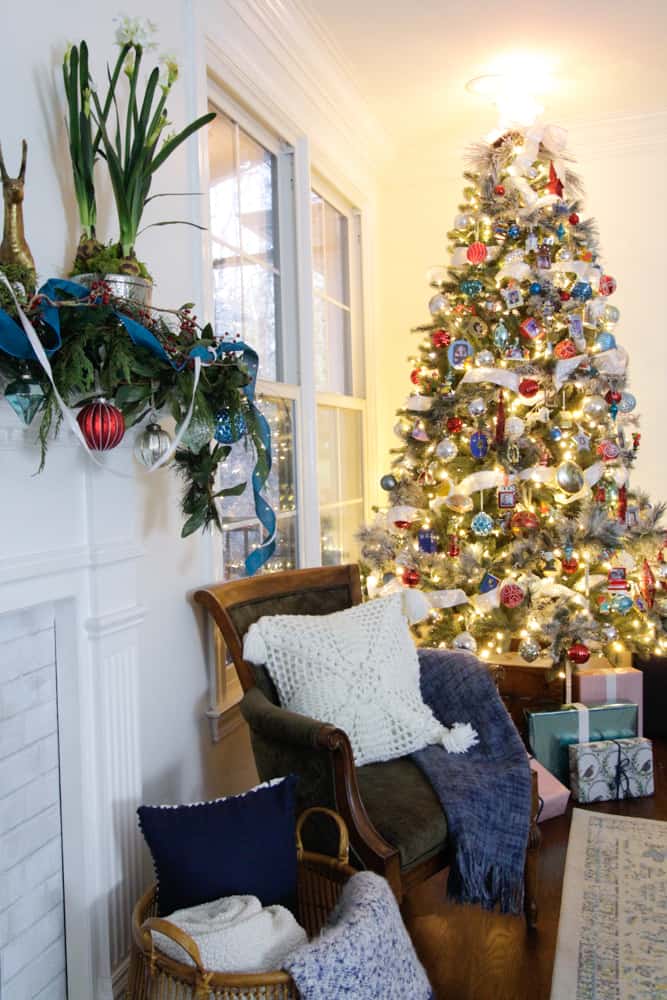 Bring new life to your tree
I will just start off by admitting I am one of those people who updates the look of my tree almost every year.
That being said, I DO NOT spend a ton of money to do so. I work with the many sentimental ornaments we have collected over the years and make subtle tweaks to the ornaments I choose. If there is one thing I am most passionate about when it comes to decorating a tree, it is that I want my trees to be personal. Our children, who are now college-aged, may not have said every year how much this meant to them but I can assure you it did and still does. Because it is Christmas, as many of us know, there are more burglaries around this time of the year. It might be a good idea to consider using a locksmith similar to dr locksmith atlanta to ensure your home is safe in the holiday period. But I digress.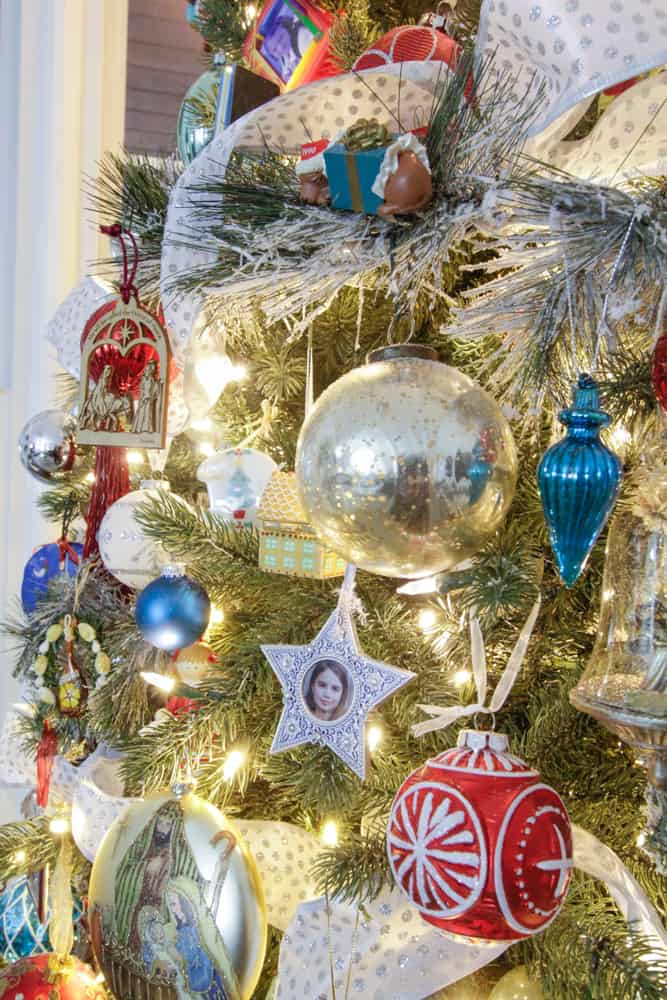 This year I purchased a collection of ornaments and trimmings to update the look. Through the years I have found this is all that is needed to create a fresh look for your tree.
But how did I truly bring new life to our tree this year? Because let's face it, I really, really wanted a new, fancy flocked one.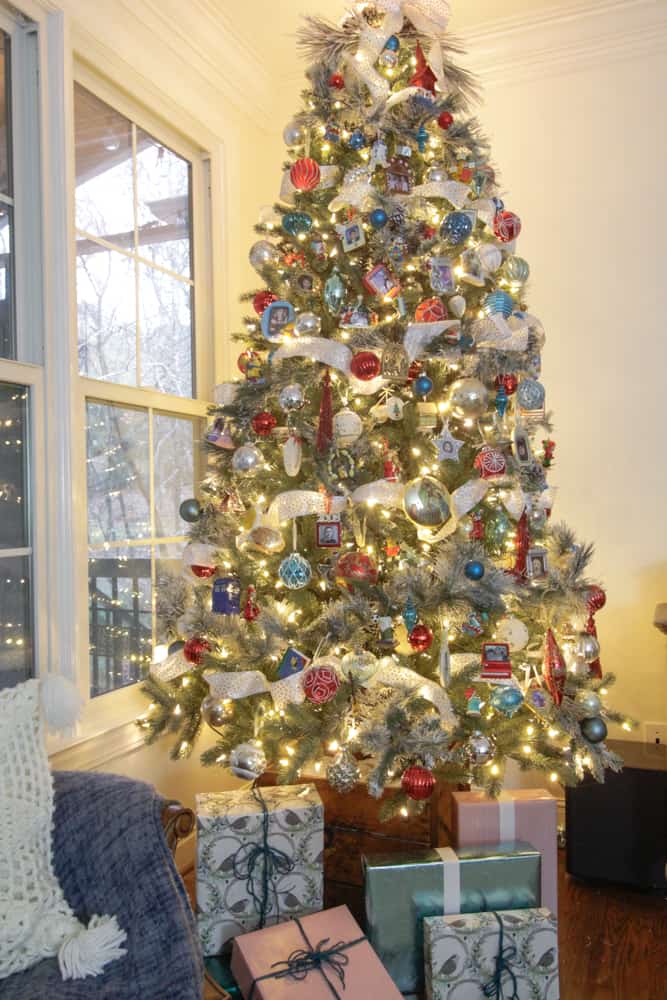 The reasons for wanting a flocked tree are more than just wanting to be on trend. Nope, my mother almost always had a flocked tree when we were growing up and that snowy white tree was the only White Chirstmas we had in south Louisiana. The ever-present sentimental side of me longed to have one for our own Alabama Chirstmases.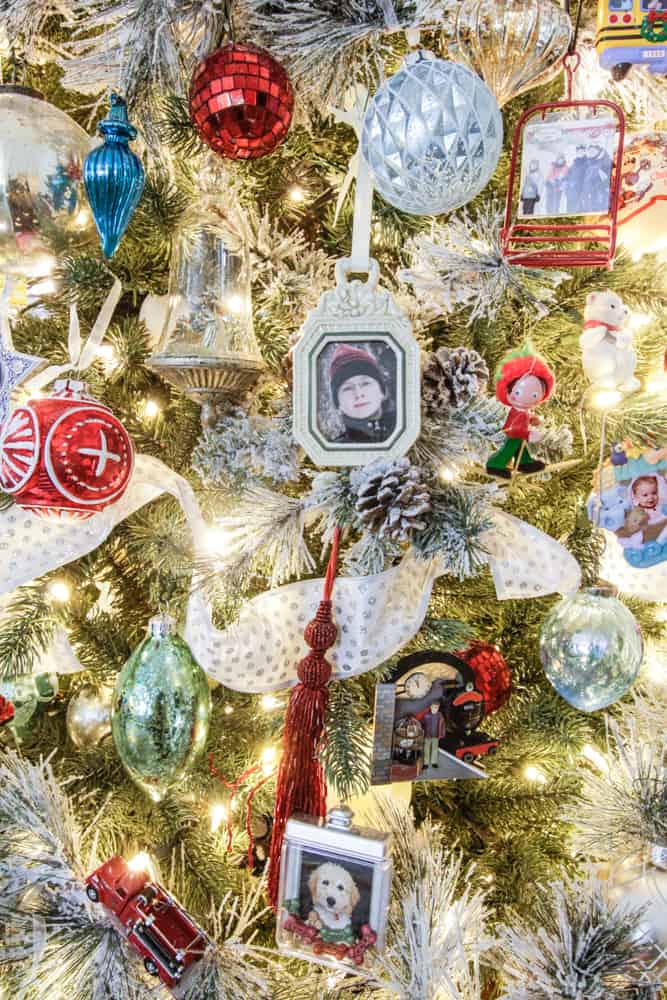 But, I did not want to buy a big new tree this year so I did the next best thing.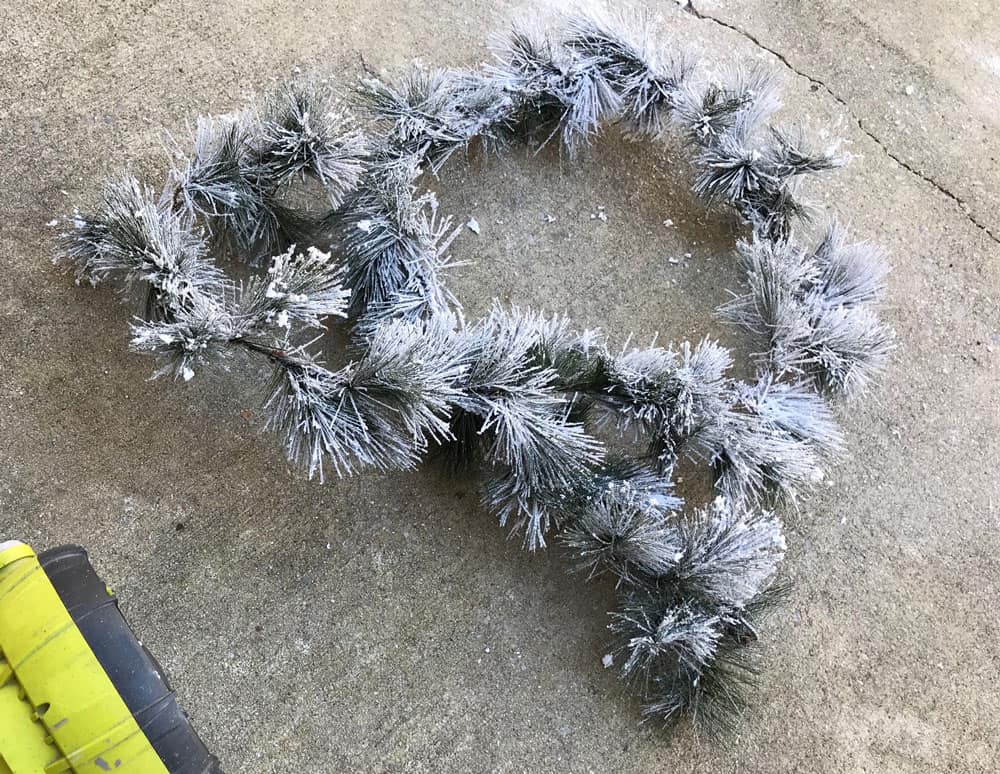 I added flocked cheap garland ($6 garland) from Walmart and made snowy sprigs out of tired old swags! I was fairly impressed with the difference adding flocked garland and springs made in the overall look. Adding white ribbon or even fluffy, snowy cotton further develops that look of a flocked tree. I will be writing a full post and video tutorial with helpful tricks and tips soon. I've linked the product I used here.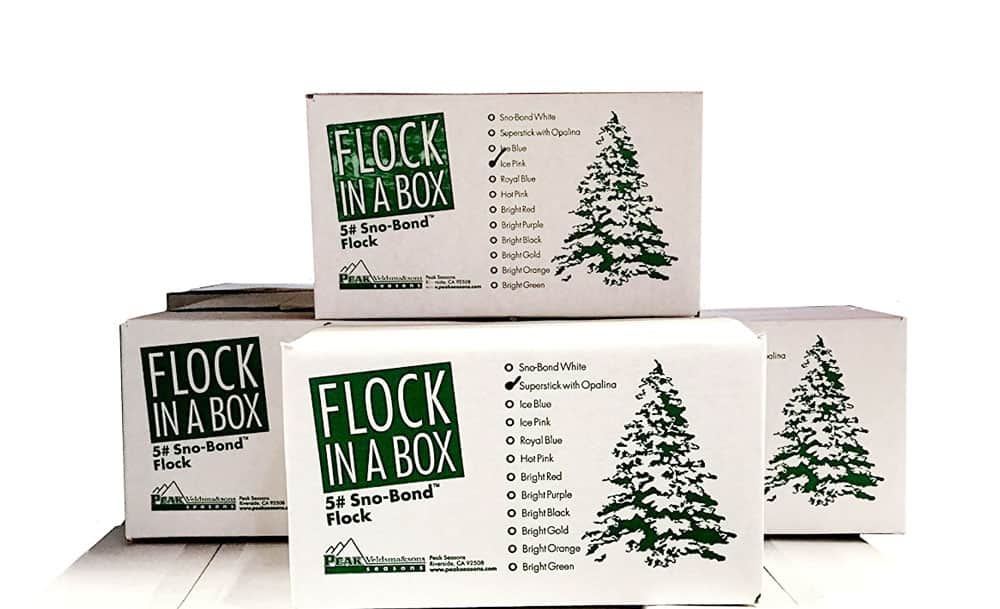 Here is what the tree looked like before I added the ribbon and ornaments but after I added the flocked elements.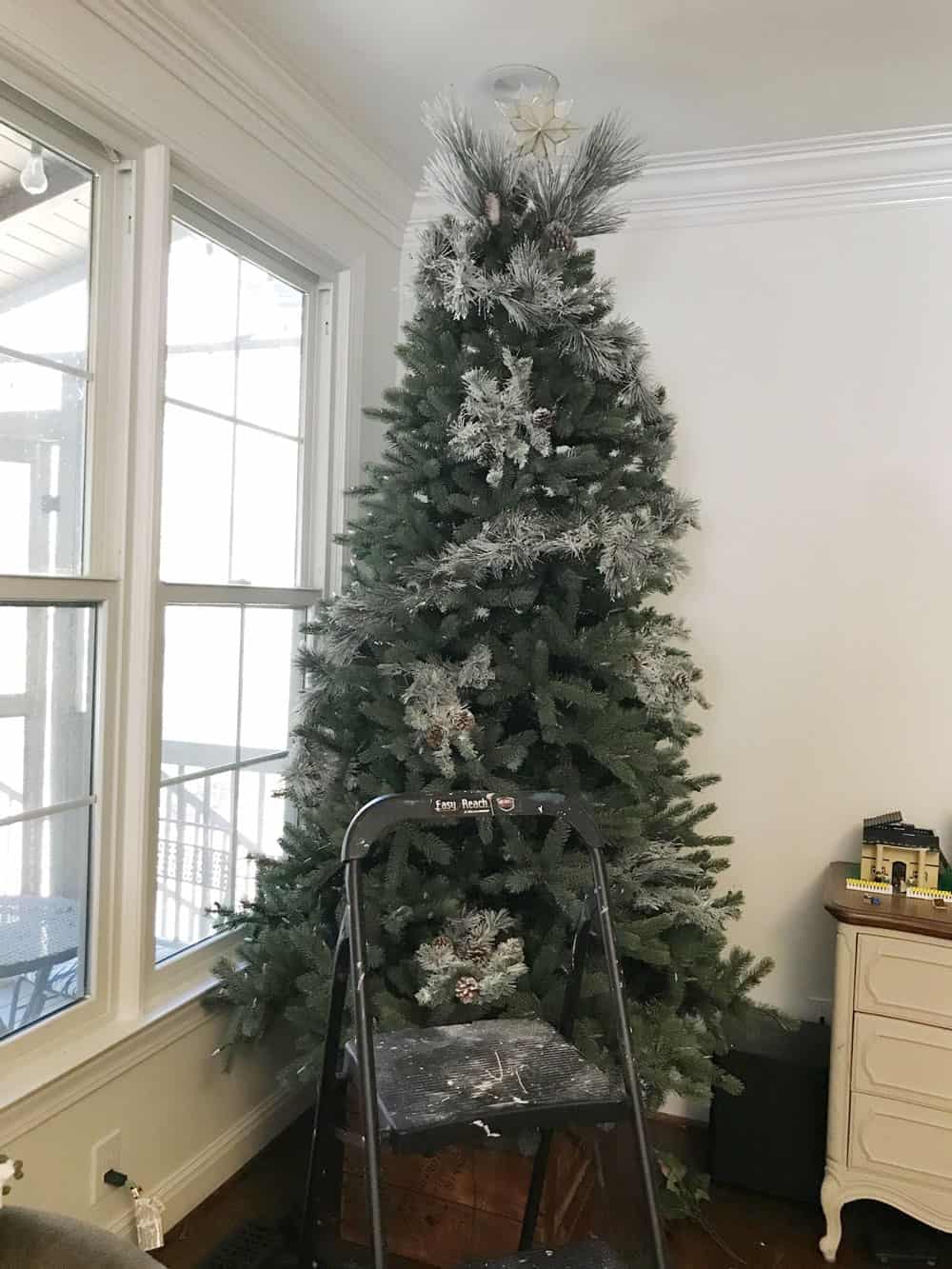 Beyond the inexpensive garland that I flocked and ribbon, the only other purchase I made was a boxed set of ornaments.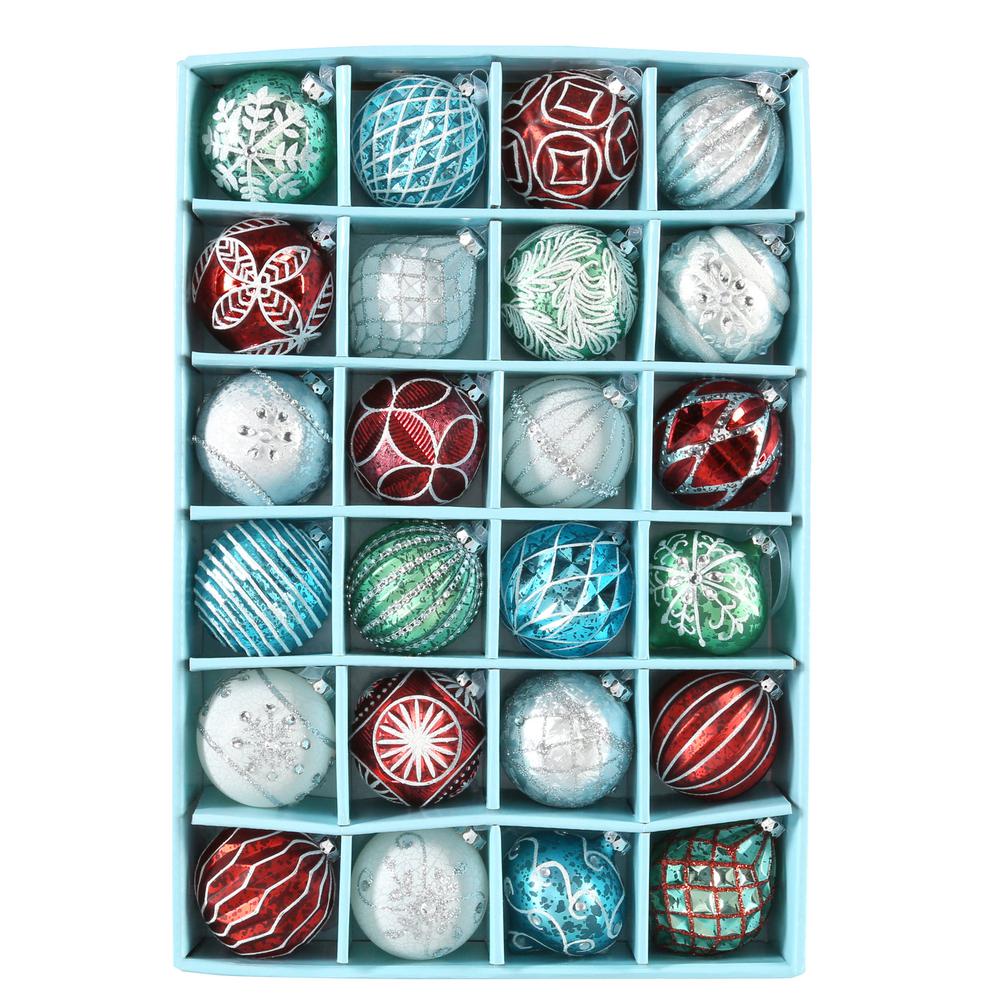 A collection this size, in combination with other silver and red ornament balls spread strategically around, is enough to create a new "theme" for your tree. Here are few more ideas of trimmings you could add to achieve this look.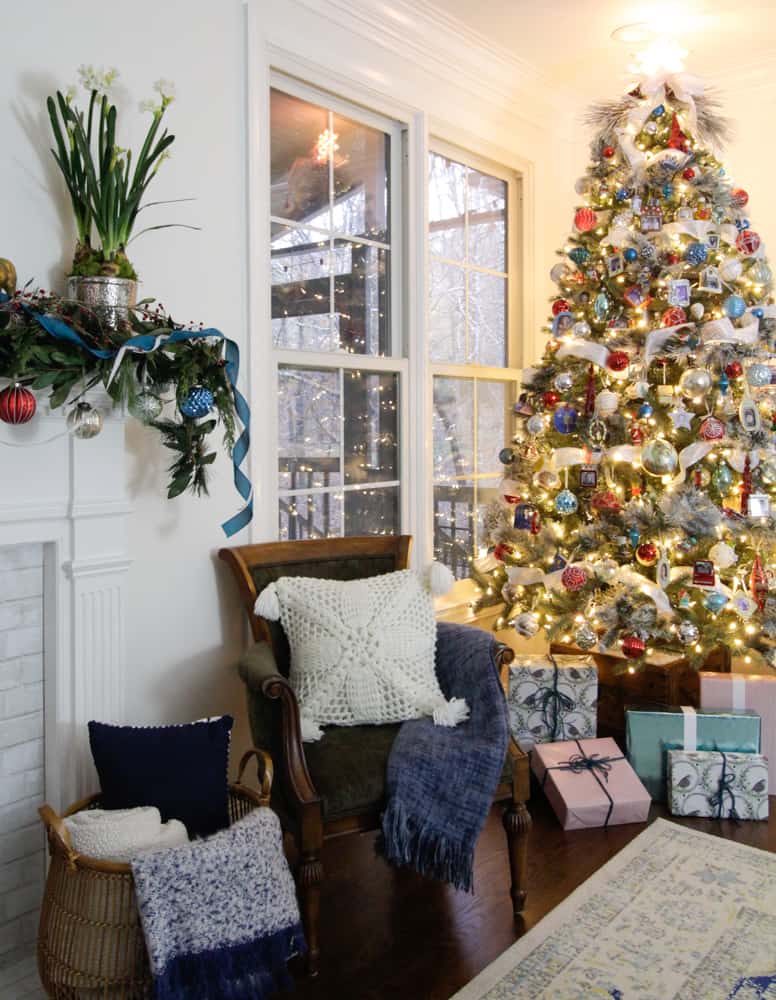 I think that soundly demonstrates you don't have to invest in a basket load of ornaments to achieve a fresh look for your tree.
SHOP THIS POST & SIMILAR

Adding a Second Tree
On Black Friday this year, I decided to take the plunge a purchase a second Christmas tree. Mind you I only spent $30 on this 5.5-foot tree.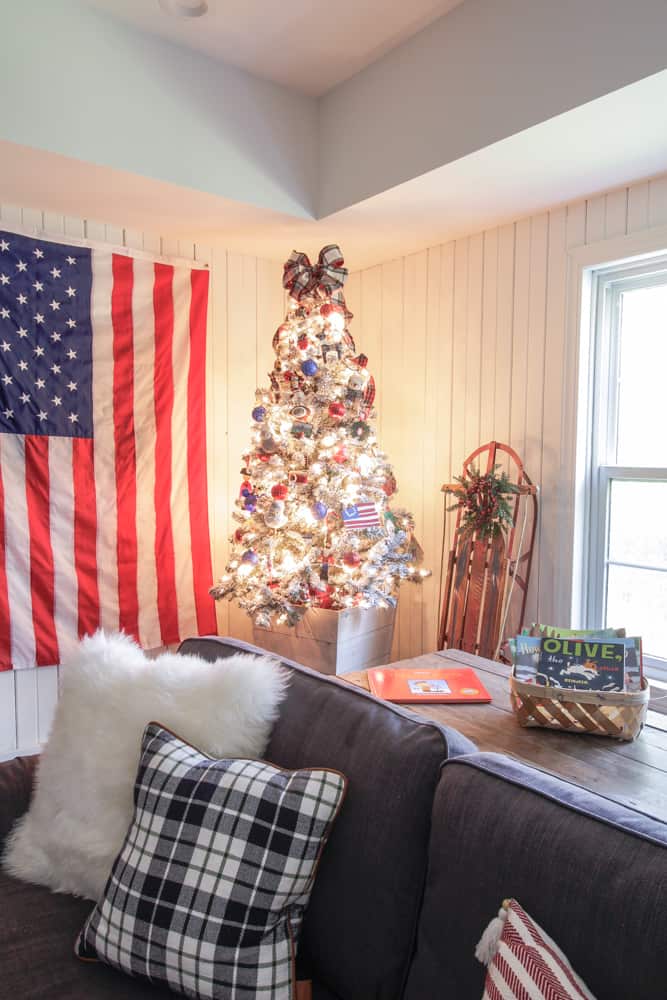 To give the tree a boost in scale I placed the base in a planter I built several years ago. It perfectly elevates the tree from behind the sofa. (You can read how to build your own here.)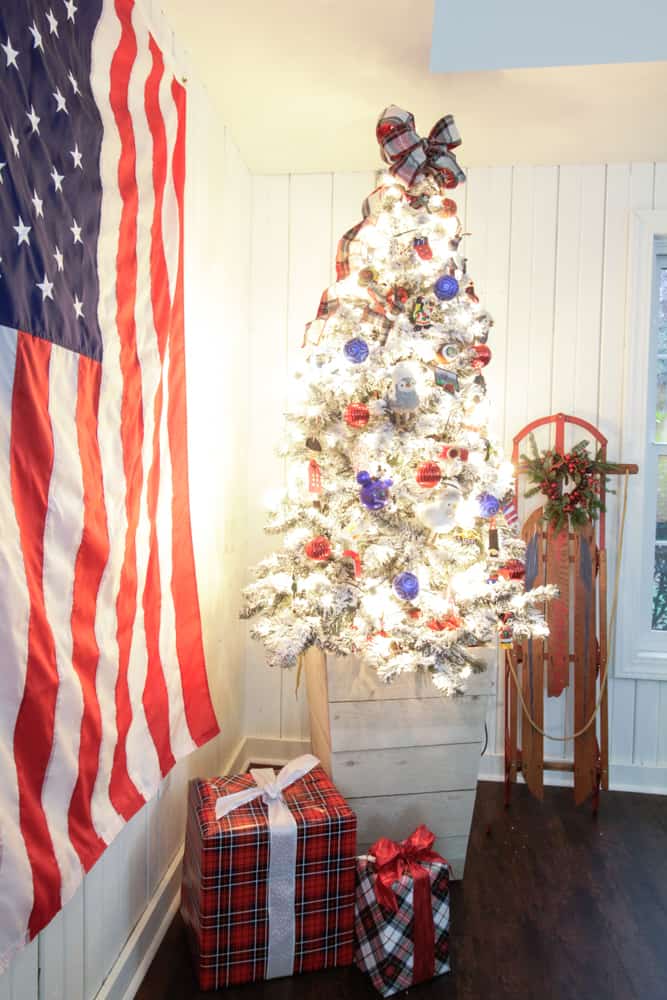 There are several benefits to this approach.
You spend less money on a tree
It takes up less space when it is time to store the tree.
You need fewer ornaments to decorate the tree, which also helps with the budget and storage issues.
It turned out that our little tree became quite patriotic.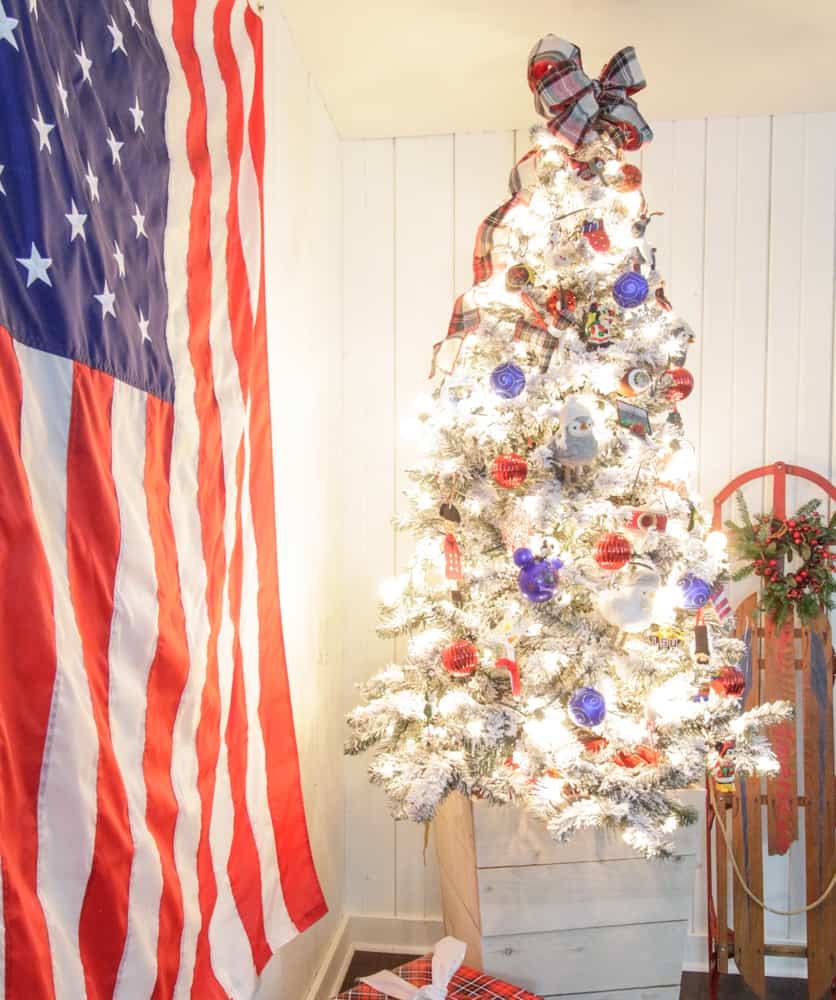 Of course, I deliberately decided to use red and blue. But I had set aside the ornaments our son had made in 5th grade as part of his American History studies while decorating the living room tree only to realize later they were perfect for the new tree in the media room. I also added in plaid ornaments I purchased last year and various ornaments related to our favorite sports teams and such. (You can see our plaid tree here.)
To give the prelit tree an extra glow, I added a string of outdoor cafe lights I bought on summer clearance.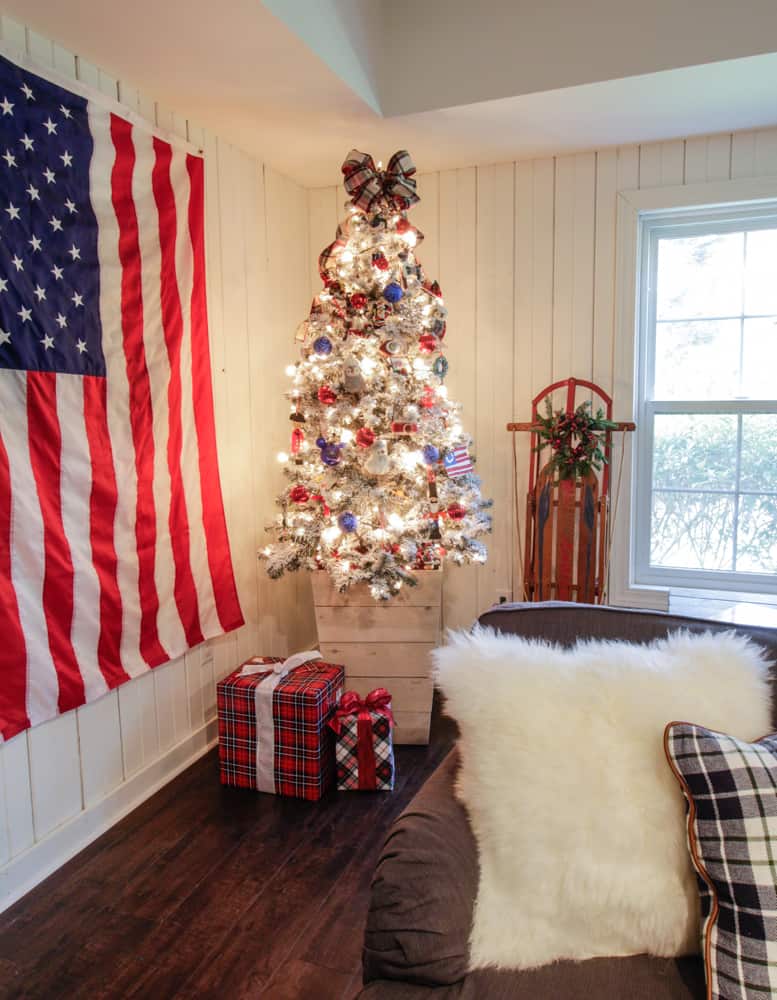 Now to the actual flocking of the tree. I plan to write a full tutorial as well as publish a video with many tips and tricks I learned in the process. But this is a link to the product I used.
I found it to be a doable afternoon project that is definitely worth the time and money. I figured with the bargain I got on this tree there wasn't much to lose and I am so happy I did what I usually do and plunged ahead with my hair-brained idea. 😉
Thank you for coming to my home today to learn more about our trees and how they are influenced by My Home Style. Make sure to head over to Heather's blog, Setting For Four to see her beautiful tree!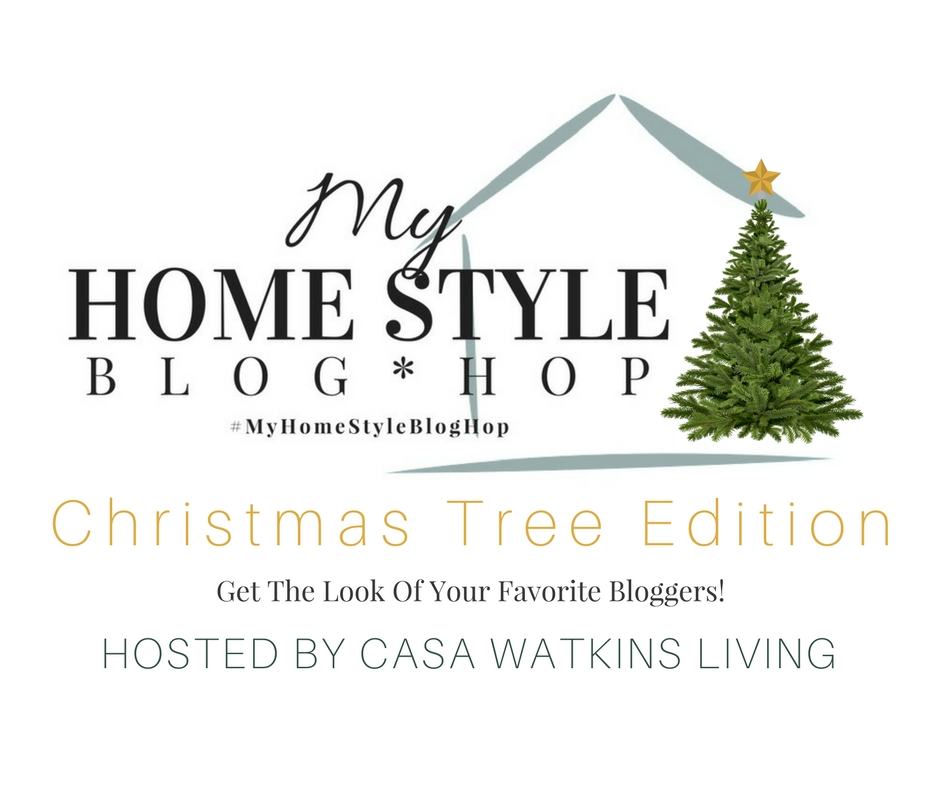 Monday
Tuesday
Wednesday
Thursday
Friday
If you want to see more of my living room and media room please visit
Part 1 of my Classic and Colorful Christmas Home Tour here.
SaveSave
SaveSave
SaveSave
SaveSave
SaveSave
SaveSave
SaveSave
SaveSaveSaveSave
SaveSave
SaveSave
SaveSave
SaveSave
SaveSave
SaveSave
SaveSave
SaveSave