Welcome to the first stop in the Christmas Tour of Homes!!
Not only am I thrilled to be inviting you into my home today, but I am excited as you are, hopefully, to be inspired by the Christmas cheer that will be filling our week for the Christmas Tour of Homes! No less than 28 homes in total, y'all!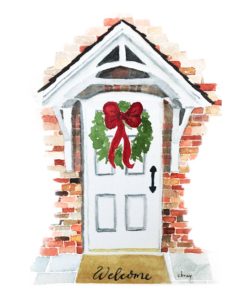 If you are new here, welcome! I'm Leslie and I love all things southern and traditional style but I strive to bring a fresh approach to my decor while still keeping budget in mind. I live for a good DIY and bargain hunting is my jam!  If that sounds exciting to you then I know we will soon become the best of friends!
Let's start at the front of the house.  As I had predicted the maple tree has turned bright crimson just when the red hues are most desireable!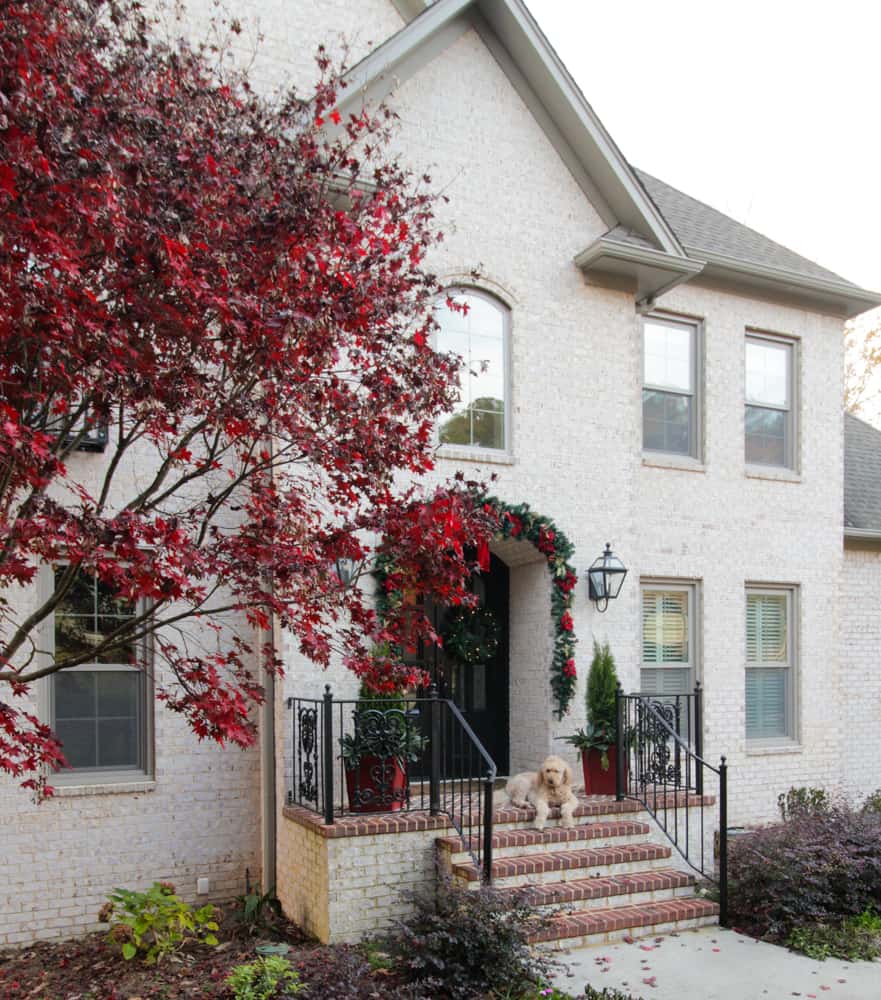 Of course, Tucker followed me outside and took advantage of his perch on the front steps to watch the neighbors.  He did have an admiring fan run by! He gave his obligatory tail wag and just smiled knowingly.  He knows he's cute and photogenic.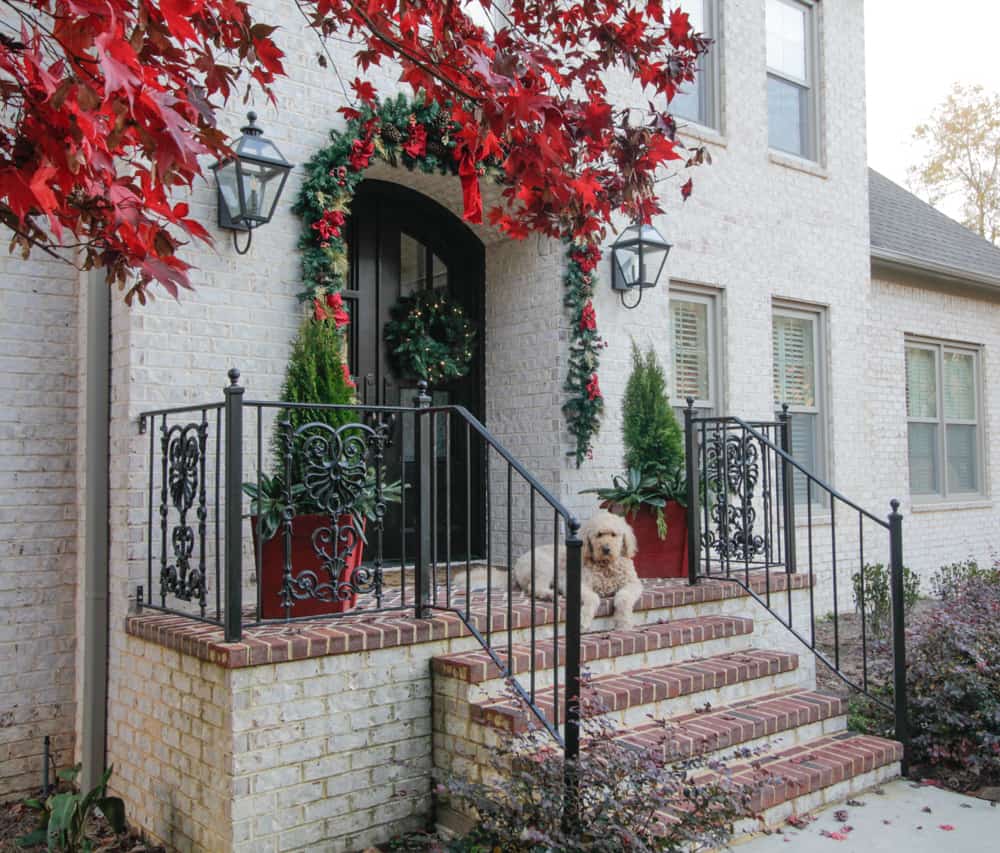 Early in the season, before Thanksgiving even, I partnered with The Home Depot to design and build the Christmas tree planters as part of the #HomeDepotStyleChallenge. You can read the full tutorial on their blog, here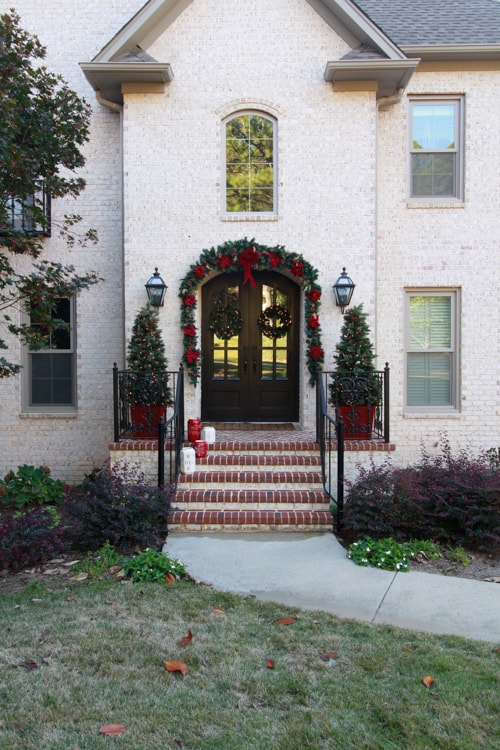 As fantastic as the artificial trees looked, I opted to replace the potted trees for real cypress and fresh greenery.  Even though they were certified for outdoor use, I was concerned how much of a beating they would take being completely exposed to the elements. Plus, the Leland cypress trees can be planted in the backyard to replace the many trees we lost earlier in the year. (More to come on that later.)
The Kitchen & Beverage Station
Let's go right into the heart of the home, the kitchen.  I'm fairly certain if you were actually here, this is where we would end up.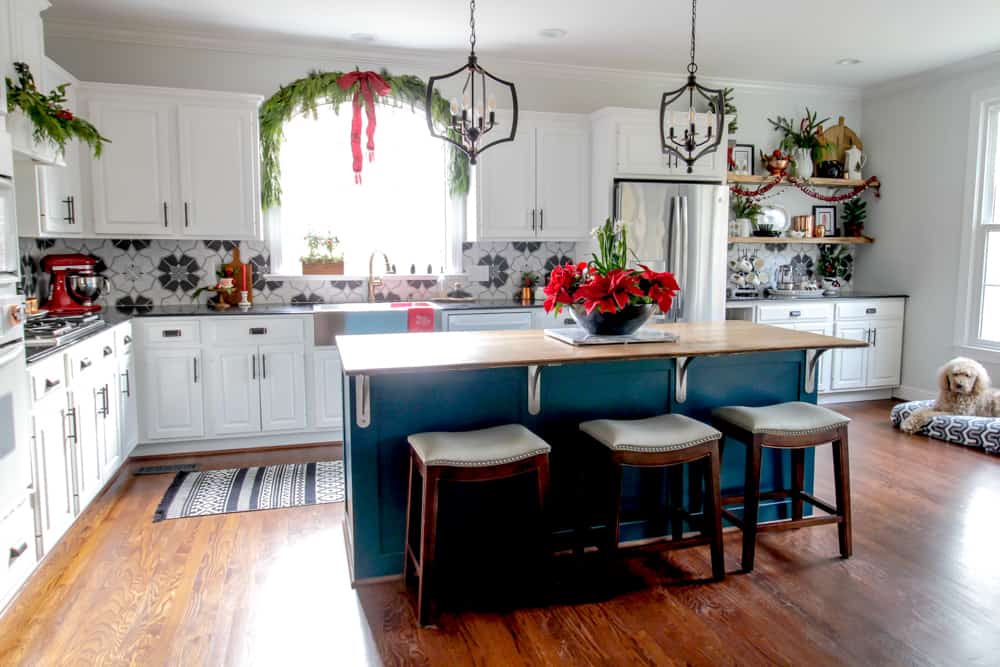 But first I'd offer you a cup of Chai tea. It's my morning passion.  Can't function without it.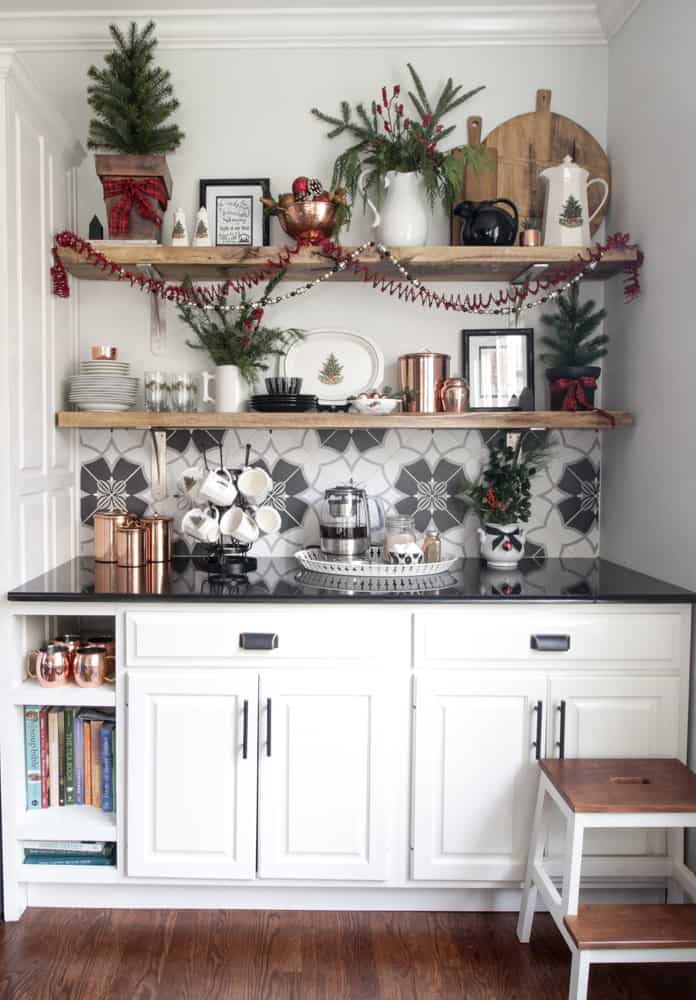 Now that you've settled in with your cup, I'll tell you a little more about this house. We moved here a little over a year ago and I bet you would not be surprised if I told you the house looks nothing like it did then.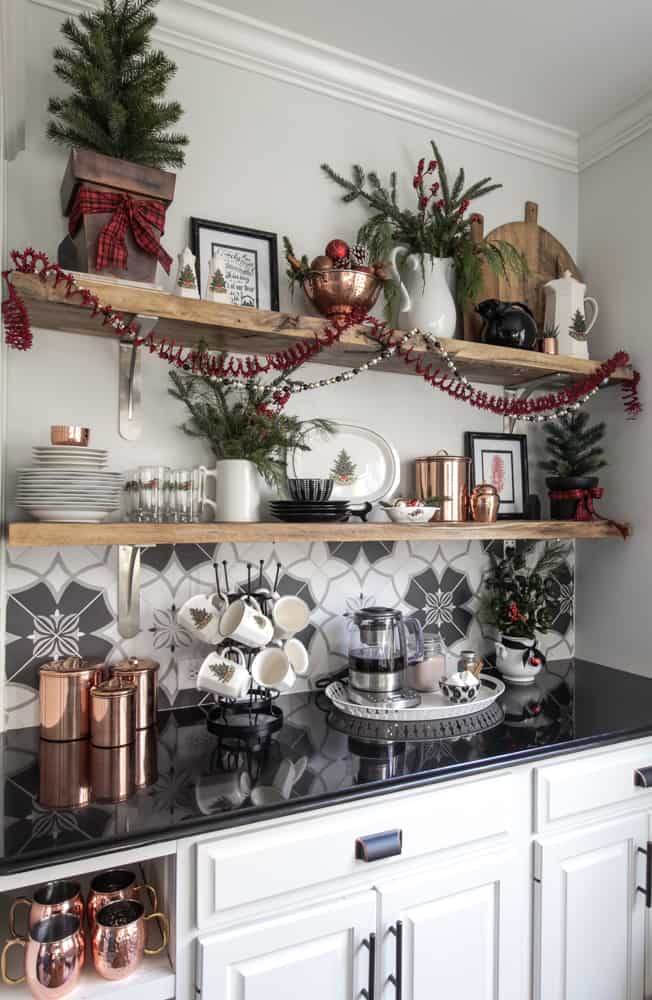 This little nook was completely bare. The cabinets here are the original island for the kitchen and I built a shelf on the end to fill out the space.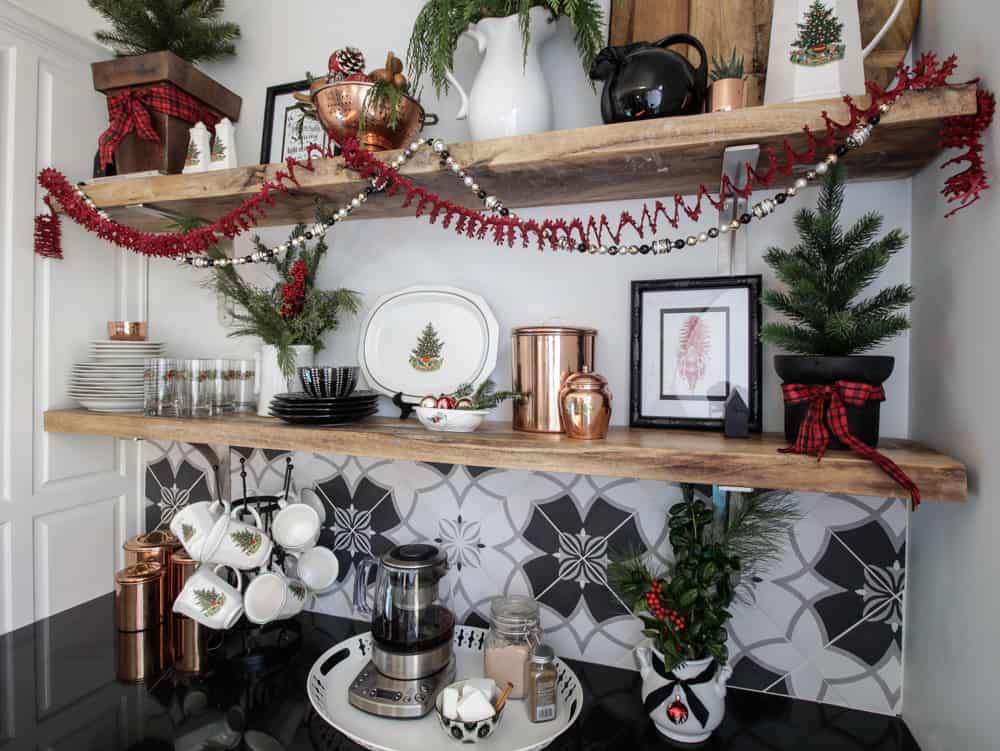 Of course the show stopper here is the reclaimed wood shelves.  I live for completely redecorating them for the holidays! A collection of Christmas dishes and glassware, copper canisters, thifted treasures, like tea pots and colanders and of course, lots of greenery fill them up quickly. But this year I added two printables to the shelves.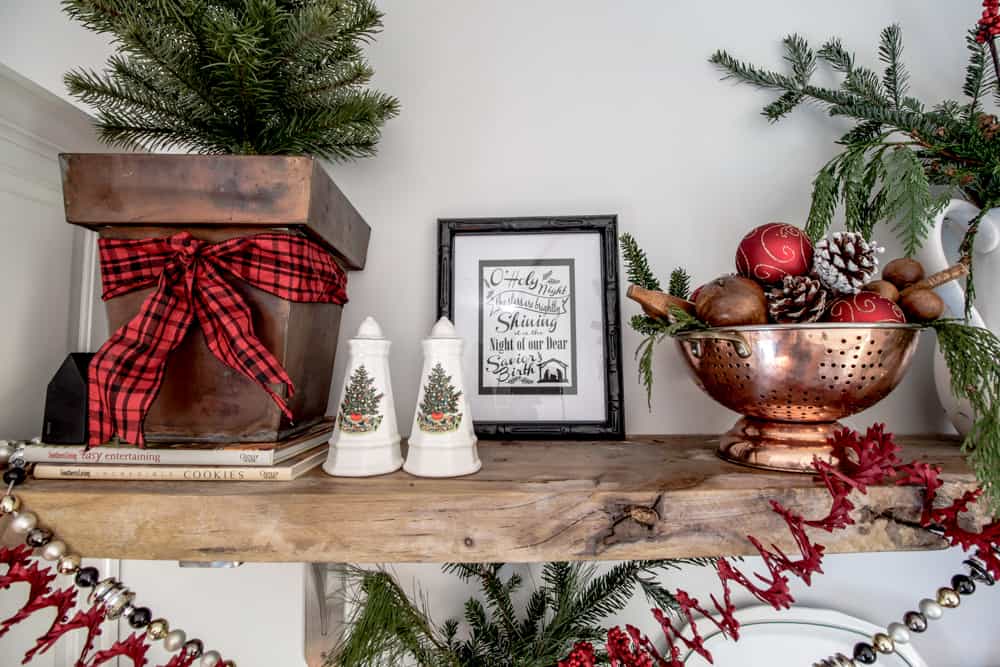 The O' Holy Night printable can be found here.  I also have it set up for a Cricut file if you would like to cut it from glittered vinyl or a stencil with gold (or any color) like I did a few years ago. Here's the post.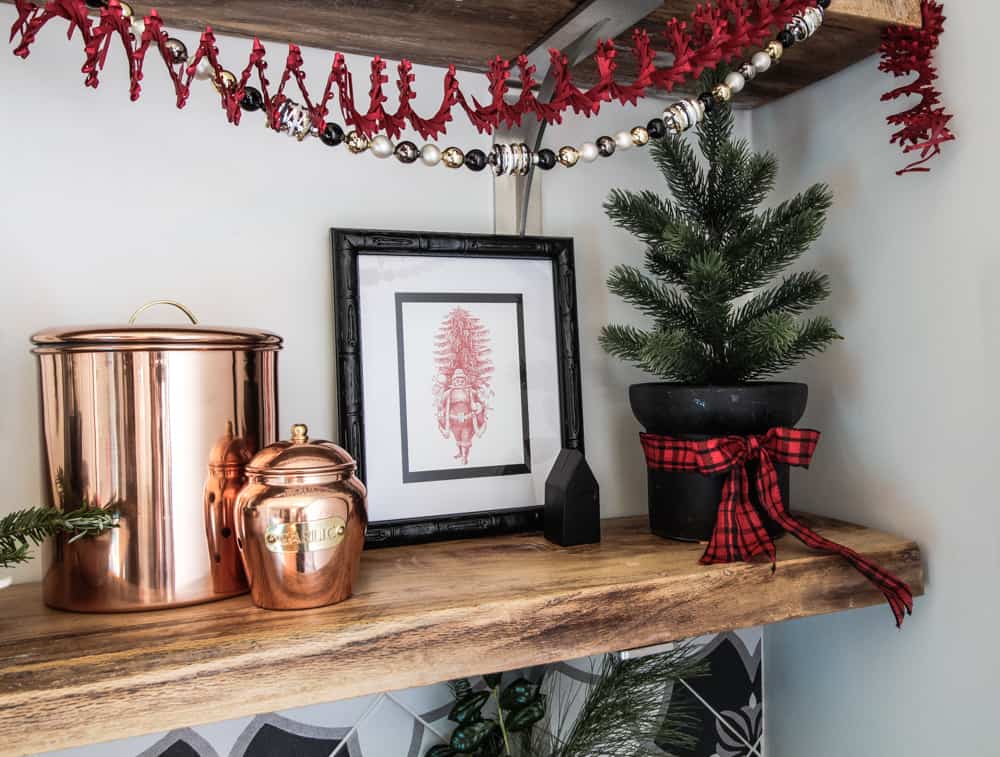 This vintage Santa was inspired by a graphic I found at Old Design Shop Blog, but I wanted a red colored image so I reworked the art as you see it and you can download it here.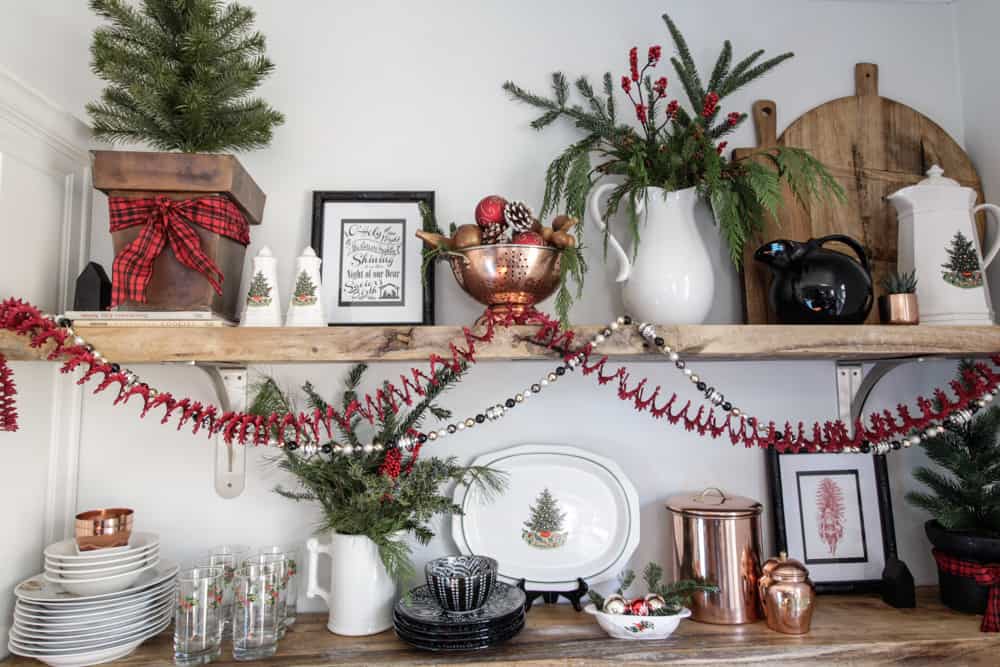 Just across from the shelves is the eat-in kitchen area.
The table is set with the Pfaltzgraff Heritage Christmas dishes we bring out and use for every meal this time of year.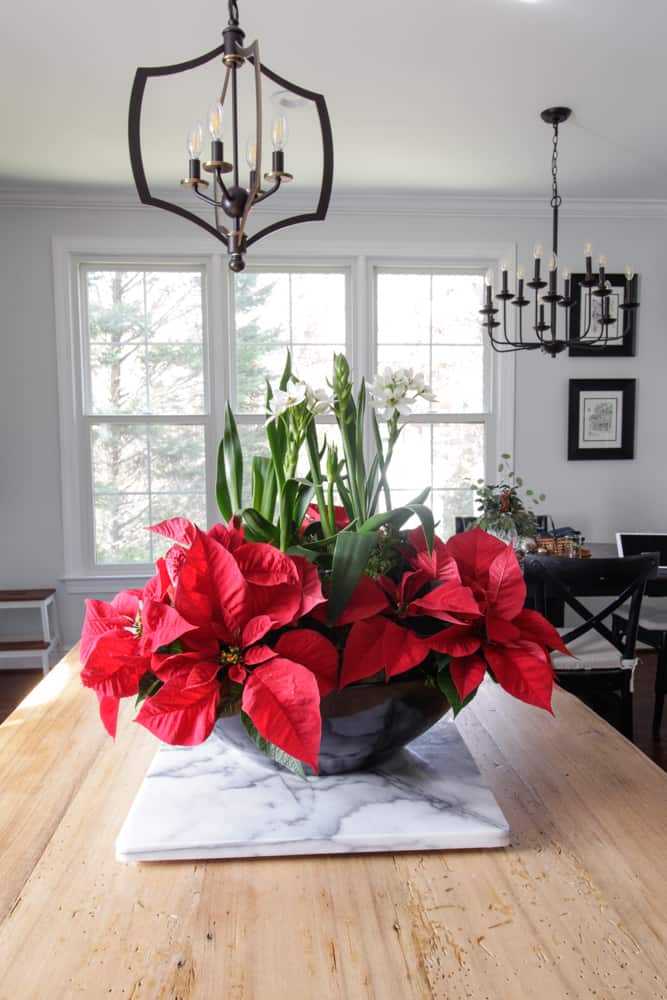 The new island is clad in barn wood salvaged from a farm in north Alabama.  It is the perfect spot for a dramatic centerpiece.  I found this giant black bowl this summer and was just waiting for the opportunity to plant it up.  I used bulbs that look similar to paper whites but they don't have a scent. Surrounding the bulbs with small red poinsettias complete the festive, yet classic arrangement.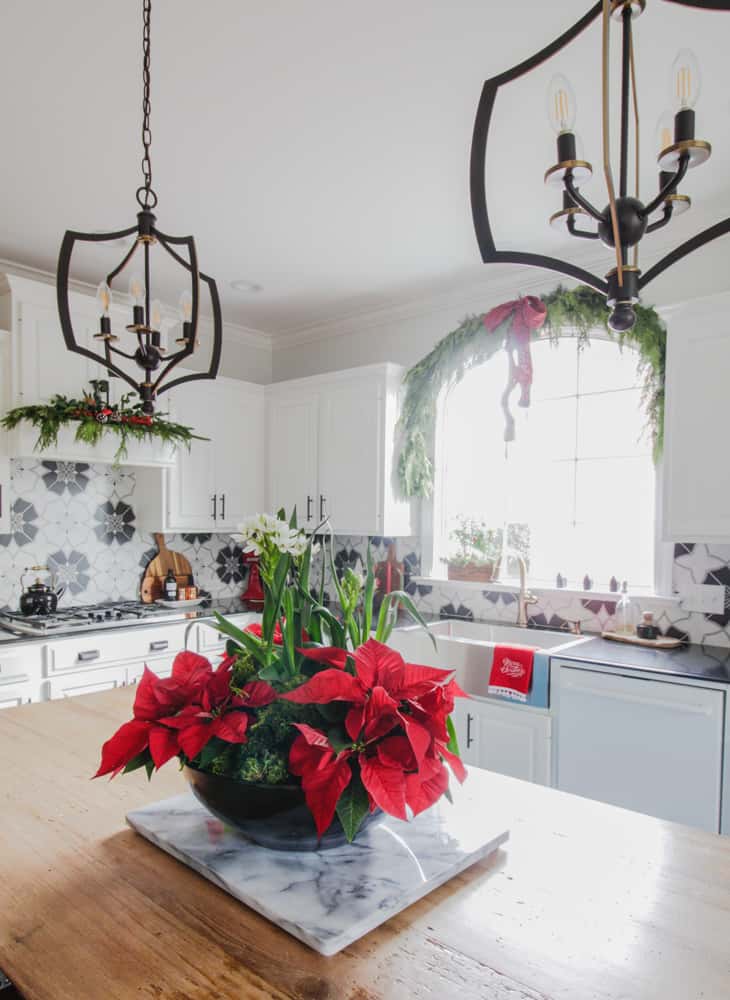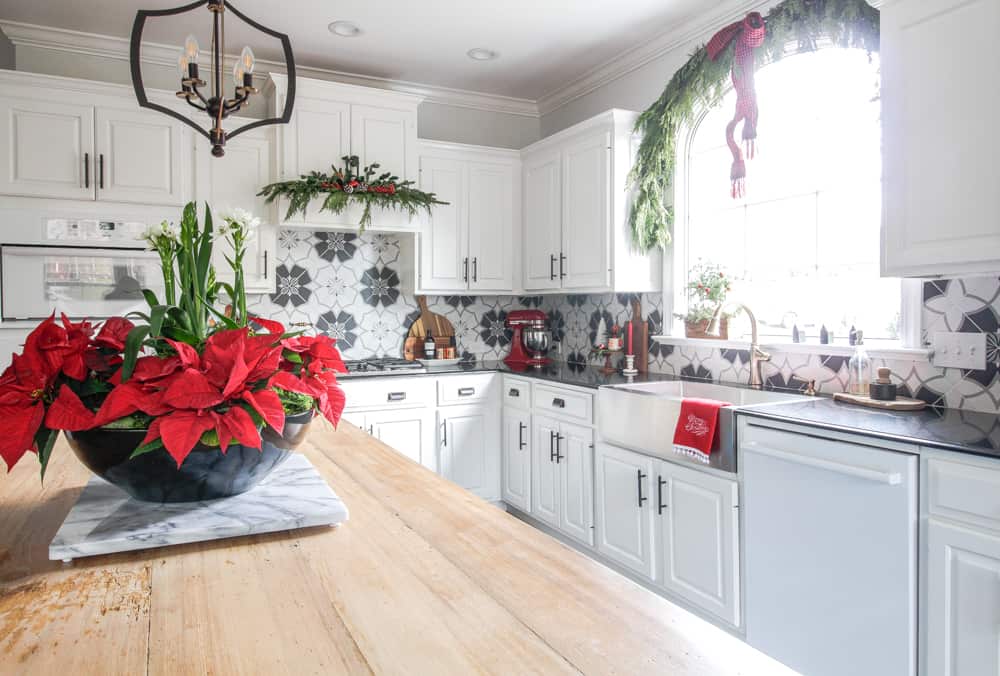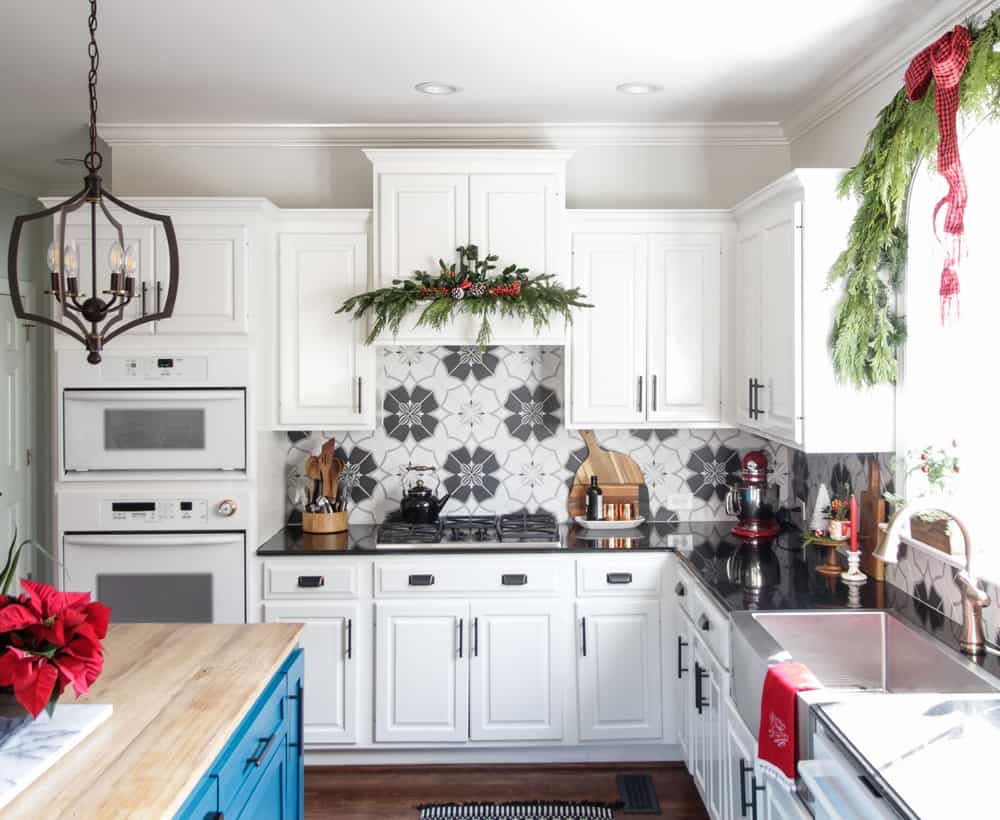 Simple additions of fresh greenery and those little Christmas treasures I look for year after year are all that's needed.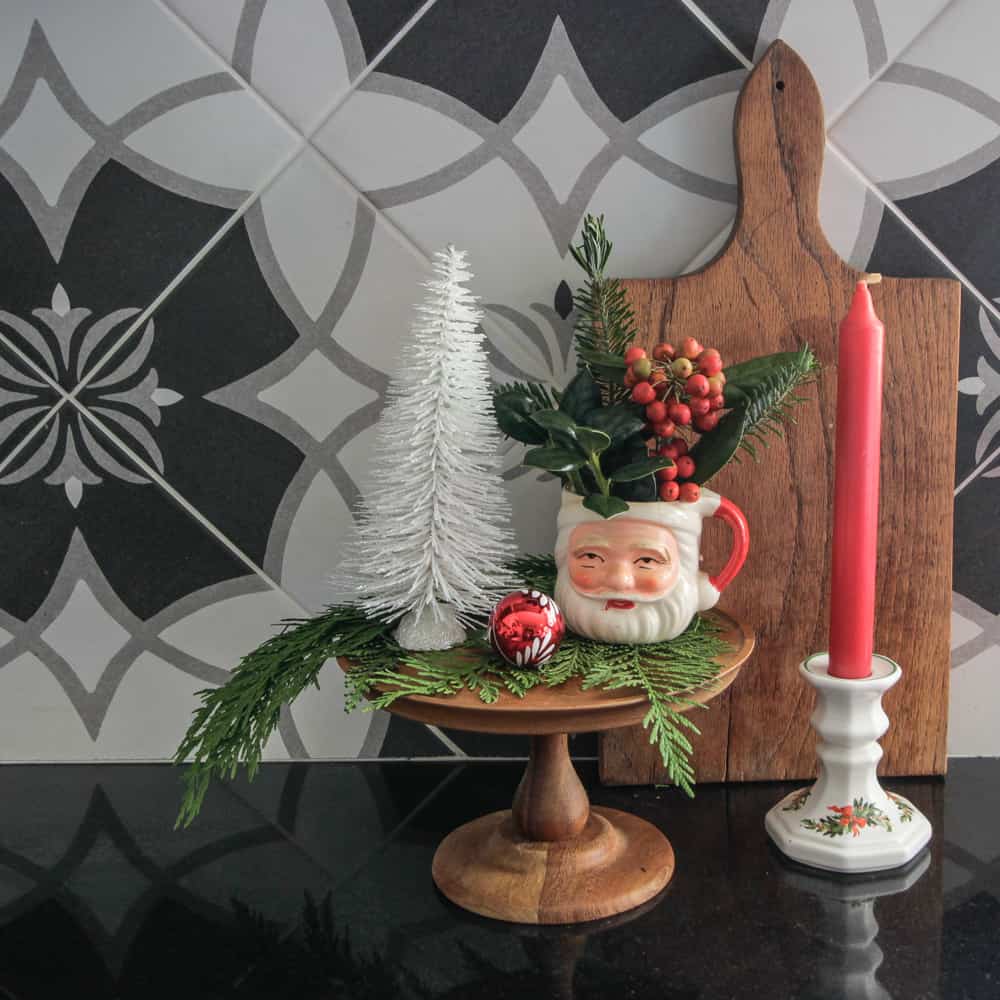 Of course pedestals and trays are the perfet way to neatly corral your accents in the kitchen or anywhere.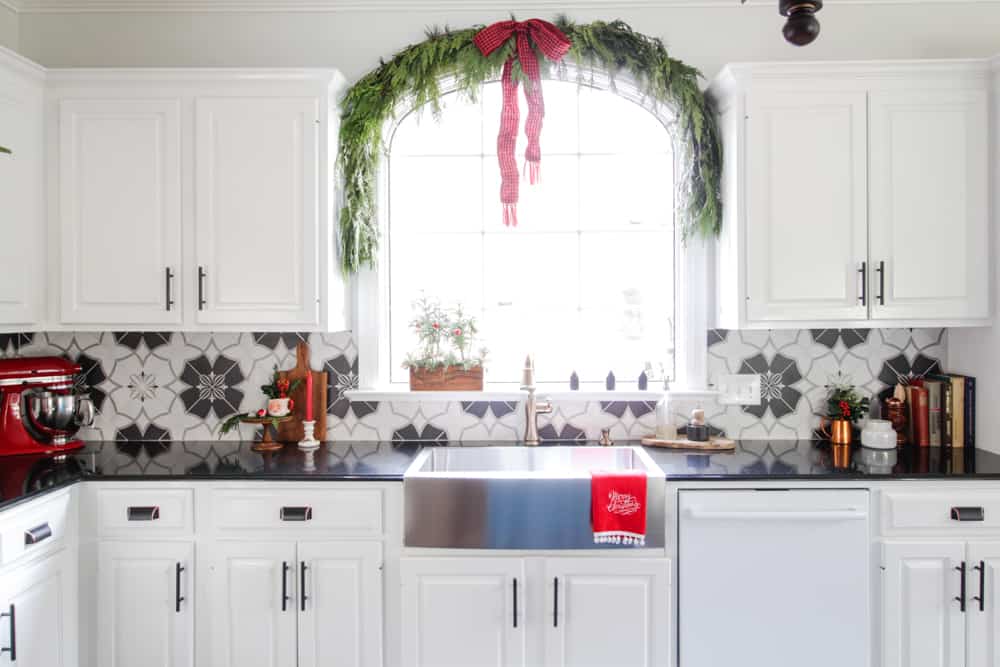 Last Christmas, the renovation was not yet complete and this window was a mess. I love that I can now proudly accent the arch with beautiful garland.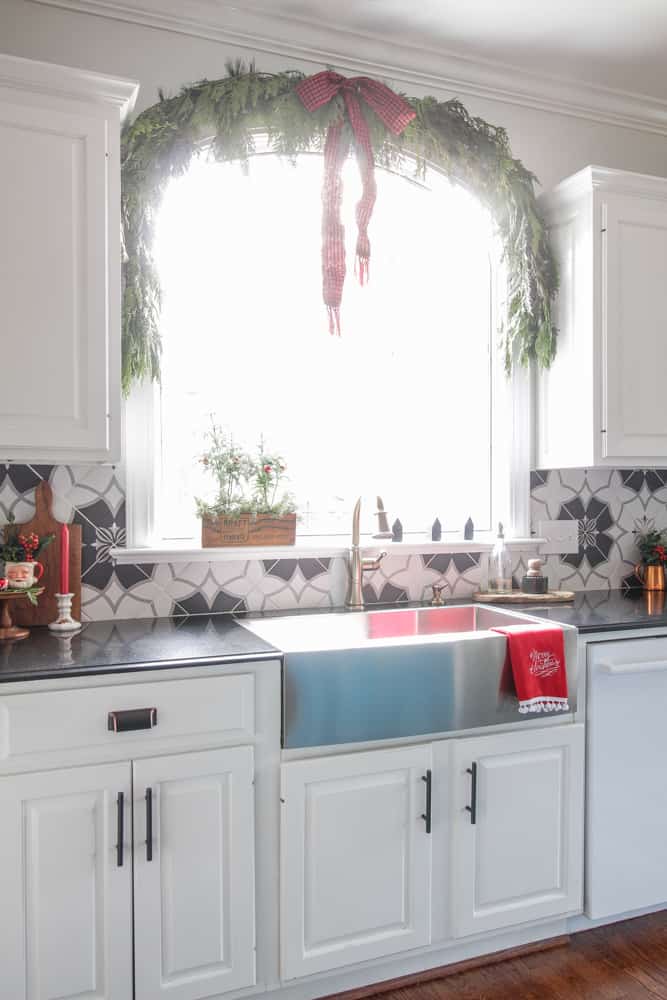 I'll fill you in on my little secret though. Behind the fresh cypress is a simple faux pine garland from Walmart!  The fresh garland I purchased was too heavy to hang around the arch, so I took it all apart and tucked it into the wires of the the faux garland.  Then I had more cypress to use other places around my house! Talk about a budget helper!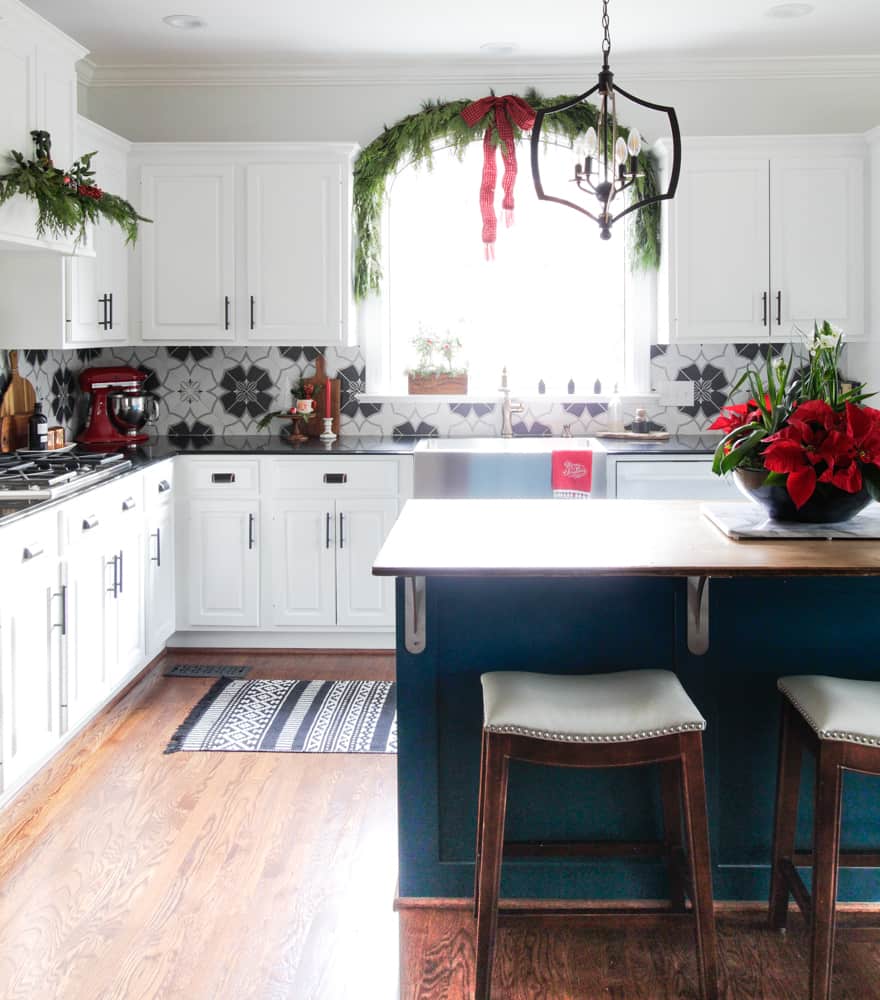 I'll be sharing the rest of our main floor spaces on Thursday for Part 2 of my home tours. But let's go down to an area of the house I haven't shared formally before.
Basement Media Room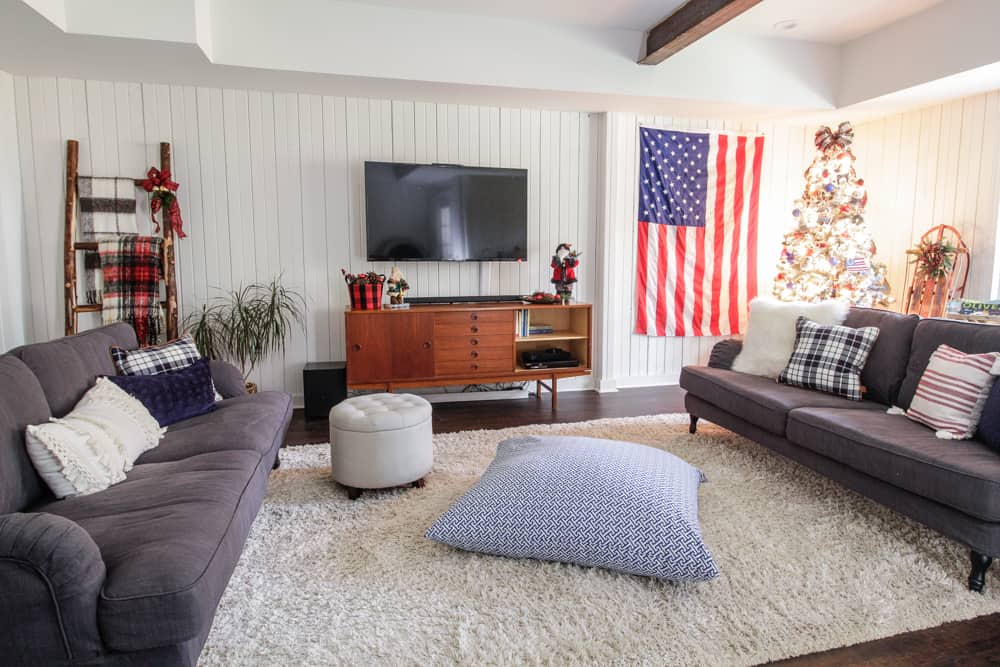 This is our favorite place to hang out for movies and my husband's football watching sanctuary.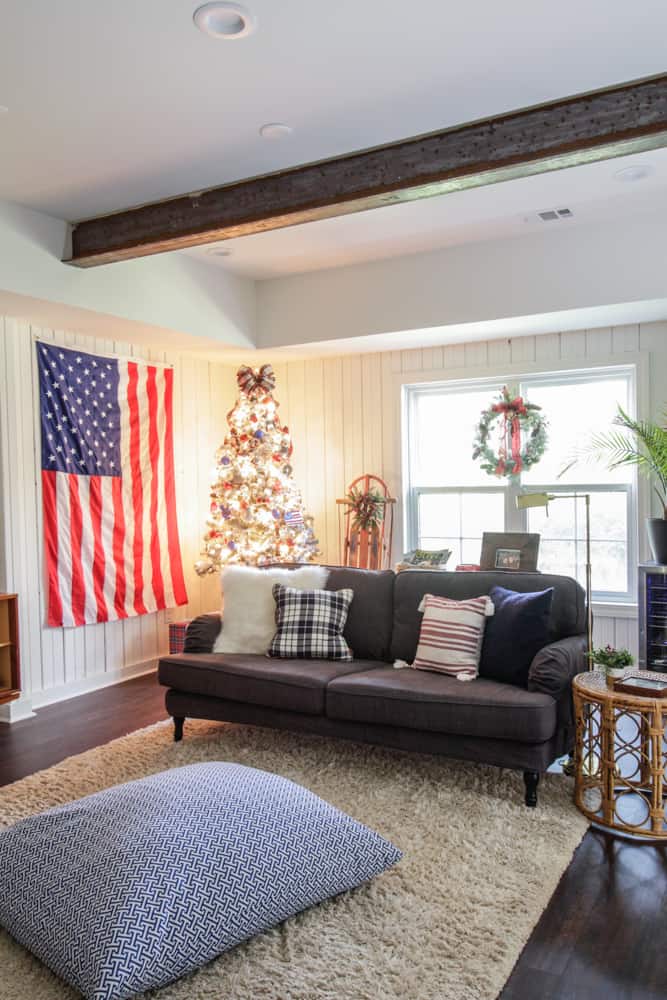 I tried my hand at flocking an inexpensive tree this year. I am thrilled to report it went even better than I thought!  Be sure to follow me on Instagram or subscribe to my blog to not miss the detailed tutorial video that's coming!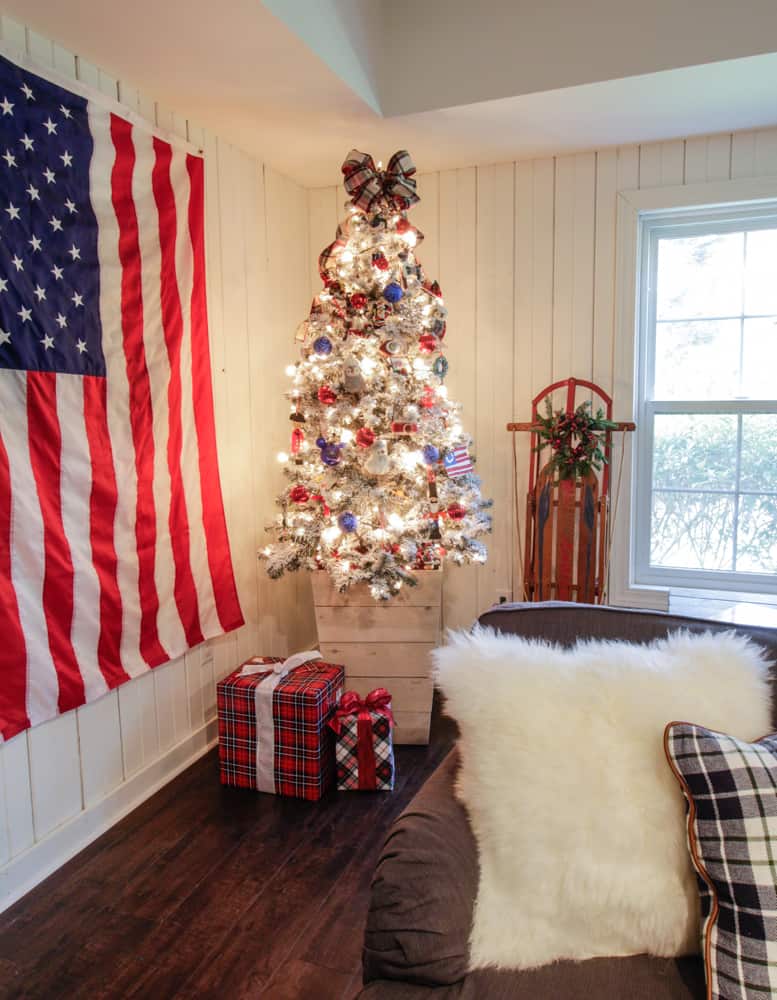 I wouldn't say I necessarily set out to create a patriotic tree. But I did happen to have just the right shade of blue ornaments to combine with red and my son's 6th-grade collection of American Government ornaments. I combined them with other ornaments we had on hand. I specifically saved the football-themed ornaments we have collected over the years to use down here as well.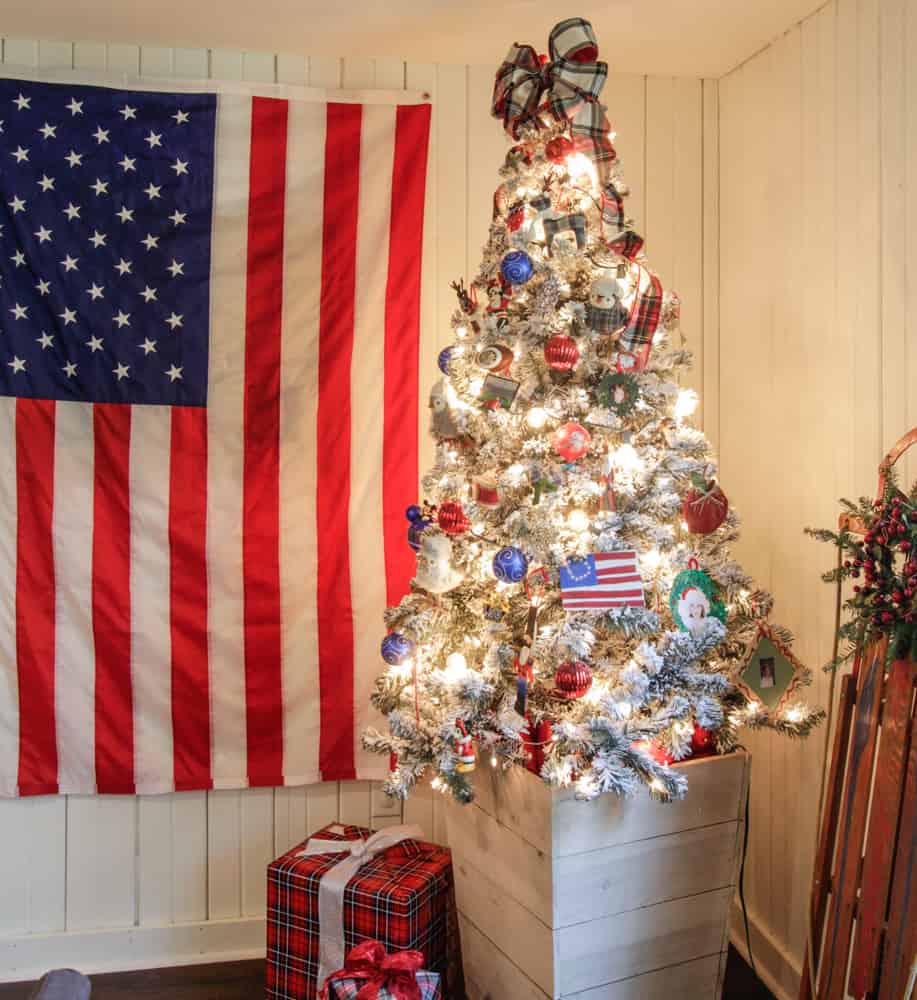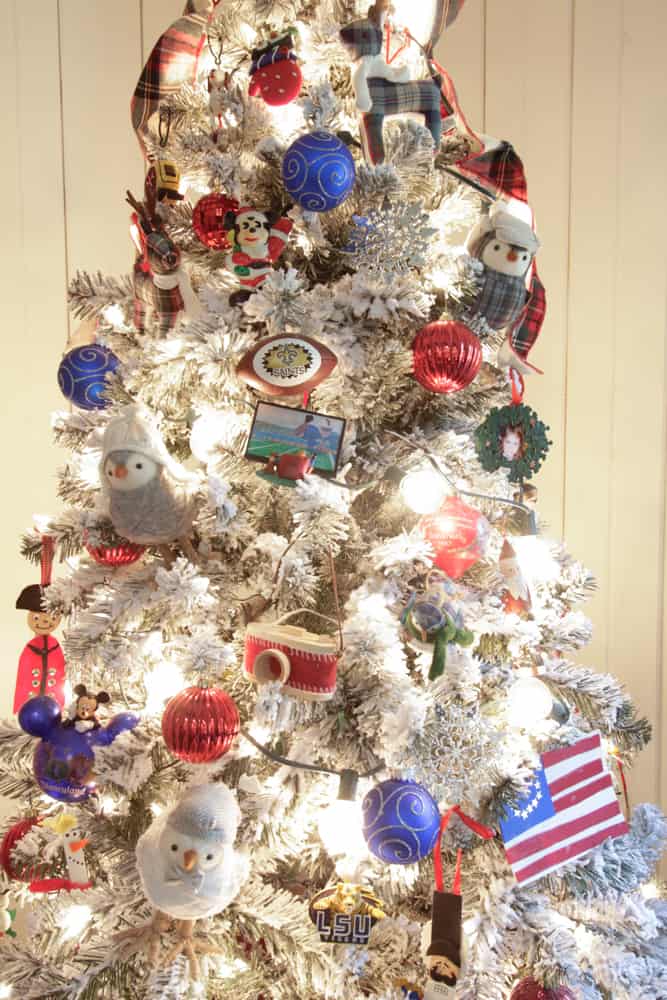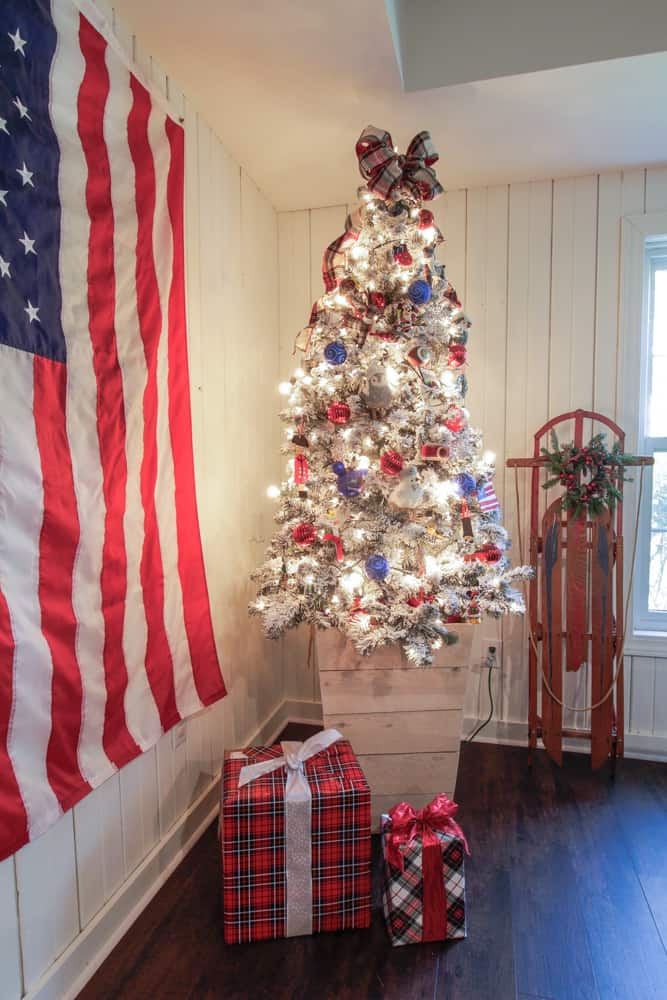 The other side of the room is balanced now with a project I just recently completed. A rustic blanket ladder built out of those dead tree trunks and limbs I mentioned earlier!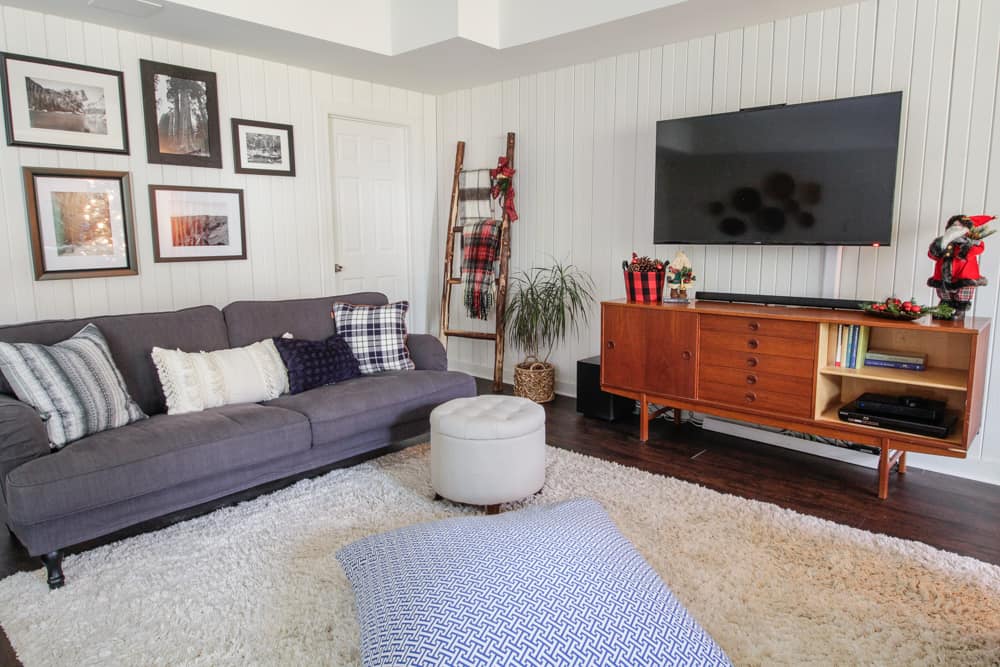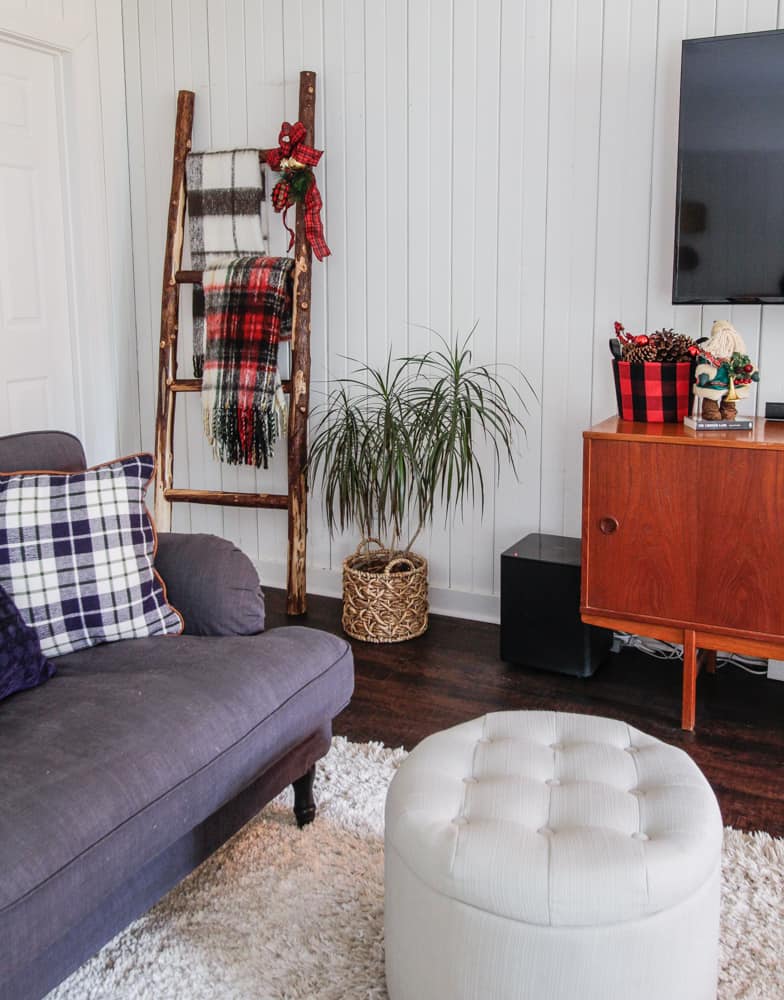 While it will likely hold blankets year-round, tying it up with some ribbon brings the perfect festive touch.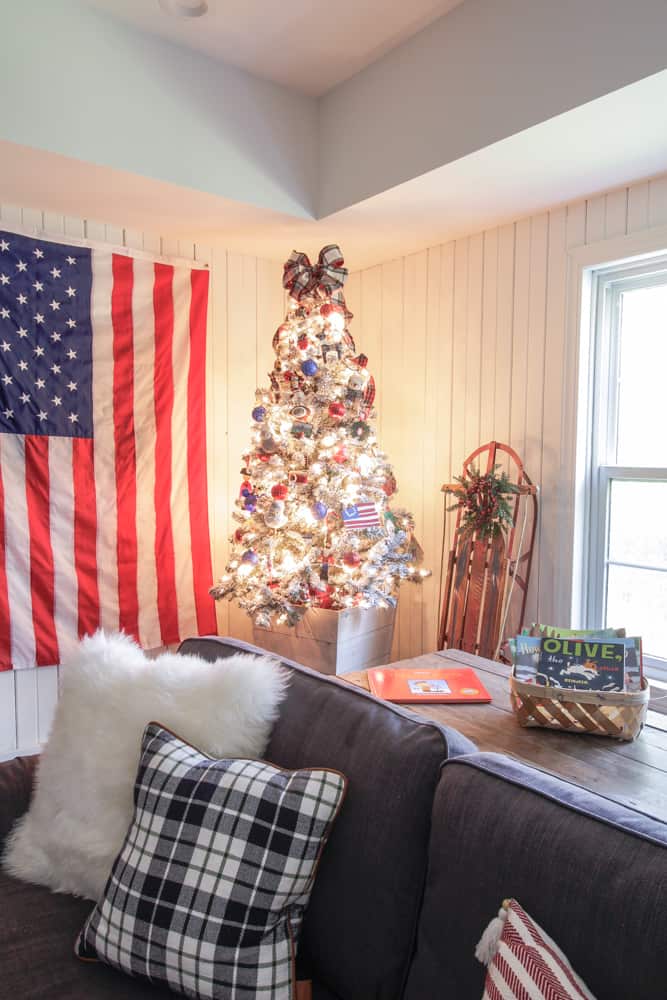 For a bit of nostalgia, I filled a basket with our Christmas themed books.  While our now college-aged kids will likely not read them all, I know they will be looking forward to our Christmas Eve tradition of watching a "Charlie Brown Christmas" before bed!
Thank you for joining me today! I hope this tradition-filled Christmas tour inspired you and maybe even sparked a new tradition for your family.  Memories of happy Christmases keep the spirit of the holiday alive from year to year!
The next stop on the Christmas Home Tours is Poofing the Pillows! I'm sure she's got a soft, inspirational place for you to land this Christmas! Each of these talented bloggers have pulled out all the stops to create a Christmas Home Tour to inspire and delight you this season!
Visit the rest of Christmas Home Tours and be ready to inspired by these talented bloggers!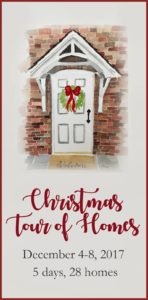 Tuesday
Wednesday
Also, the rest of my home tour can be seen here!
And on Wednesday I shared a special blog post all about my Christmas trees, here.
SaveSave
SaveSave
SaveSave
SaveSave
SaveSave
SaveSave
SaveSave
SaveSave
SaveSave
SaveSave
SaveSave
SaveSave