Last week, the teenagers and I went with our church youth group on a mission trip in Moore, Oklahoma.
When we reached our home church for the week,we were told that the area of Shawnee, OK had a great need for volunteers. Shawnee had been hit by an equally strong tornado the day before the Moore tornadoes and for a long time were left with not much help.
So the next day we loaded up oru vans with 33 teenagers and adult sponsors eager to help in any way possible. When we drove into the neighborhood a ways. This is what we saw.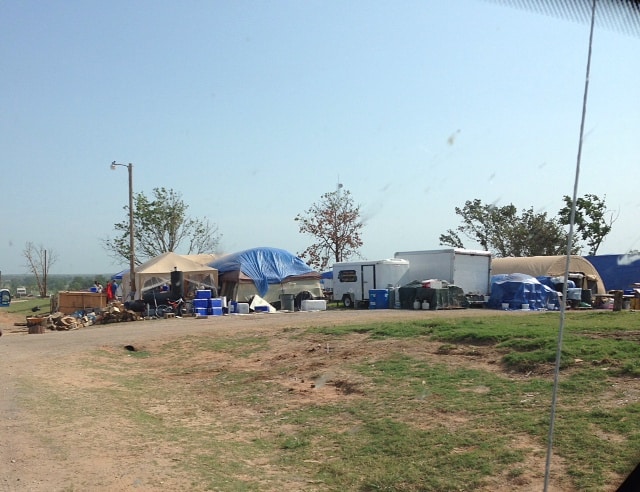 This small tent city is command central for reconstruction and assistance for the people in this and the surrounding areas of Shawnee. A biker named, Stick, was the man we were to find to get our orders from. 🙂
Looking on the other side of the road, this is a good visual of the destruction that spanned for about a mile.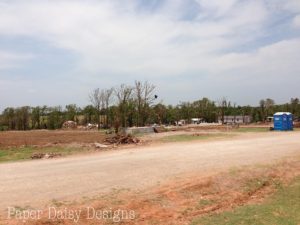 The first day at Shawnee, we helped finish a drain for the outdoor showers another organization had built for them. We moved a huge pile of dirt to allow a load of gravel to be delivered. And then of course, we moved the gravel.
After a hot lunch prepared by Grandma, Mama and Jason volunteering at the tent city kitchen, we went to work clearing a ditch of debris that could not be reached by heavy machinery.
Picking up pieces of a shattered trailer was especially heartbreaking especially when we found a recognizable piece of a home or personal belongings.
After a long day of work, we returned to Oklahoma City to have our much needed showers at a local gym. Each night, after our showers and dinner, we had moving worship performed by members of our youth group and devotion time.
The next day we returned to Shawnee to work on tearing down this trailer.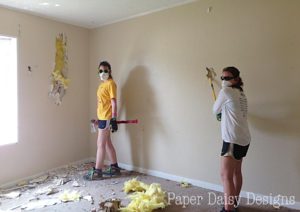 This is Emily and a friend beginning work on tearing up this room, getting the hang of their tools of destruction.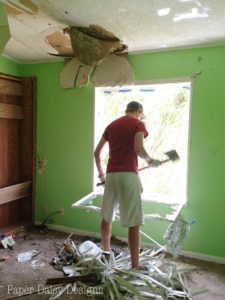 Miles was the man to take on this bedroom. After tearing out built-in cabinets he decided to address this window. He loves to tell how they broke this window to get into the trailer. Apparently the front door was still locked. Not to worry, we were given orders to tear it down.
I love how it looks like he's debating over how to safely go about tackling the removal of this window.
A few minutes later, I could hear a, "Mom, come see!"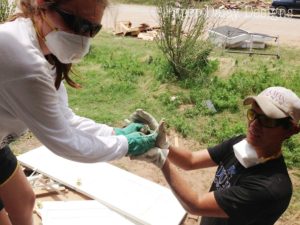 As Emily and her friends were working, a baby bird just popped out of the drywall. It was the strangest thing. The outside of this area of the trailer didn't look that bad, but obviously a nest had been built in the insulation from the outside. They carried the small bird out and sent him on his way.
I got to try my hand at drywall removal as well. Miles gave me some tips on proper technique and I went to town.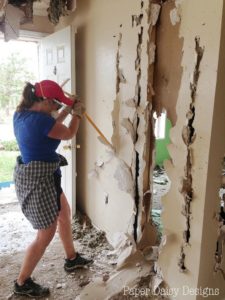 Later that evening, I warned Richard the three of us are now trained in demolition. He could leave town and find a wall removed some where in our house. 😉
The next day we worked with a group in Moore. This is the back of one of the houses we gutted.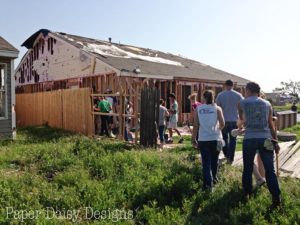 After a day of work, we drove less than a mile to Plaza Towers Elementary. It was a sobering site.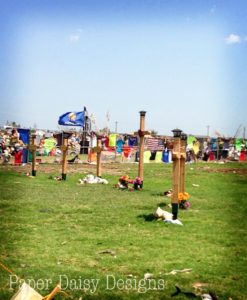 In the time since my husband, Richard, had been to Moore the school had been demolished and the surrounding fence became part of the memorial.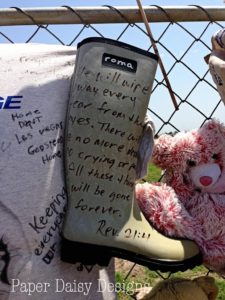 Chaplains from the Southern Baptist Convention Disaster Relief were there ministering to people coming to the site. After we had some time along the fence and taking in the memorial, a chaplain asked if he could speak to our group.
He pointed out this tree that had been damaged by the tornado. And explained that despite the destruction, we need to focus on the rebirth and new life that is bursting forth from this tree. Just in the same way we can see how God works even in the midst of storms.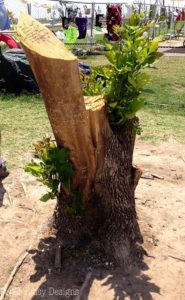 While the head chaplain was telling us about the school and some of the children and teachers who heroically helped their fellow students three boys walked up and listened.
Then the chaplain pointed out a outdoor rug that was placed in front of the fence. He described how the rug was found 5 miles away from the school. One of the boys piped up and said, "That's not our rug!" The boy described what the Plaza Elementary School rug looked like and declared that the rug belong to a school a mile from them.
The chaplain then realized the three young boys presence and asked them to share what they knew and told them how happy he was to be able to get the story right. He was so gracious. He said this was the first time any students had come to the site and offered them encouragement and listened.
It was a moving and heart wrenching experience to hear the boys talk about their school and that day.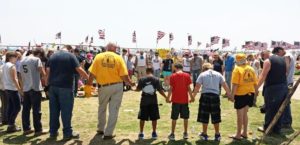 I hope it was a healing experience for the boys. I'm glad we had a chance to pray with them and bless them.
The next day we returned to Shawnee. In the blazing heat, various groups of kids worked on building these pod tents and more clean up.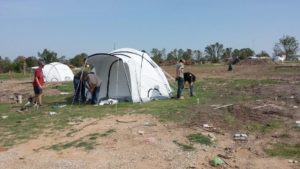 I spent the afternoon helping in the kitchen tent and after the work was done, we had a chance to visit with the "permanent" volunteers. It was nice to have some time to fellowship with them and hopefully encourage and recharge them for the days ahead.
One of those volunteers we befriended was this man, the group had nicknamed, "Cowboy". He rode his horse down to Shawnee from near Kansas City to offer his help. Several of the girls in our group helped him organize a large tent that is used as a warehouse. He told us how he rides all across the country relying on God's providence. His horse, Anna Marie is the sweetest horse I've ever been around.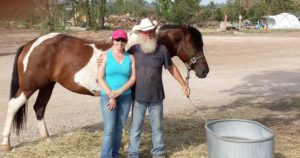 It was a great week of hard work, friendship and fellowship. Of course, I also forged deeper friendships with the teenagers and sponsors that were on the trip. All of the teenagers worked their tails off and there was not a complainer was among them. I was proud of all of them, and of course, my own most of all.
Thank you for subscribing to Paper Daisy Designs. Please continue reading on the blog. I appreciate having you as a reader.