When we purchased our "new" home earlier this year, we knew eventually we would make some fairly significant changes to the master bathroom.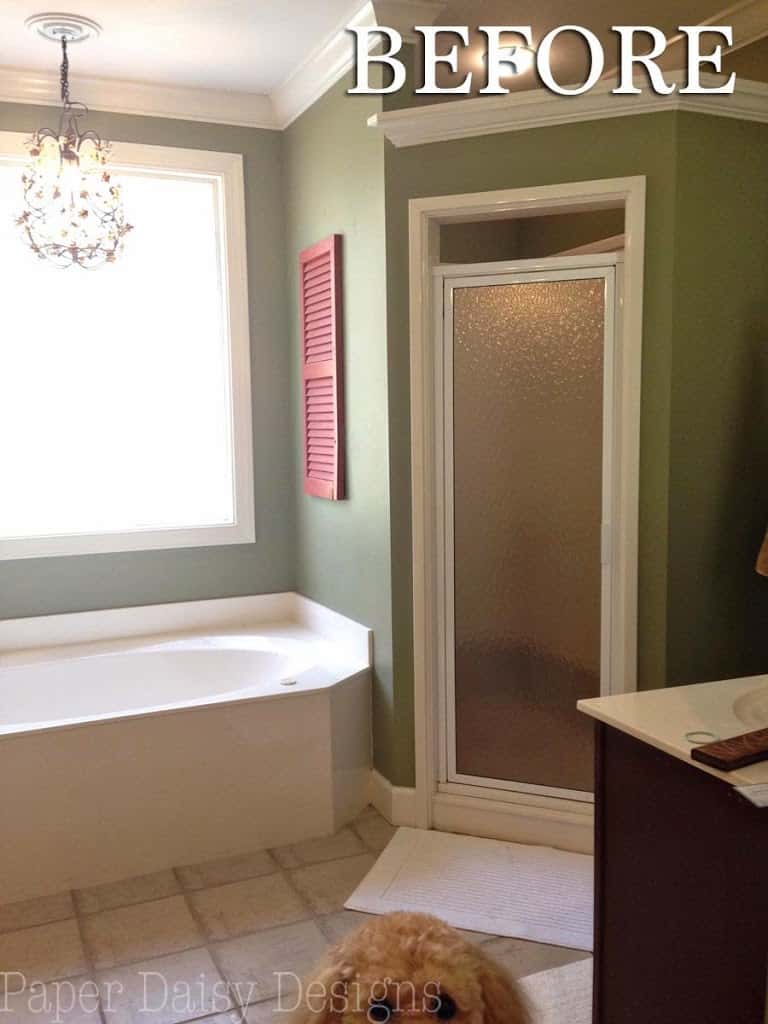 But for a while, we thought we would be good with a fresh coat of paint. The bathroom functioned and we thought we would focus our efforts solely on the kitchen, despite the minor crack in one of the sinks.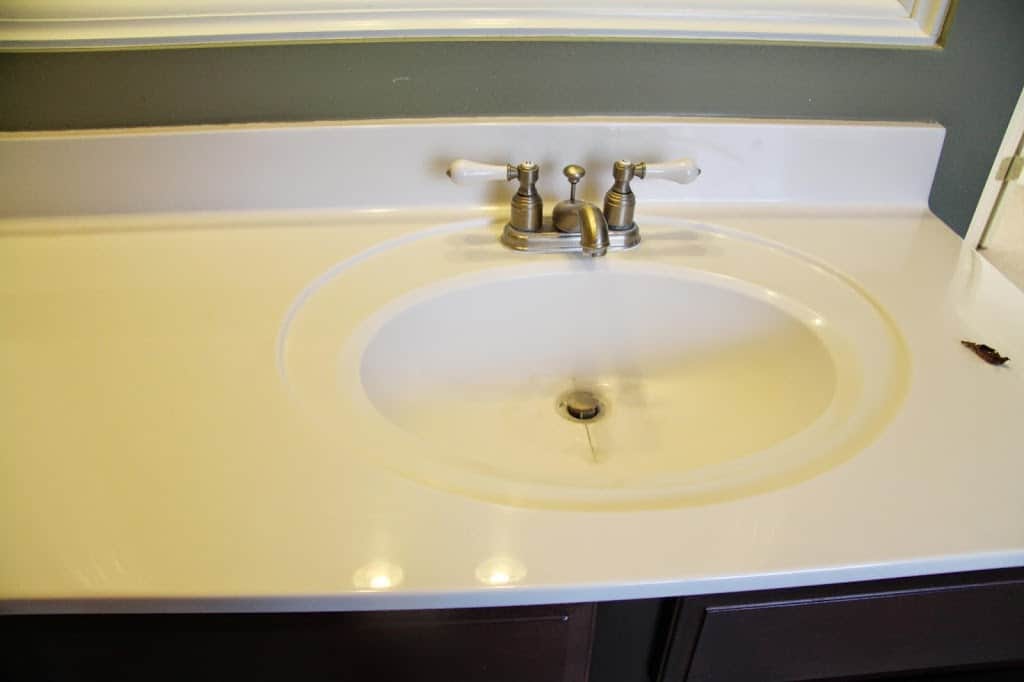 Amazingly enough, the sink didn't leak, but the faucets did. In an effort to remedy the minor water seepage, we found ourselves with only one faucet that worked and only the hot water tap!
After a plumber checked it out, (he was here to run a gas line for the BBQ pit) he said the old faucets weren't worth the effort it would take to fix and that new faucets were the way to go.
That created a big dilemma. Do we purchase faucets to fit the current sinks, even the half broken one? Or do we go ahead and start what Phase 1 of the bathroom renovation.
I'm sure you've figured out by now, we chose the later.
And thankfully so, because look where we ended up.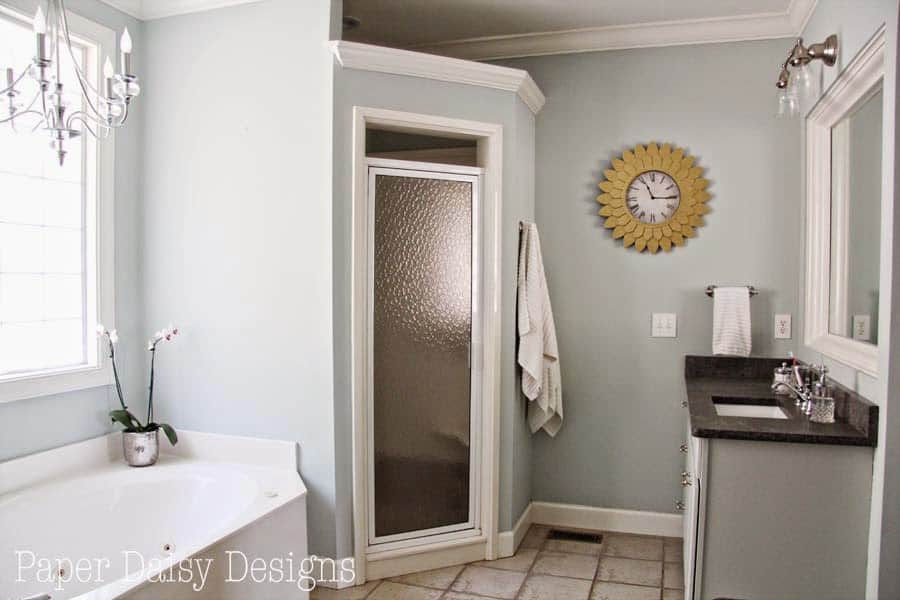 We had already made a good start with brightening the walls with paint before we moved in. So at least we had that step complete.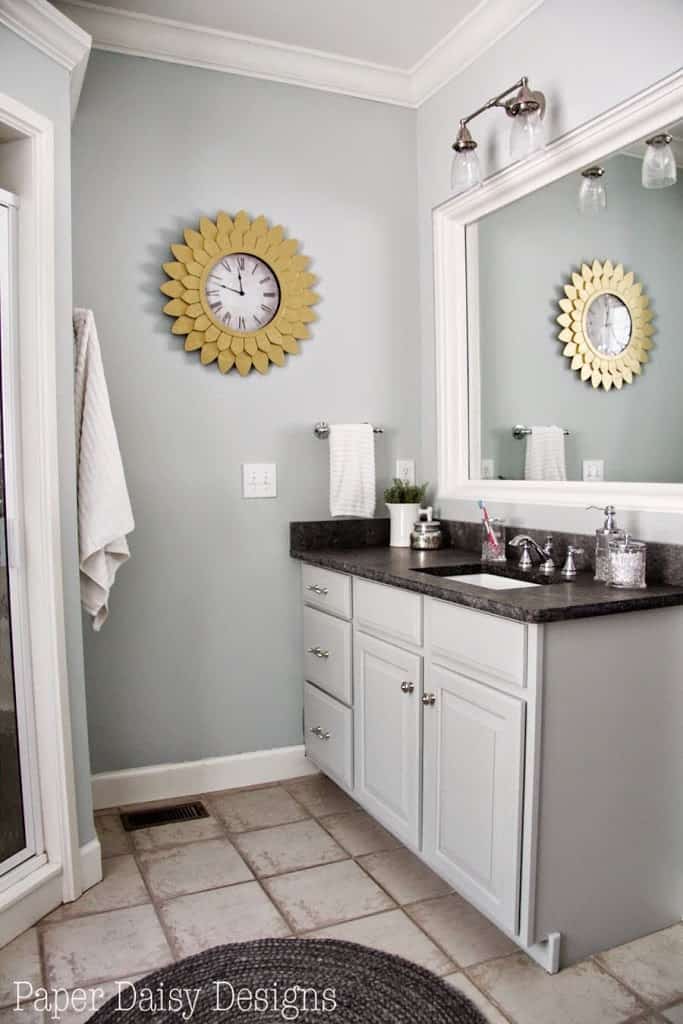 To keep our focus on a creating a budget makeover, I visited a local granite showroom in search of remnant pieces of stone to replace the countertops of the vanities. They assured me it was a cost effective way update a bathroom. I had already done some shopping and found that remnant granite prices were not that much more than cultured marble.
After looking through their large selection of remnant stone, I choose a honed granite called Silver Pearl.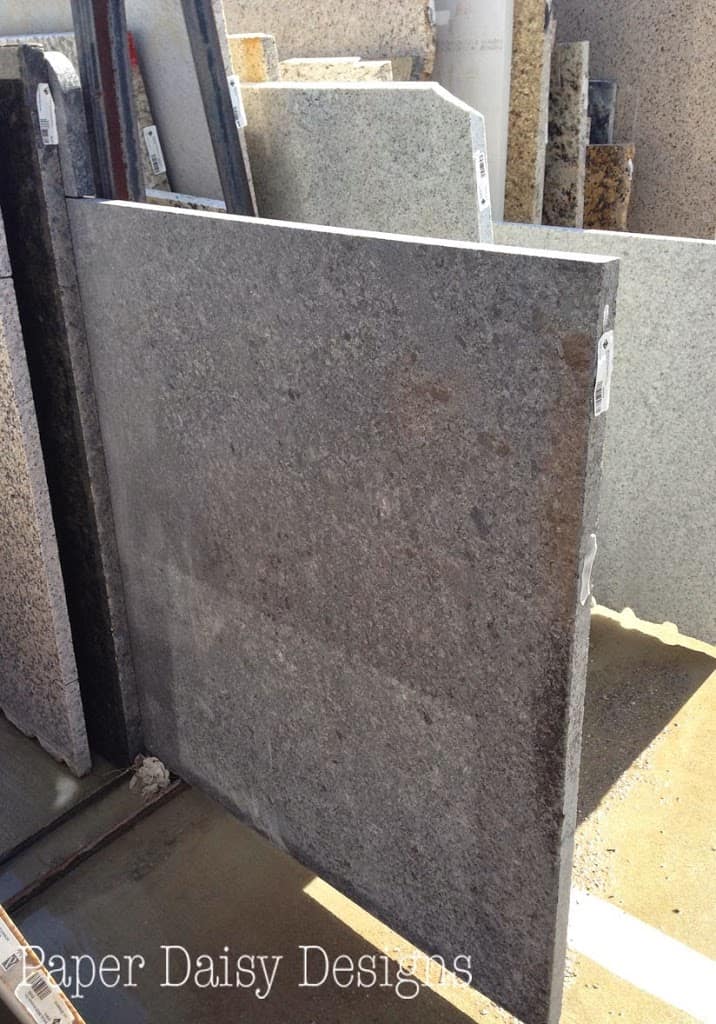 Fitted with rectangular sinks, the Silver Pearl granite looks very fresh and modern, almost slate-like.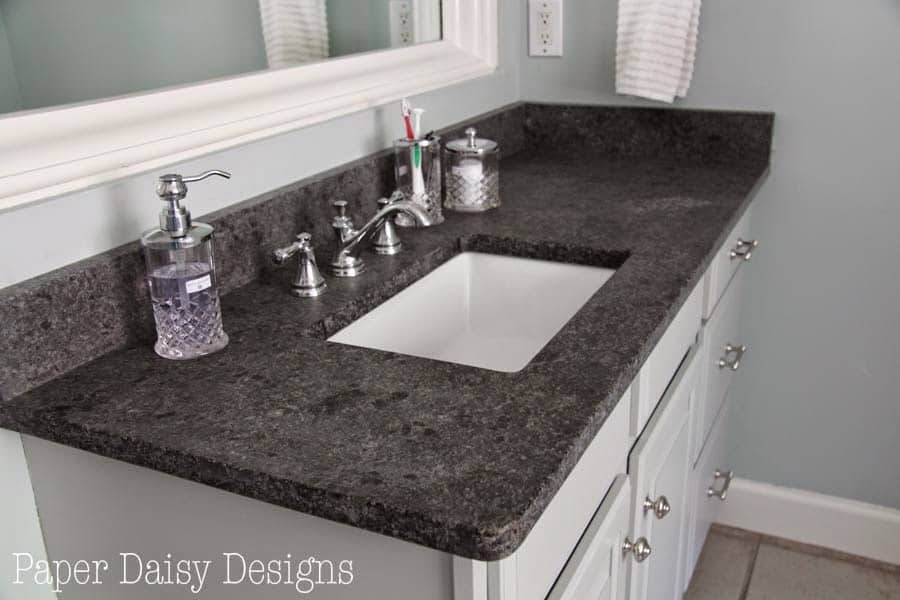 But because it's granite, I know it's durable. No worries about hot curling irons marking the tops or make-up stains.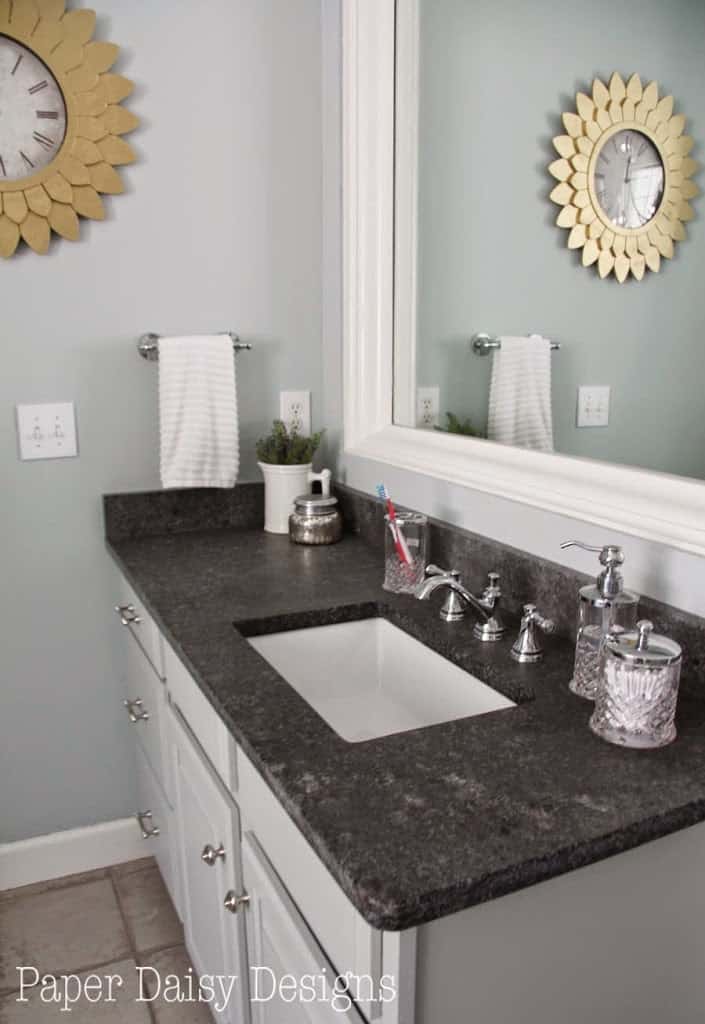 I reserved my final decision on painting the cabinets until the granite was in. And as I had figured, I decided to paint them a soft grey color.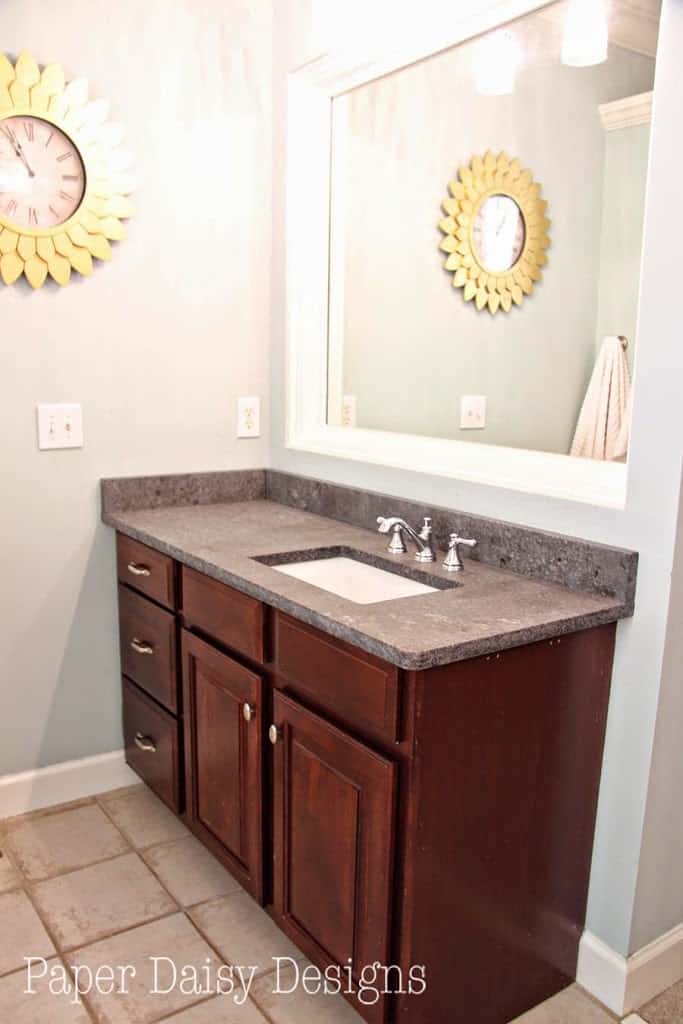 I ended up creating custom mix to get the color just right. I didn't want the grey to be too dark, too blue, or too green but I wanted enough contrast with the wall color so that they did indeed appear grey.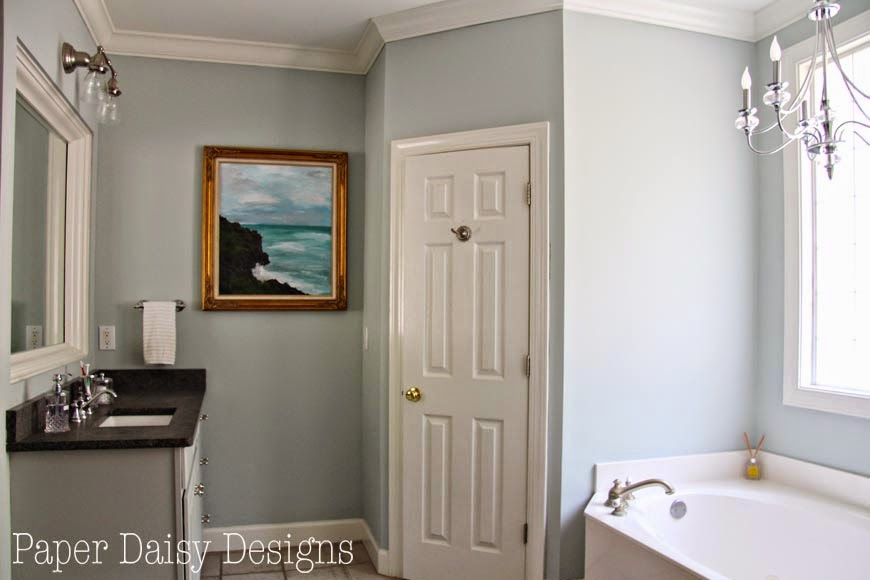 Eventually, in Phase 2, we plan to replace the tile floors, the jacuzzi tub and gut and rebuild the shower for a more open look with a glass and tile surround.
Thankfully, I found a chandelier on clearance to compliment the new chrome faucets and cabinet hardware.
The artwork is an original painting inspired by our family anniversary trip to the Black Sand Beaches in Maui a few years ago.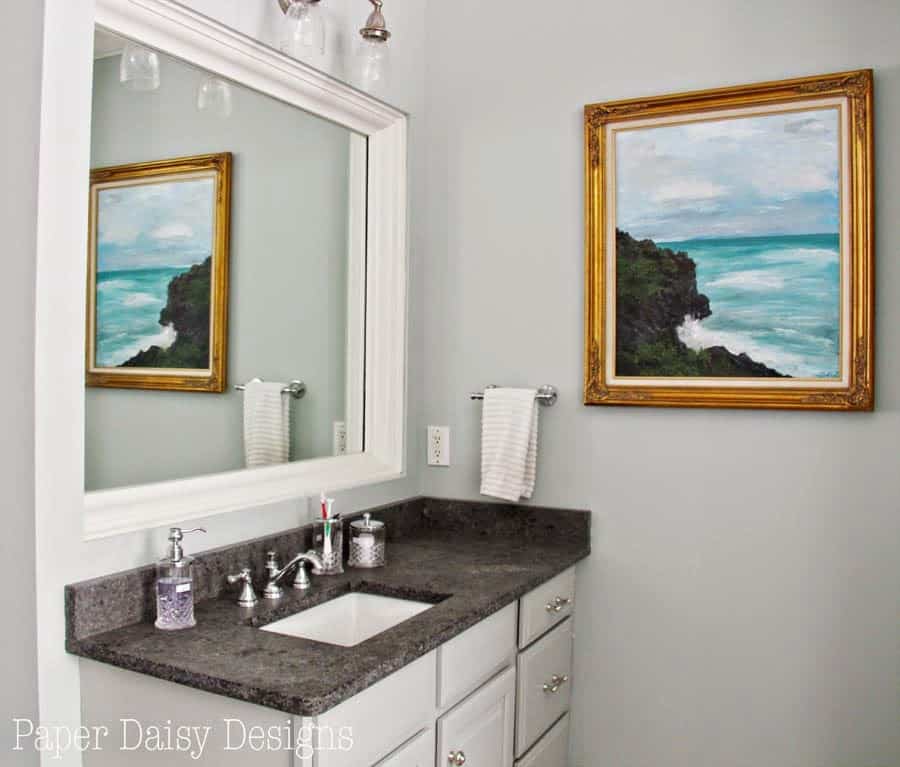 I already had the clock which of course had undergone it's own glamorous makeover.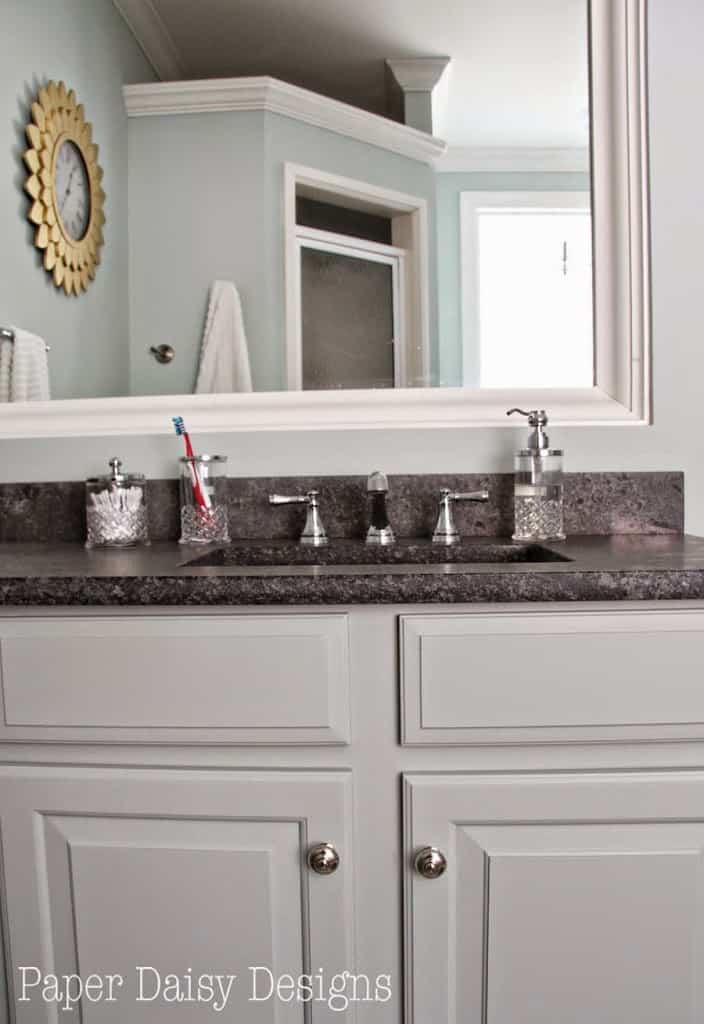 The most creative use of an object award goes to the hand towel bar. We like the idea of a towel hanging on the wall, but I'm not a fan of the big hoops available in home improvement stores.
I shopped around for a straight towel bar that was just smaller in scale. After coming up empty-handed, guess what I did? I used an oversized toilet paper holder! It works great and it's the look I wanted. You never would have known, if I hadn't told you. 🙂