SO remember how I said I'd know tomorrow if Emily had the flu or just a virus? Not so sure… fever is still hanging in there, unlike Miles whose fever was gone after a day and a half. She's still pretty puny. She did have one happy moment today. When I came back from the mailbox with the Jonas Bros "Rocking the House" Netflix DVD in hand. Good to see her smile.
In between some freelance work, I did put the final touches on my Project 12 Layout for June. I'm lovin' this layout and lovin' this challenge. It's so cool to see the months come together in our family album. I'm glad I've stuck to repeating this basic design. The continuity is really nice and it challenges me just enough to make it interesting, but easy enough to see the project through.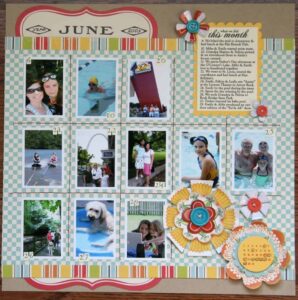 Thank you for subscribing to Paper Daisy Designs. Please continue reading on the blog. I appreciate having you as a reader.