When the
Media Room Makeover
began, I had every intention of ditching this little coffee table for something else. But once the sectional arrived, it turned out it was a perfect fit for the center.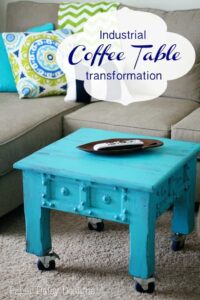 There was no denying it. This little guy had to stay. But a makeover was definitely in order. Here's the before.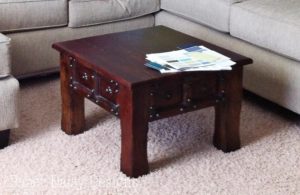 I've always kind of liked the industrial, rustic look. Is that how you would describe it? Either way, it's super solid, extremely heavy and I'm sure it was used as a launching pad in the many years it sat in the "playroom".
But, even in front of the loveseat, that was originally the only upholstered furniture in the room, it was small and short. If you wanted to prop your feet up on it you had to put a pillow on it to make it comfortable.
To start the transformation, I gave it a quick almost dry brush of the paint I had for one of the chairs I painted for the map table. I also hit it with some steel wool and sandpaper to rough up the finish.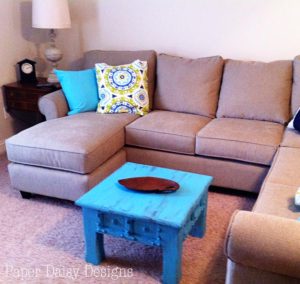 To make it a useable height, I had a couple options. I could upholester it and convert it into an ottoman. Good idea, but I thought the rugged appearance was more suited for some casters.
Kind of like high heels for a table. 🙂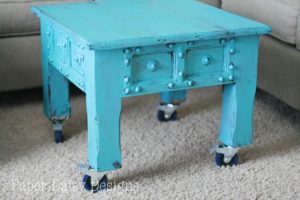 Looks good huh? Turns out when I got to Harbor Freight, these blue ones were the only ones that were the right height. Perfect right? Fate I tell you.
And the best part was there were only about $3.50 each. Pretty good!
To add to the table, we just pre-drilled holes and added the screws. Because the base plate of the caster was a rectangle instead of a square, we my husband, just beat the metal with a hammer until it bent around the leg.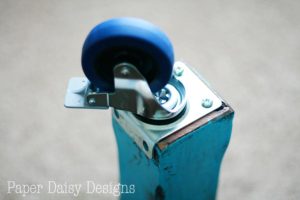 It's hard to deny when something is a perfect fit.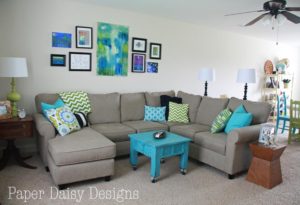 And if we need to, we can easily scoot this heavy table out of the center and replace it with our big floor pillow.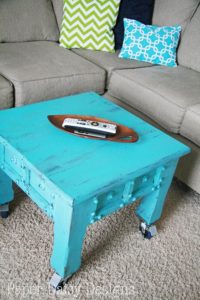 Be sure to check out the rest of the room and other budget projects for this makeover.
Sharing Here:
Wow Us Wednesday @ Savvy Southern Style / Share it Link Party @ Winthrop Chronicles / Show & Share @ Southern Lovely / Transformation Thursday @ Shabby Creek Cottage / Hooking up @House of Hepworths / Feathered Nest Friday @ French Country Cottage / Be Inspired Friday @ Common Ground / Friday Link-up @ Redoux / Home and Garden Thursday @ a Delightsome life / Frugal Friday @ The Shabby Nest / Frugalicious Friday @FInding Fabulous
/ Pity Party @ Thirty Hnndmade Days / Nifty Thrifty Sunday @ Nifty Thrifty Things / That DIY Party @ DIY Show Off / Sunday Scoop @ I Heart Naptime
/ Weekend Wrap-Up @ Tatortots and Jello
Thank you for subscribing to Paper Daisy Designs. Please continue reading on the blog. I appreciate having you as a reader.