This easy to build, Mid-Century Modern inspired daybed is the perfect DIY to create a cozy place to relax and welcome guests too! Find the free building plans, video tutorial and instructions below.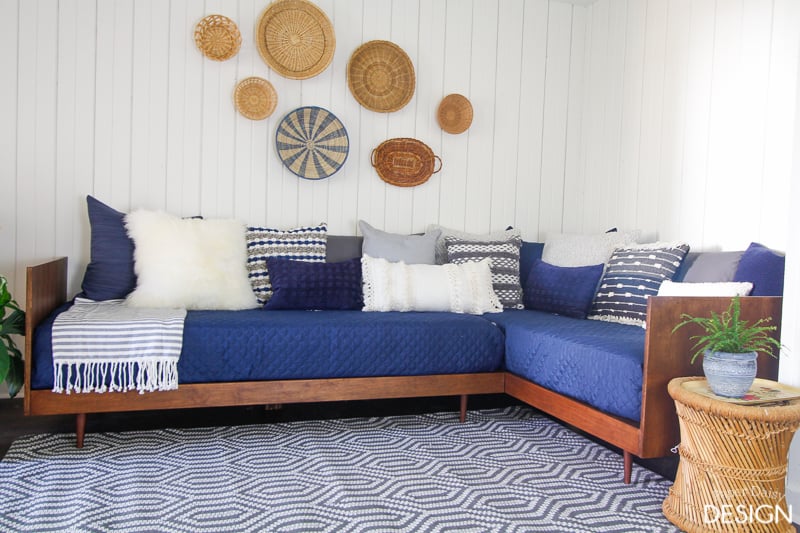 We had an unused corner in our basement that was ideal for this type of set up, and of course, you can build just one. But two fit our space absolutely perfectly.
UPDATE 10/2018 I continued to add to my basket collection so I thought I'd share a photos from a later photoshoot.

Sources for items shown are at the bottom of the post.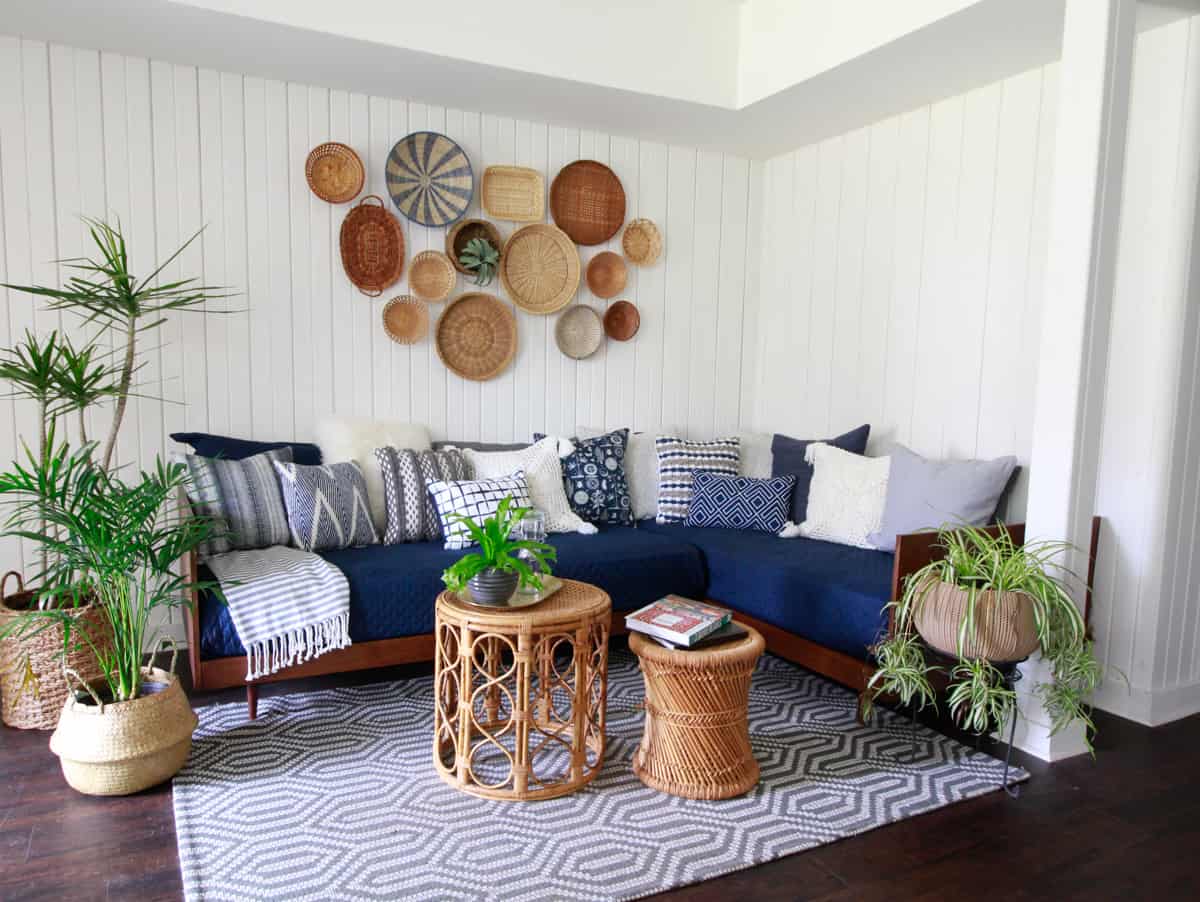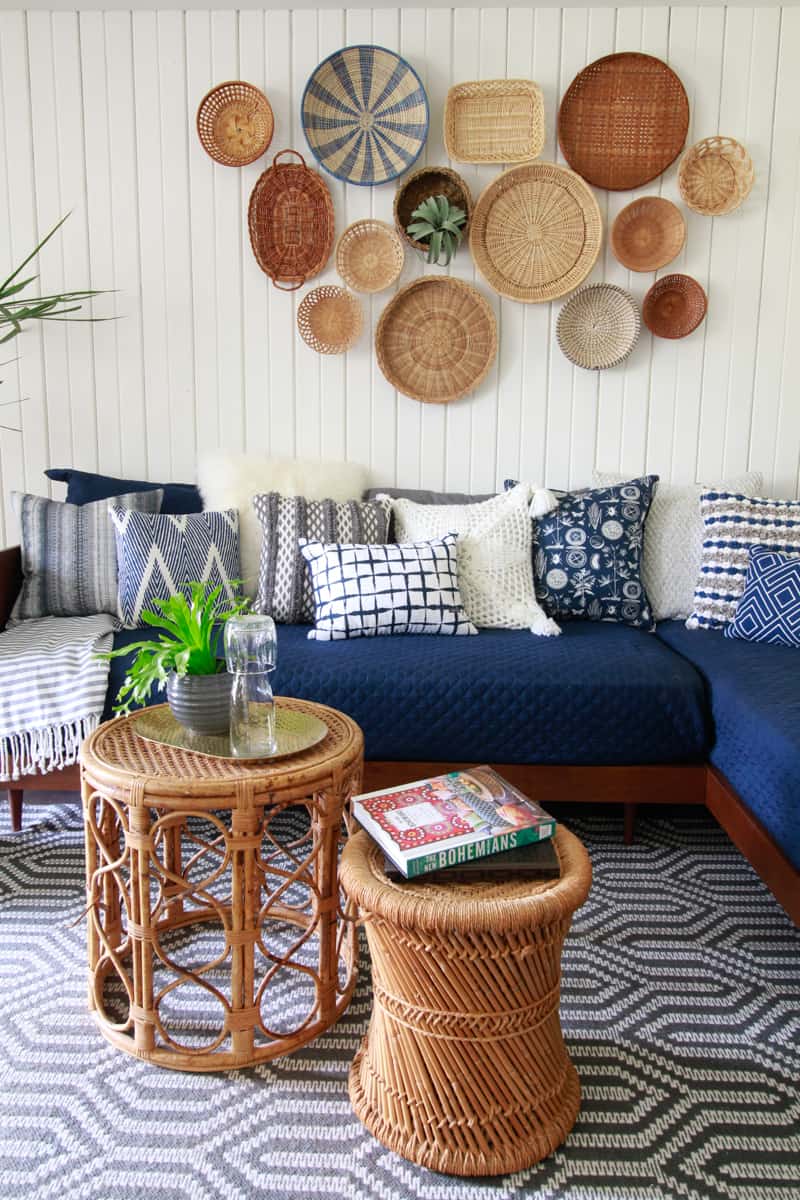 Below are complete written instructions, but if you are more of a visual learner, I made a video tutorial of the complete building process.
How to Build a DIY Plywood Mid-Century Daybed
My favorite plywood is made by PureBond because it is constructed out of hardwoods and are formaldehyde-free. I used the Birch veneer finish, which fits the modern aesthetic of the bed. Here is a cut plan for building one bed from one sheet of plywood.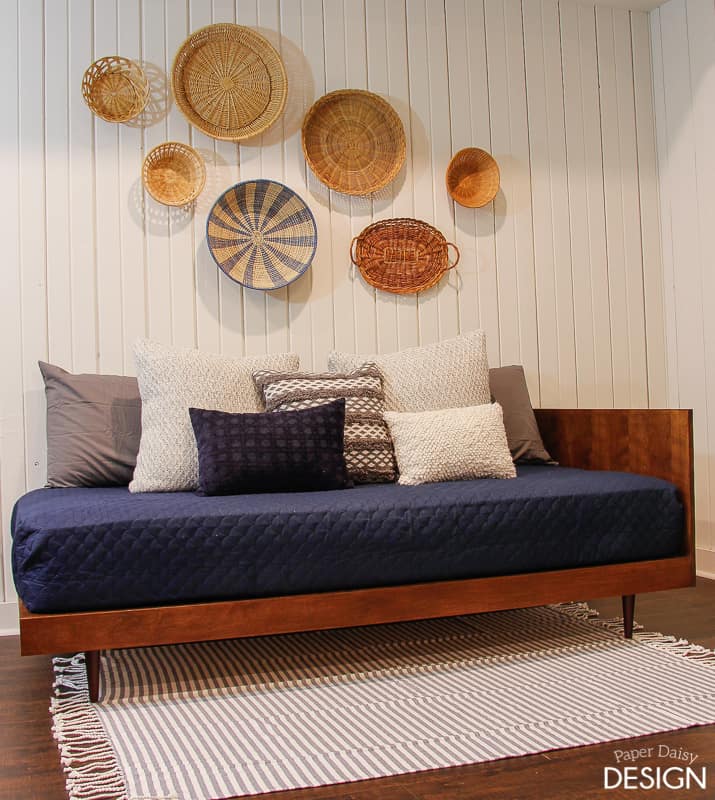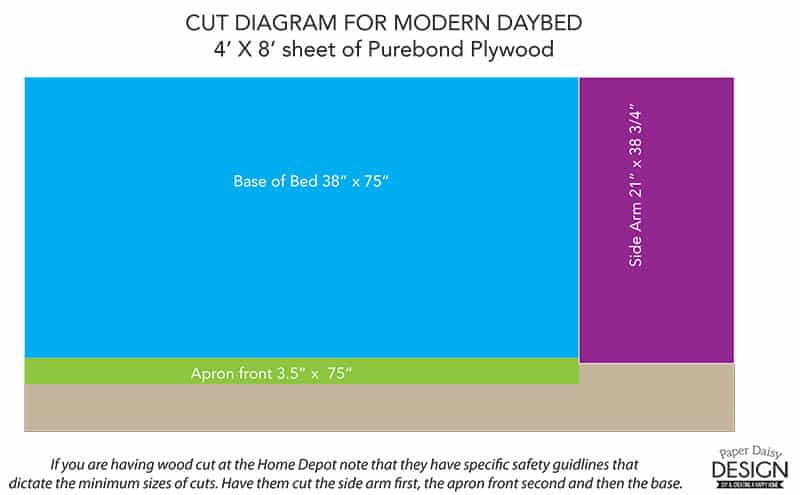 This post contains affiliate links for your convenience. I make a small commission on purchases you make at no extra cost to you. Your support allows me to continue to provide quality content.
Materials /Cut List
1 sheet of 4'x8′ PureBond plywood in Birch Cut to: 3.5″ x 75″, 38″ x 57″, 21″ x 38 3/4″
(2)2×4's cut to 38″ each
7″ Mid-Century Modern tapered legs
Sandpaper, 150, 200, 400
Tack cloth
4×4 wood, or two 2×4's joined together and cut to exact height of applied leg, approximately 9″
Kreg Jig Screws, 1 1/4″
Self Tapping Wood Screws
Right angle clamp (optional, but helpful)
Stain: Mix of English Walnut and Special Walnut
Top coat Finish, flat or satin
wood glue
(Items bolded in the list have links to sources.)
Tools
Table Saw (Optional, you can have the plywood cut at Home Depot.)
Miter Saw
Nail Gun
Kreg Pocket Hole Jig
Screw Driver
Cost for materials is around $120 for each bed. That includes all of the necessary wood, legs, leg hardware and edge banding. It does not include finishes, basic woodworking supplies or tools.
<br /> amzn_assoc_placement = "adunit0";<br /> amzn_assoc_search_bar = "true";<br /> amzn_assoc_tracking_id = "papdaides-20";<br /> amzn_assoc_ad_mode = "manual";<br /> amzn_assoc_ad_type = "smart";<br /> amzn_assoc_marketplace = "amazon";<br /> amzn_assoc_region = "US";<br /> amzn_assoc_title = "My Amazon Picks";<br /> amzn_assoc_linkid = "7d767e9ae69d4ea61507888cf14a9095";<br /> amzn_assoc_asins = "B00HY0W8GS,B01AKZ8MVI,B01HTWQFKA,B001DYFISG,B000J43A7W,B0002QZ4YE,B01H1WFPWM,B000JCGYD6,B000VZR1DS,B000VZJGPO";<br />

Sources for styling the beds are below.
Here is a basic placement guide as well.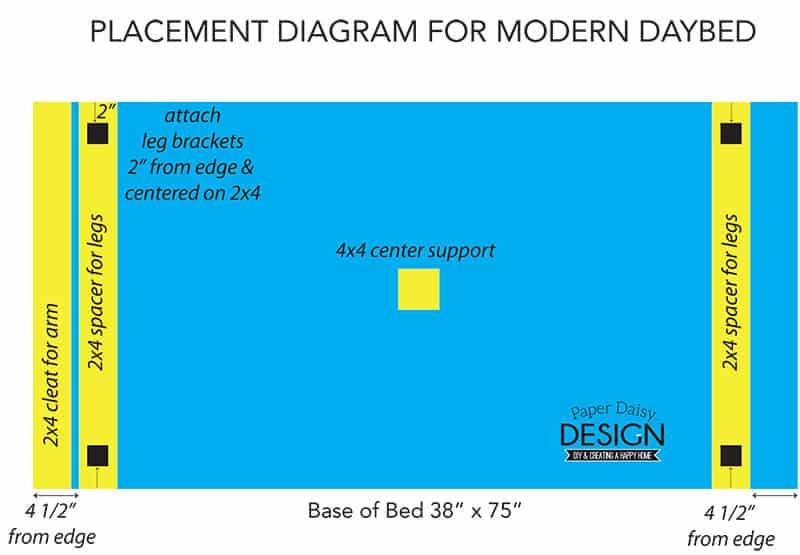 How to Build a Mid-Century Daybed
Begin by cutting your plywood as described above.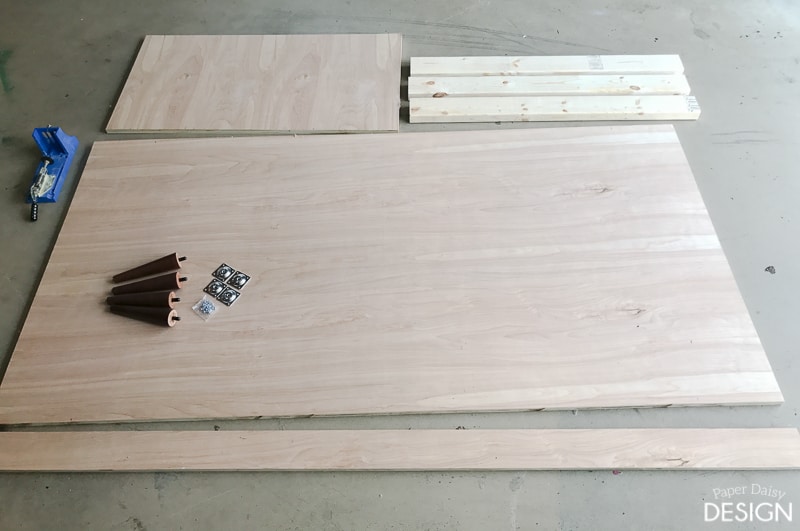 If you are having it cut at Home Depot, which we actually did because we can't fit a whole sheet of plywood in our car, be sure to have them cut the side arm piece first, then the apron and lastly the bed. Otherwise, the apron piece will be too small for them to cut on the saw safely.
2. Trim the 2×4's to 38″.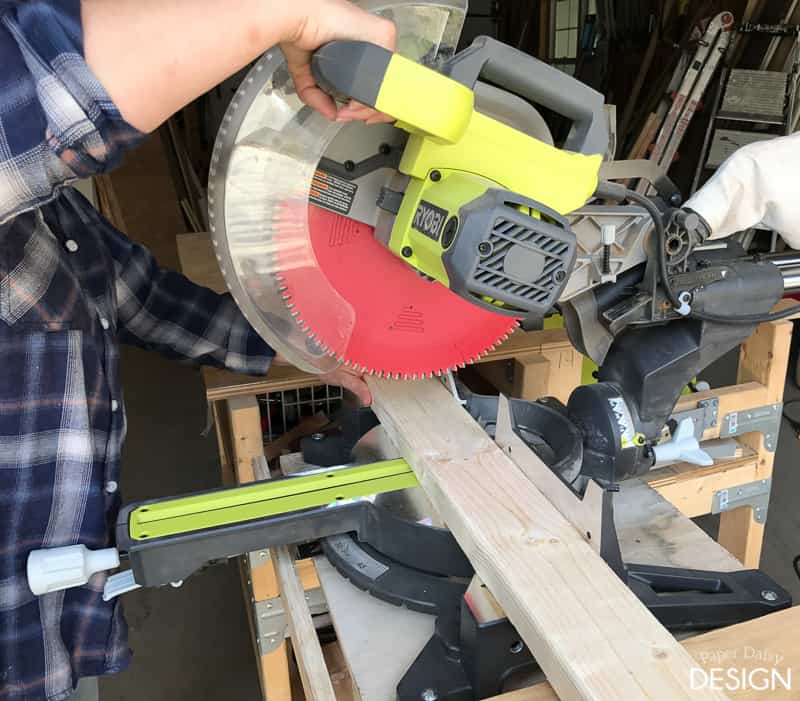 3. Add pocket holes the base of the bed.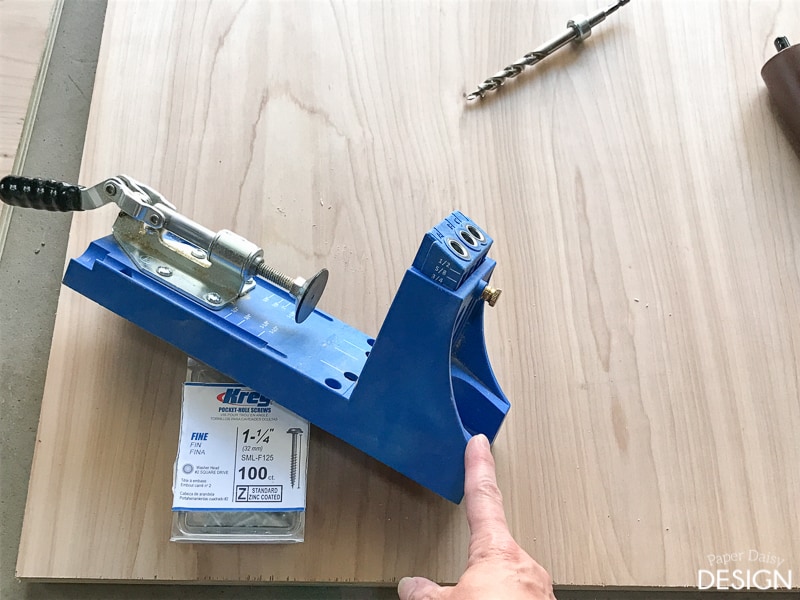 Add two holes about every 8-10″ along the bottom. Having a partner working on the other side is helpful to hold it up. Adding a small block of wood to the end helps the holes go into the plywood straight.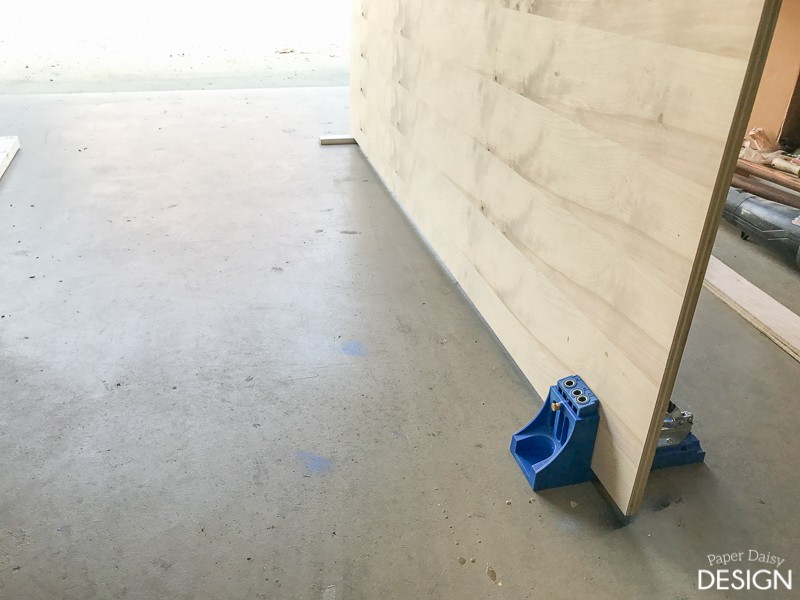 4. Attach the apron front to the base of the bed with 1 1/4″ Kreg screws.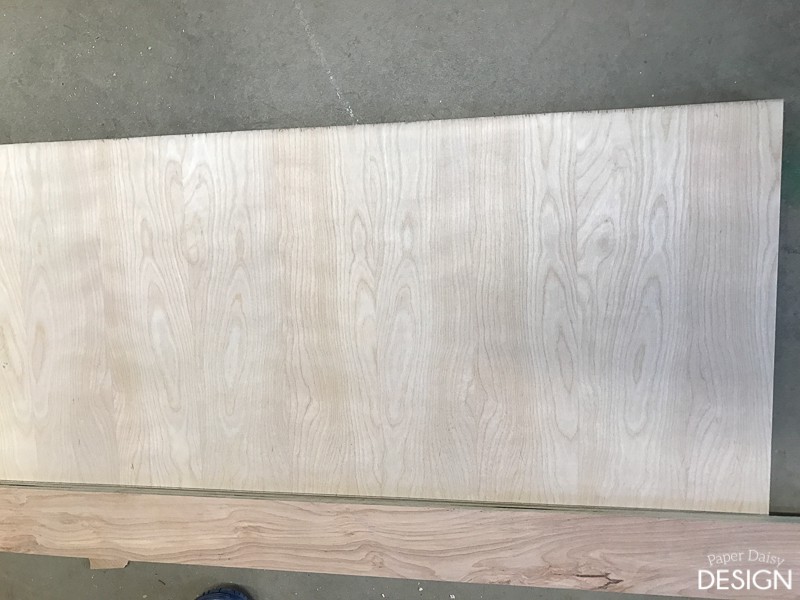 5. Add pocket holes to one of the 2×4's. (See photo in step 10)
6. Attach 2×4's to the base of the bed. Two of them are used as support for the legs and the one close to the edge becomes a cleat for the arm or headrest.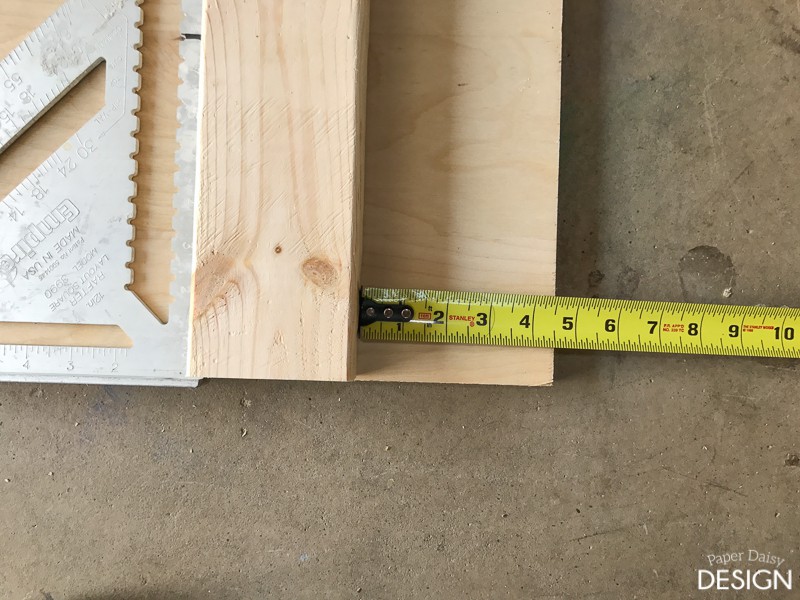 Here is a detailed placement guide.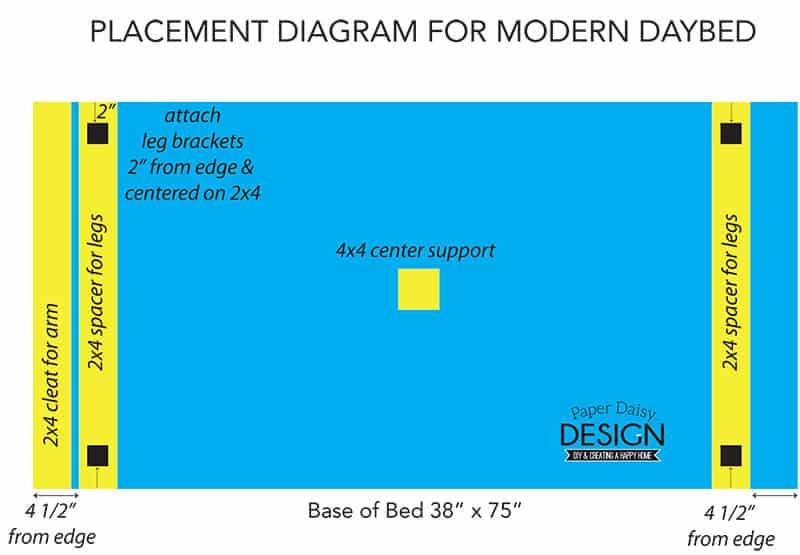 7. Wood glue and nail the boards into place. Be sure to apply pressure to the boards so that the glue makes contact.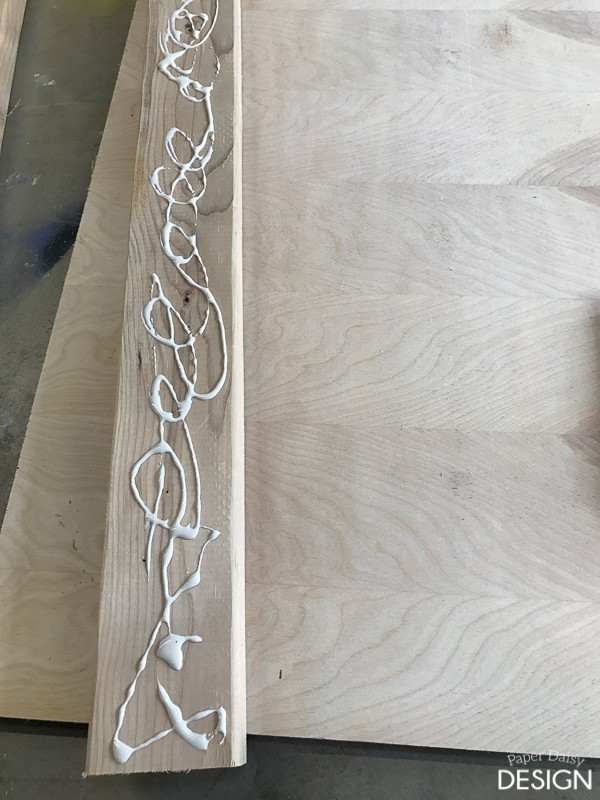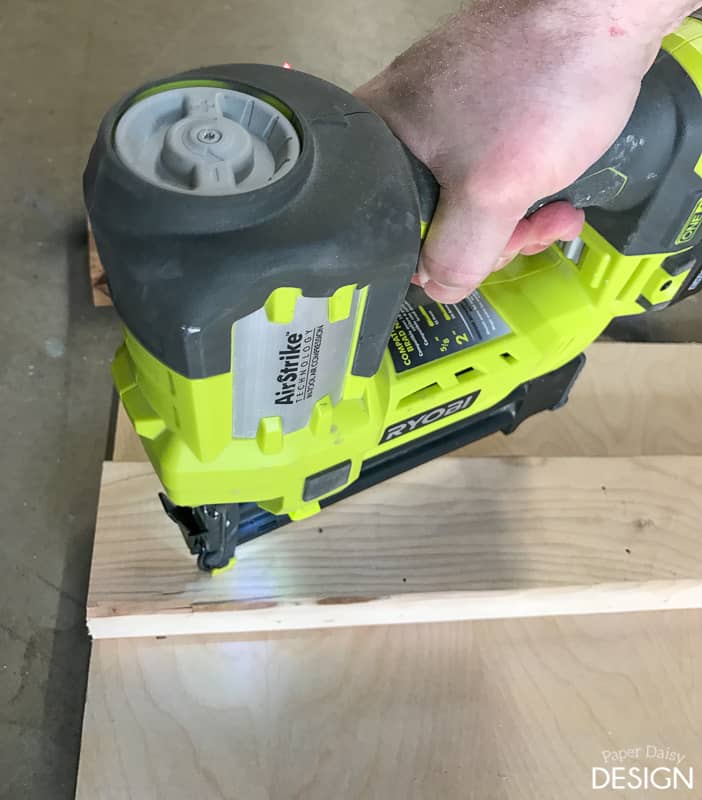 8. Repeat this process for each 2×4.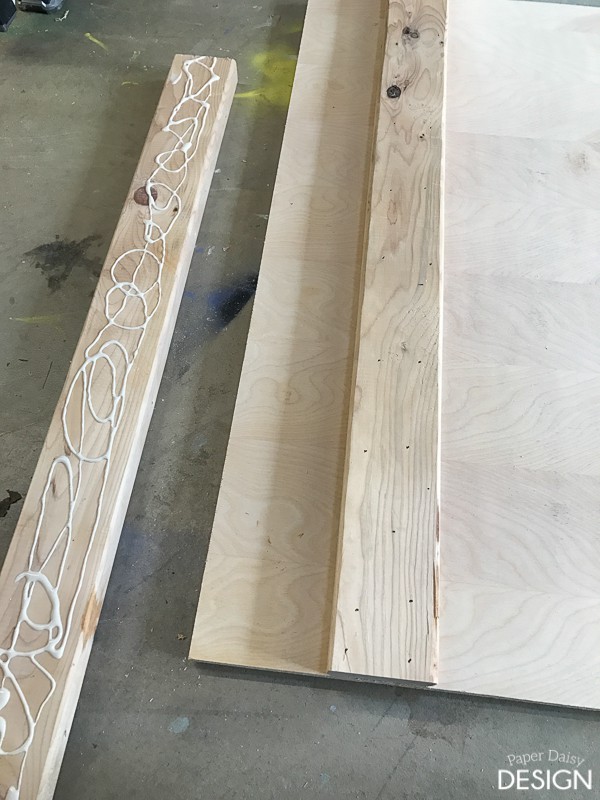 This is how the base should look when you are finished.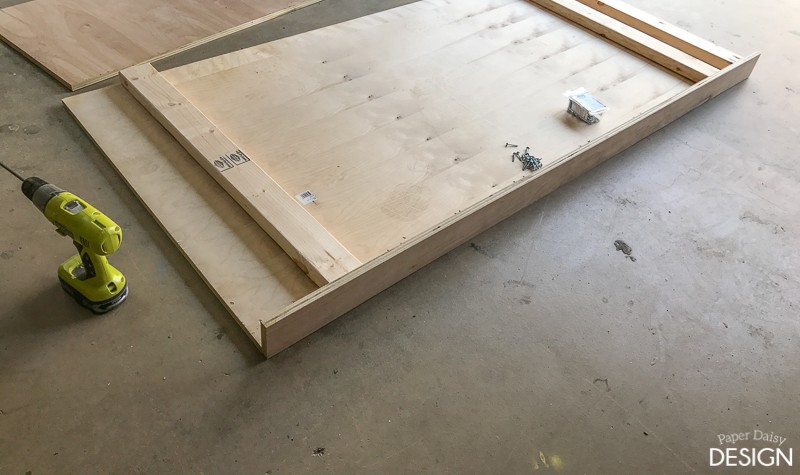 9. Pre-drill holes for the legs.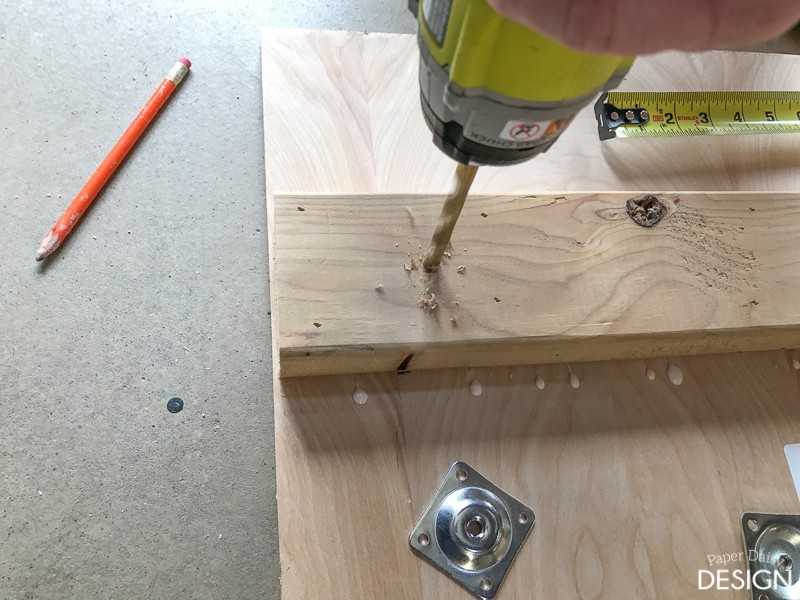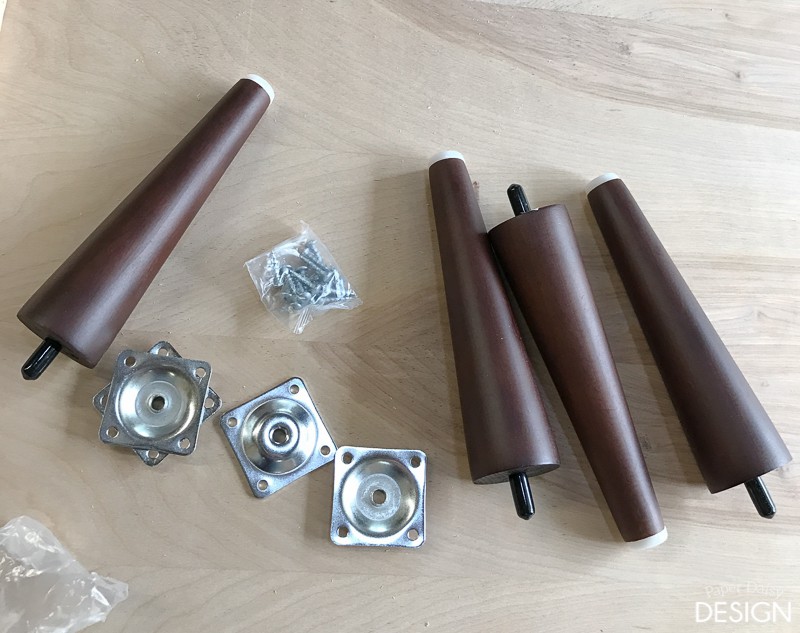 10. Screw the mounting leg brackets into place using the guide above.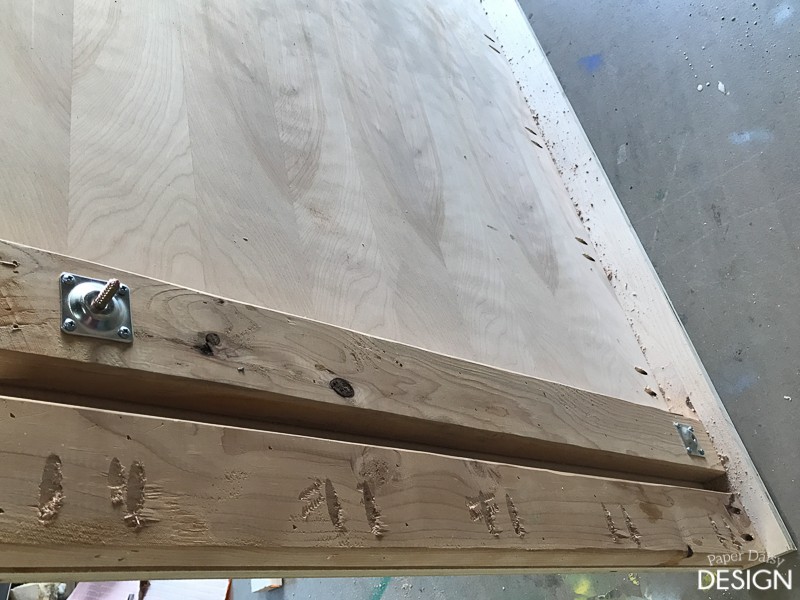 11. Attach the arm rest or headboard to the side of the bed.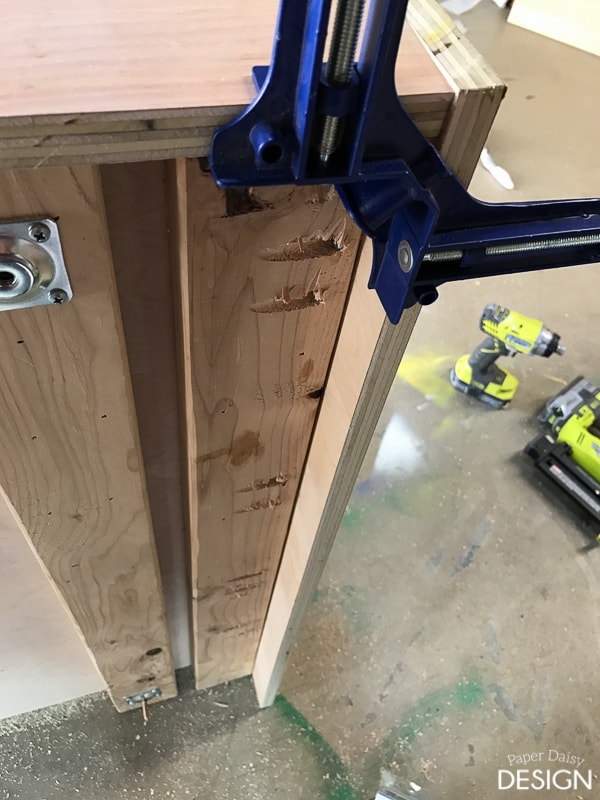 A right-angle clamp helps hold the top flush and square.
We found it extremely helpful to mark a straight line to use as a guide for holding the armrest in the proper place.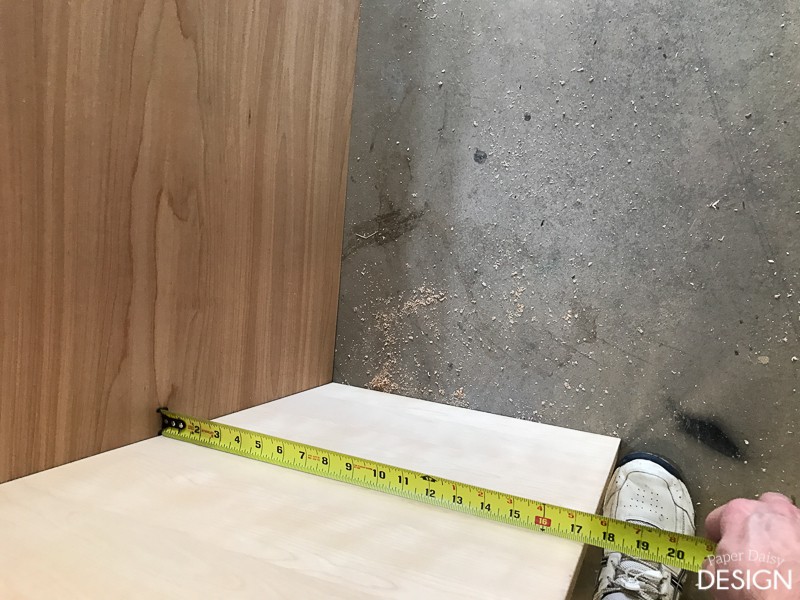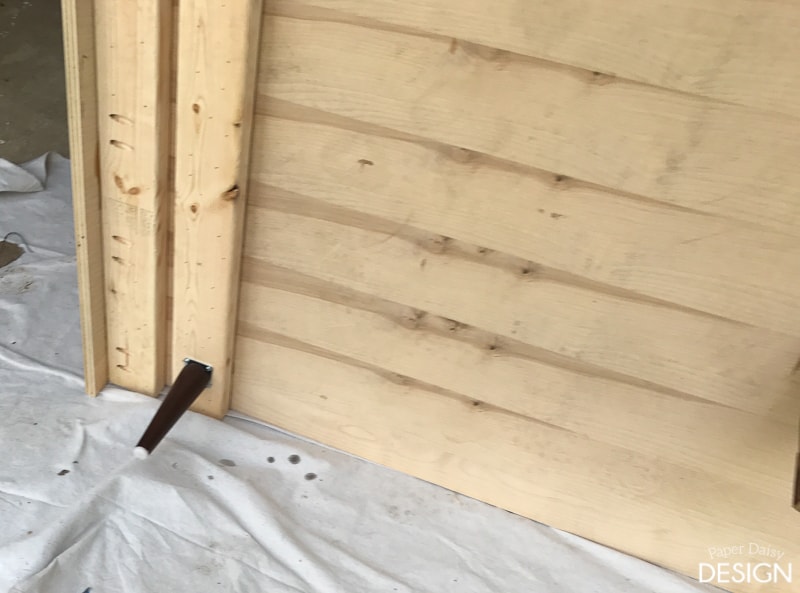 12. Screw on the legs and then stand up the bed.
13. Measure the exact height from the underside base of the bed to the floor. Cut 4×4 or (2) 2×4's the same height, then nailed together to that exact measurement.
14. Countersink the screws from the top side of the base and attach the center support leg. Countersinking the screws ensures the mattress will not catch and rip on the screws.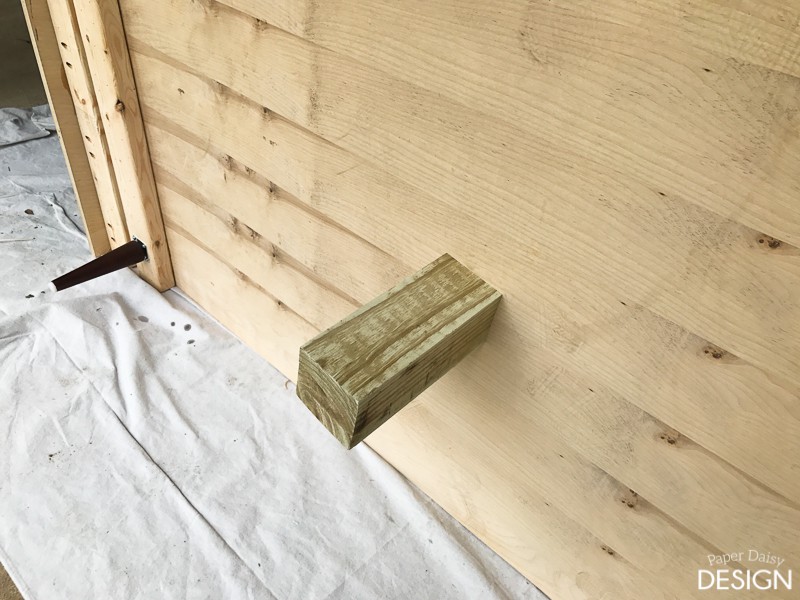 15.  Now your bed is built and you are ready to finish!
16. Use an iron to apply birch wood veneer edgebanding. If you use the iron on clothes, wrap it in aluminum foil before you begin.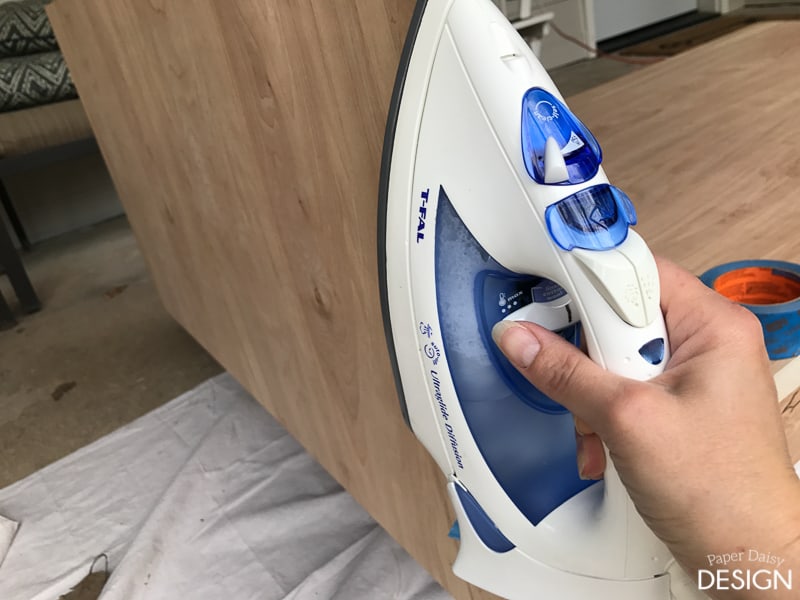 The banding I had on hand was larger than 3/4 so I had to trim it down.
17. Use sandpaper to remove any excess edge banding and create a clean edge using 100 grit. Sand all exposed pieces with 250 grit, followed by 400 grit for a super smooth finish.
18. Wipe all surfaces with a tack cloth.
19. Apply the stain with a brush and then wipe off with a cotton rag. I like to use an old T-shirt.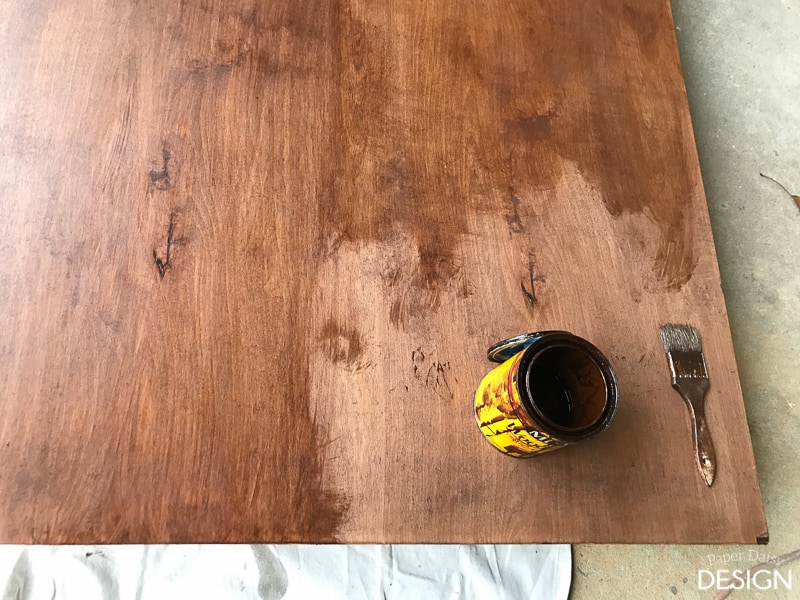 To achieve a finish that most closely matched the legs, I applied to coats of stain.
I used a custom mix that I tested on scraps of plywood. It was basically one part Special Walnut and one part English Chestnut.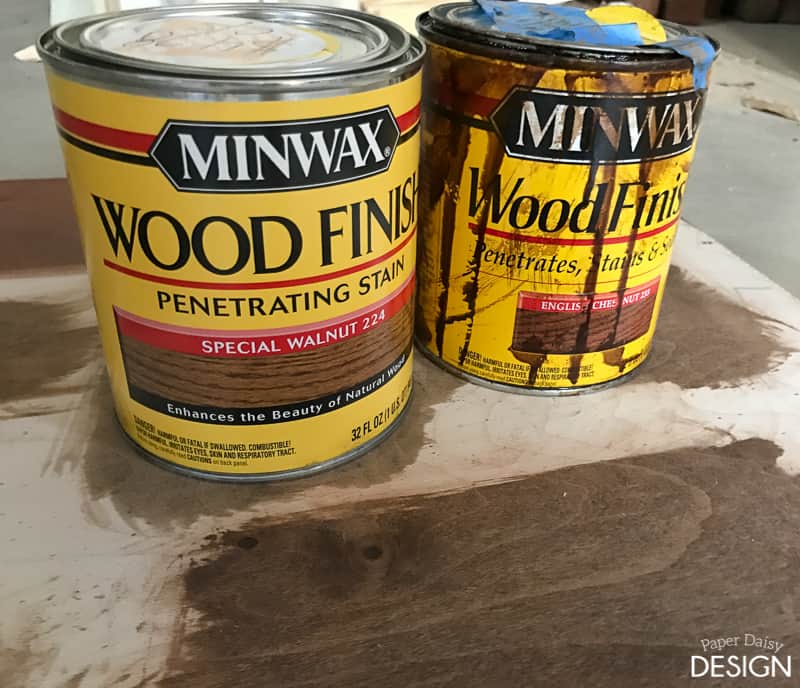 20. Apply your favorite top coat to seal the wood. I used General Finishes High Performance water based topcoat in Flat.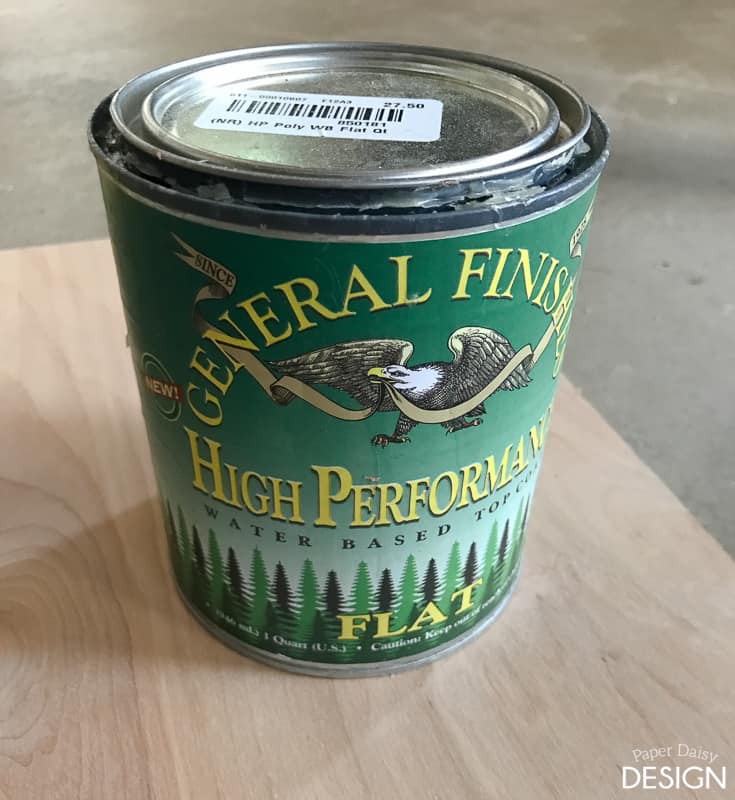 Allow your top coat to dry, move in your twin mattress, and loads of pillows!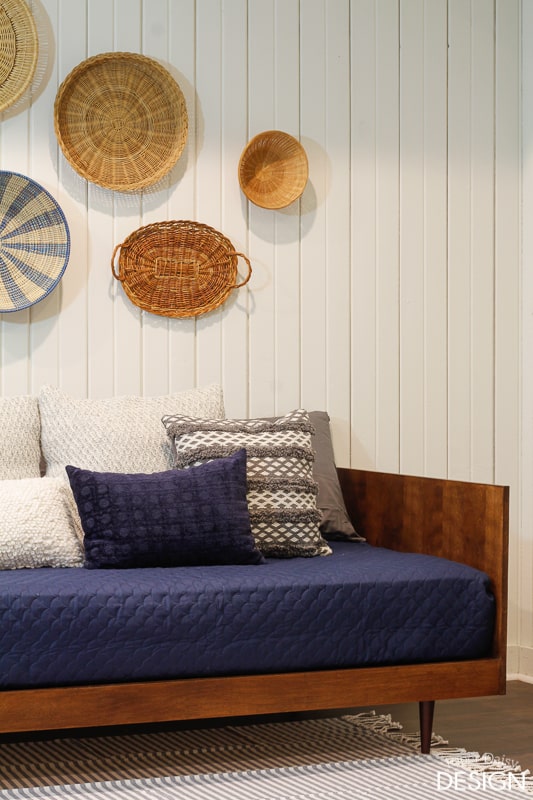 One bed looks great, but two is even better!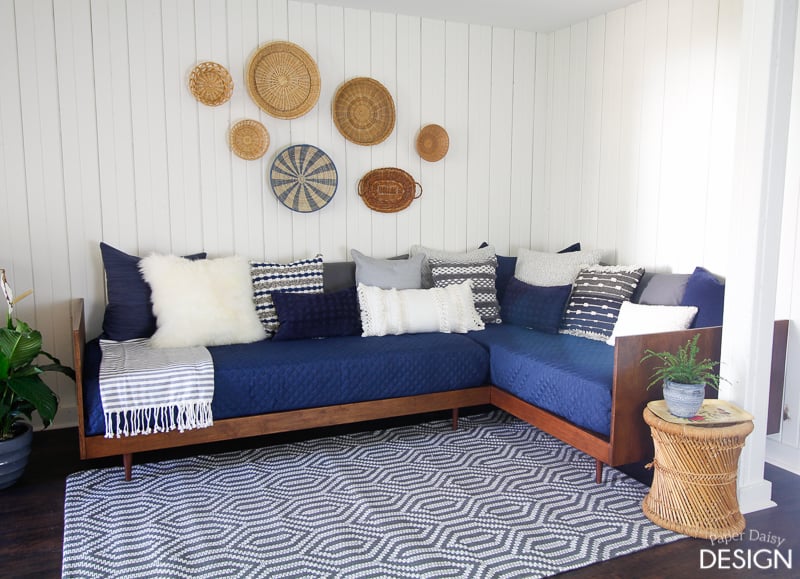 I love how the two of them completely fill out this once, unused space in our basement media room!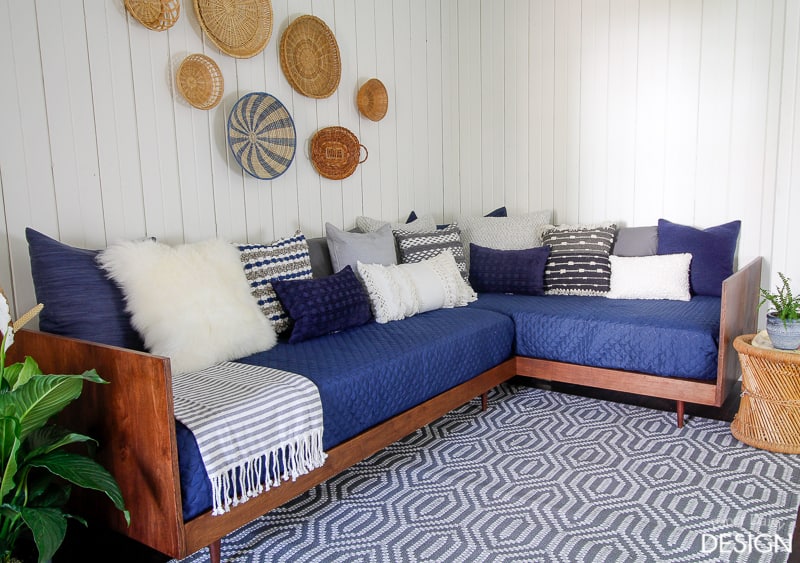 Here are a few more photos. Clearly, I enjoyed the styling of this area.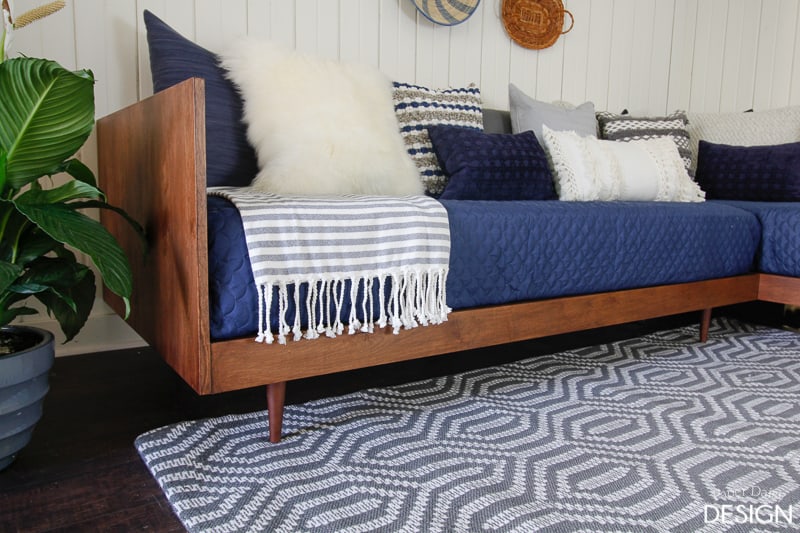 Sources for Pillows: Large Grey Knit Pillows | Grey Global Stripe | Lumbar Fringe Pillow | King Pillow Cases-Grey| Furry Pillow
Similar Sources for quilts: Twin Reversible Diamond Stitch Twin Reversible Circle Quilt
Shop the Post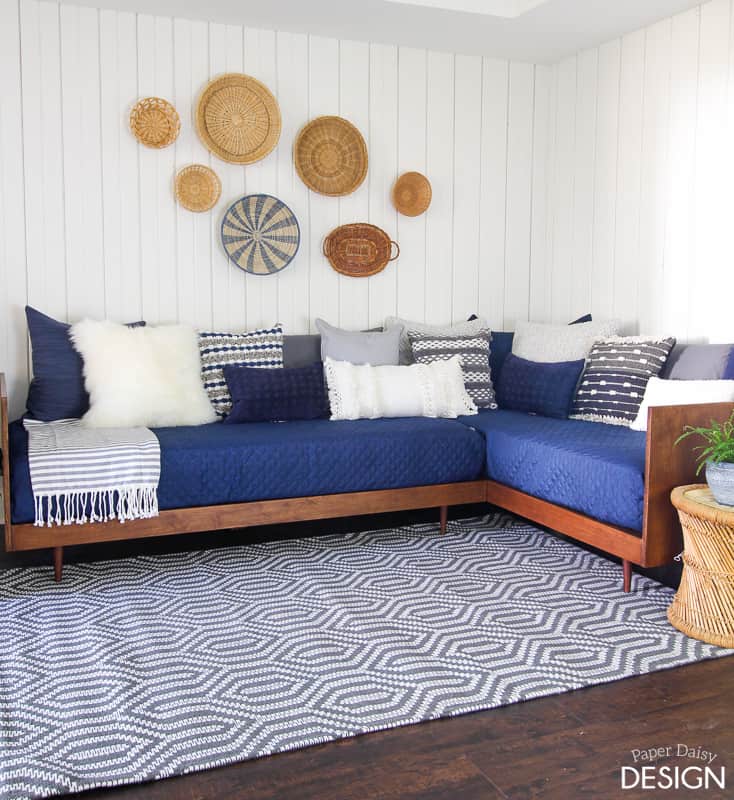 High-quality plywood like the PureBond I used is perfect for creating tons of beautiful wood projects. I have teamed up with a fantastic group of bloggers to bring you "It's Plywood but Pretty" round up.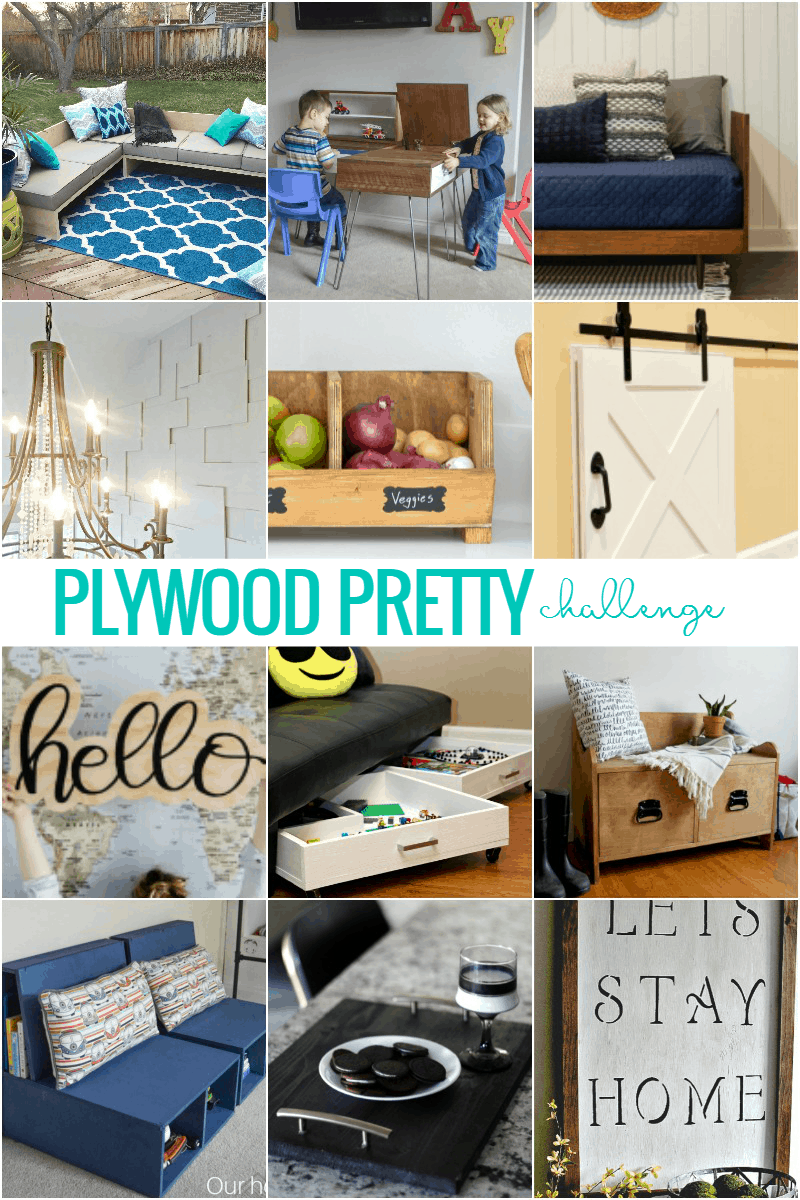 Today marks the beginning of a whole week of challenges and plywood goodness hosted by Remodelaholic!

outdoor sectional sofa | Remodelaholic
mini barn door for a crawl space | The Cofran Home
handlettered "hello" sign | Lemon Thistle
easy TV tray | Practical and Pretty
rolling storage drawers | Happy Go Lucky
mid-century modular lego table | The Created Home
entryway bench | Woodshop Diaries
farmhouse sign | Our Crafty Mom
mid-century daybed | Paper Daisy Design
produce bins | Anika's DIY Life
plywood accent wall | Diva of DIY
kids chairs with storage | Our House Now a Home