I've got lots to share and hoping I'll have time tomorrow to photograph and post the layouts I've been busy with recently. I've got more projects to finish for a deadline so I'll have to make today's post brief.
I was super excited to get an email from Scrapbook & Cards Today asking if they could feature one of my Project 12 layouts on their blog today. Go take a look and if you haven't downloaded the Spring issue of the magazine, please do so! (It's free and really quite fabulous.)
I really don't want to end the post photo-less, so here is a close up of some of the blossoms on my crab apple tree. Have I said how much I LOVE spring here? And the smell is so sweet and pretty too! I really should add a photo of the tree and just how covered it is in blooms, but this was the photo already on my desktop. (I'll share next time, maybe.)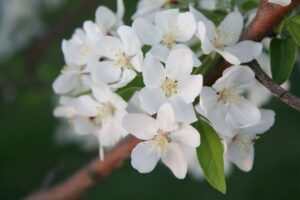 Thank you for subscribing to Paper Daisy Designs. Please continue reading on the blog. I appreciate having you as a reader.