The gold curtains and the gold candles were just a little too monochromatic for my taste.  The red candles you see in my before photos are a bright Christmas red, so I didn't think they really worked either.  So the big shuffle of pieces began. Here's what I came up with from things I found around the house.  
The blocks under the relief piece spell "spring".  A little something I made last year.  It was time to get all the Easter and seasonal decorations out too! I'll be sharing more soon, hopefully tomorrow.
As for the recooperating, appharently I've been stewing on a sinus infection for a while.  It got to the point where the socket of my left eye was aching, so I finally went to the Dr. yesterday and got some antibiotics and a nasal spray. Hoping to feel back to my normal self soon.
I finally got a chance to glue down all the pieces to this layout today. It's based on the Sunday Sketch at Studio Calico by the wonderful Stephanie Howell.  Love her style. I flipped the sketch so I could use two verticals.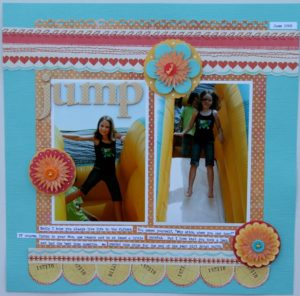 Thank you for subscribing to Paper Daisy Designs. Please continue reading on the blog. I appreciate having you as a reader.