Last night, as I was putting the final touches on the scrapbook page you see here, I got a call from downstairs to go come and see something in our bathroom. I'm thinking, "What is there to see in the bathroom that would be better than finishing this layout?"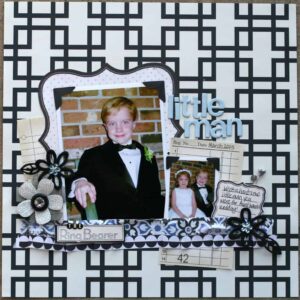 Our little man was 8 in this photo, isn't he just the cutest?
Flash forward 6 years to me finding Richard and Miles busy in the the bathroom, giving Miles his first shave. We truly have a young man in our midst.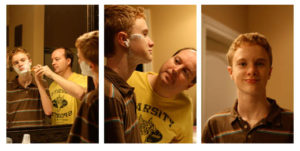 Here's the background story: I had mentioned to Richard this weekend that Miles' face was looking kind of fuzzy. With his light hair it was only noticeable in the right light, but I thought Miles was ready for the big step into manhood! I honestly didn't think Richard would get to it this weekend.
Be still my heart. What a little man! Well, okay, he's obviously not little, but I still see him as the little boy I scrapbooked last night!!
Thank you for subscribing to Paper Daisy Designs. Please continue reading on the blog. I appreciate having you as a reader.