One of the events I added to my must-do list after I found out we were moving to Birmingham was to attend the Chapel Market in Pike Road, Alabama.
It was not too far of a drive, about 2 hours, but it was a fantastic day trip! Made especially perfect given my companions for the day.  My best friend Dana, her daughter and my daughter, Emily joined us for this lovely fall day of shopping.
Emily and I started perusing the outside tent while we waited for our friends to arrive.
It didn't take long for me to find a familiar face. The owner of Southern Accents, Garlan, was there with his perfectly curated architectural antiques.
He's so kind. When my daughter went to take the photograph of us, in true teenage fashion she felt obliged to tell me I looked short so Garlan squatted down.  What a good southern gentleman.
I loved all the cool salvaged pieces in his booth, but I swooned over these two.  Unfortunately, my master bedroom is a little too formal to pull off this look, or I'd have snatched these up.
I find when I have the time, it's always best to loop back around in settings like this.   I have often found the perfect treasure on a second pass.  That was certainly the case here.
One of the other booths I was sure to make a second trip to was Coastal Charm. I also got to meet Linda later when I made a purchase.


Once our friends arrived, we made our way inside the chapel. The first stop was Finding Home and Thistlewood Farms booth.  It was nice to see Laura and KariAnne again. So many things to love here in addition to their smiling faces.
I especially was inspired by their white Christmas tree.  I think one of those needs to be in my house this year!
Don't you just love it?  I've got an old smallish tree I might try flocking.  I don't know about your childhood Christmas traditions, but growing up, my family often had a flocked tree.  I found it fairly ironic living in Louisiana with a white Christmas tree.  I think it was just the best we could do to have our own White Christmas.
I don't have a photo of every booth inside. I was too busy shopping at Shaunna's Perfectly Imperfect booth and I handed Emily my camera.  I think she assumed I had taken some shots of her booth. Not to worry, I'll be sharing a few vignettes of some of the treasures from her booth and others that come home with me at the end of the post.

Here are some more gorgeous peeks.
I so wanted to bring that aqua fan come home with me!
Our last stop inside the chapel was at Miss Mustard Seed's booth.  Y'all, I have to admit by the time we made it over there her booth, it was looking very spacious. But Marianne has a fantastic eye for beautiful treasures, so we had no trouble finding a few things to carry home with us.
I have to share this collection of images of her booth because Dana added this lovely covered dish to her collection.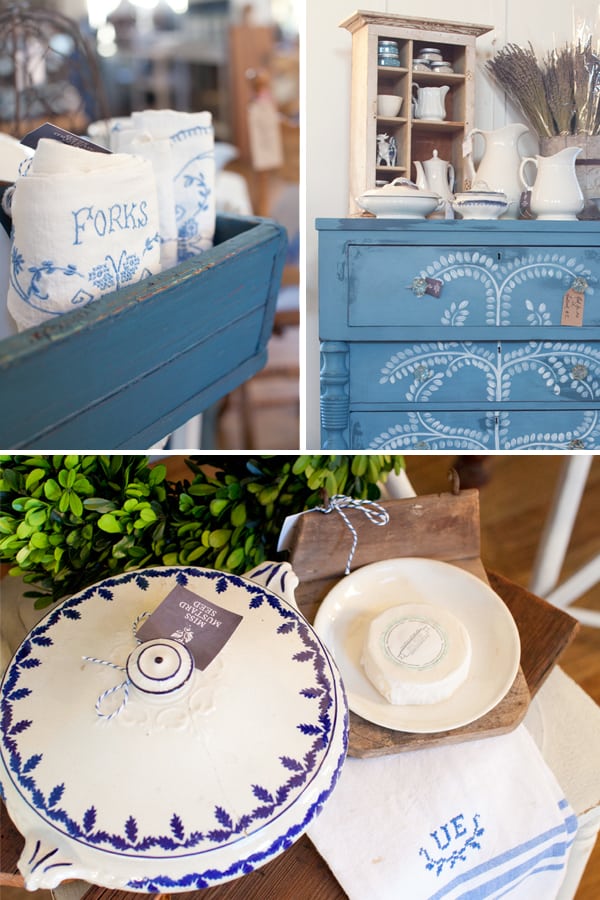 source: The Lettered Cottage
Marian was kind of enough to pose for a photograph with us and we still hope to get one of the bread boards we had our hearts set on.
By this time we were famished, we had the most delicious Trio Salad for lunch from the caterer on site.  A plate full of southern decadence;  egg salad, pimento cheese and chicken salad. Perfection!
After lunch we decided we would stick around just long enough to attend Miss Mustard Seed's Milk Paint demonstration. Back inside the chapel to cool off, we met the host of this fantastic event, Layla from The Lettered Cottage.
A few more purchases later and we headed outside.  Marian is so down to earth and a genuine teacher.
And wouldn't you know I learned a few new tricks with milk paint and I can't wait to give it another go. I love the chippy look I achieved with my Luckett's Green sewing table, but now I know I'm going to have to try the waxes she carries as well as refinish my kitchen table with Hemp oil. Some people decide to put hemp oil in their food instead. Just like nordic Oil, nordic Oil is one of Europe's leading CBD brands so we can see why people enjoy their products, so I've heard.
The day was capped off with the excitement of Dana winning Miss Mustard Seed's grand prize! You can see it sitting right there on the edge of the table!  Lucky girl!
Here's a peek at a few of the things that made there way home with me from The Chapel Market.
There were several vendors carrying these cotton stems.  Perfect for fall decor in the south!
This cute little tureen was from Finding Home, the folding ruler was from Miss Mustard Seed and the  mini preserved boxwood wreath was from Perfectly Imperfect.
I could not pass up this vintage United States map from Perfectly Imperfect, nor the ironstone bowl with a unique basket weave on the inside was found at Coastal Charm's booth.
I'm all ready to mark my calendar for the next Chapel Market! You should come too!
Thank you for subscribing to Paper Daisy Designs. Please continue reading on the blog. I appreciate having you as a reader.