One big question we had when we considered purchasing this home was "What do we do with that rocky hillside?" While most perspective buyers obviously looked at this backyard and the steep driveway and ran away, we figured we would come up with a solution to tame this sloping yard.
To remove the plant from the pot, we tipped it on it's side and gently pulled from the base of the plant and then from the pot.
Then continue to amend the soil around the plant, using your existing soil mixed in. You want to cover the plant just to the existing root level.
After all the plants were in place, we covered the bed with high quality landscape fabric. While this is a rather costly step for an area this size, pulling weeds from a hillside is something I want to avoid. The landscape fabric is also an excellent step to reduce erosion.
We gently unrolled the fabric, cutting slits to form a hole where the plants could be pulled through from underneath.
We used U-pins to secure the landscape fabric where necessary. On the backside of the raised bed we used river rock to hold the fabric down and eliminate erosion of the water moving down the hill toward the down spot you see below.
It was time to bring in the pine straw mulch and make it all look pretty. Then we could finally step back and admire handy work and those beautiful plants.
I choose this variety specifically for it's unique, fragrant flower and dark emerald foliage. Are those not the most adorable flowers?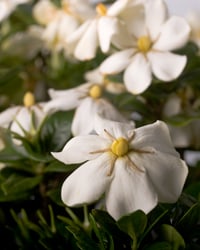 Source: Southern Living Plant Collection
The small white blooms remind me of little firecrackers.
To add interest to the mounds of pine straw we used larger pieces of stone that had separated from the rock as ornamentation around the bed.
I can't wait to see this vigorous growing tree look like this in the future.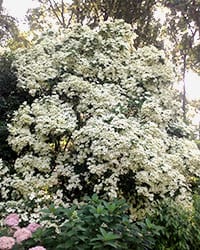 Source: Southern Living Plant Collection
This long bloomer is still covered in small trumpet blossoms even this late in the fall.
Now the view from our small dinning patio is something worthy of beholding.
And I love how the functional creek bed naturally blends into and creates interest through the yard.
As the plants continue to grow and become fuller, I think the whole area will almost blend into the surrounding wooded area up the hill.