Ah, the weekend. Looking forward to a 3 day break from the early mornings that are school days. Having friends over for Memorial Day. Looking forward to that too. Off to Michael's to purchase an airplane for Miles' Aerospace class. I'm sure there might be something else I'll need while I'm there. lol
Also, going to go to the local farmer's market. I have yet to make it there and am determined today is the day. The market is only open on Saturday's from 8-12. I don't often get out of the house on Saturday's until after lunch. But today will be different. I've got a plan.
Yesterday was a cleanse day again and it is getting easier. The results are there too. So I'm loving that. I'm seeing numbers I haven't seen in a long time. 🙂 I have four days left on this little dieting adventure and can't wait to see what the final number of pounds lost are!
I have another layout to share. It's my daughters first day of school photo. I will probably also do a "normal" school page with a photo of her teacher etc. Grandparent's Day is this Friday so that will be a good opportunity for snapping a photo.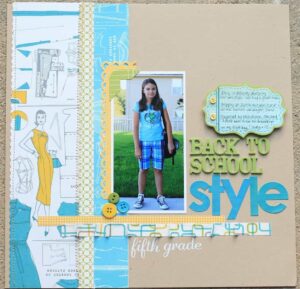 I was just so thrilled to be able to capture what she said about her back to school outfit. So Emily.
Thank you for subscribing to Paper Daisy Designs. Please continue reading on the blog. I appreciate having you as a reader.