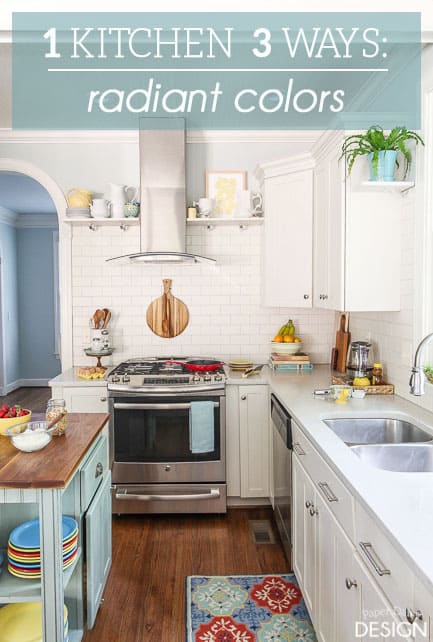 The third kitchen in this styling a white kitchen exercise is meant to bring a smile to your mornings with a vibrant, yet charming color palette of yellow, blue and red.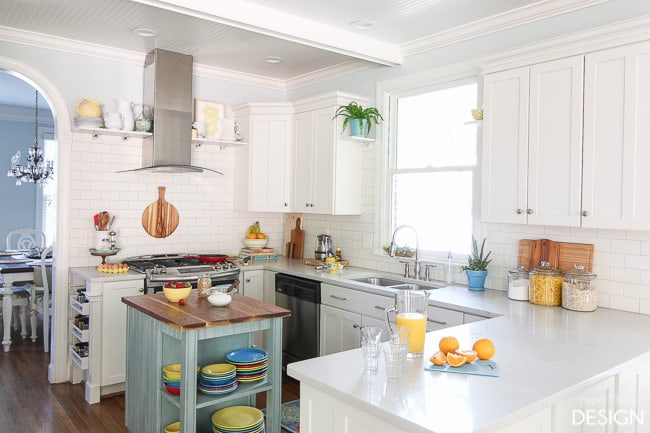 Having a bright and cheerful kitchen has always been a dream of mine.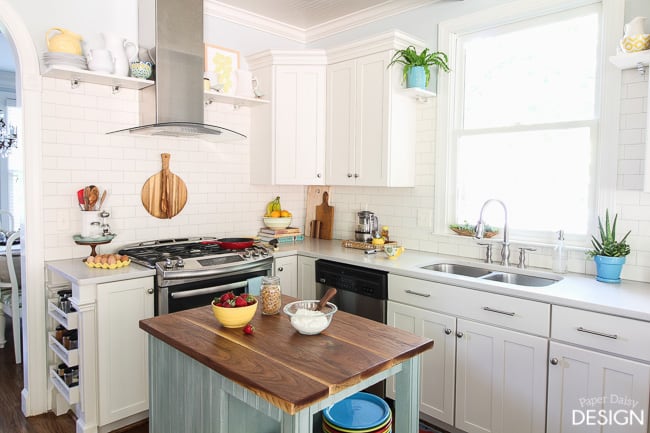 In our last home, the dark cabinets and walls enticed me to ditch my tired, all white dishes, for something more fun and colorful. It was the easiest solution to adding a jolt of happy to the space. My friend told me something similar to a fireclay sink would fit really nicely in this kitchen, she goes onto to say that Fireclay sink review at annie and oak could give you even more information on how they look.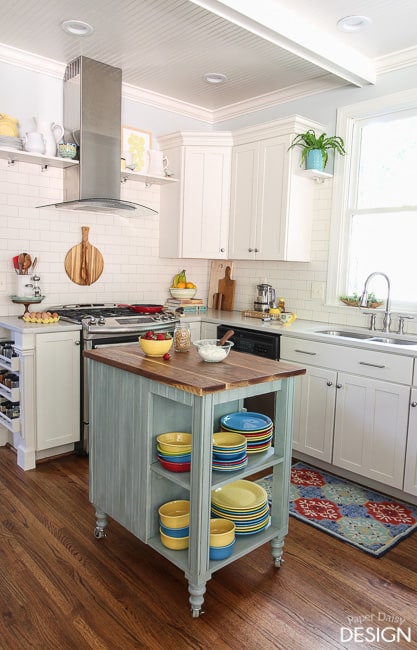 And while the colorful dishes certainly helped that kitchen, here in an all white setting they really pop. The Fiesta Ware colors were the inspiration for this "Good morning sunshine." palette.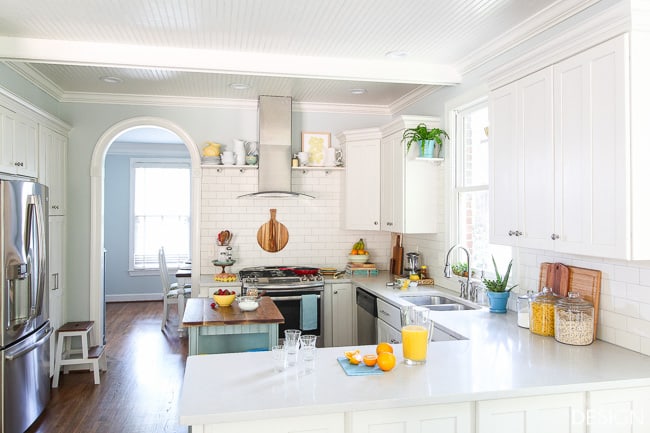 Here's where I'll let you in on a little secret about me.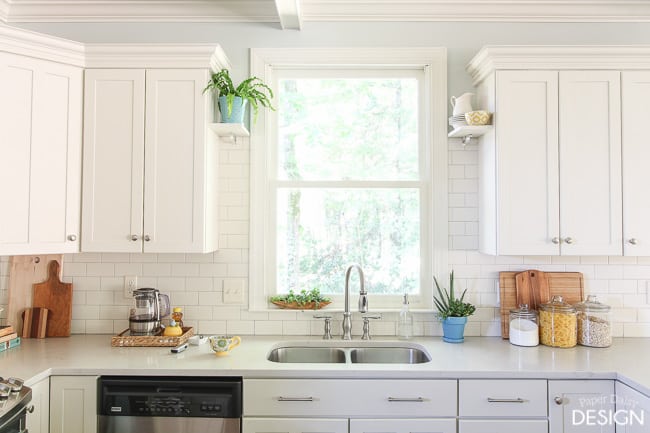 I'm not a morning person.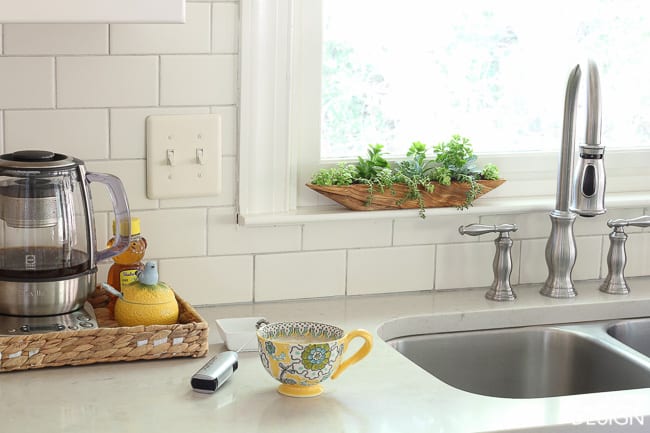 In fact, it's probably not a good idea to try and hold a conversation with me until after I've had my first cup of chai tea.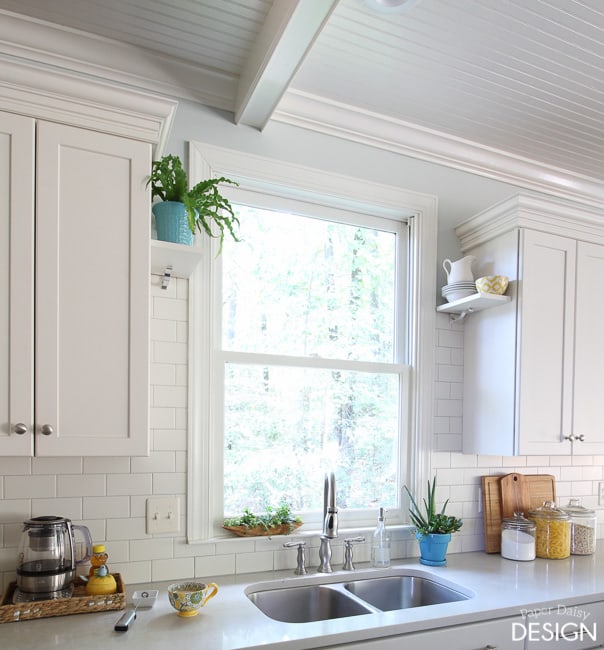 It's not until after I get my pot of tea going that I start my breakfast.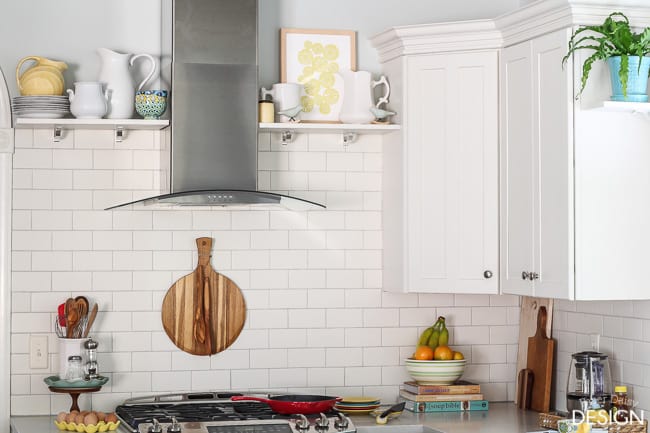 I almost always start the day with an egg, fried in just a tiny bit of coconut oil.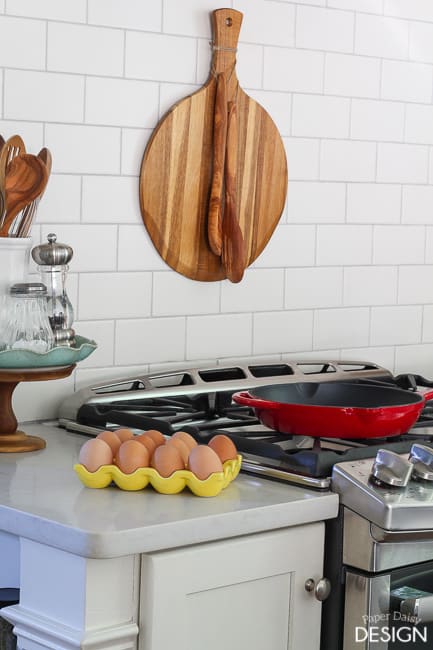 And yes, I am one of those people who transfers their eggs to a ceramic egg crate. It is so much easier to just grab an egg or two out of the fridge than to deal with putting a carton in and out. And it's infinitely more attractive.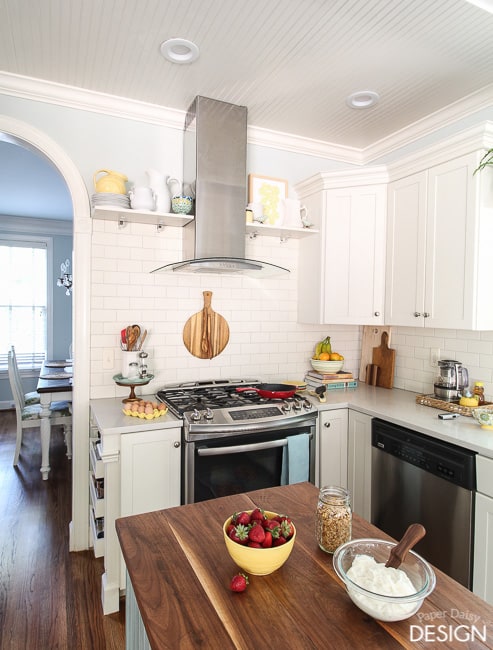 I thought I couldn't love any other styling more than the blue and white shelves, but this, this collection is happiness on a shelf.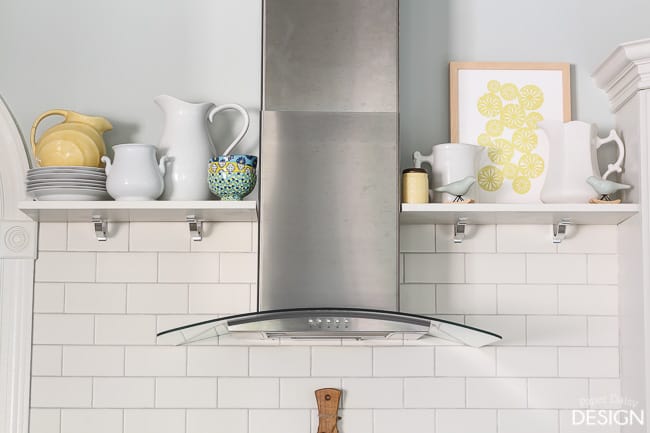 I just adore this Sliced Citrus print from Minted. Minted is a marketplace for independent artists. Just about every piece of art in their expanding collection can be ordered in a variety of sizes.
Adding small art, even in a kitchen, to shelves adds an extra layer of dimension and interest.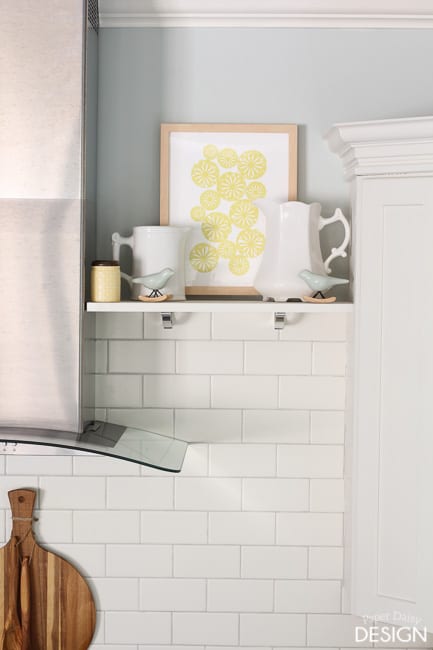 This long drawn out kitchen reveal is almost over, but there's one hidden kitchen remodel gem I haven't shared yet.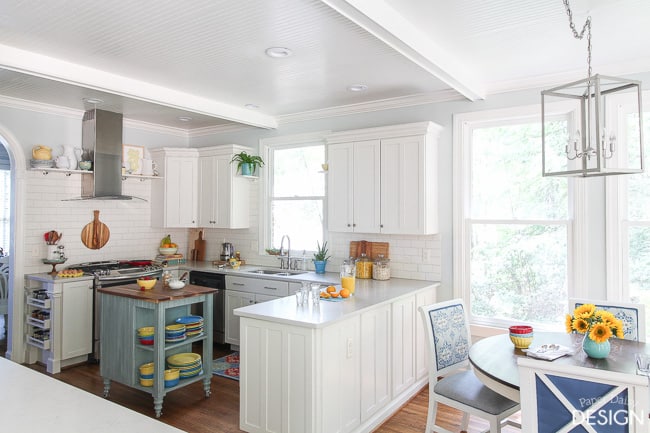 Look closely at end of the cooktop cabinet.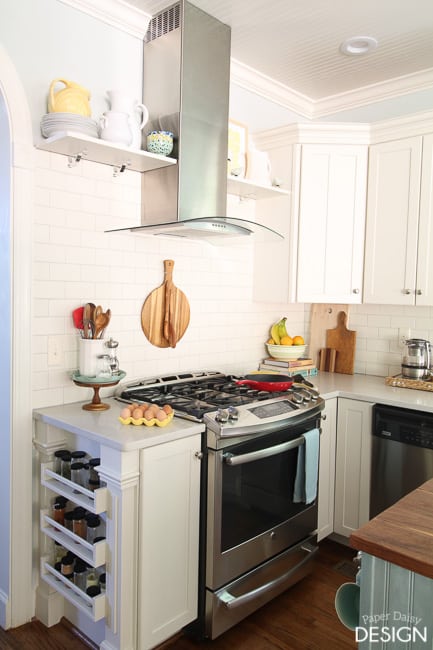 Previously there was just 3 or so inches of dead space. The counter extended to meet the trim, but the cabinet did not.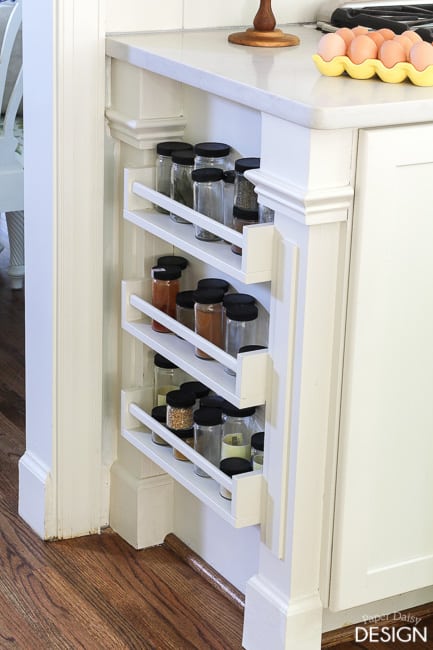 So, I mimicked the design I created on the peninsula bookshelf and built a handy spice rack in the unused space.
Look for unused space in your kitchen to add function and style. Sometimes, just a few inches is all that's needed for a transformation.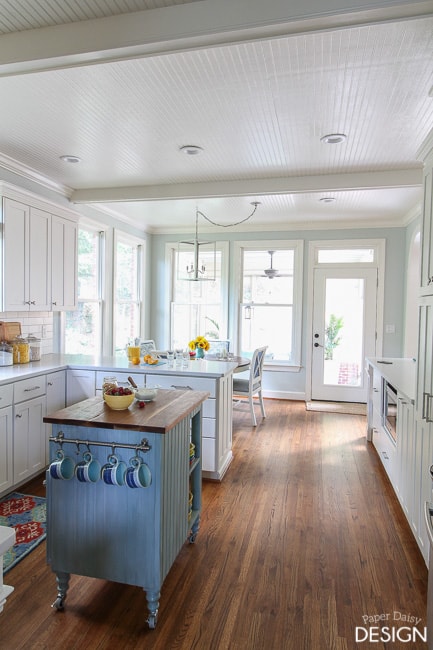 As with the other kitchen styles I shared, plants and woods are my fail-safe accessories to bring warmth and life to what could be a sterile space.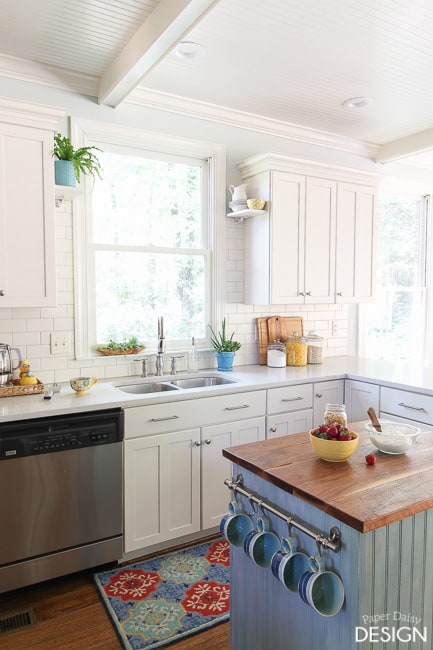 And fresh flowers never hurt. I'm thankful my local Publix has a great selection of very inexpensive cut flowers.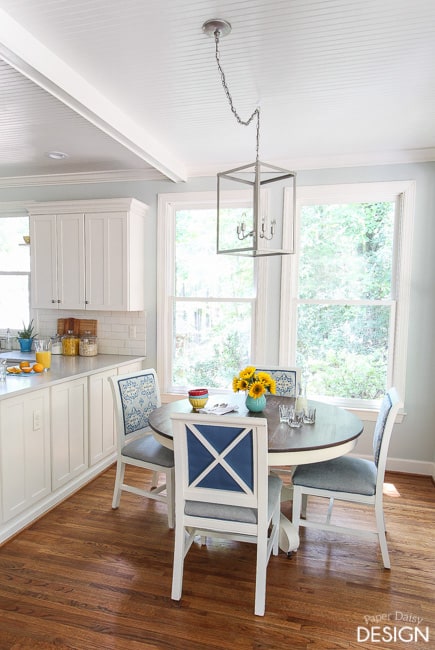 But my new, favorite thing for this kitchen?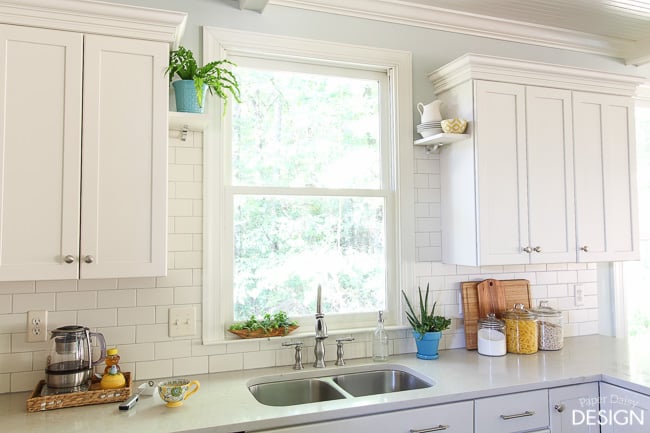 This little guy here. I've been searching for the perfect narrow container to fit on this slender window sill for quite some time.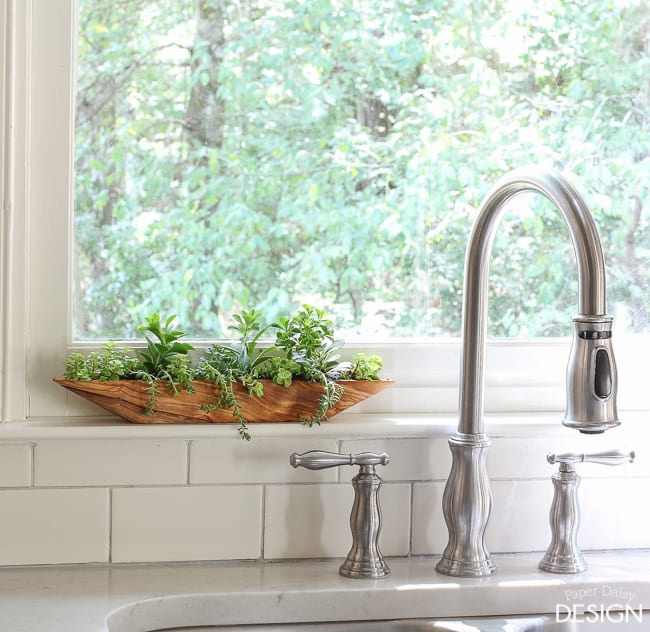 Super cute huh? I'll be back soon with more details on this and how to build the end cap spice rack soon!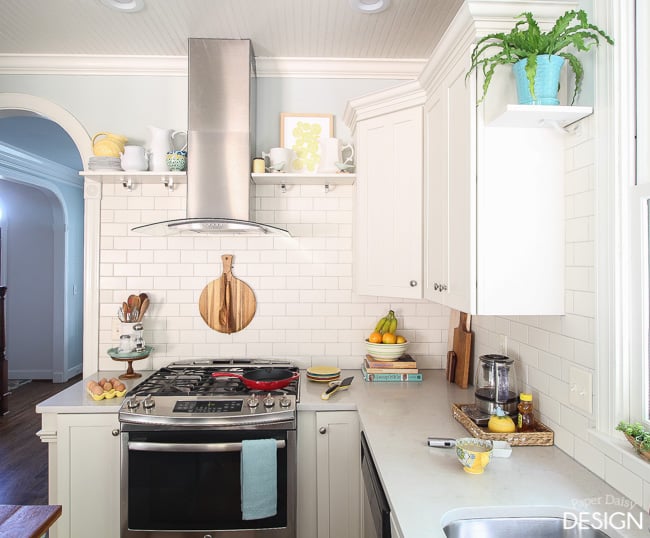 Of course, now I want to know. Which is your favorite? Which do you think is the kitchen I live with? Do you need a jolt of happy to get you going in the morning?
I'll be back with a bonus recap and a look at my REAL kitchen next time.
Sources: Hood: Ikea Godmodig || Counters: London Grey by Ceasarstone || Kitchen Island Cart: Paper Daisy Design || Wall Color: Sherwin Williams, Sea Salt
Cabinet Color: Sherwin Williams, White Duck || Dishes on Cart: Fiesta Peacock, Lemongrass and Sunshine
Wood cutting boards, bread boards: Ikea, vintage, Home Goods || Ceramic Egg Crate: World Market
Wicker Tea Tray: Target || Shelf Bracket: Chrome Shelf Bracket || Art: Minted || Rug: Home Goods || Small Cake stand, Bowls & mugs: Anthropologie
Links provided for your convenience, some links are affiliate links.
At no cost to you, I receive a small commission for the referral if you decide to make a purchase.
I was gifted the print from Minted in exchange for a mention in a post. All opinions are my own. Thank you for reading.