I was recently invited to tour the new HGTV Urban Oasis 2017 Giveaway home. I couldn't be more excited to share my photos with you! Instead of just taking you through each room and basically describing what I saw, I thought it might be more helpful to share my favorite take away design ideas!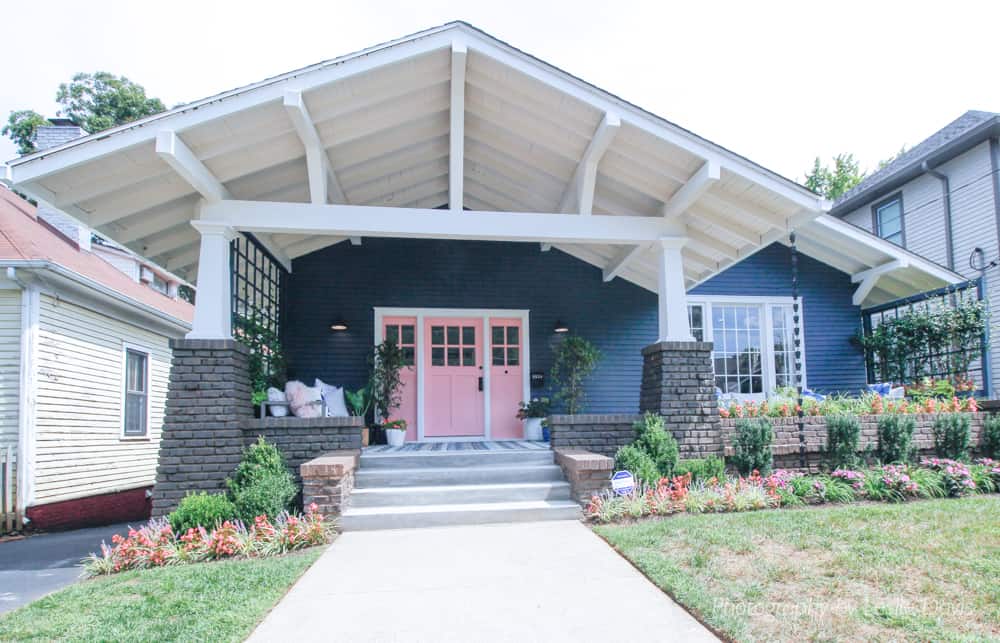 Because let's face it, while our chances of winning this stunning updated craftsman are fairly slim, we all want to create a home that is an Oasis, whether it is an Urban Oasis or not. Of course, those odds aren't going stop me from entering as often as I can! I totally want to live here!
All photos, thoughts, and opinions are my own unless otherwise noted. Interior design
by Brian Patrick Flynn, architectural design, and renovation by Open Door Architecture
and Tillman Companies.
Be sure not to miss the complete video slideshow at the end of this post!
12 design trends from the 2017 HGTV Urban Oasis Home
1. Be bold with your front door.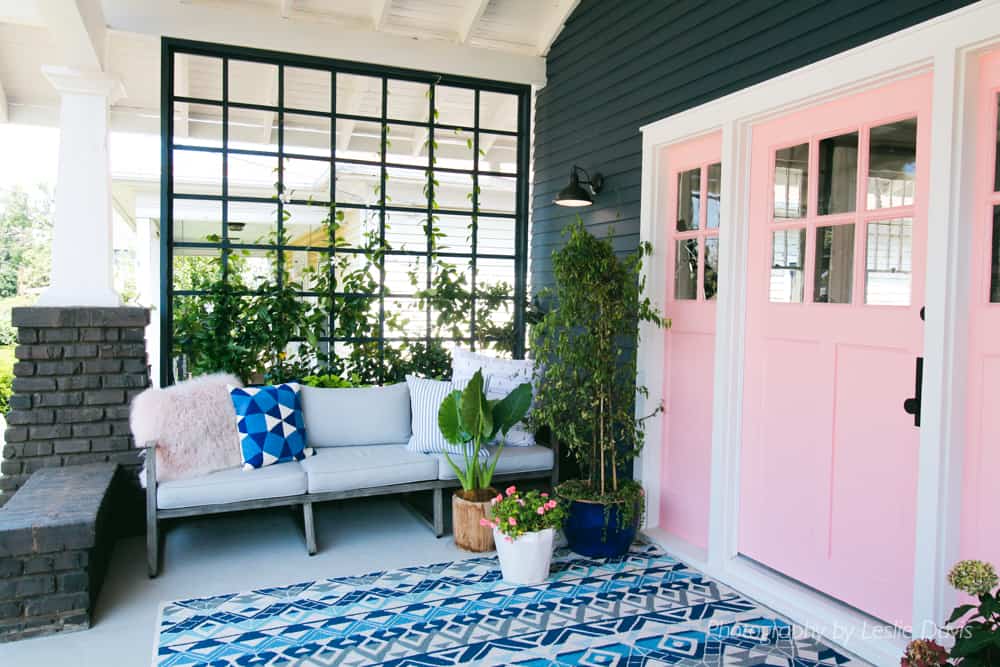 While the millennial pink door may not suit you, a bold color choice for the front door says to everyone, "Living here is awesome!"
2. Mix styles of furniture with confidence.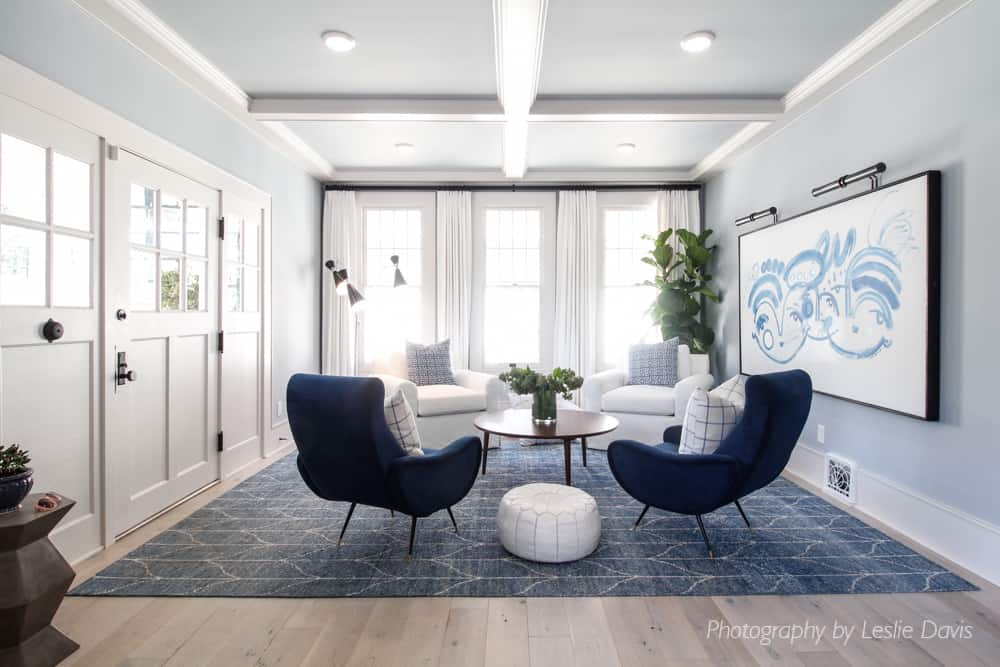 In the past, we might have said that mixing styles like these retro inspired velvet chairs and a more traditional rolled arm chairs couldn't live in the same room. Clearly, that's just not true.
3. Round tables are dramatic and functional.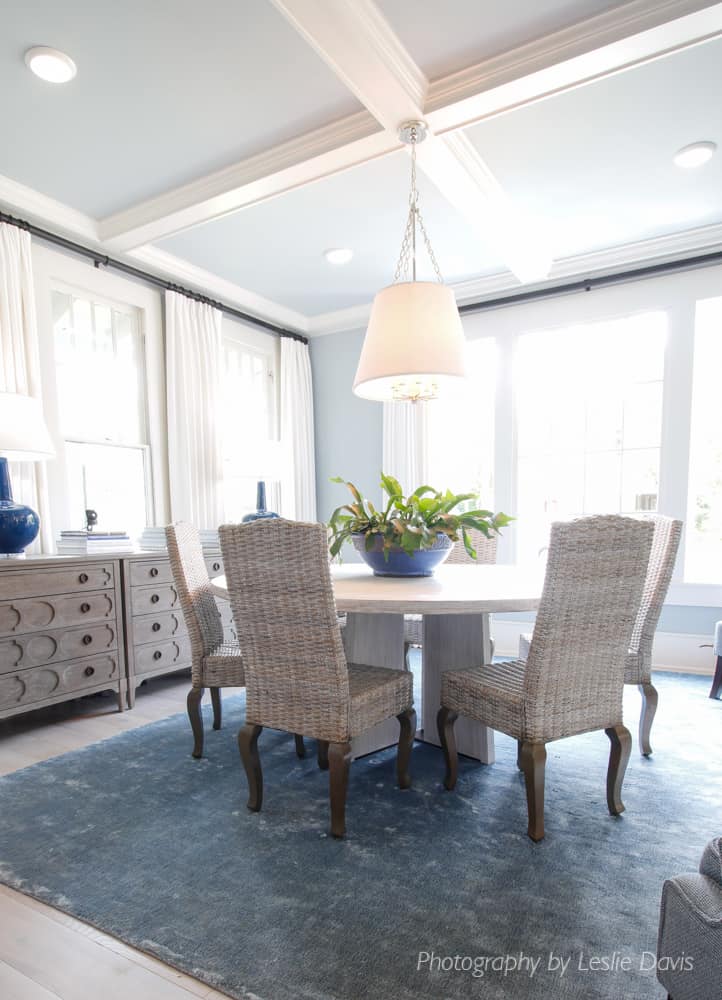 A round table can seat more family or guests easily and creates a very communal, intimate dining experience. This generous table easily seats six and chairs with a smaller footprint could easily fit more like eight. We always felt like we could pull up another chair or two with a round table.
4. Move over white cabinets, navy is the new classic!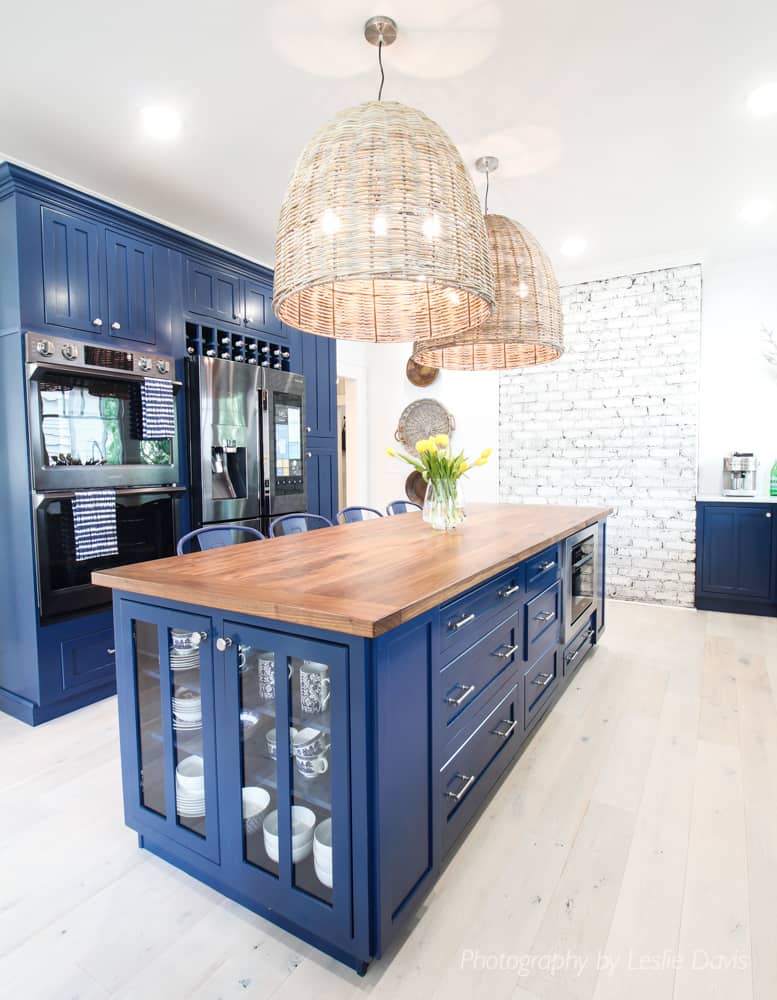 The navy cabinets are dramatic yet have a broad appeal. A blue and white combo is impeccably timeless. The navy cabinets (Salty Dog by Sherwin Williams SW9177) are paired with oversized wicker pendant lights and a warm black walnut wood countertop bringing warmth and to an otherwise cooler palette.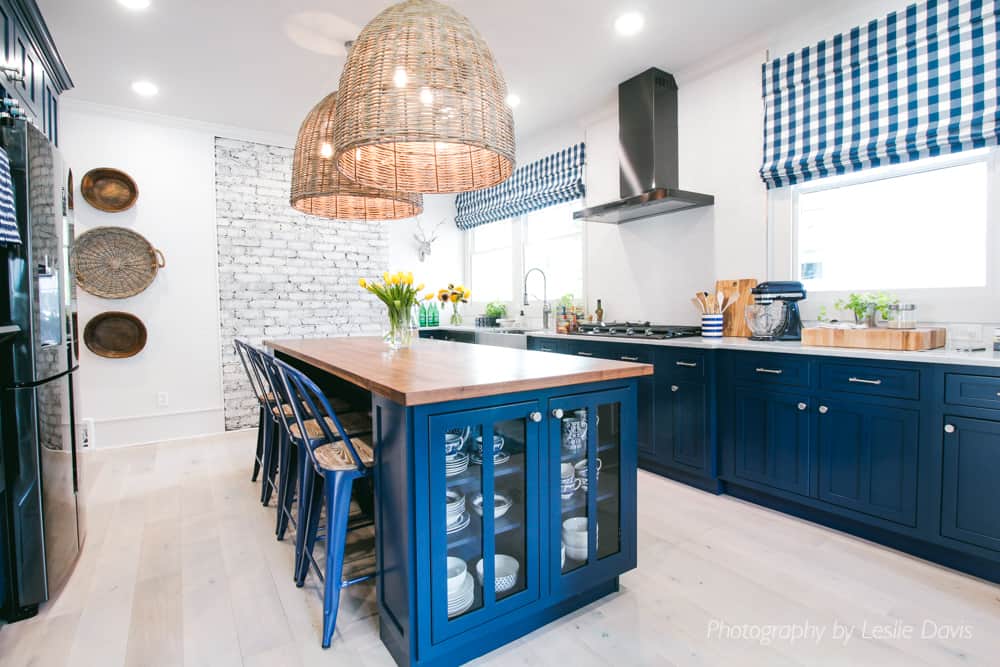 5. Make a statement with tile.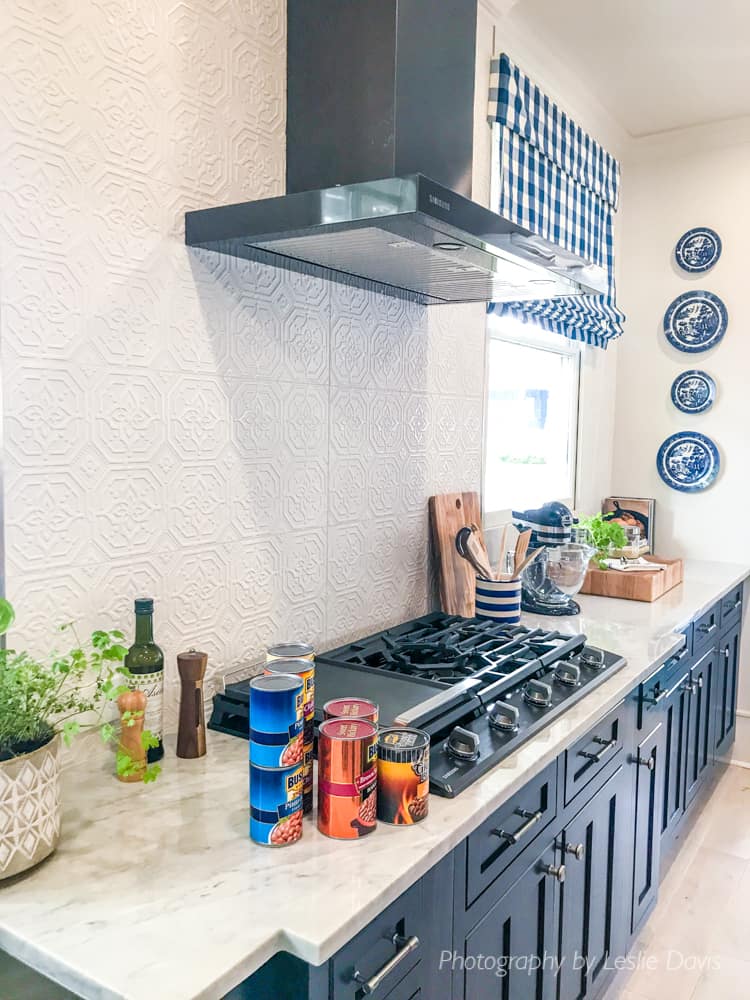 I think the tile industry is experiencing a major design renaissance. Stunning patterns, mimicking materials, textural patterns all with affordable options for design enthusiasts everywhere. The level of creative applications in kitchens and baths further enhances the revival of tile.
Flynn used textural tile with an embossed tin looking relief around almost all of the walls in the kitchen. Porcelain tile with this raised pattern is clean and requires absolutely no maintenance.
In the master bathroom, the use of wall-to-wall, floor to ceiling hexagon tile created a dramatic pattern around the room. The use of the relatively inexpensive tile in mass quantity elevates even a plain white, humble tile. The result is a finish that looks extremely high end.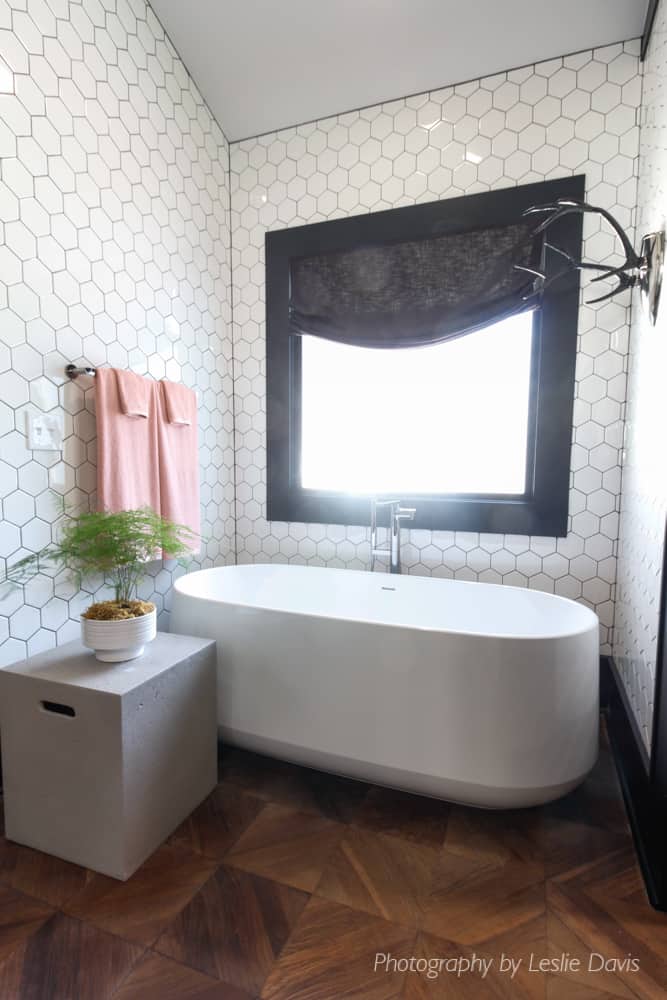 While the average homeowner may not be able to invest in a bathroom clad fully in tile, a similar look can be created with just one floor to ceiling accent wall or even a patterned tile going around a room at chair rail height. I did this recently in our powder room remodel. You can see it here.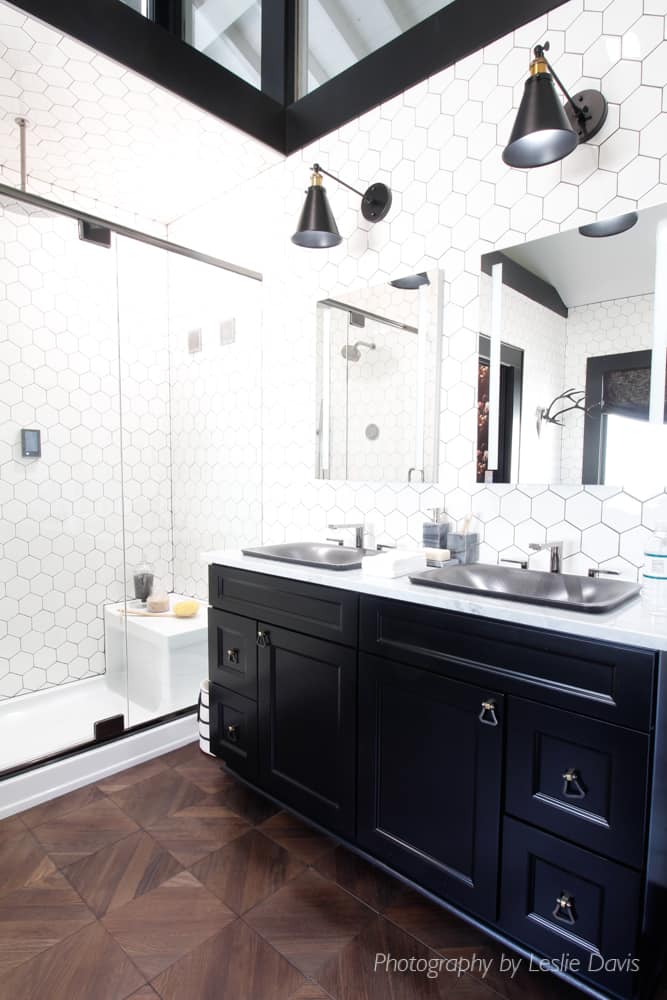 6. A greige room doesn't have to be flat or boring.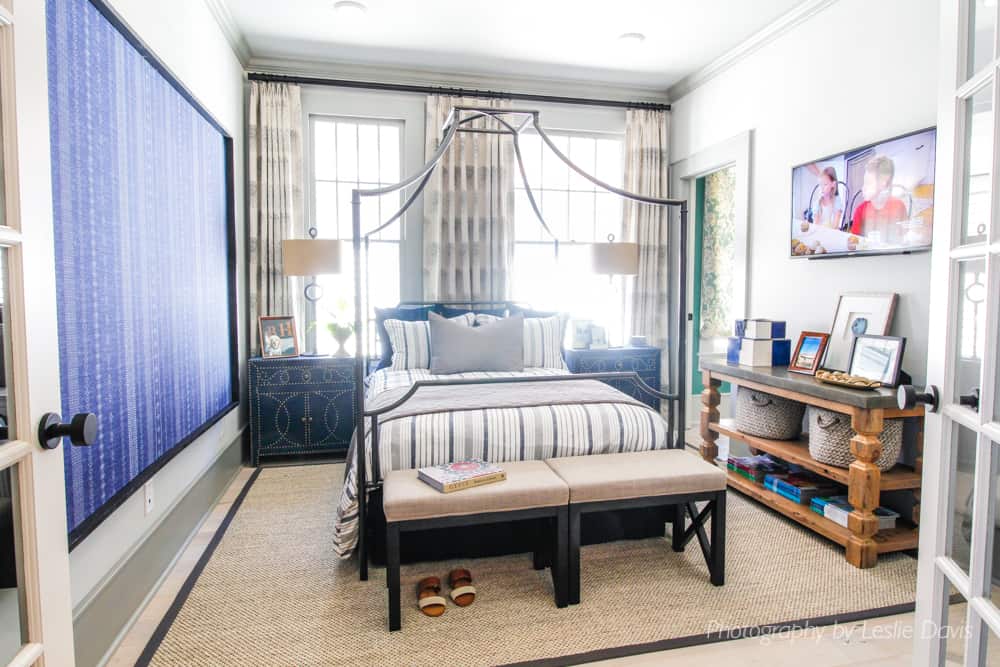 In the guest bedroom, Flynn shifted the trim color to coordinate with the tonal palette of the walls and set the stage for a relaxing retreat. A pair of chests used as nightstands and velvet euro pillows on the bed add the perfect pops of blue to bring the room to life. The end result is a room that feels calm and most of all comfortable.
7. Reimagine the basic bedroom.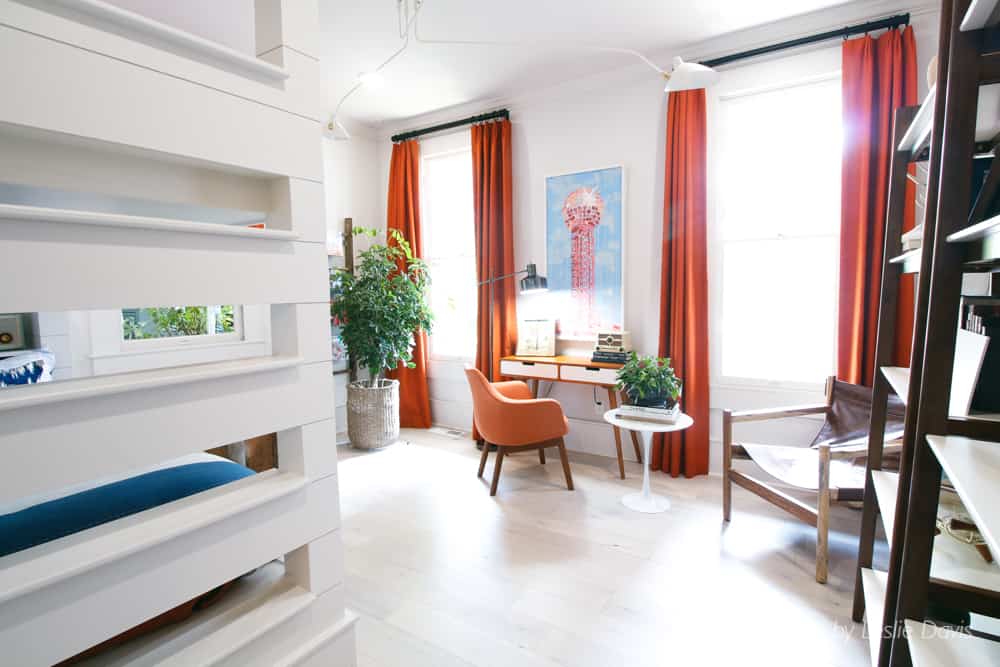 In a time when multi-functional spaces are critical to purposeful living in smaller spaces, this room was created to perform. A zone for extra guests or family to sleep lives in harmony with the work or study zone.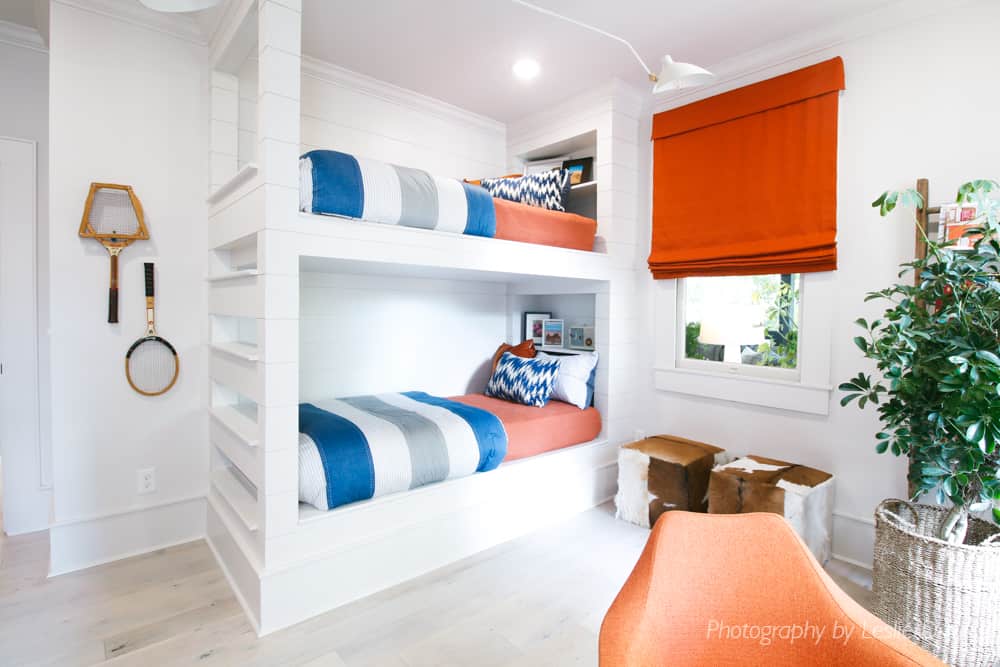 8. Break the rules. Paint your trim black!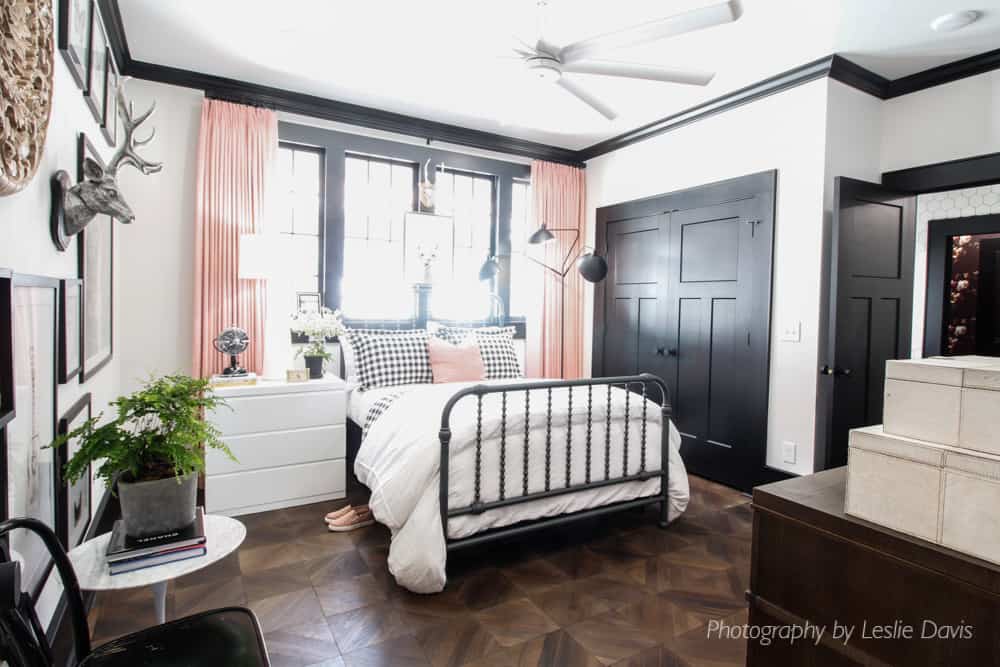 If a bit of drama in your bedroom is what you are looking for, then black trim just might be your ticket to bold living. It creates the perfect contrast for the white and the soft pink curtains and it doesn't matter that the majority of the rest of the house has white trim.
But how do you keep the room from feeling stark and a bit harsh?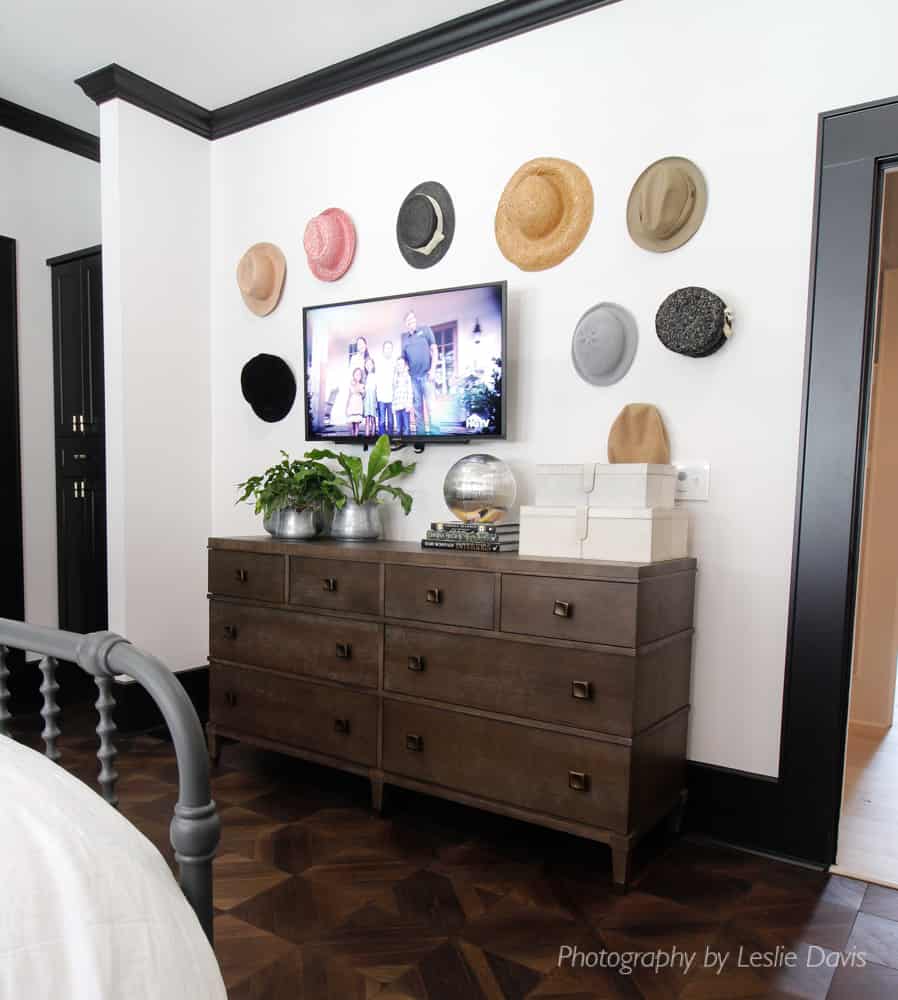 The rich warm woods a play a major role in creating a bit of soul for the room. The rich wood tones of the dresser are punctuated with the charm of collected hats and bring the right amount of "life" to the room.
The takeaway here? Be fearless when it comes to creating a high contrast room, but be sure to pour on the rich woods and the textures of found objects so that the room feels saturated and inviting instead of stark and cold.
9.Wallpaper is back! And it's bolder than ever.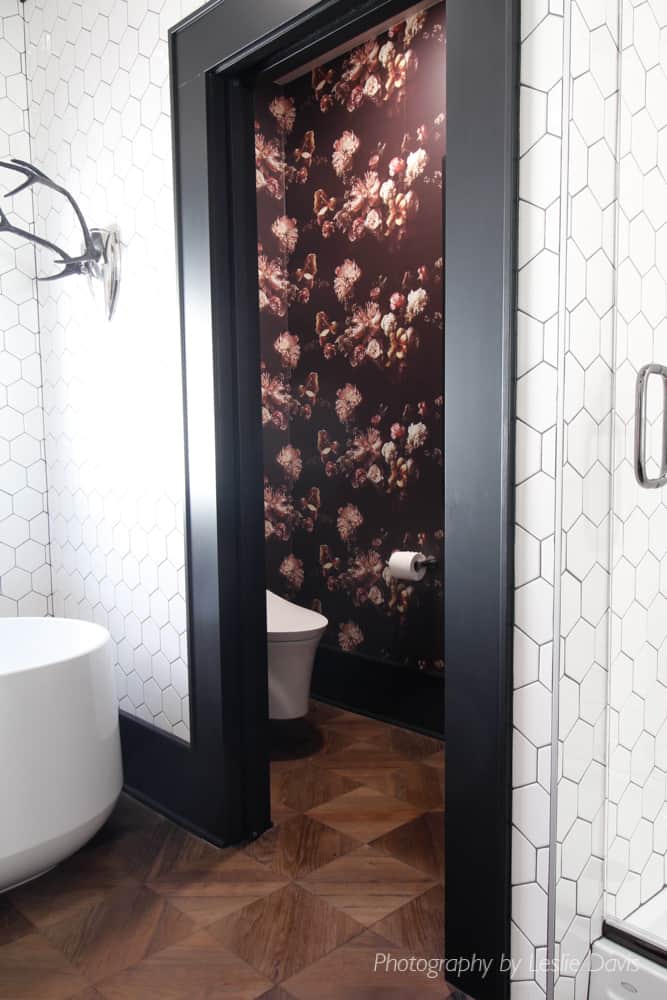 The dramatic use of wallpaper is not just an emerging trend, it's in full blown resurgence. I absolutely love the use of wallpaper in this powder room. Just like the collected elements in the bedroom, the wallpaper adds the perfect punch of warmth and drama.
I used a modern style chinoiserie patterned wallpaper, with more subtle tones in my master bathroom renovation. See it here. Even with a softer color palette, the results are quite dramatic.
New wall coverings boast easier removal and use high tech printing techniques that make them easier to install. There is even a whole new industry of temporary wallpaper perfect for rentals. Fear the commitment of wallpaper no more! In a recent makeover of my studio I chose a highly graphic design in gold foil no less, and yet, I don't have to worry about tiring of the look. I can just peel it off with absolutely no damage to my walls.
10. Master the art of floor to ceiling gallery walls!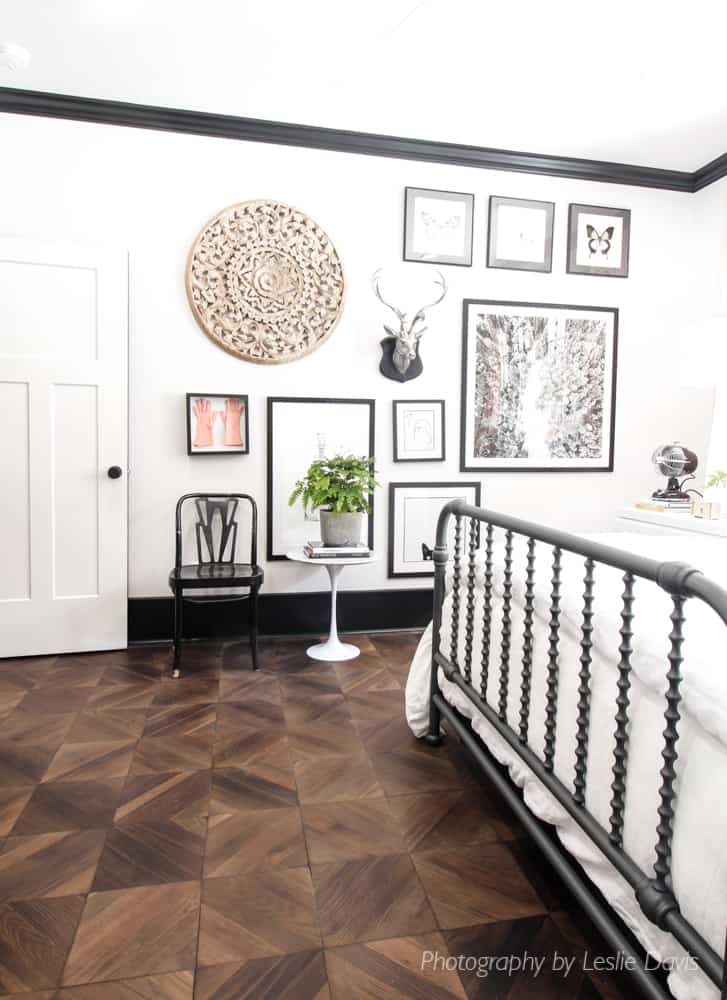 Clearly, Flynn is an expert in the art of floor to ceiling gallery walls. He even wraps them around walls with ease. But he is a recognized designer after all, so that shouldn't be a surprise.
However, taking tips from what we see in just these two installations, I feel like we can confidently tackle a project like this. In the master bedroom, he used black frames and almost exclusively black and white images. A mix of photos, paintings and sketches keep the gallery exciting. "I always like to add found objects to the mix," says Flynn. The gloves reminded him of Audrey Hepburn, whose iconic style was the undercurrent for the inspiration of the room.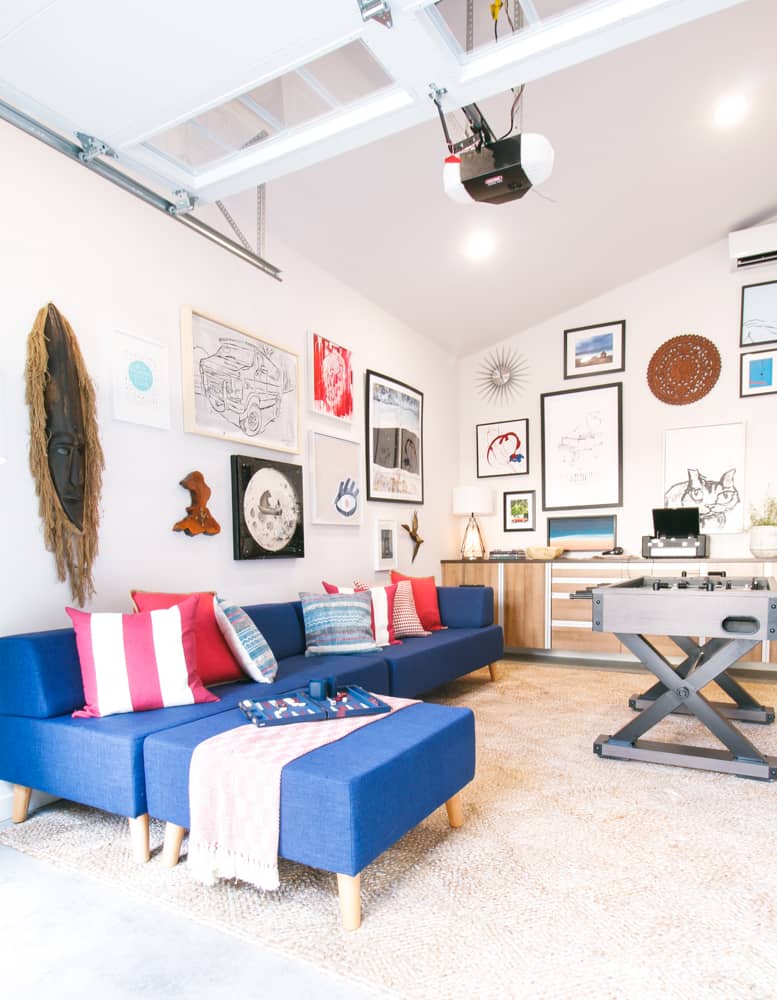 In the garage, turned ultimate hang out space, a more graphic mix of colors and found objects prove that the rules are again meant to be broken. The imperfect balance of white and black frames, sketches, photography and paintings bring the room to life. You can also see Flynn selected art with the color palette in mind.
11. Maximize your outdoor spaces.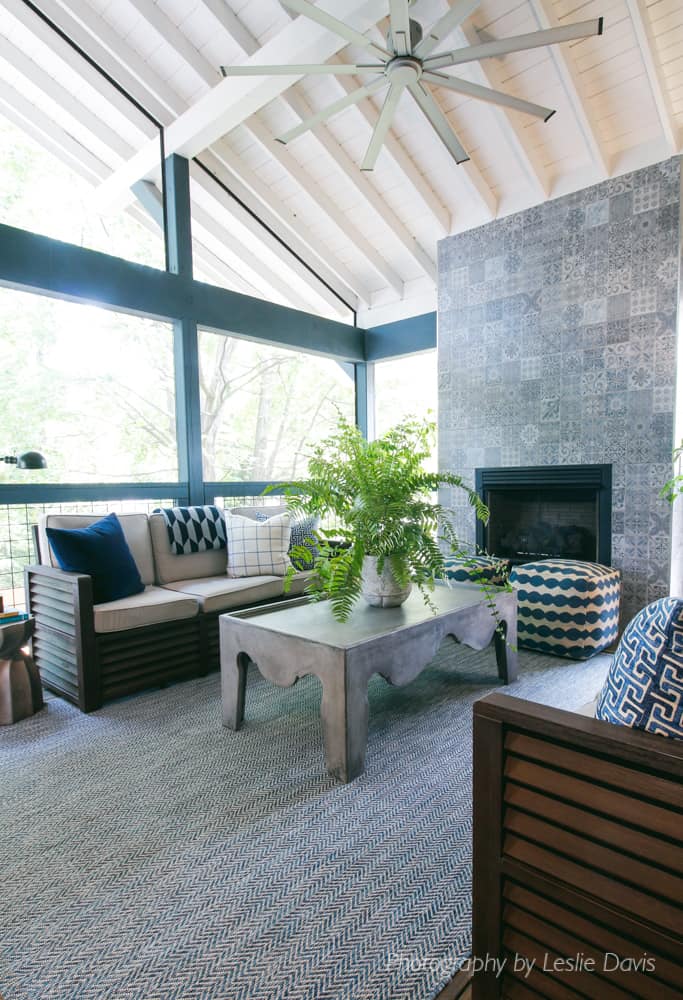 While this HGTV Urban Oasis home has approximately 1,850 square footage, the maximization of the outdoor spaces makes that number feel nearly doubled.
There are 4 gathering spaces in the backyard and almost two on the front porch. The screen porch above features matching sofas for ample seating, a fireplace and a TV.
This patio under the porch offers comfortable dining space or a quiet place to work during the week.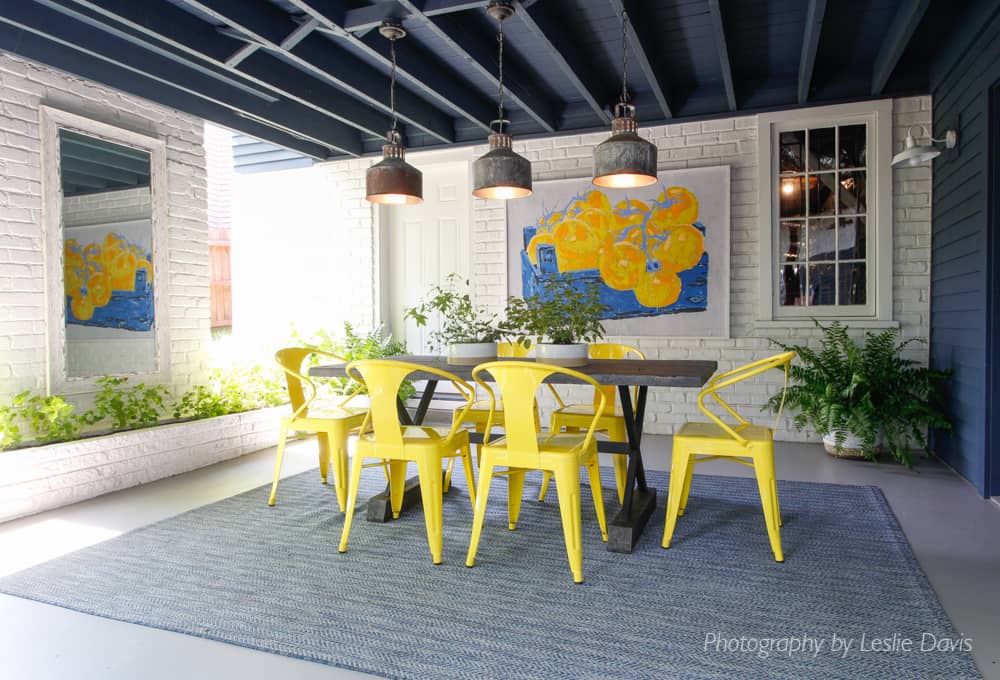 Out in the private backyard is a cozy place to unwind on weekends, gathered around the fire pit.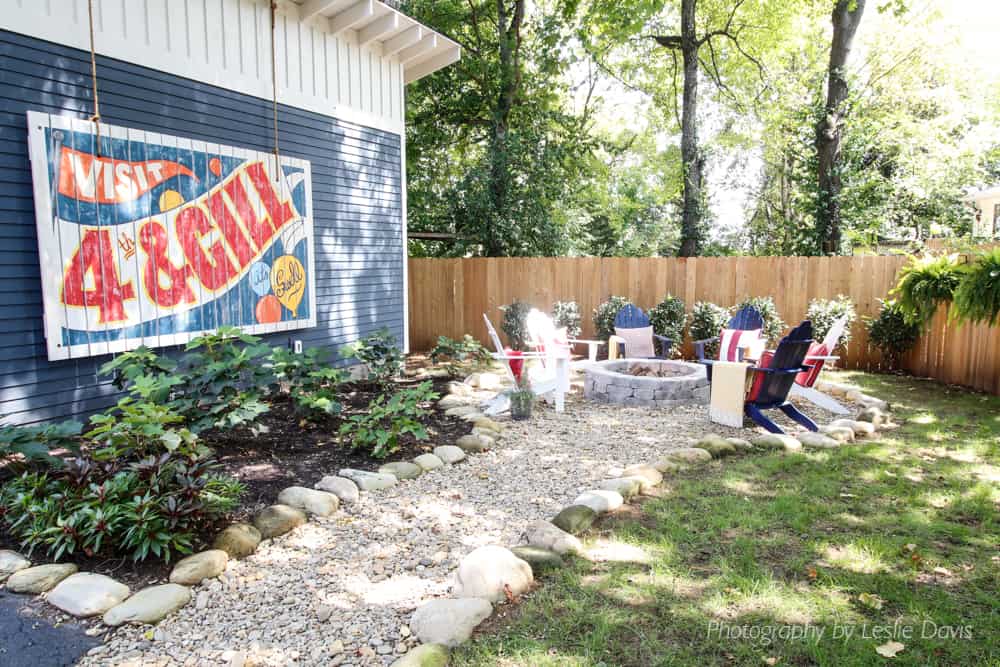 Lastly, the newly constructed garage space was converted into the ultimate fun place to hang out and play games.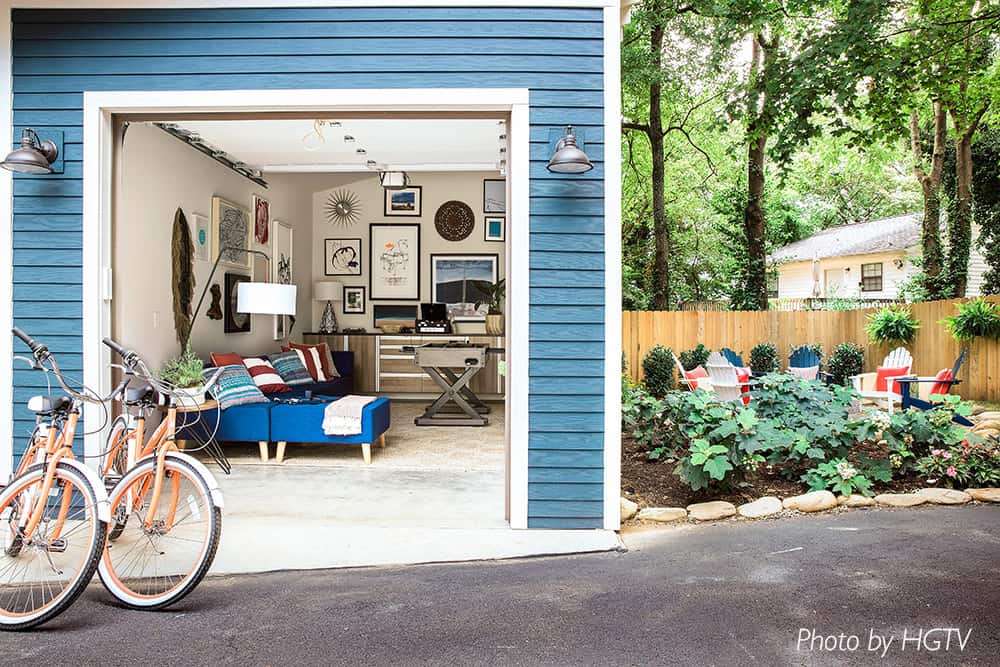 12. Reclaim overlooked utilitarian spaces for extraordinary uses.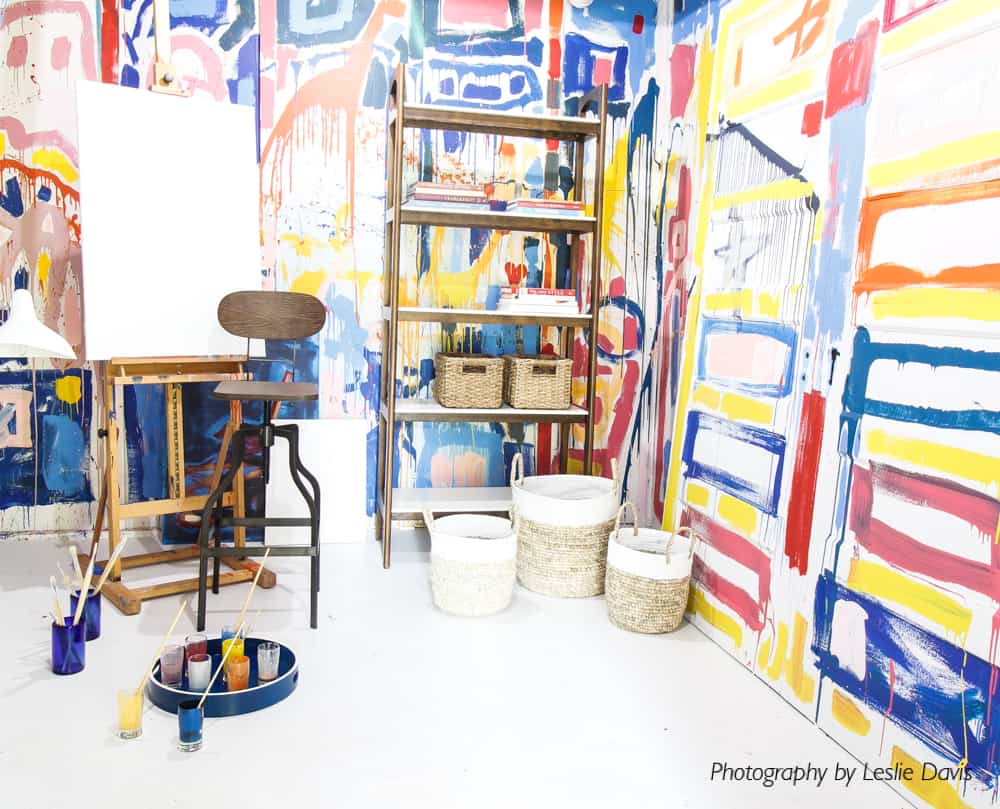 Flynn's resident artist added her stamp to this finished area in the basement that could easily be overlooked as just a storage area. Pitch that junk in your shed and create the perfect oasis for painting or woodworking or whatever your heart desires!
So there you have it! My top 12 design takeaways from the HGTV Urban Oasis 2017 in Knoxville, TN. But In that round up I failed to come up with a
But in my round up I failed to come up with a category for the stunning architecture by Open Door Architecture and the the master bathroom addition. I thought it was worth mentioning because the full scale of the is room is often left out of photos and the awesome couple who make up this firm were a joy to meet. They are passionate about renovating historic homes in their own neighborhood!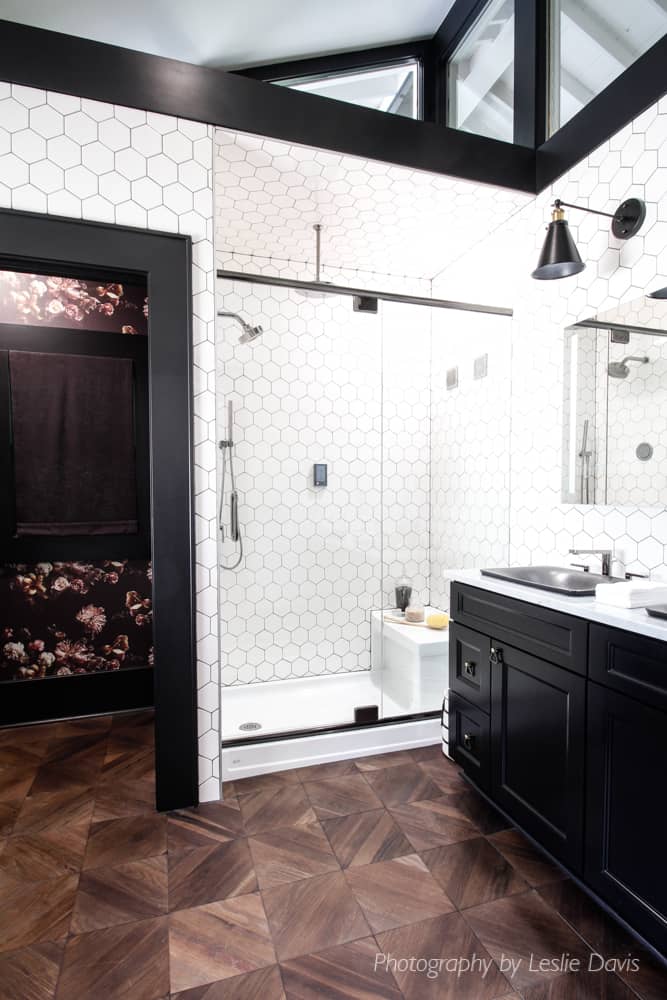 The dramatic windows that follow the roofline of the addition flood this bathroom with light! It was another one of those features that made this bathroom outstanding!
Of course, now you are probably like me, wishing this home could be yours! Well, after the airing of the Urban Oaiss Special on October 4 at 7pm you can enter twice daily!!
In addition to this amazing home, the winner also receives $50,000.00 in cash from Quicken Loans!
Want to see more? I've rounded up all of the photos, some not shown above like the guest bathroom and the laundry room, to give you a guided tour through the home.

Clearly, it was a thrilling day to meet and greet all of the other influencers and the team at HGTV and Scripps Networks.
But it goes without saying that meeting the interior designer of the HGTV Urban Oasis and Dream Homes was pretty awesome too. Brian Patrick Flynn has an electric personality that matches his designs.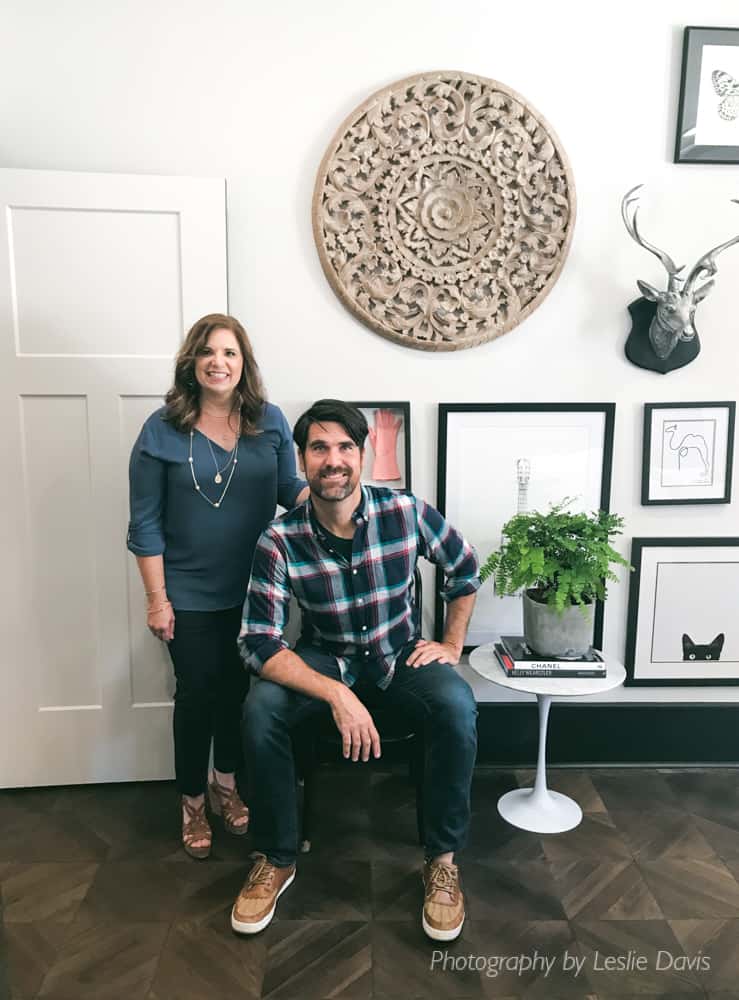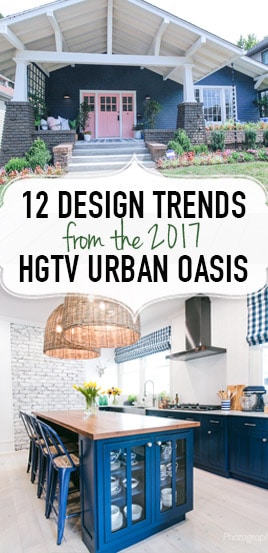 SaveSave
SaveSave
SaveSave
SaveSave
SaveSave
SaveSave
SaveSave
SaveSave
SaveSave