Welcome to the new look of Paper Daisy Design!  Over the past few weeks, the updated vision I've had for the blog has come to fruition.  I was chomping at the bit to be able to reveal the new digs and my newly redesigned logo. I hope you like it!

With my Web Developer, Mandy, we will be continuing to tweak the look just a little here and there, but overall I couldn't be more happy. (Mandy's been great to work with, I'd be happy to share her contact. Just shoot me an email.)
Please be sure to bookmark the new address as you'll notice it's now PaperDaisyDesign.com!  Also I'd love to know what you think of the design and the overall flow of the blog.
Now for another great new look, I had mentioned in my 2015 goals post, our front room/sitting room is becoming Richard's home office.  When we moved into this house, we had decided to use this front room as a sitting room. While I had some general design ideas, the room basically looked like a jumbled mess of furniture.
And because I couldn't really seem articulate my vision in my previous post, I thought it might be fun to create a design board.  I also wanted to give my husband an illustration of the design, a visual reference if you will, since technically it will be "his space."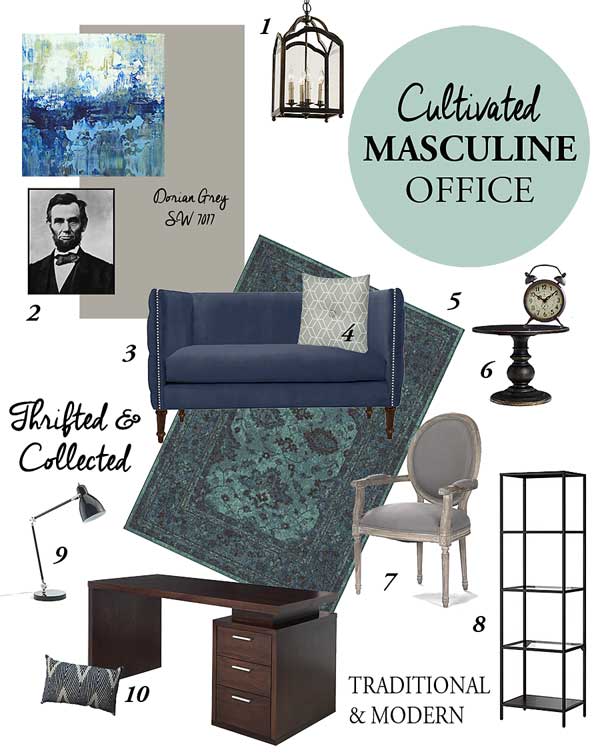 1  Lantern Pendant   2  Art: Blue Abstract & Lincoln Poster   3  Navy Settee   4 Pearl Fabric    5 Overdyed Rug  6 Black Pedestal Table  7 French Arm Chair  8 Vittsjo Shelving Unit  9 Industrial Task Lamp  10 Modern Desk & Bali Pillow
I would say 90% of the pieces that will end up in the room are things I've accumulated from thrifty shopping or from Craig's List with the intention of creating an inviting conversation area.  While the room arrangement has changed to accommodate the necessary desk, most of the pieces will be made over in more masculine sensibilities.
Despite the design board, he still says he can't see how this translates into an end result.  I told him he'll just have to trust me.  And after all this time, I think he does. Wink, Wink.