I'm so happy to update you today on how my studio/office makeover is going for the One Room Challenge. I wish I had more to share, like that mini-reveal I promised.  I can't share it today but I am hoping that next week the stars will align and you'll get a fun look at the room.

For a quick recap, I am participating in a fantastic event hosted by Linda at Calling it Home where designers and bloggers all over the internet makeover a room in 6 weeks.  If you want to get a recap here are the links below.
 week 1-before ||  week 2-design plan  ||   week 3- plant shelf,
Until then, here is a little sneak peek I can share.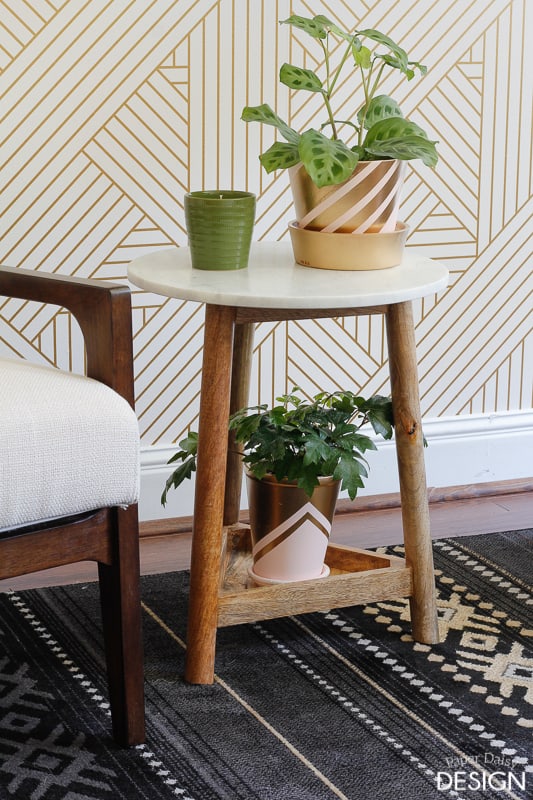 But not to worry, I do have an interesting, although not an entirely complete project, to share with you. It happens to live on the smallest wall in the room!
Here's the back story. Over a year ago I picked up this vintage tool chest I found on the side of the road in my neighborhood. I mean, who throws away a perfectly sturdy, albeit ugly cabinet as cool as this?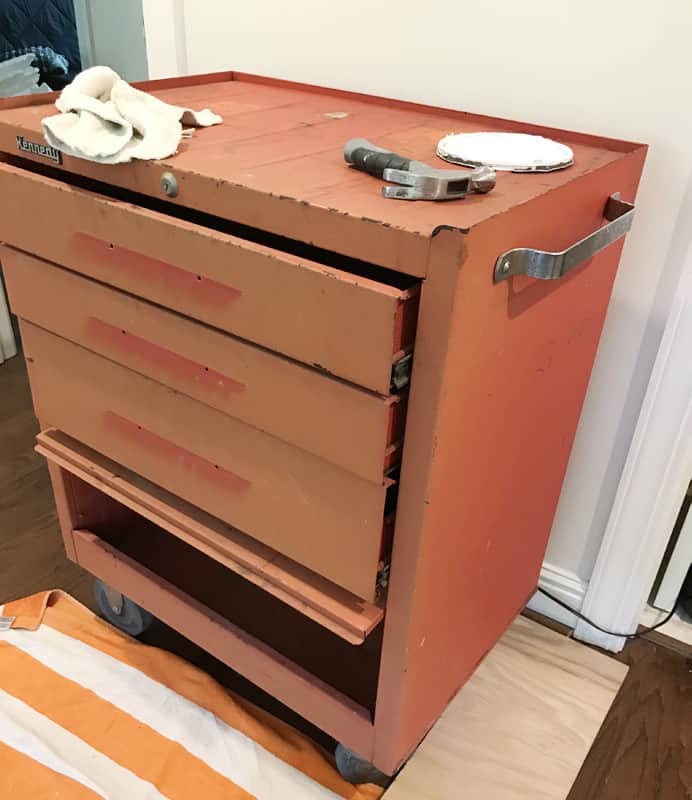 I honestly had no idea what I was going to do with it. Happily, I was able to convince my dear husband to go back and help pick this beast of a cabinet up and load it into our car.
As luck would have it the area at the bottom is the perfect size for our printer.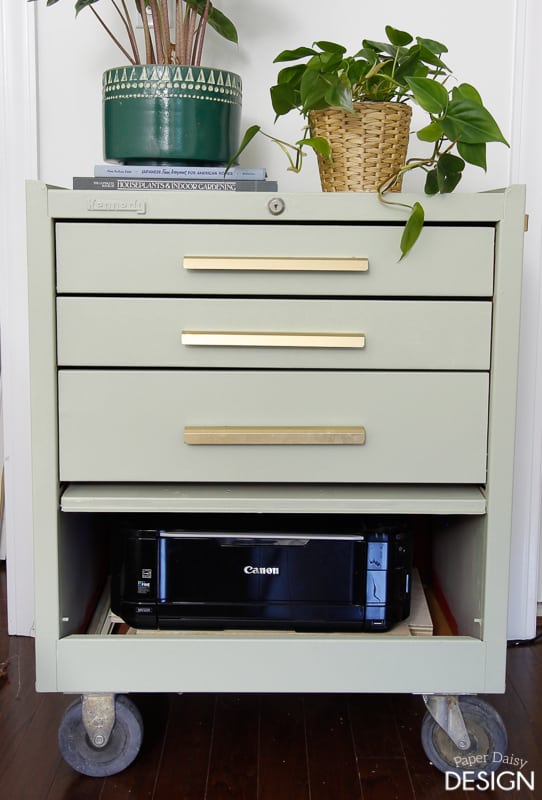 Beyond the little paint makeover, I've collected all the pieces and parts needed to make this work as a printer drawer and stuffed them inside.  I just need some time to actually install the slides and drill a hole in the back for the power cord.
A hidden printer in an office is always a win in my book!  Now that so many printers are wireless, there's no reason to have them near a desk or even seen at all.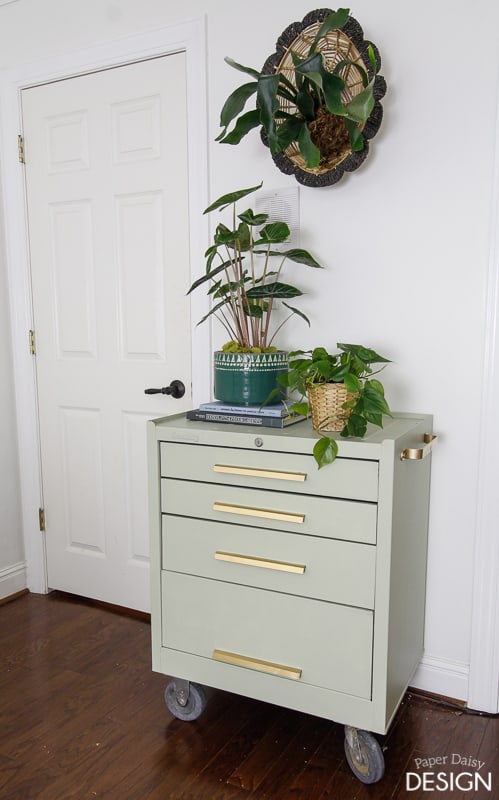 I primed the chest and then painted it with Devine Color from Target in the color Devine Meadow. I removed the hardware and spray painted it with my new favorite gold spray paint.  (I'll reveal what it is next week!)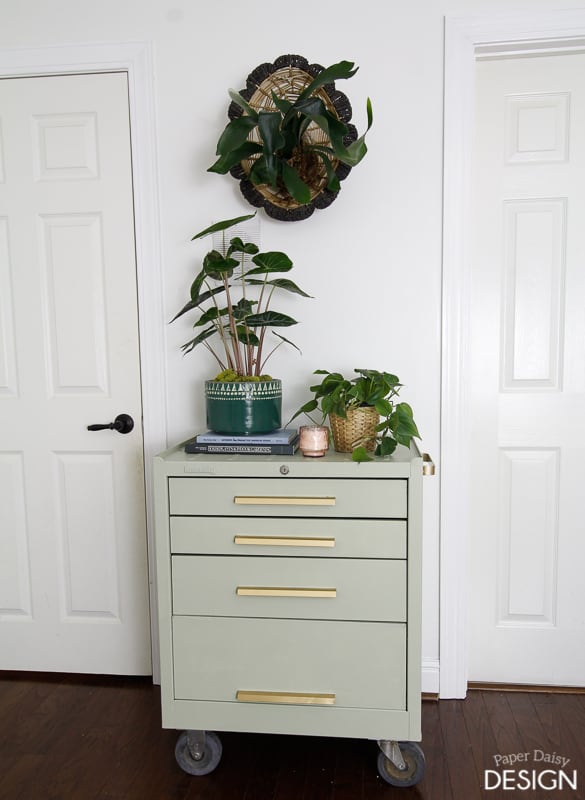 I haven't decided if I need to paint the wheels or just embrace the crustiness.  I'd love your thoughts, so please leave a comment on what you would do!
I will also tell you how happy I am that my other secret idea seems to have worked as planned.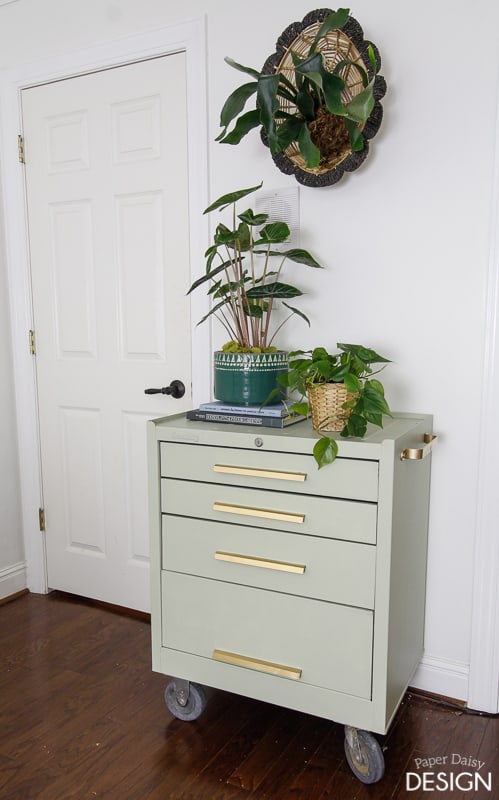 Several months ago, I picked up this Nate Berkus tortoise shell rattan wall decor on clearance at Target.  Because it is no longer available the only image I could find was this unattractive shot from the Target archives.
But what I saw when I found it sitting on the clearance shelf was a great place to hang a staghorn fern!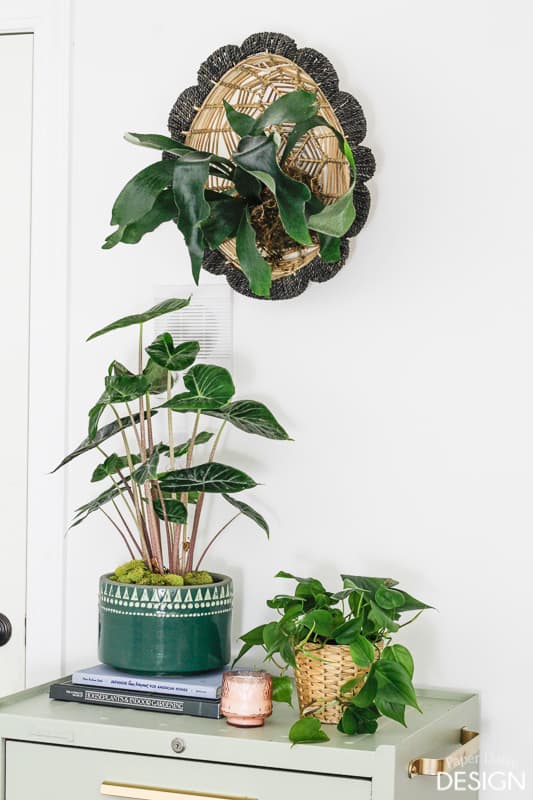 In case you aren't familiar with them, staghorn ferns are actually a type of air plant. They grow in the rainforest jungles nestled in the branches of trees. They only require water occasionally so they are perfect for hanging on a wall.
I brought my Nate basket with me to one of my favorite local nurseries, Leaf and Petal and had them prep the fern for me.  It looks like a pretty easy thing to do.  If it thrives, I'll share more details.
We are getting down to the finish line here with just two weeks left till the reveal. This weekend we plan to build my new desk.  I must confess it's another crazy, hair-brained idea as I plan to use these bedposts as legs!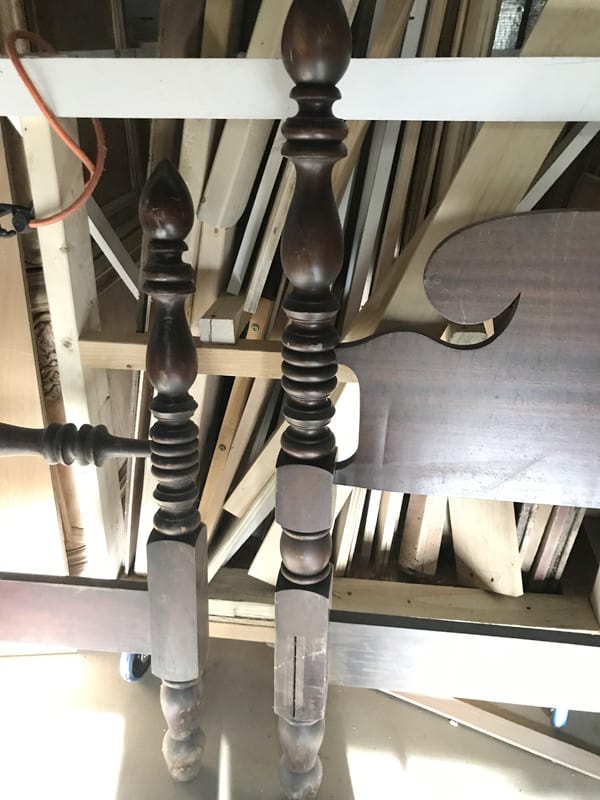 Be sure to check back next week for progress! I'm already much happier in my space! I can't wait to share more!
Follow me on Instagram and Instagram stories for more behind the scenes! Click here.
Thanks also to the ORC media partner, House Beautiful and to all of the wonderful sponsors.
I am proud to be working with these supporters or contributors.
Devine Color & Target || Rainbow Paint and Decorating for Hunter Douglas ||  Rugs USA