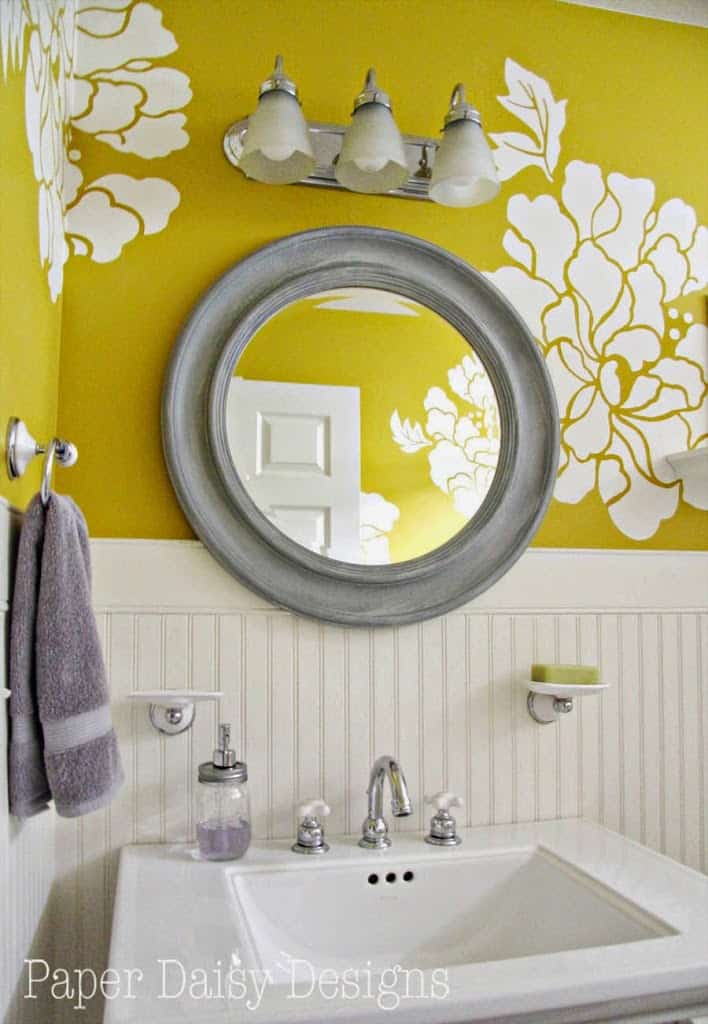 I'll start this makeover reveal with a little story endorsing the virtues of hoarding.  🙂
A couple years ago, I bought some
outdoor furniture
off Craig's List from the sweetest, young mother.   We shared a cordial conversation about making over furniture as she gathered the chairs from her storage shed. I held her adorable baby girl for her and tried not to come to tears. She was a brown haired cutie, wearing a little romper and blue jean hat, just like our little Emily so many years ago.
Anyway, a week or so after the encounter, she sent me an email through my blog saying she wanted to give me a roll of wallpaper! I think we ended up making a trade, but for the life of me I can't tell you what I gave her.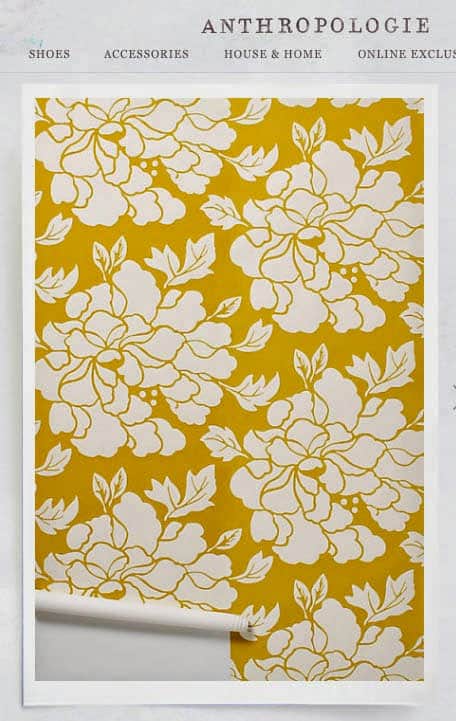 I wasn't really sure what I would do with it, but I knew I loved it!
Fast forward to this spring, when we bought our house in Birmingham.  I was hoping I'd find a place to use this gorgeous wallpaper!
I decided it was the perfect design solution for this slightly dreary, guest bathroom in our basement.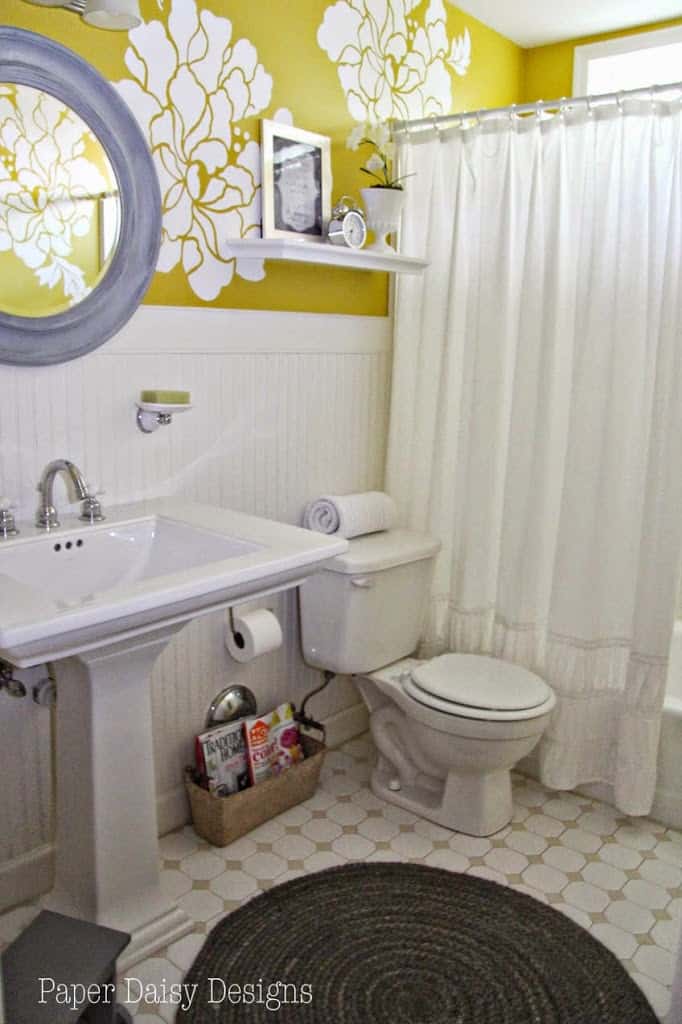 Here is the before photo.  While this bathroom is in our basement, it does get just a smidge of natural light from the window above the tub.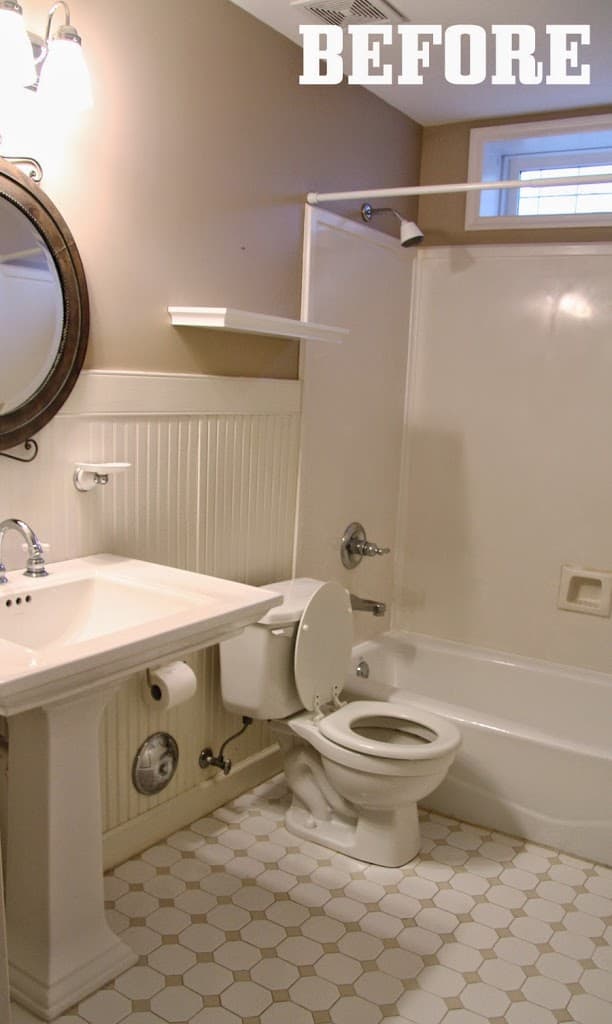 As you can see from the photo, the bathroom, like the rest of the house, already had a bit of charm.  It just needed an infusion of happiness and light.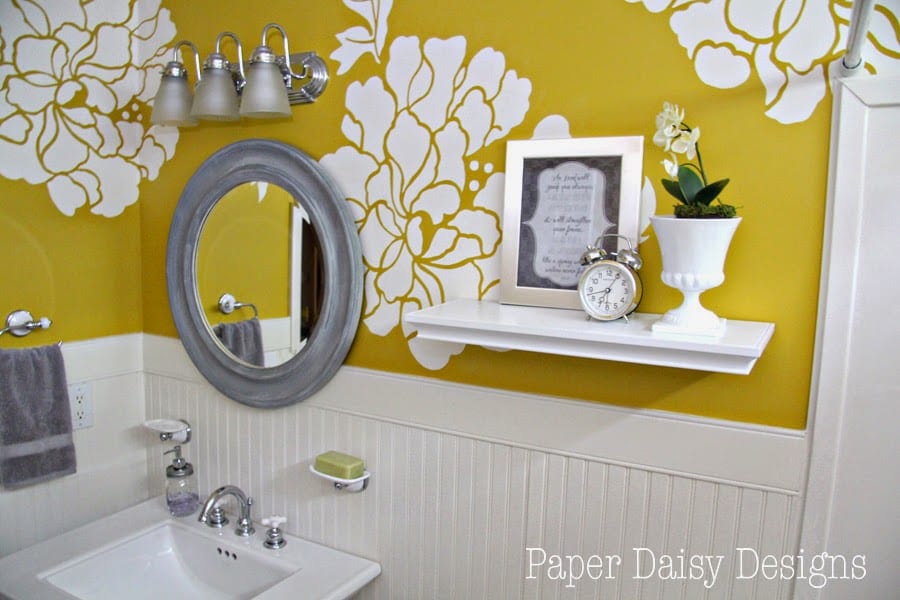 Did you notice yet that there are fewer flowers here than in the image of the wallpaper?  It turned out that my "fantastic idea" was not with out flaws.  Beyond hanging the dreaded wallpaper border back in the nineties, which honestly we really should forget, I had zero wallpaper experience.
Being the math adverse person I am I had not even measured to see if I had enough wallpaper.  Not until after I had enlisted my neighbor to help me, did I figured out that I might have just enough to paper one wall.
However, I realized the flowers were so impactful that cutting out each flower and pasting them to the wall would give me the look I was hoping for.
I think results are perfect for the space. There's more room for the deep yellow wall color to fill the space with sunshine.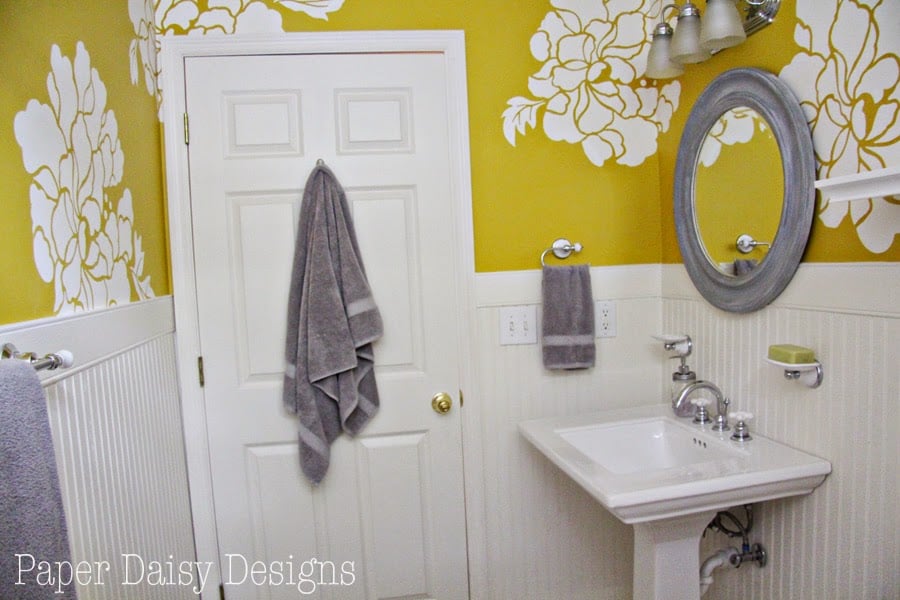 I replaced the mirror with a more simplified version and brought in a small side table that had already had many reincarnations.   Each piece received their own little paint makeovers to coordinate in the room.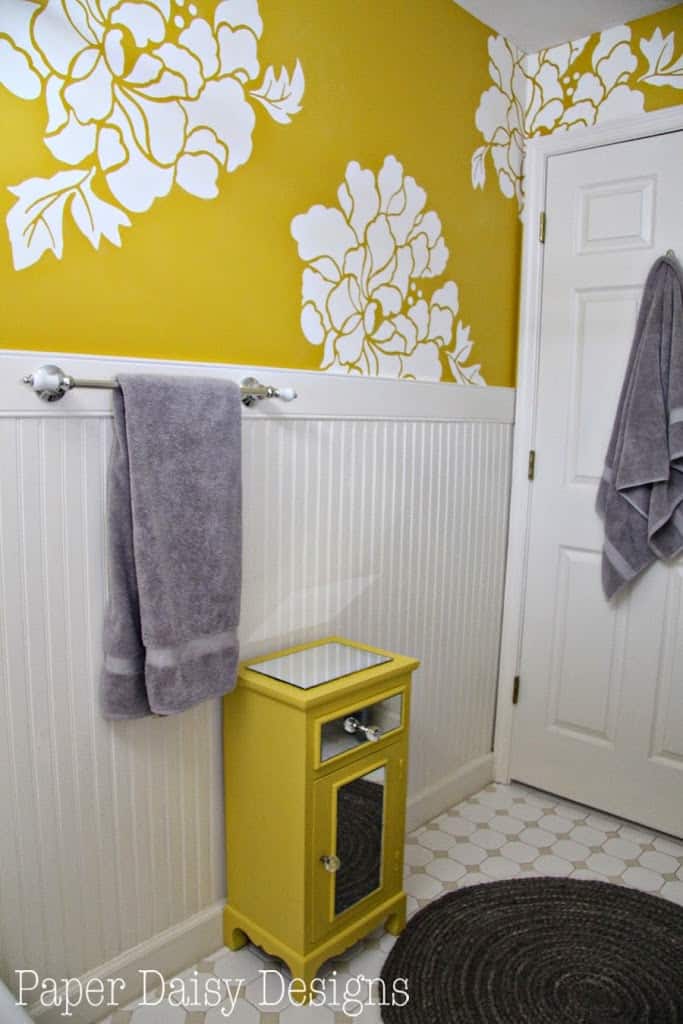 Then, just a few accessories added to the floating shelf, towels and a rug were all the room needed.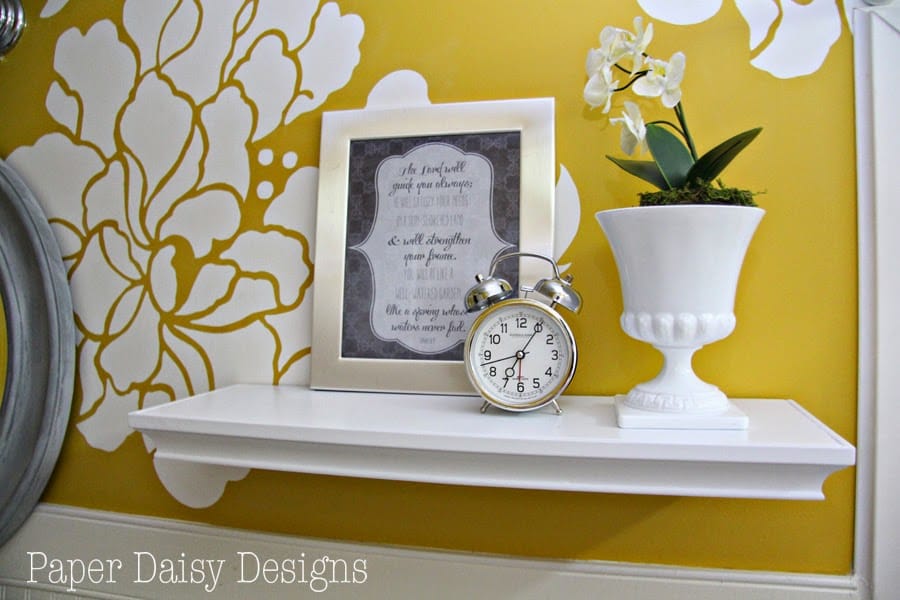 I'll share in another post how we pasted the flowers to the wall and spread this one, partial roll of wallpaper around the room.  Talk about a budget makeover with impact!
I must admit that when I first put the wallpaper color-matched paint on the wall, I started to doubt my choice, thinking it might be just a tad too bold.  But now, I look for reasons to come down here and just smile.  I hope the room gives a warm welcome to all our guests.
The finishing touch to the room is the word art I created of Isaiah 58:11.
Here's a source list for the known items in the room.  Like I said, most of the bones were here for me to work with.
Wallpaper: Anthropologie, Paeonia  |  Mirror: T.J. Maxx, Originally it was blue and cream  |  Towels: Threshold by Target  |  Urn: Antique from a local store  |  Clock: Target, a few years ago  |  Braided Rug: World Market  |  Shower curtain: Threshold by Target  | Mini Orchid: World Market