Hope you have had a great Labor Day! We did a little laboring around here today.
For the rest of you, here's a gander. I couldn't even wait to get the first coat of paint on it before giving it a test drive in the kitchen, complete with a few Fiestaware dishes.
Of course, this is where I realized it was missing an apron on the side between the chippendale legs. Oops. Quickly remedied, thankfully with a quick cut of bead board and
So as you can see, there's still lots "More Doing" and less writing going on around here to borrow the Home Depot slogan. I think I should switch to a shorter kind of day by day format more often, because if I just wait to share things when I've reached the "finished room" then I'm cheating you of the little details that make up a makeover or a project.
But let's back to Menu Plan Monday….
When I last wrote, we were gearing up for a house full of guests. Sadly, our out of town guests had to cancel, but we were super happy to have our son Miles home!! I did my best to spoil him with tasty food and cookies.
Here's a look at this week's chalkboard.
Monday: Leftovers. I'm sure you guessed it. I cooked too much this weekend.

Tuesday: Grilled Chicken Ranch Pasta Salad
This is a favorite around our house, no photo yet. Quick and easy, especially if you grill the chicken the day before.
Wednesday: Grilled Fish Tacos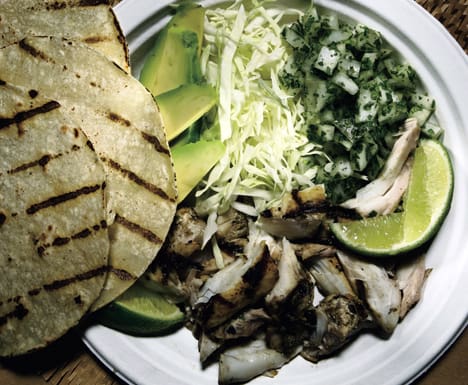 Epicurious
This the recipe I like best right now. I like to use a grill pan for easy handling.
Thursday: Grilled Rosemary Chicken
I really can't believe I don't have a recipe saved in my Paprika App for this. Pretty simple ingredients.
Friday: Leftovers

Saturday: Chicken Thighs with Shallots in Red Wine Vinegar
Skinnytaste.com
Sunday: Beefy Bean Quesadillas
I don't really have a recipe for this one either. Just sounds like something I want to make. 😉
From Last Week



We ended up having neighbor friends over for dinner, instead of our out of town company. It was a big hit with everyone, especially our pasta loving boy, Miles.
Go check out the recipe for Shrimp and Sausage Creamy Cajun Pasta. It's really a simple recipe, you don't have to save it for company. Although, your company will thank you if you do.
So, this week I have two questions for you.
Are you a grits or pasta kind of person?

Do you want to see more of the day to day developments of projects? Or is that just too much?

Leave a comment and let me know what you think.
Thank you for subscribing to Paper Daisy Designs. Please continue reading on the blog. I appreciate having you as a reader.