I'm back tracking a few posts today to fulfill my promise to provide a tutorial on how to build a hexagon tabletop, or in this case a fire pit cover.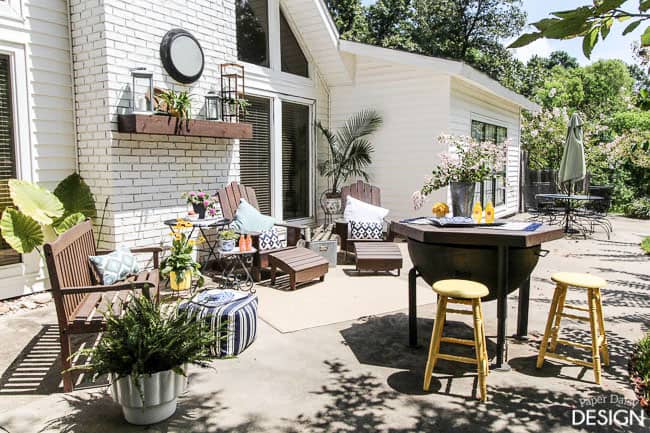 If you remember, earlier this summer I went on a road trip to help my best friend makeover her back patio. In addition to redecorating the space, and this fire pit cover, we also built a new faux beam mantle. You can see the full reveal here.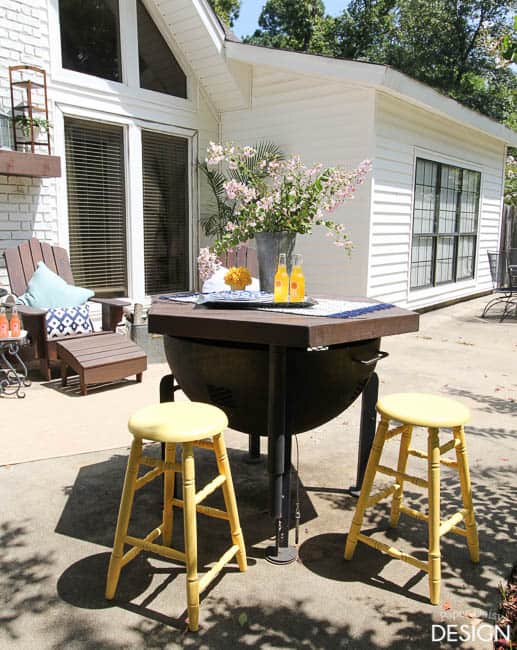 We were bursting with pride when our 2 day makeover was complete. But I'm sure my friend was more than just a little shocked that we actually pulled off building a hexagon!
She had hoped we would build a simple, possibly round cover for her amazing antique sugar kettle retrofitted fire pit.  But me and my big ideas would have no part in that.  A generic round cover was not good enough for my friend!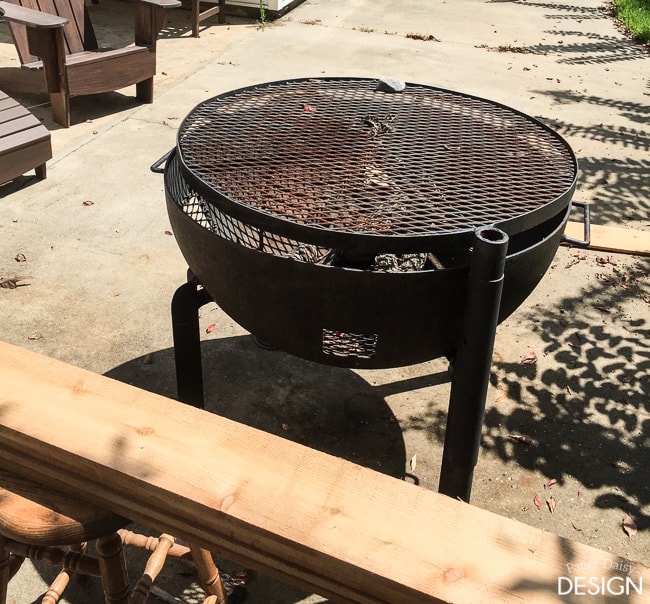 I honestly thought it would be easy enough, but after we came home from Home Depot with our fence boards and started putting pencil to paper and moving boards around, I realized this crazy hexagon idea was far more complicated than I had anticipated.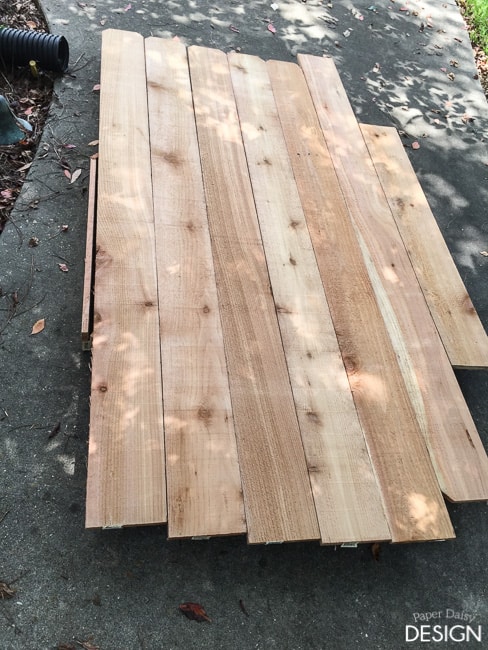 After nearly futile, totally over-my-head math results I got from my Google search,  I called the brightest master math brain I know…my Dad.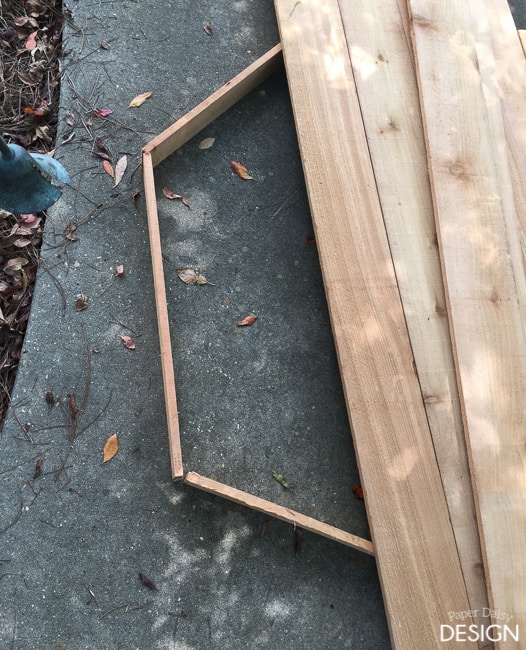 I texted him our problem and the size of the circle we were trying to cover with a hexagon. I also sent him the one image I found that demonstrated what I needed. We knew that the diameter of the circle we wanted to cover was 42.5 inches, and I was trying to determine the length of each side of the hexagon.
Seriously, in a matter of minutes there was a flurry of messages between us. They went like this.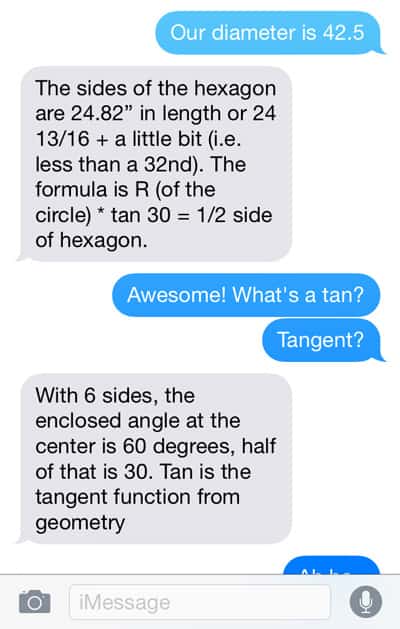 So then I'm thinking,"Great, that solves my problem, but now I've got to figure out how to tell my readers how to solve this problem."
Which lead to me asking if he looked it up or if he worked this magic in his head.
His response.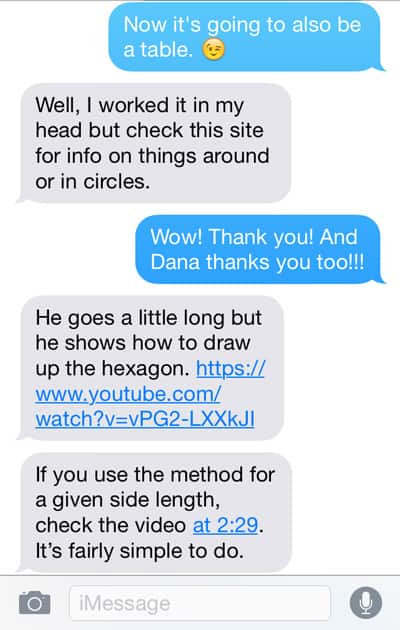 So, here's the link to that video if you want to learn how to draw a hexagon. If you move up to 4:39 he is actually drawing a hexagon outside of  a circle. Fascinating stuff.
But what you really need to figure out your own hexagon size is this handy
Hexagon Measurement Calculator.
Now let's get to the actual how-to part.  Here's a cut plan for the hexagon we created.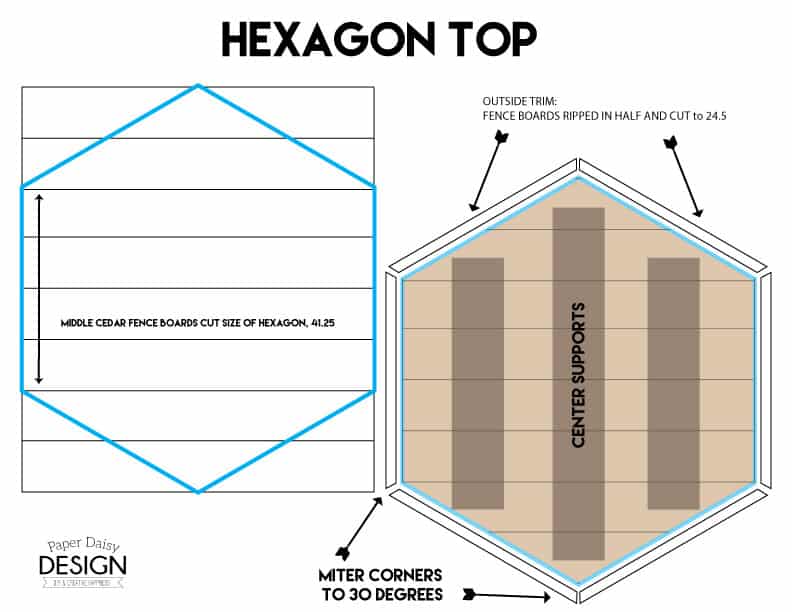 With the length of the sides determined for the hexagon to fit over the circular fire pit, we began like this.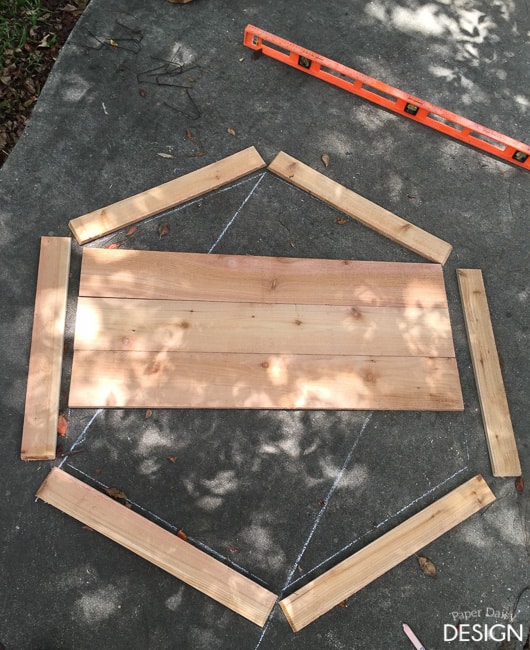 We cut the fence boards, previously ripped in half at Home Depot, to an even 24.5. Then mitered each corner edge to 30 degrees.
Then we laid out the sides of the hexagon out on concrete.  We used chalk lines to assist us.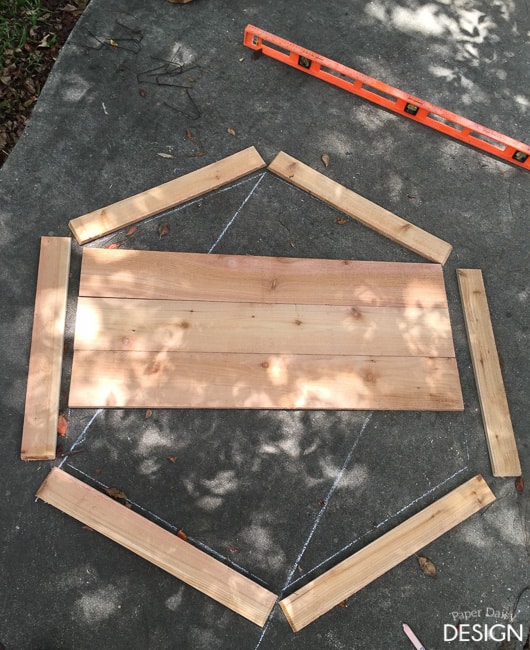 It was at this moment that we realized that we got very lucky! Four full boards fit exactly inside of 2 parallel sides of the hexagon.
We nailed the full straight boards to the trim boards. Our measurement for these full length boards was 41.25 inches.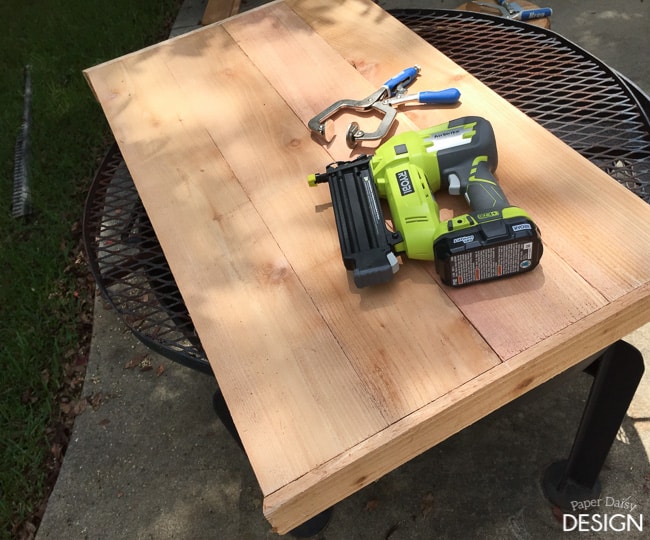 With the trim pieces dry fitted we were able to find the angles to be cut for the boards along the sides of the hexagon and cut those with a circular saw. (See diagram above.)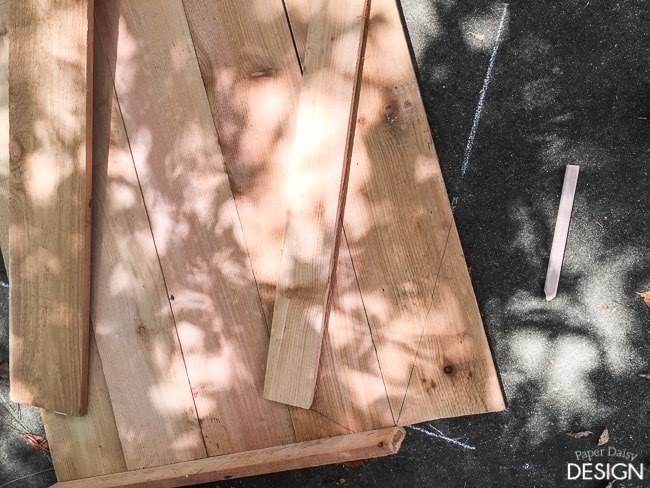 We also added three center supports after the sides were together.
For a finish, we mixed several colors together, Varathane Carrington and Weathered Grey and Minwax Dark Walnut.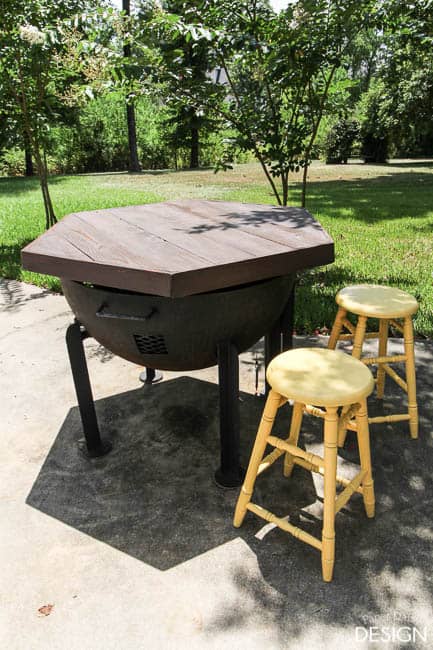 Once that was dry we topped it off with 2 coats of Minwax Helmsman Spar Urethane in Clear Satin.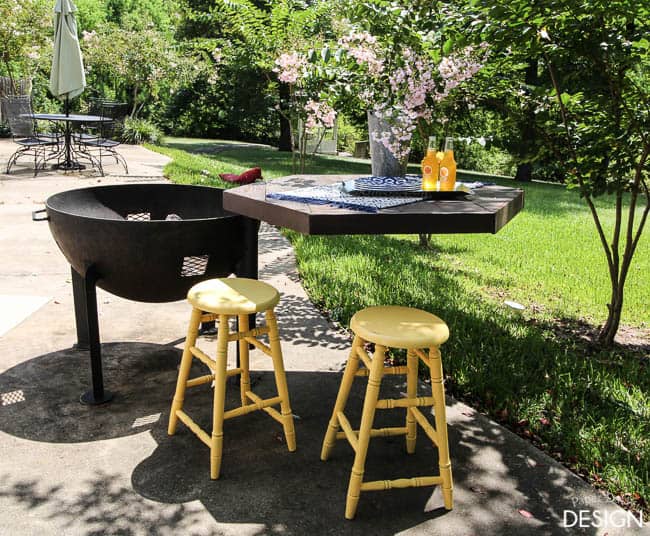 The new tabletop sits on the surface of the grate that has a hinge, so she can rotate the table off to the side if the fire isn't going to be very hot. Otherwise, it just lifts off. Pretty cool right?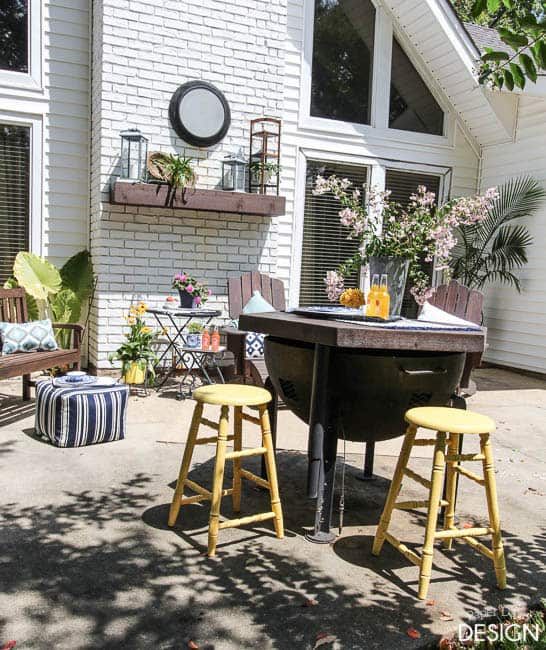 I think the best part of having a hexagon tabletop surface is that 6 guests can comfortably sit around the fire pit or table.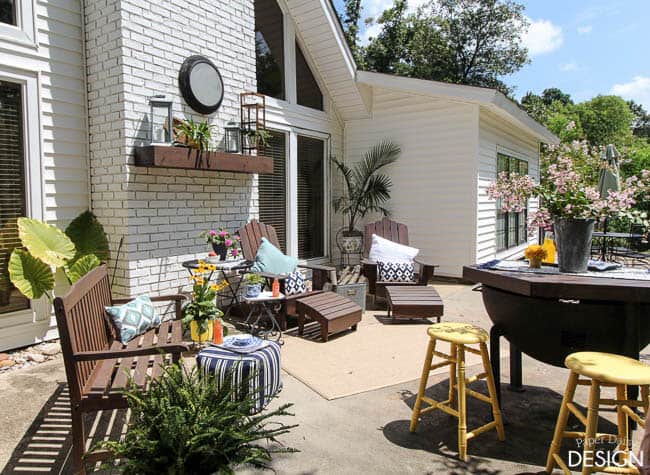 I promise you the math of this build seemed a bit scary to a creative like me, but once that part was determined it was an easy build.  Thanks Dad!
Do you have a round surface you'd like to top off with a hexagon?  Are you a math whiz or does all this math make you want to run and hide?
Don't worry, with this link to the hexagon calculator, you've got this!