I'm back with another installment of the Lost Post Series.  Although, now that I've edited the photos I realize why this post was set aside. Well, there might have of been one more reason as well. I'll get to that at the end.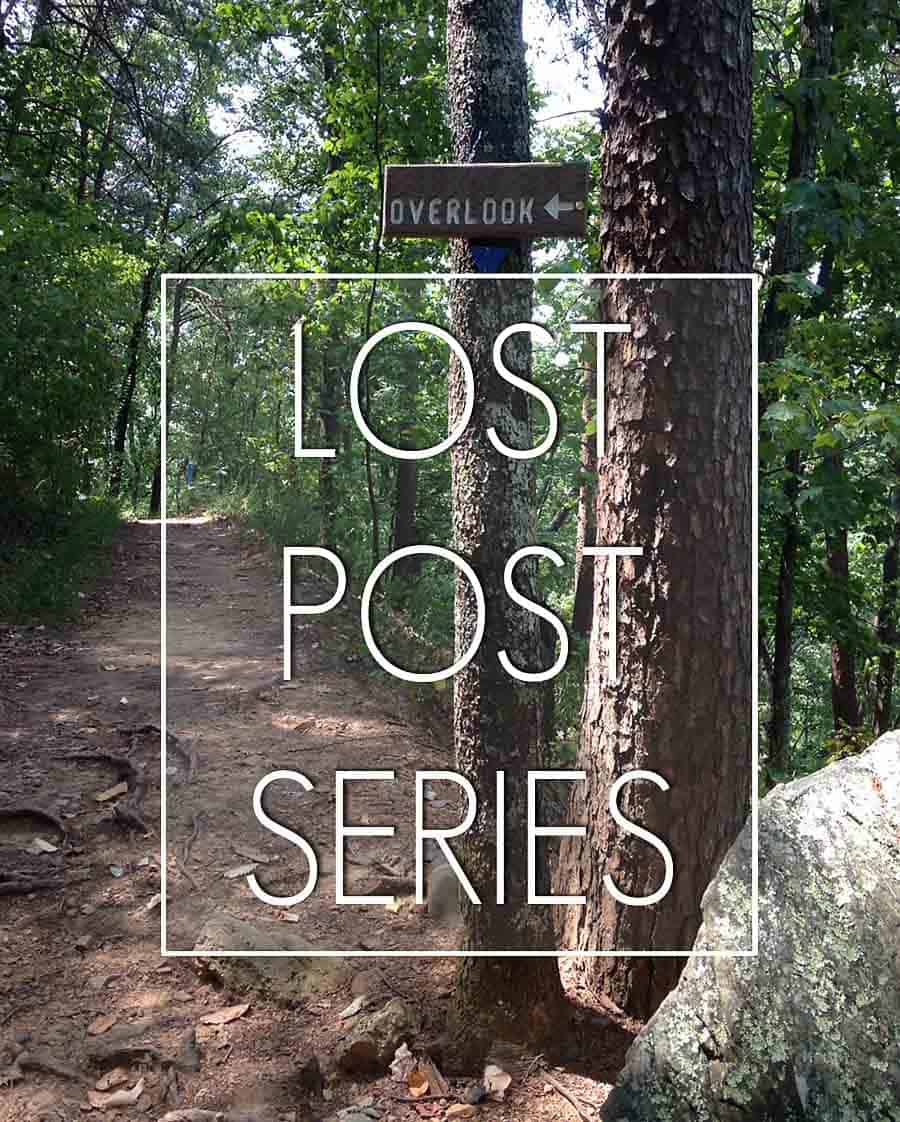 The driving factor for posting this, despite the photos, is that it was very popular on my Furniture tab. Most of the comments on that page were regarding this piece of furniture. I felt that now that the comments are gone from that tab on the new site, it was only right to create a to step-by-step instruction in an actual post.
Here's the image that garnered so much attention.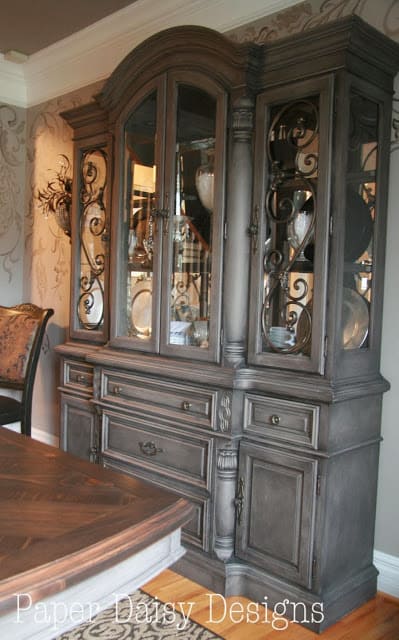 My friend hired me to paint this whole room of furniture the summer before we moved. It was already a gorgeous room, but with the new paint finishes it became a true knock-out.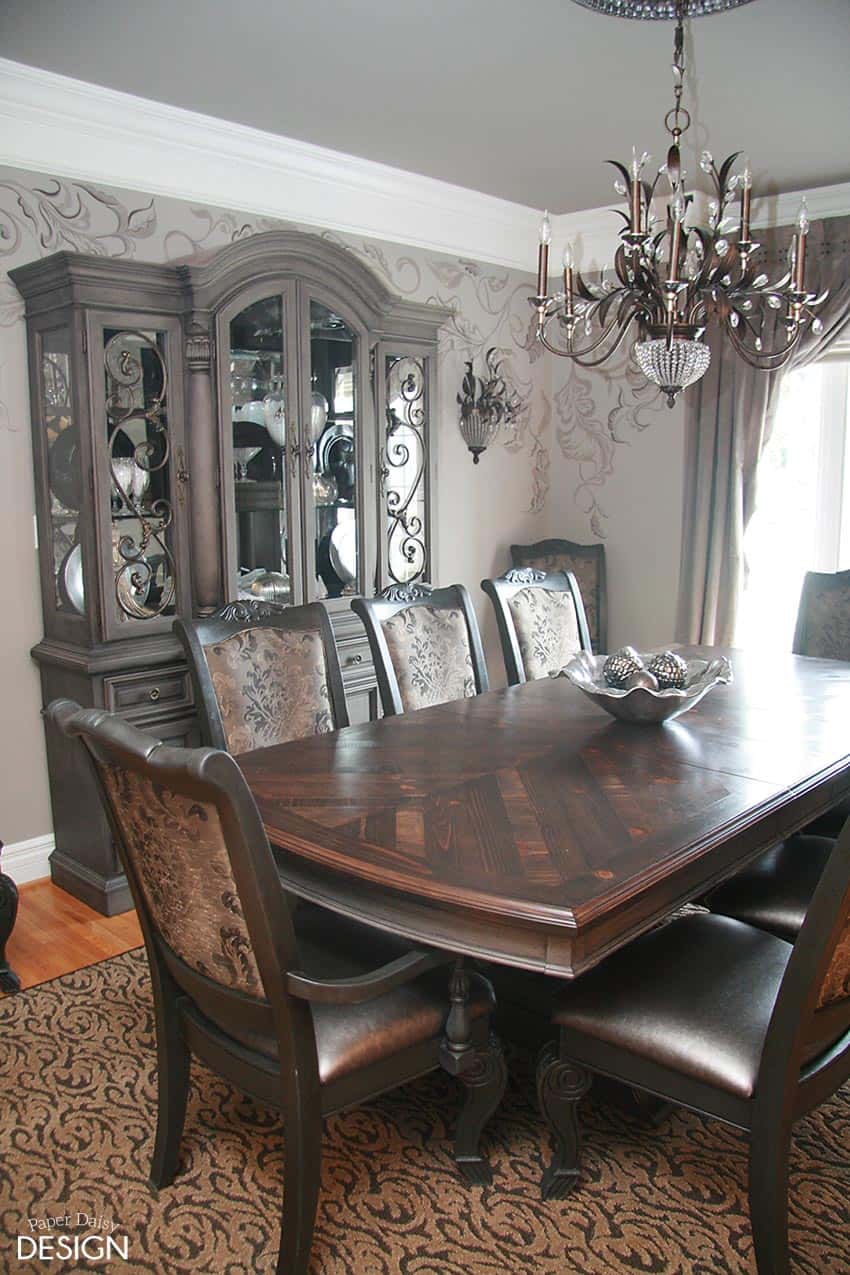 I don't think either one of us could have predicted how perfectly this hutch was going to match her hand painted mural.
Here's a look at the before of the hutch and you can see a peak of the chairs too.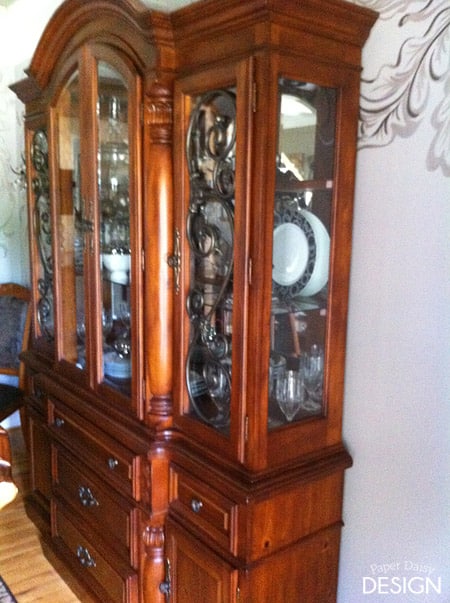 After 2 coats of Coco Annie Sloan Chalk Paint it looked like this. You can see I inserted magazine paper to cover the glass in addition to tape.  In some places this worked out great, in others it was a nightmare to get the paper out from under the wood. Not sure I'd recommend this idea.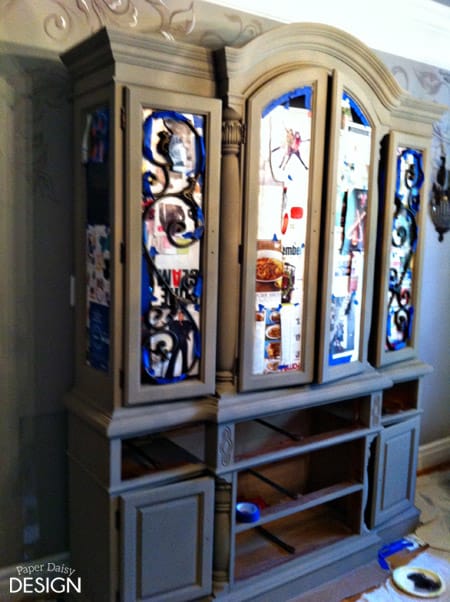 To give the piece more depth and just a bit of sparkly essence, I added Martha Stewart Metallic Glaze in Black Coffee.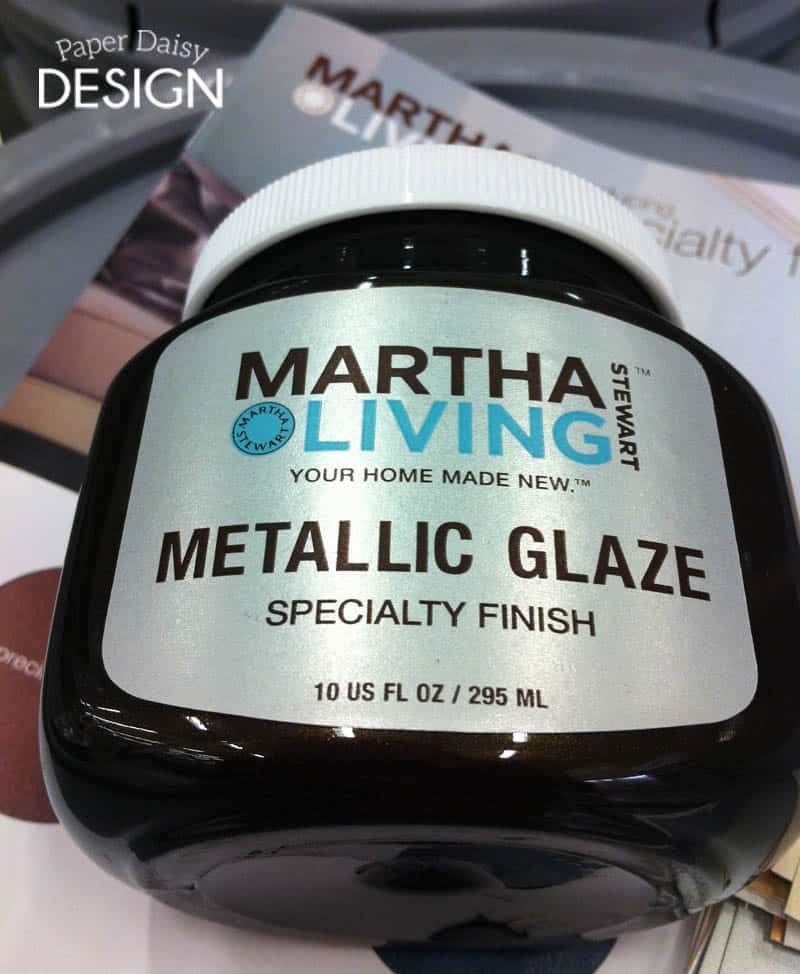 NOTE: THIS PRODUCT SEEMS TO BE DISCONTINUED.
I think I have found a possible replacement.  HOWEVER, I have NOT tried this product.
I just wanted to share because it seems to the same product, repackaged under a different brand.
Here's a link for your convenience.

I used a inexpensive 3″ natural haired brush to "paint" on the glaze in an even coat. Then with a faux finish brush like this one, I feathered the glaze out.  Kind of like working the glaze into the paint, using a sweeping motion in both directions, working in about 1 foot sections. I kept paper towels handy to wipe off the faux finish brush often.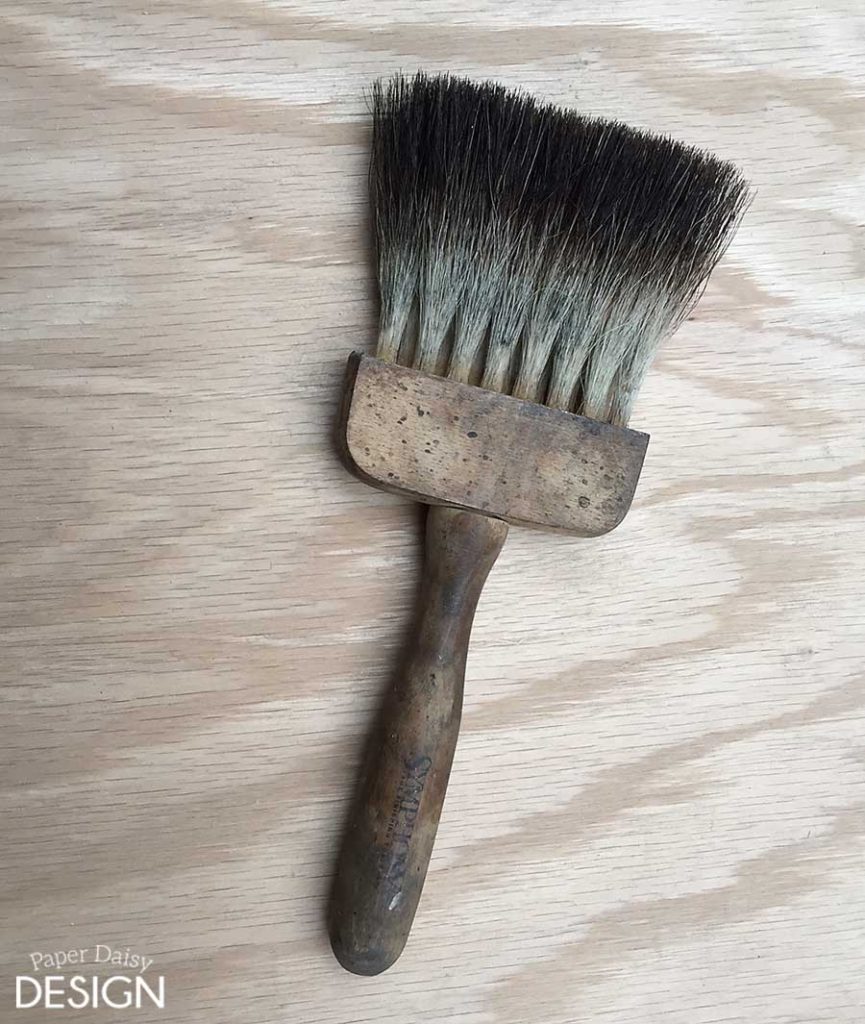 After one coat of glaze it looked like this. You can see the dramatic difference it made. I think this photo makes the finish look a little blotchy. I remembered that in real life it didn't look so much so. Although, I will admit I got a more even finish as I perfected my technique. (Which is why I started with the side of the hutch no one would see.)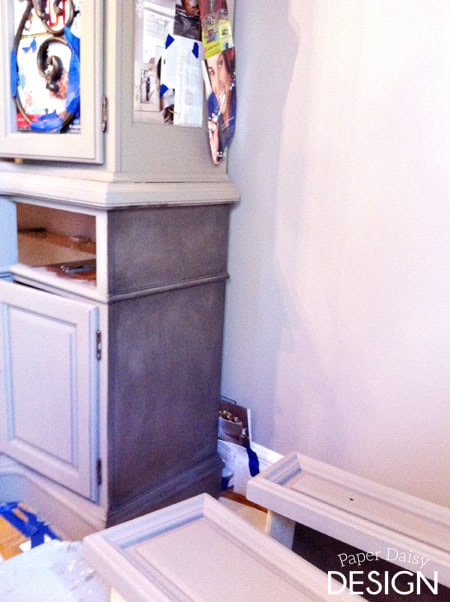 After one coat of glaze it looked like this.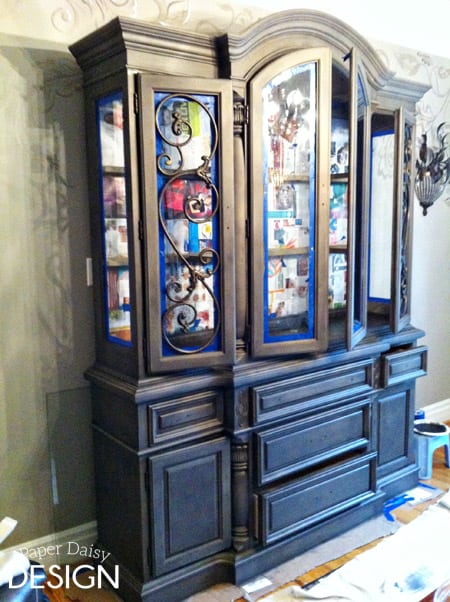 I let it cure for over the weekend. Once I went back to the piece I realized, thankfully, that the glaze provided plenty of protection for the paint and did not require any further top coat.
I also used this technique on the base of the table.
For the top, I stripped the old red/orange finish off, sanded and refinished with Varathane Wood Stain, in Kona, topped with Minwax Wipe on Poly in Satin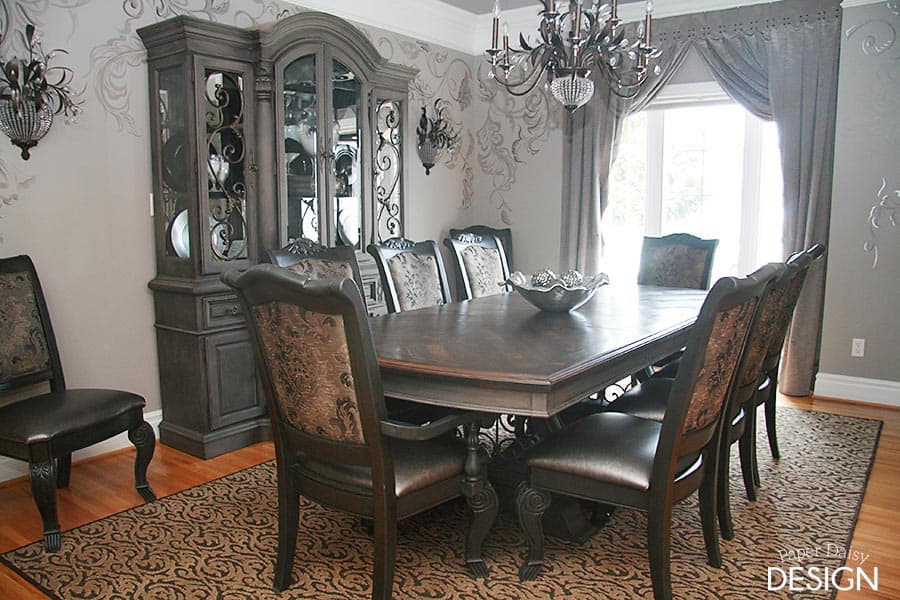 I'll go ahead and mention the technique I used on the dinning chairs because they received an entirely different finish. First, they were painted with Annie Sloan Chalk Paint in Graphite.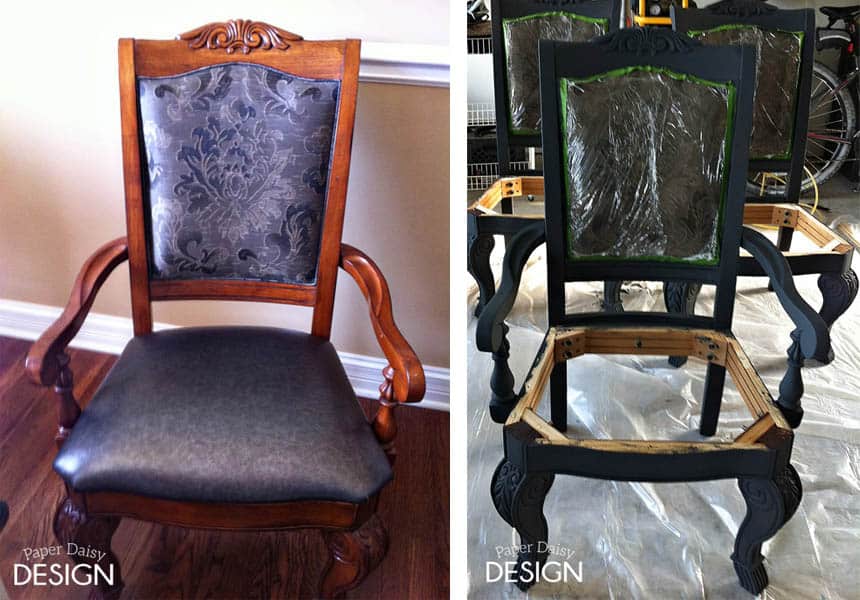 Then, to warm up the color and match the tone of the fabric more closely, I applied straight Annie Sloan Dark Wax.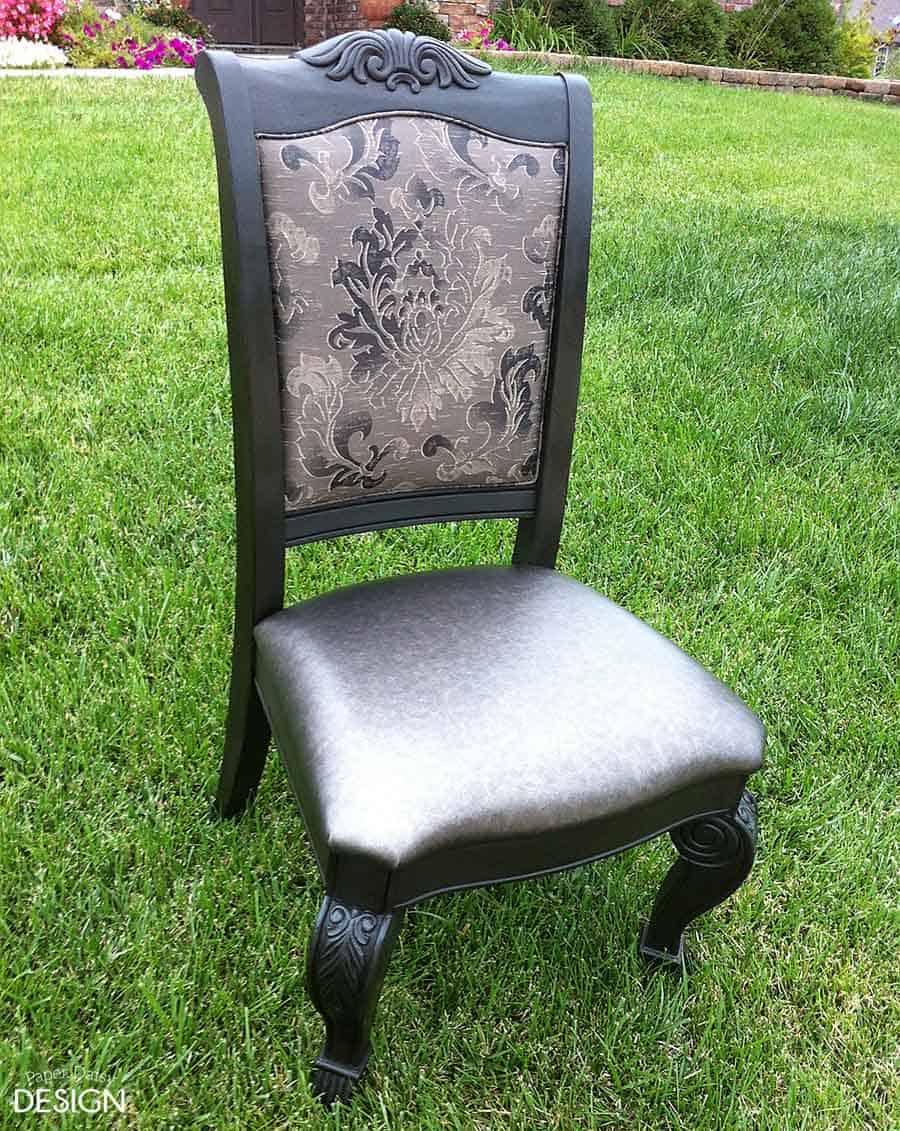 I will tell you that it took at least a week for the tackiness to go away even after much buffing.  This is because it was a rather heavy coat of wax.  Once it cured it had a very nice smooth finish.
Now I'm going to insert a bit of the Q&A that went with that post.
Q . Do you apply the glaze over the 2nd coat of chalk paint or did you apply the wax made for chalk paint first? I tried applying the Martha Stewart black metallic glaze over chalk paint and it doesn't seem to do anything. I am wiping it with a damp rag after applying, am I doing something wrong?
A. I did have to use two coats of chalk paint.  If you wipe the glaze off it will be too light and only fall into the grooves of the piece. Sometimes that is the look you want, but in this case we wanted a more overall finish.  As I said, I painted on the finish and then used the faux finish brush almost as if I was sweeping the piece leaving a soft haze of glaze behind.

Q. I'm looking at the big hutch with the Coco ASCP and Martha Stewart Black Metallic Glaze. It looks gray not coco. Was the coco gray or brown tone? I'm trying to achieve a gray and wondering if this will work for me.
A. In the photo, the walls were so close to the Coco color it appears a little washed out.  I can best describe Coco as a dark greige.  It is definitely more brown than the color French Linen from Annie Sloan.
Hope you enjoy this lost treasure of post! To say this was an enormous job is quite the understatement. So the other reason I probably let the project go without a mention had to do with the fact I was so done with this project!
Want to see more of my Furniture Flips? Click here.
Affiliate Links included for your convenience.