Today, I'm sharing a little different DIY than I usually do, but I think everyone needs to see this one!
I was an early adapter of Fit Fruit and Vegetable wash product, but over the years, I figured there had to be a less expensive way to effectively clean fruits and vegetables.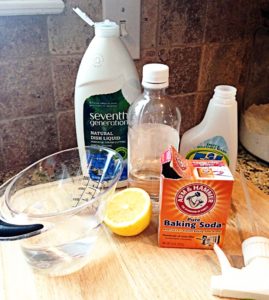 Admittedly, I've tried several different concoctions with decent success. Most of them seem to work okay, but without scientific study I didn't feel confident they did much more than just water. Of course, I hoped they did, but I had no real proof.
This article from Mother Nature Network sited a study that noted, "There was a difference between the unwashed produce and the ones that were rinsed in water or washed with a product. The unwashed produce had more pesticide residues."
My other problem with some of the other DIY washes, it was hard to tell, especially on fruit like grapes, where the wash had actually covered the fruit.
This recipe more closely resembles the Fit Wash. Because there is a very small amount of all natural dish soap, you can see a little bit of suds action. I don't know about you, but when I see suds, I think clean. The soap also feels like it removes more of the greasy, waxy substance on some fruits and vegetables, better than the others homemade washes I have tried.
The best part? You don't need to buy some strange ingredient you don't already have in your pantry.

Here's the recipe:
1 cup water
1/2 cup vinegar
1 tablespoon baking soda
1/2 of lemon, juiced
1/2 teaspoon all-natural or organic dish soap
Mix all ingredients in a four cup measuring cup. The baking soda with the acid from the vinegar and lemon juice causes it to bubble up. I have found adding the baking soda a teaspoon at time helps keep it under control.
Using a funnel, slowly pour liquid into a 12 oz spray bottle. I just use the Fit bottle. 😉 You may have to pour half in and let the suds settle and finish pouring a minute or two later, but that's it! I give the bottle a little shake before I start spraying.
This recipe also smells really clean and not too vinegary.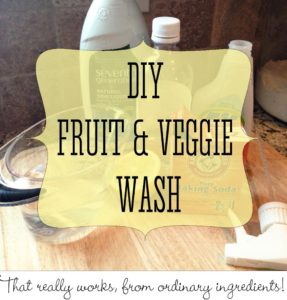 I hope you enjoy this wash as much as I do! Hooray for clean fruit!
Be sure to check out my companion blog, Paper Daisy Kitchen for more recipes!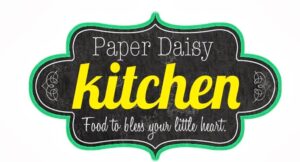 Thank you for subscribing to Paper Daisy Designs. Please continue reading on the blog. I appreciate having you as a reader.