Since our return from a house hunting trip in Birmingham, it seems that my mind can't do much more than day dream about our potential new house. It is going to stressful from a financial point of view but we have found bridging loans with
quotes from 0.5% per month
that will be immensely useful during this process. Most specifically, dreaming of creating our own dreamy white kitchen. 
In case you missed, it our family will be moving to Birmingham early this summer.
I've been quite busy on Pinterest further collecting images to hone in on the style of this dream kitchen.  If you follow me there, than you are already well aware of my flurry of activity recently. If you'd like you can follow that board here or by clicking on the screen shot below.
I'm sure there are other white kitchen dreamers out there, so I thought I'd share a few of my favorites and what I like most about them.
I remember seeing this episode of Candice Olesen's – A Kitchen for Mom a few years ago and thinking this kitchen is absolutely perfect.
My style has continued to evolve since I first fell deeply for this kitchen.  I would probably shy away from the gold of granite on the island, but it's still a stunning kitchen.  Completely warm and inviting.
Here's another beautiful white kitchen from Candice Olsen.
I'm now totally fixated on a wood counter top for an island.  Maybe butcher block, but probably just wood.  I realize it will take some care, but we live quite well with the wood top on our kitchen table. I don't see how that could be much different.
I love the look of Miss Mustard Seed's butcher block counters.  She installed them herself! You can see her complete kitchen reveal here.
Another element I'd really like to have is counter with bar stool seating. The house I grew up in didn't have room for a kitchen table, so we ate all our everyday meals at the counter. I remember sitting at the counter watching my mom cook and having conversations with her. I long to have that type of connection with my family in the kitchen.
I especially love these bar stools.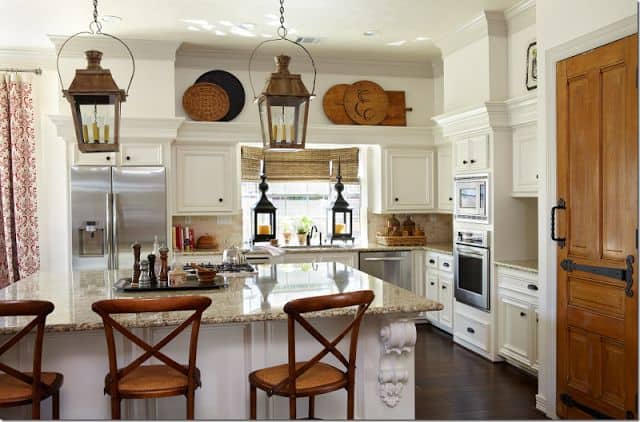 via Driven by Decor
This kitchen is just stunning.  So fresh and clean feeling yet, inviting.
Another element on my wish list, is a cozy eating area that includes banquet seating. I don't know about you, but when we go to a restaurant, I always prefer to sit at a booth.  Why can't we have a booth to get cozy in at home?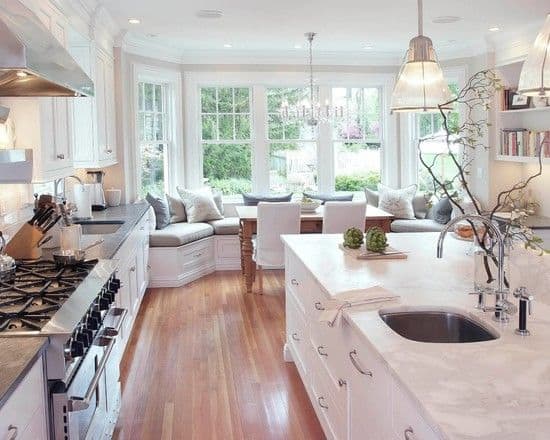 Photo Credit – Katrina Mojzesz
What a unique and charming take on a banquet is this one?
The house we are hoping to purchase has a very open floor plan.  The kitchen is so open in fact, it doesn't have any closed cabinets.  The whole cook top wall has virtually no functional shelving at all. Needless to say, I've embraced the look and functionality of open shelving.
I recently started collecting different colors of Fiestaware to replace my 20 year old dishes.  I think they would add fun jolt of color to an all white kitchen.
I've done a lot of research now and most people feel like open shelving is pretty easy to live with.  Young House Love has a very informative post on the matter that may or may not have brought me over to the "open side".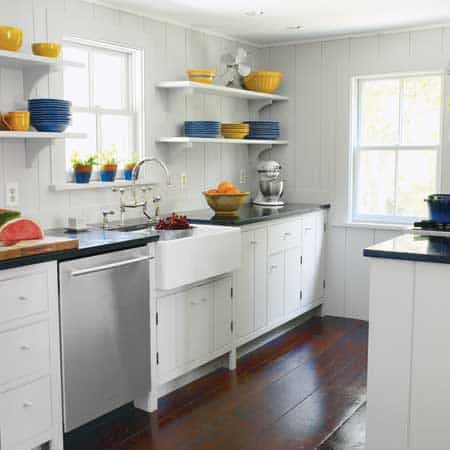 Via Casa Sugar
And lastly, I love the look of some type of marble back splash.  I haven't settled on a design yet, but I love the soft and subtle look of a marble pattern.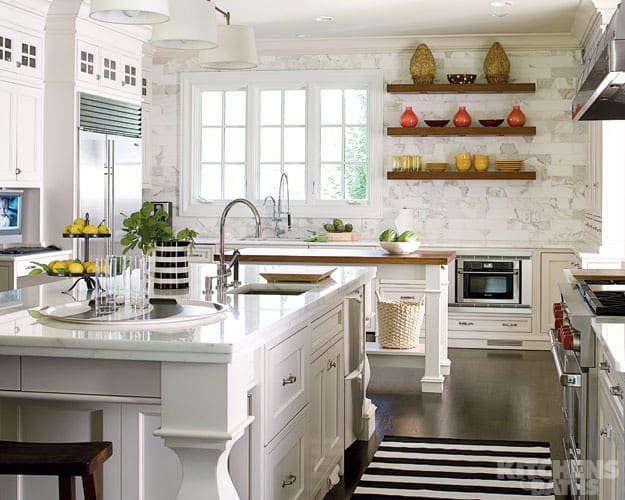 Kitchens & Baths, via ZsaZsa Bellagio
So there you have it.  Are you a white kitchen dreamer?  Do you have any other "must haves" on your list?
Follow me on Pinterest to see more of these Dream Kitchen ideas.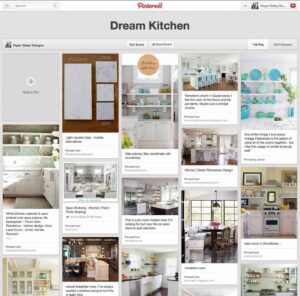 I've done my best to give source/photo credit where links exist.  It is not my intention to not give credit.
Thank you for subscribing to Paper Daisy Designs. Please continue reading on the blog. I appreciate having you as a reader.