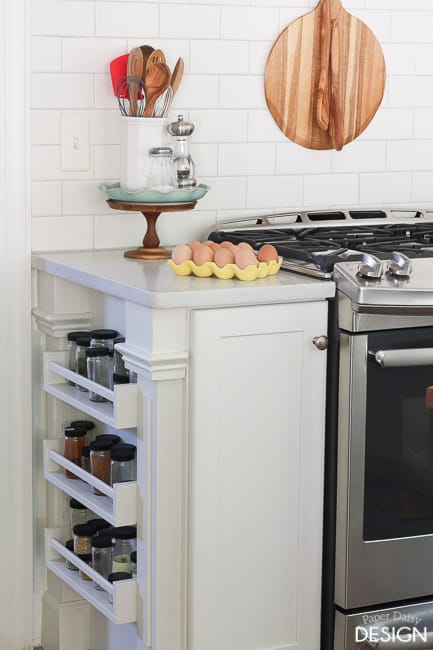 Let me just start off by saying, I love this project! And everyone seems to love a good Ikea hack.
And who doesn't love extra kitchen storage and a place to neatly organize spices?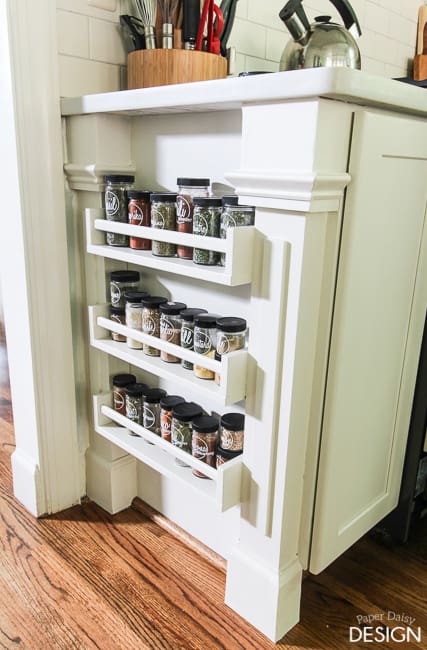 What's great about this design is that it is a completely customizable project with super simple construction.  The building blocks for this built-in are pre-made and inexpensive Bekvam Spice Racks from Ikea. Did you know that if you don't live near an Ikea, you can order some of their items on Amazon.  These spice racks are pretty inexpensive there too. Here's a link. This affiliate link is here for you convenience.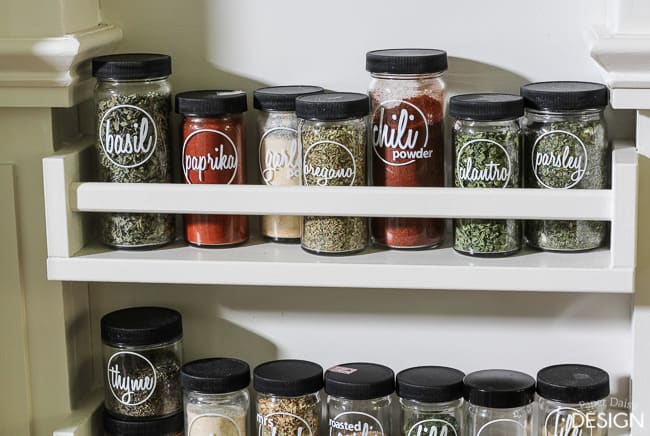 Here is a little of the back story. After the rest of the kitchen remodel was complete, I wanted to find a useful way to use the dead space at the end of the counter.
Can you see that? Right there at the end of the cabinet?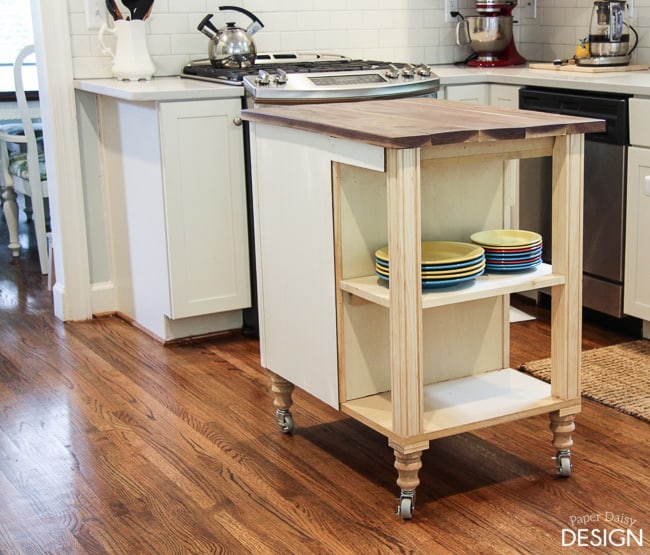 That my friends, looked like very valuable real estate in my pantry-less kitchen. Granted I have a cabinet pantry, but that is just not the same.
If you can't get past your admiration for this island in it's unfinished state. You can get the plans for this DIY Island Cart here.
So, after a long day-trip to Ikea, I happily spent my $12 on three Bekvam spice racks.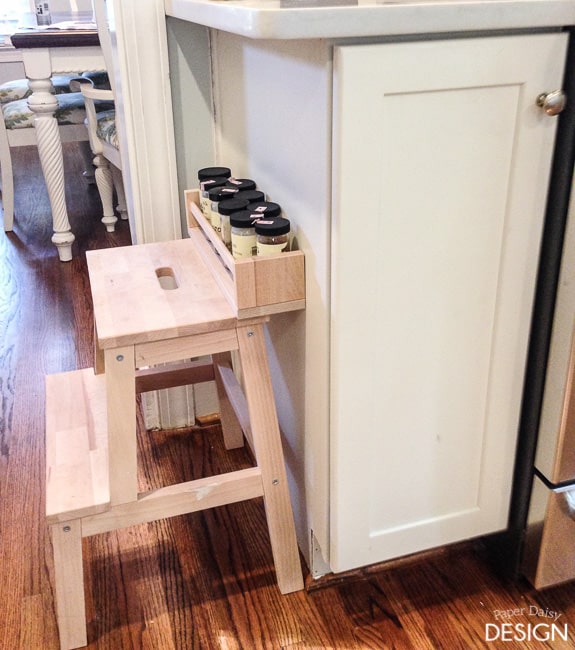 You can see here I also picked up one of my other favorite Ikea kitchen items and can read all about it here. 
Obviously, I could have just hung the spice racks on the end of the counter and called it a day. But if you know me at all, you know that was NOT happening.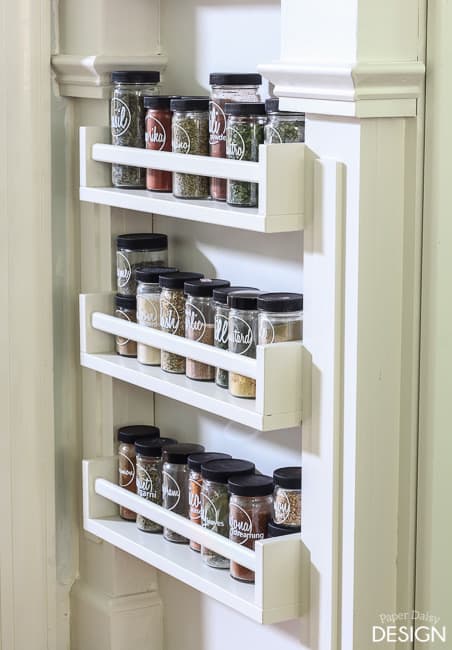 The design for this built-in spice rack was inspired by the custom bookcase I built for the end of our peninsula.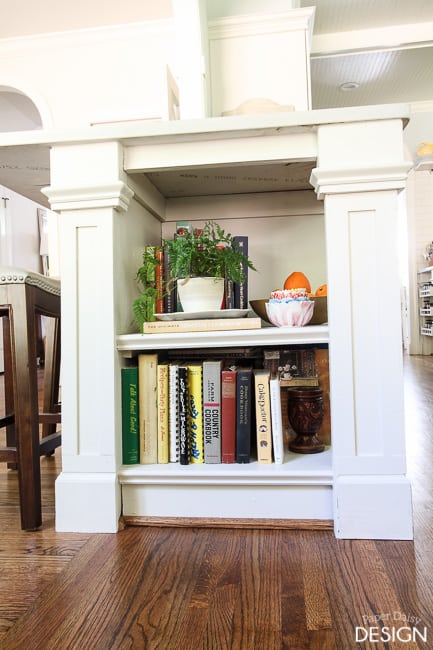 I only had to make one small modification.  Can you tell what it is?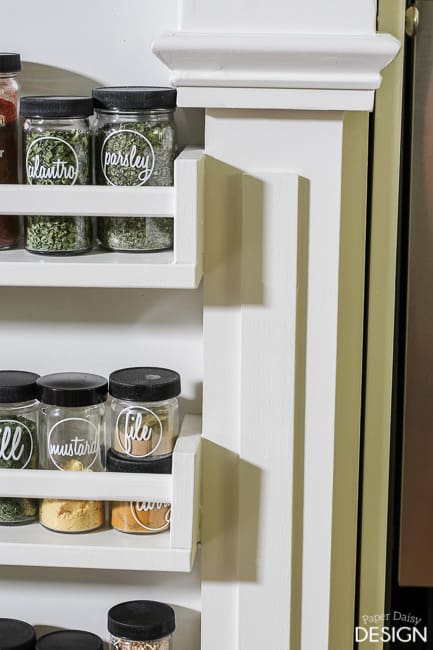 Now, let's get to the tutorial.
I started by removing the shoe molding from the base of the cabinet.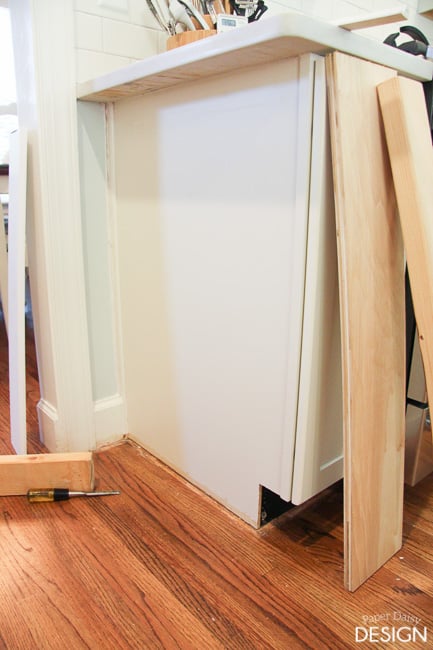 Then I started framing out the sides with 2×4's.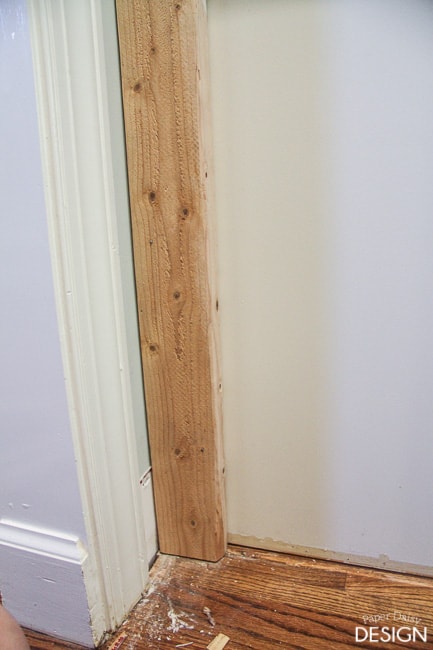 I layered scrap pieces of PureBond Plywood to the face of the 2×4 and framed in the sides with lattice strips.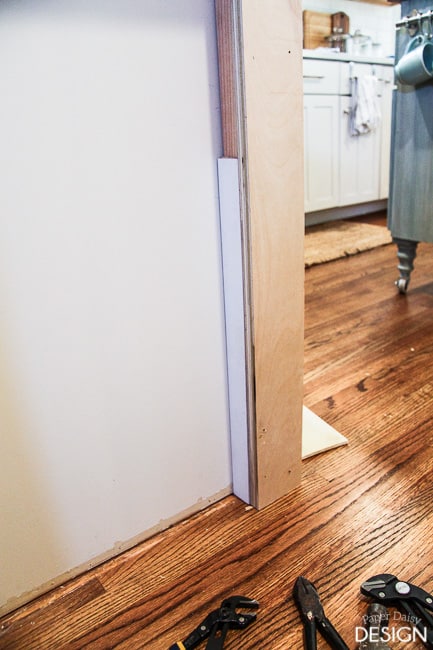 This was also done to widen the sides so that the Bekvam racks fit perfectly inside and to hide the rounded edges of the 2×4's.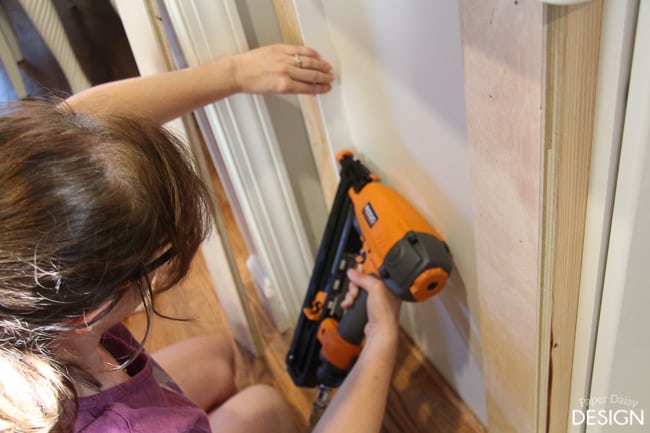 Because I knew I was going to be wrapping the top and bottom in trim to match the custom bookshelf, I did not make the depth of the sides the exact depth of the spice rack.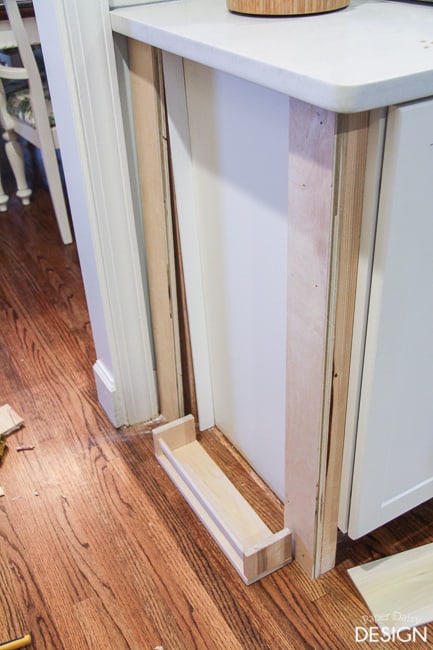 Once my sides were built, I installed the Bekvam shelves and wrapped the top of the  "columns" with 1×4's cut on a miter. And added base molding to the bottom.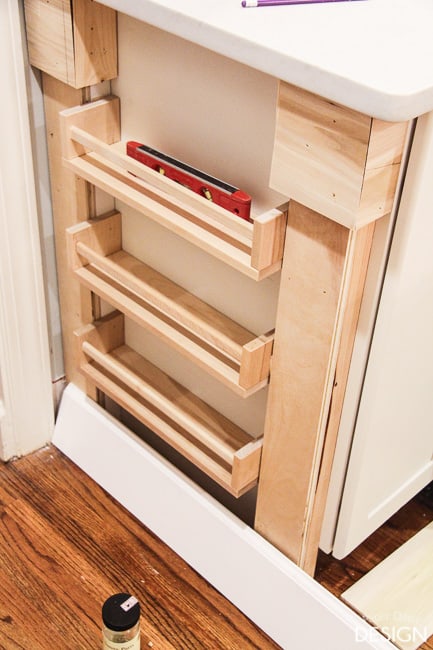 I also added a small chair rail molding to the top.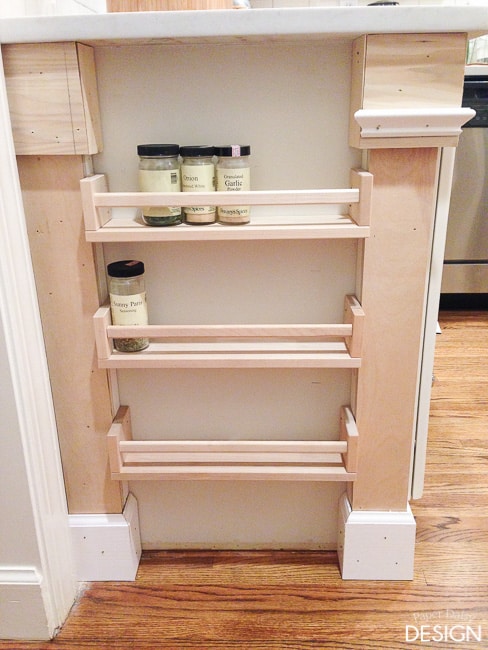 Remember, as with all woodworking projects, caulk, putty and paint are your friends.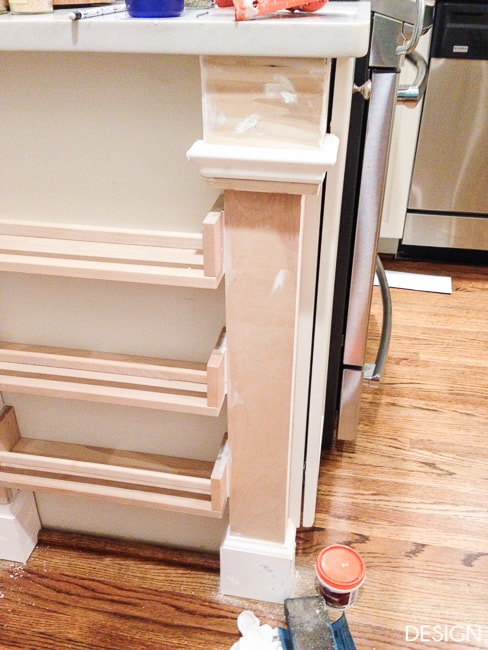 Because my "columns" weren't as wide as the previous version made for the bookcase, I used the lattice strips on the top of, instead of around, all four sides.  Interestingly enough, because they are across the room from each other the casual observer never notices the difference. I think it's a trick of the eye kind of thing.
Since I was working alone, I used tape to hold the lattice in place while I used a nail gun to attach it.
Here, you can see all the pieces that went together to create this "built-in".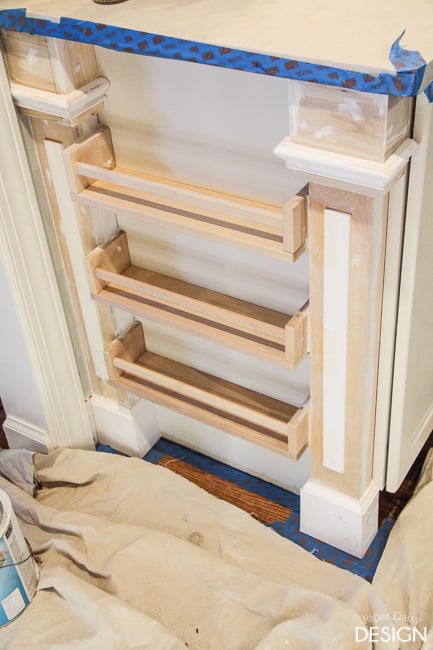 Once it is all painted, you can hardly tell they started out as individual Ikea spice racks.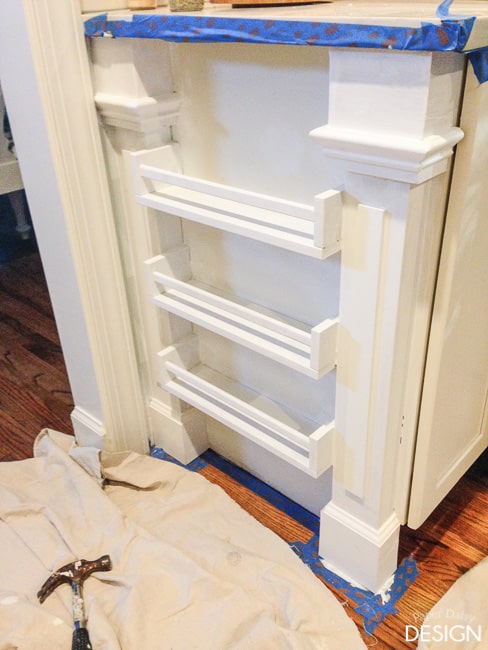 And yes, of course, I could have just built the spice shelves, but why?  The Ikea ones were solid wood, easy to put together and saved me a ton of time.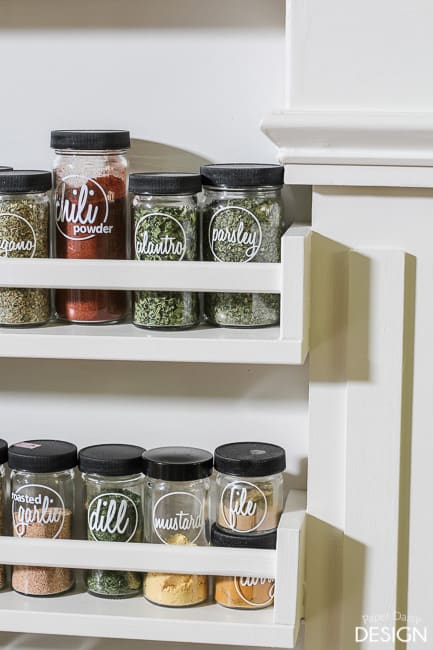 And let's not forget that at Ikea, they were only $4 a piece! (I did have to drive to Atlanta, so there's that expense too!)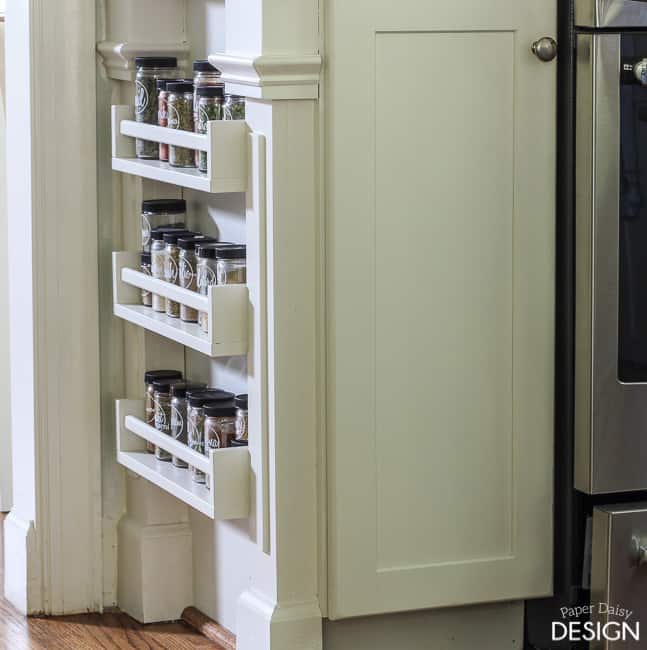 Admittedly, this is one of those tutorials from our kitchen remodel that has been waiting to be written for quite some time.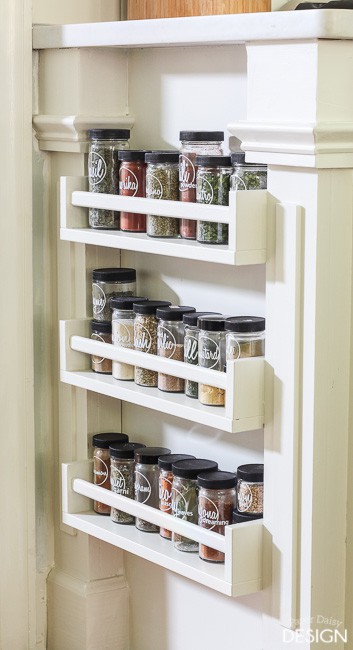 Want to know why it took me so long to share?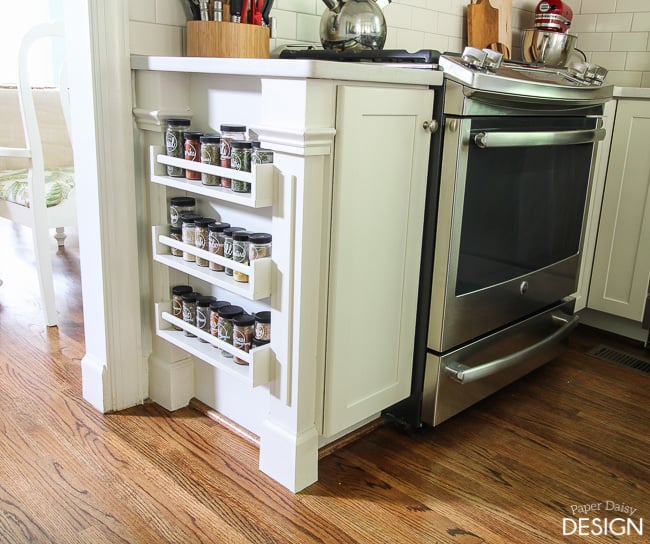 The spice rack has been finished for nearly a year and has proven to be incredibly convenient and an efficient use of space. I even shared photos of the spice rack in the 1 Kitchen Styled 3 Ways Posts.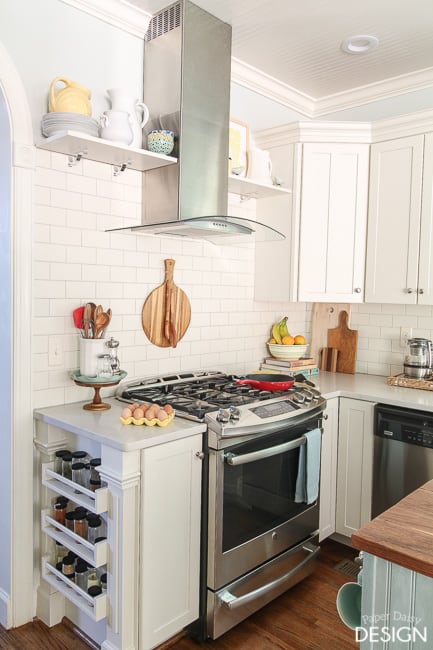 The reason I didn't share until now is because, in my mind, I envisioned the jars with custom labels for a clean consistent look. And look, the jars are sporting their new look.
And guess what? If you have a Silhouette Cameo, you can download my FREE cut files and make your own. Click here.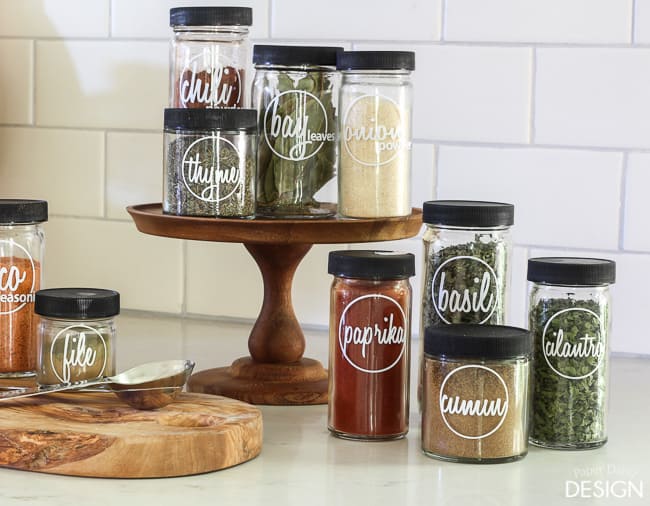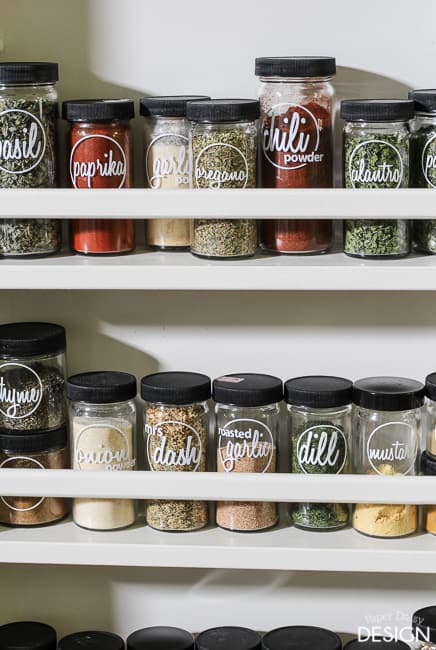 It's all in the details my friend. The details make me happy.
Do you have an unused space in your kitchen that you are dying to make more functional? Let me hear from you. 🙂
Sign up here to never miss a DIY or decor project.