Call me crazy but I am back for my sixth One Room Challenge as a guest participant! If you can't understand why I would be signing up for something that would prompt me to call myself crazy then let me explain the awesomeness that is the One Room Challenge.  First off, 20 featured designers join hundreds of guest participants to make over a room in just 6 weeks. (Featured designers link on Wednesdays and guests link on Thursdays.)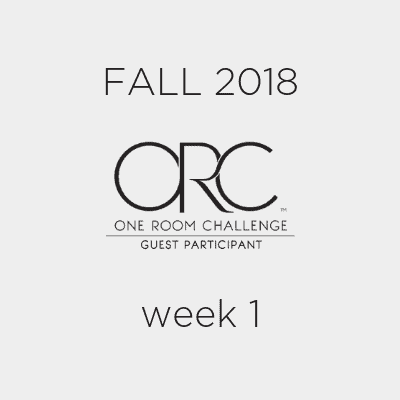 While making over a room in 6 weeks is no small feat, it is completely worth the time, effort and of course, investment. From my experience, it is one of the most exhausting and exhilarating things I have every done. (I might be slightly addicted, actually.)  Yet the payoff for all of this hard work, the sore muscles, the sleepless nights and inevitably at least a little bit of drama is a completely transformed room. At the end of the 6 weeks I always have felt like I ended up with a room that I might not have had the courage to take on, might not have had the drive to push my design beyond what I've done before and I certainly couldn't have done all it without the encouragement of the ORC community.
I am also willing to do all of this because it has become "the" online design biannual event with media partners like Better Homes and Garden and generous sponsors supporting this design adventure.
A little about me
In case you are new here, let me introduce myself. I am Leslie, me and my Louisiana native family have moved 9 times but finally feel settled in Birmingham, AL in what I hope is our forever home.  I am a home decor and DIY blogger passionate about creating a home with style, livable beauty, on a budget. I recently started working with clients so that I can continue my passion for creating beautiful spaces and not have to move again!
The Challenge Room: The Master Bedroom
It is probably safe to say that the room is in a better state now than when we purchased this foreclosure home 2.5 years ago.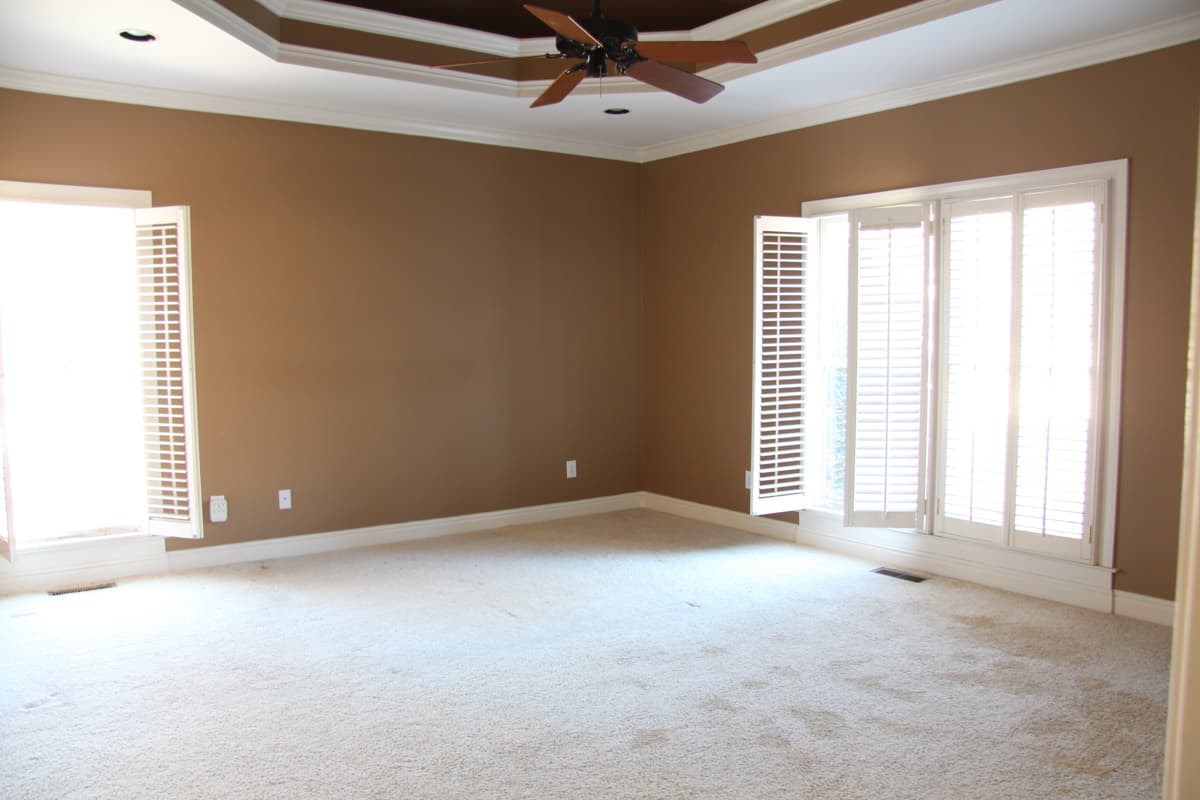 We called this vaulted monstrosity the UFO. I despised the way this looked so much I tried to devise a plan to close in the ceiling and make it completely disappear.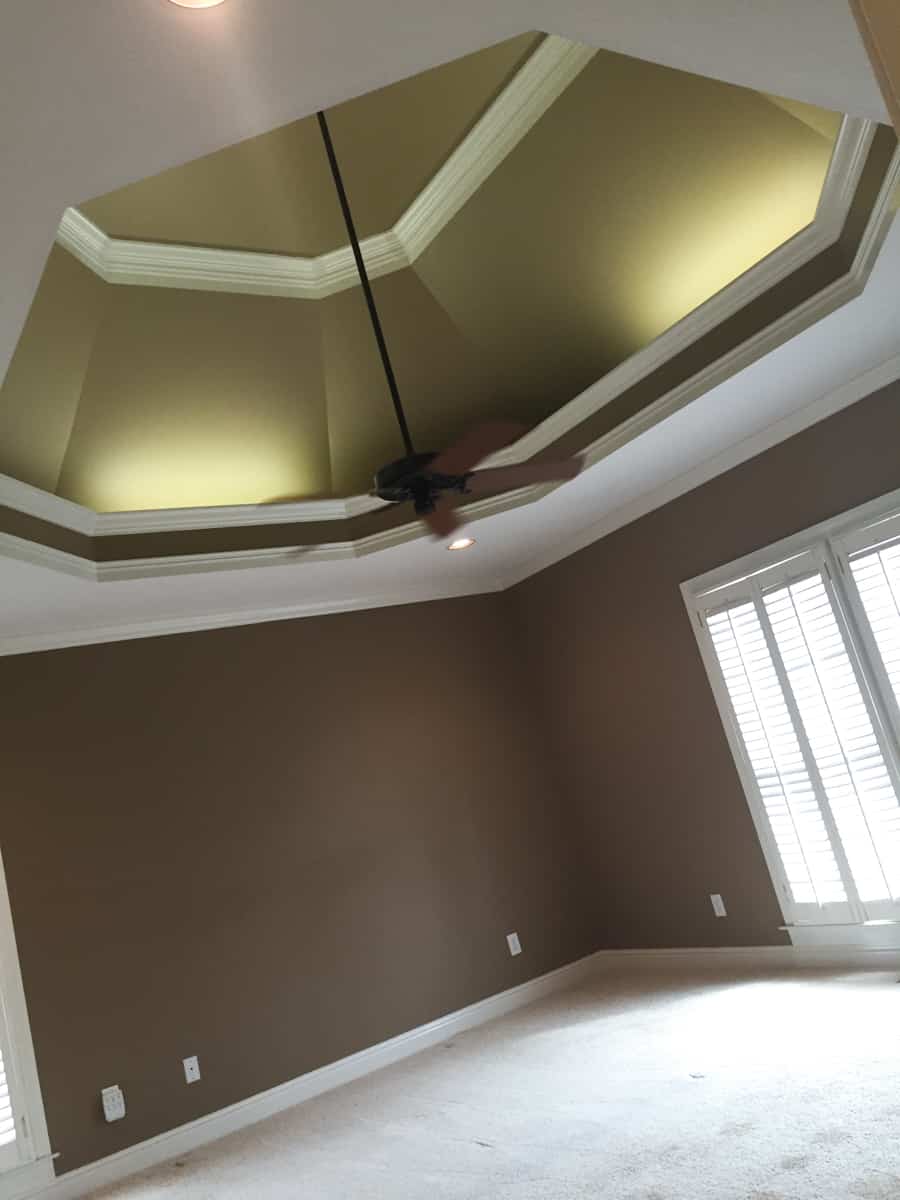 But with all the other more pressing renovations to be done in the house we decided that before we moved in we would just start with painting the ceiling white and install hardwood floors.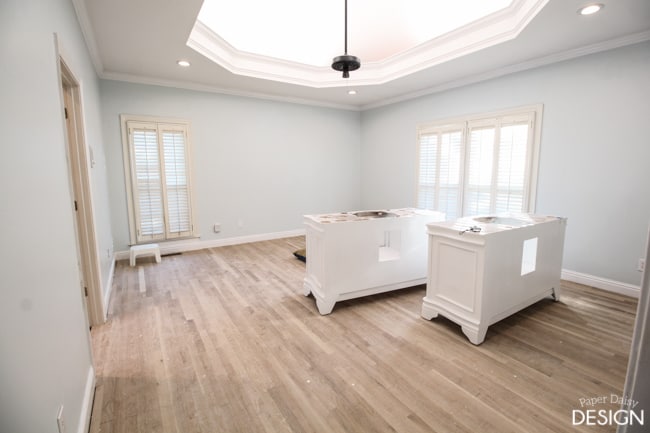 The white paint was such a vast improvement that I can now look at the vault and appreciate it for the architecture it adds to the room.
Here is how the master bedroom looked last fall.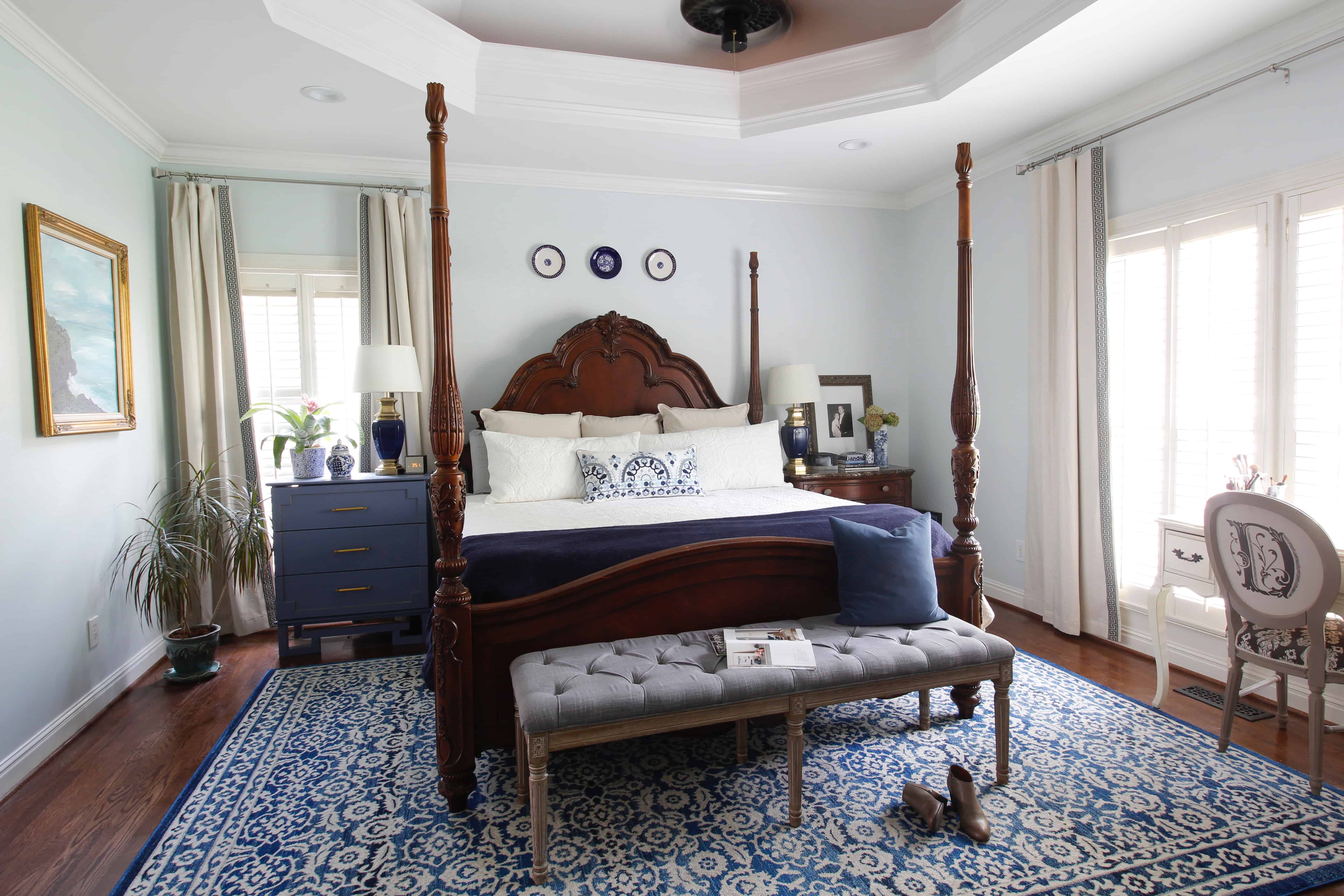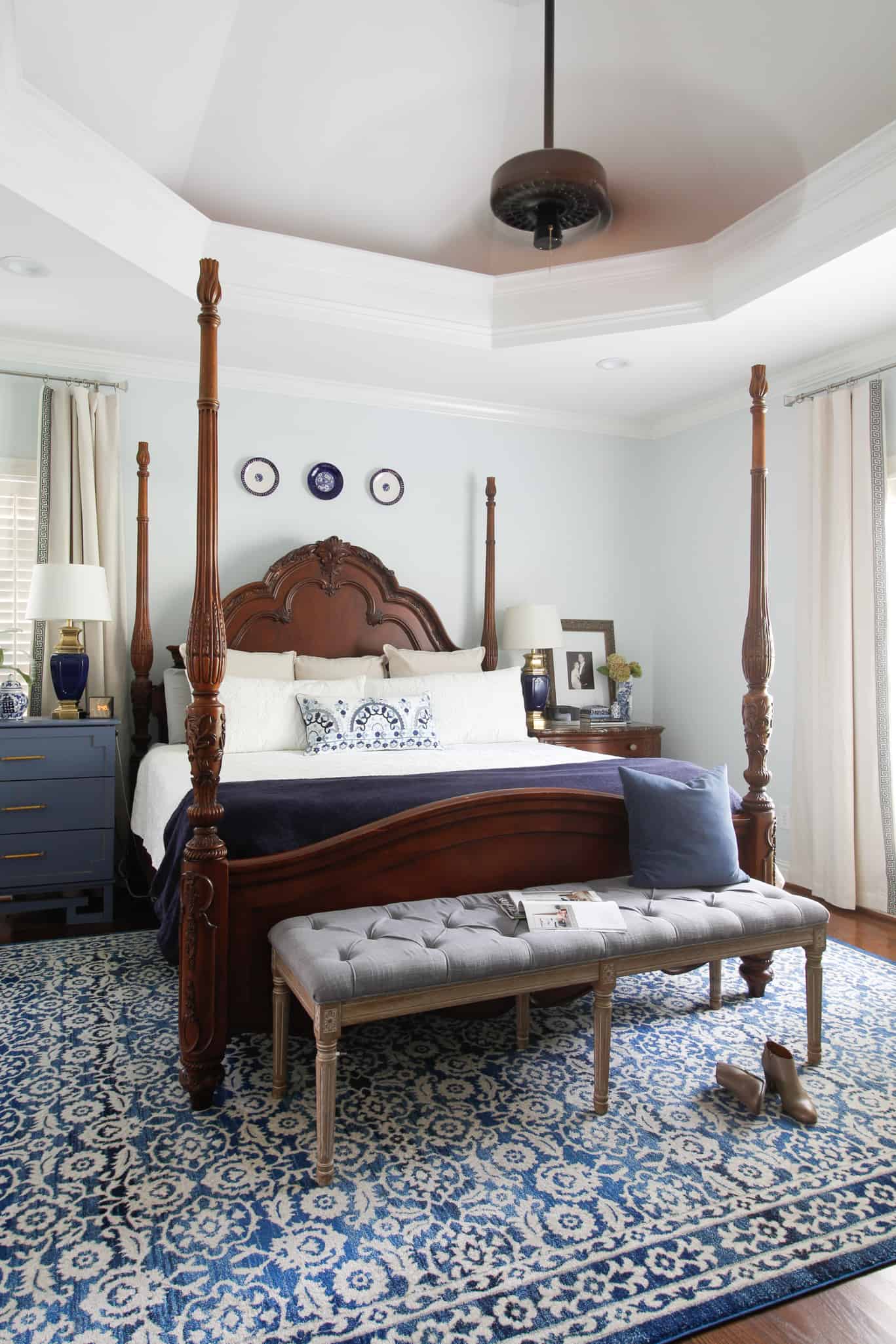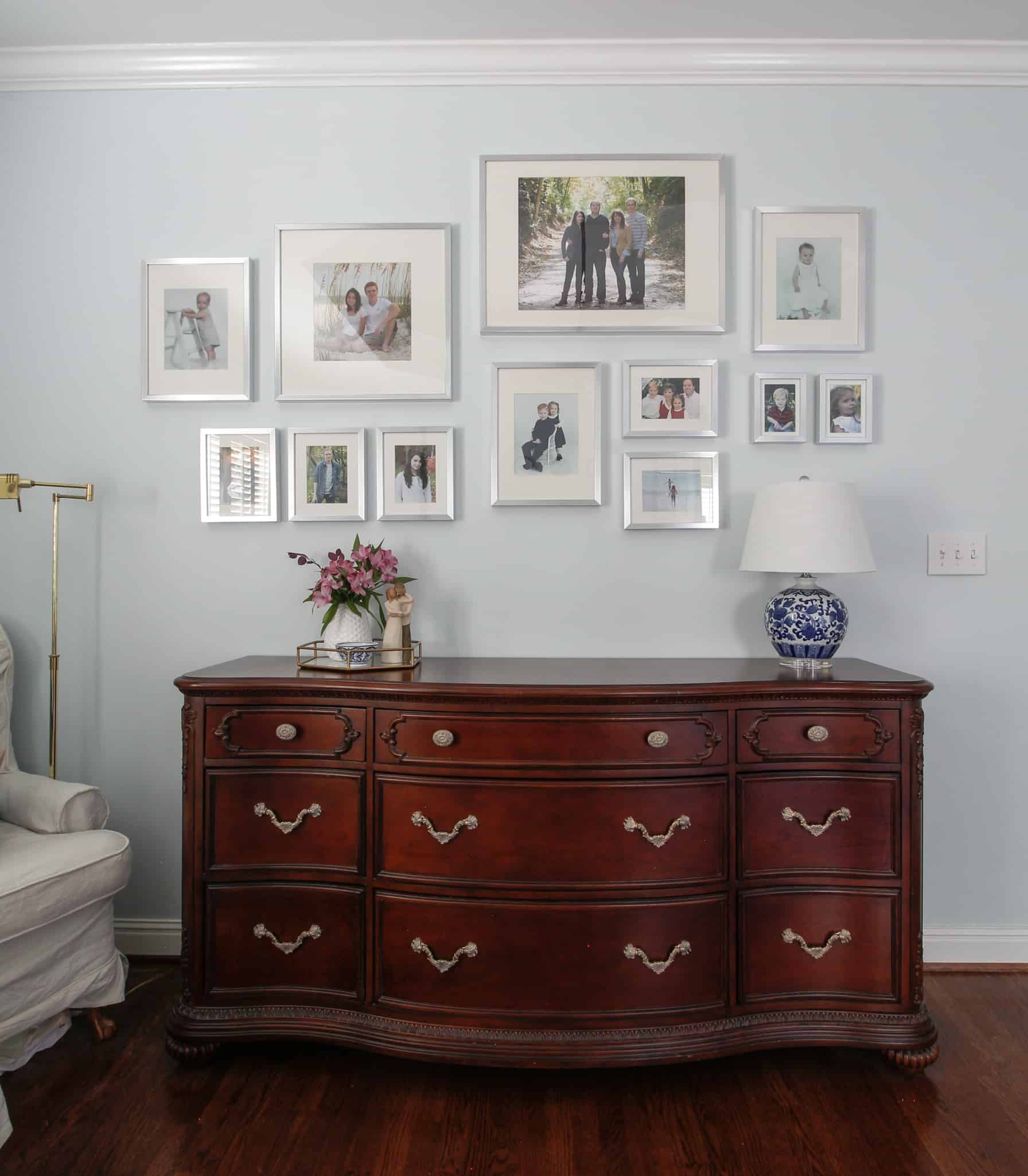 I'll just come right out and say it now.  I still really like our four poster bed. I am a traditionalist and a sentimentalist. I am sure most people would assume that is the first thing that would need to go.  I don't believe that in it's current state that it fits my evolving style nor do the dark wood tones  help create the calming, tonal retreat I am hoping to achieve.
Now the question is, what do I envision a relaxing, calming retreat to look like?
Well, 2 years ago we participated in the One Room Challenge and created this.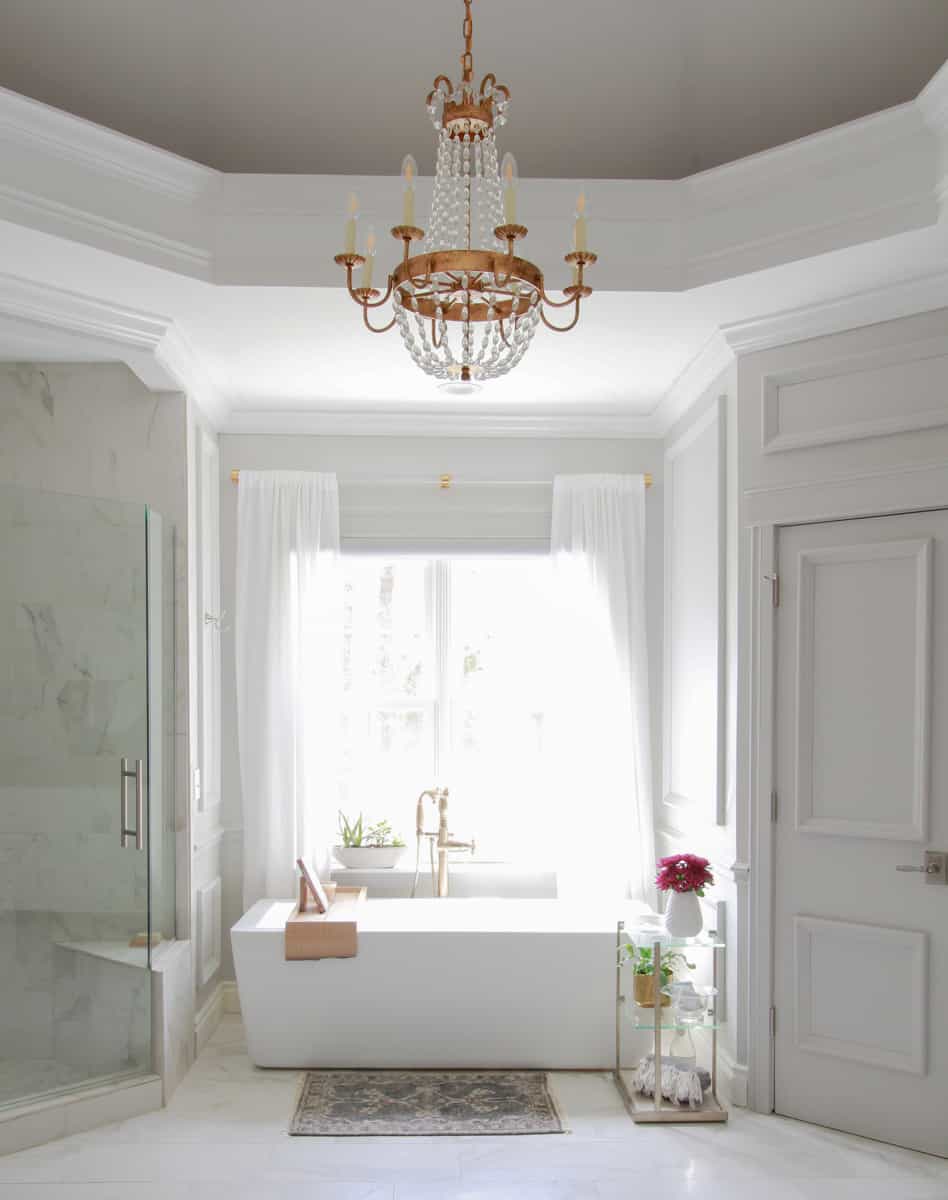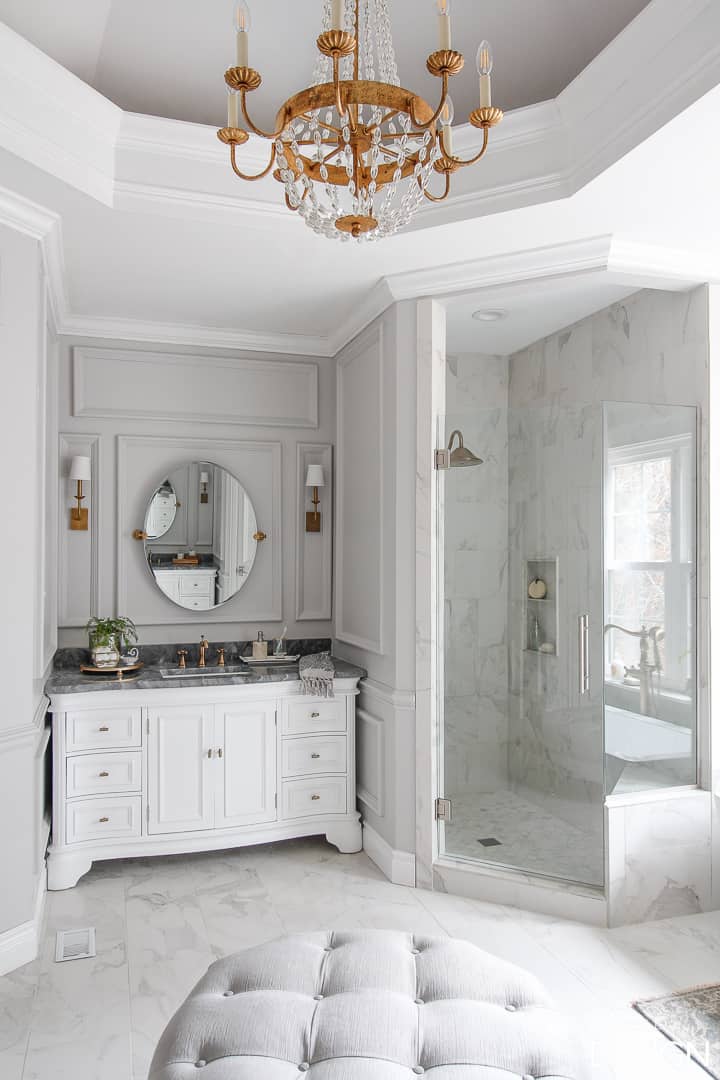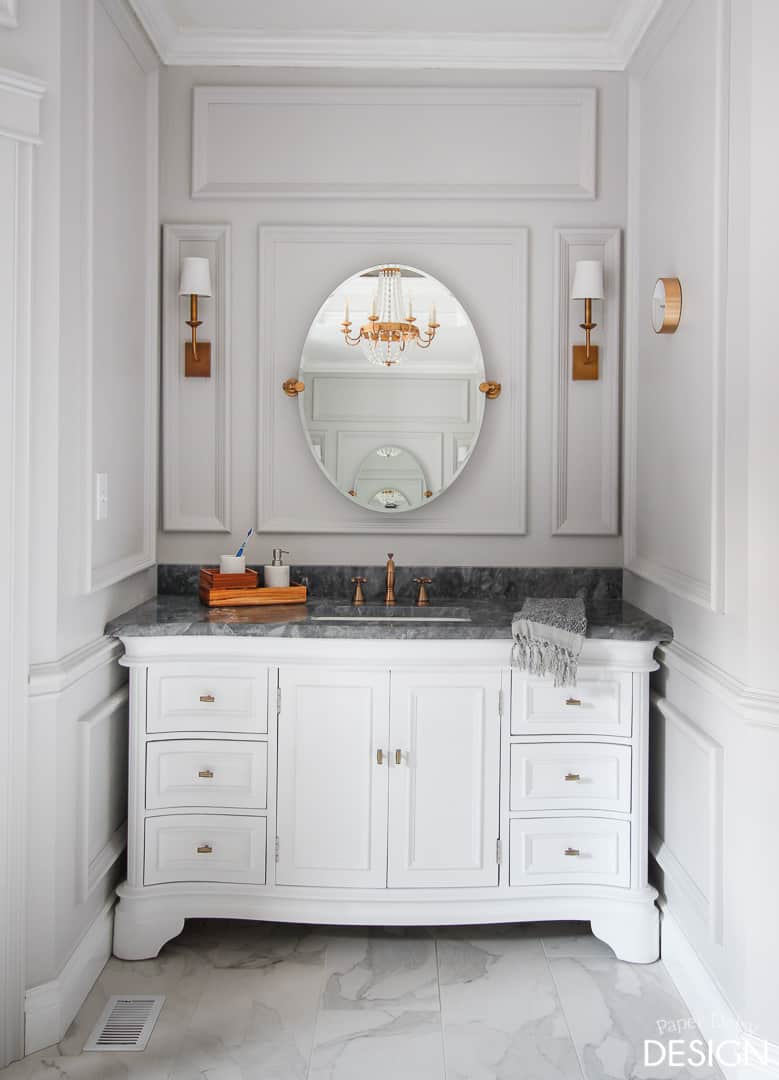 This definitely feels like a retreat to me and I must admit we are still completely in love with this bathroom. Every single detail feels like a beautiful boutique hotel. I nearly have to pinch myself sometimes when I step inside. But then I remember the hours upon hours spent setting each tile and I know that I earned the right to enjoy this bathroom.
If you would like to see a video recap of the ORC Master Bathroom click here.  

The original reveal post is here. 
I want our master bedroom to feel more like the bathroom and to be more cohesive visually. So the question now is, what am I going to do about it?
The Inspiration
The bedroom and bathroom should feel connected. Therefore, it only makes sense for the inspiration for the bedroom to come most directly from the bathroom.
But before you go, hmm, that is kind of a boring entry into the One Room Challenge, let me show you a little more.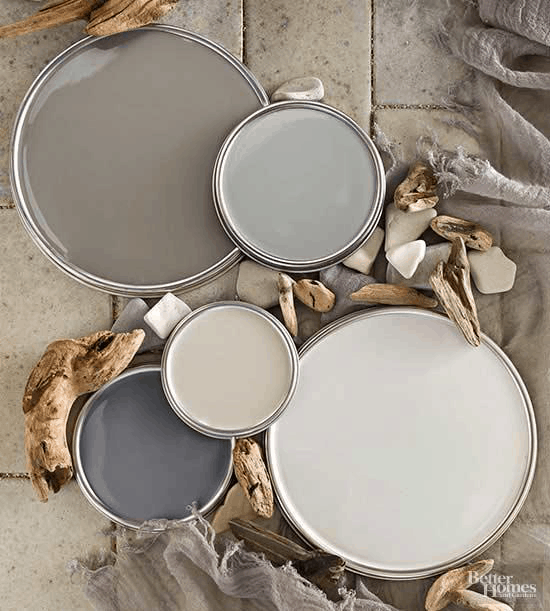 Clearly, from the title, I am going with a monochromatic color palette. Shades of grey, if you will. (I have not read the books, nor seen the movies, but I could not, for the life of me, think of a better way to describe the room with as much finesse.)
In the bathroom the drama comes from the scale or the room, the quiet luxury of the marble look tile and of course, that glorious soaking tub and the rich moulding from Metrie.
In the bedroom, I'll need to create drama in other ways.
I plan to add deep, rich, velvety fabrics like the sitting room above.
This beautiful living room by Brady Tolbert is a great example of a monochromatic room filled with interest, through the use of texture, varied finishes and a little bit of a modern edge.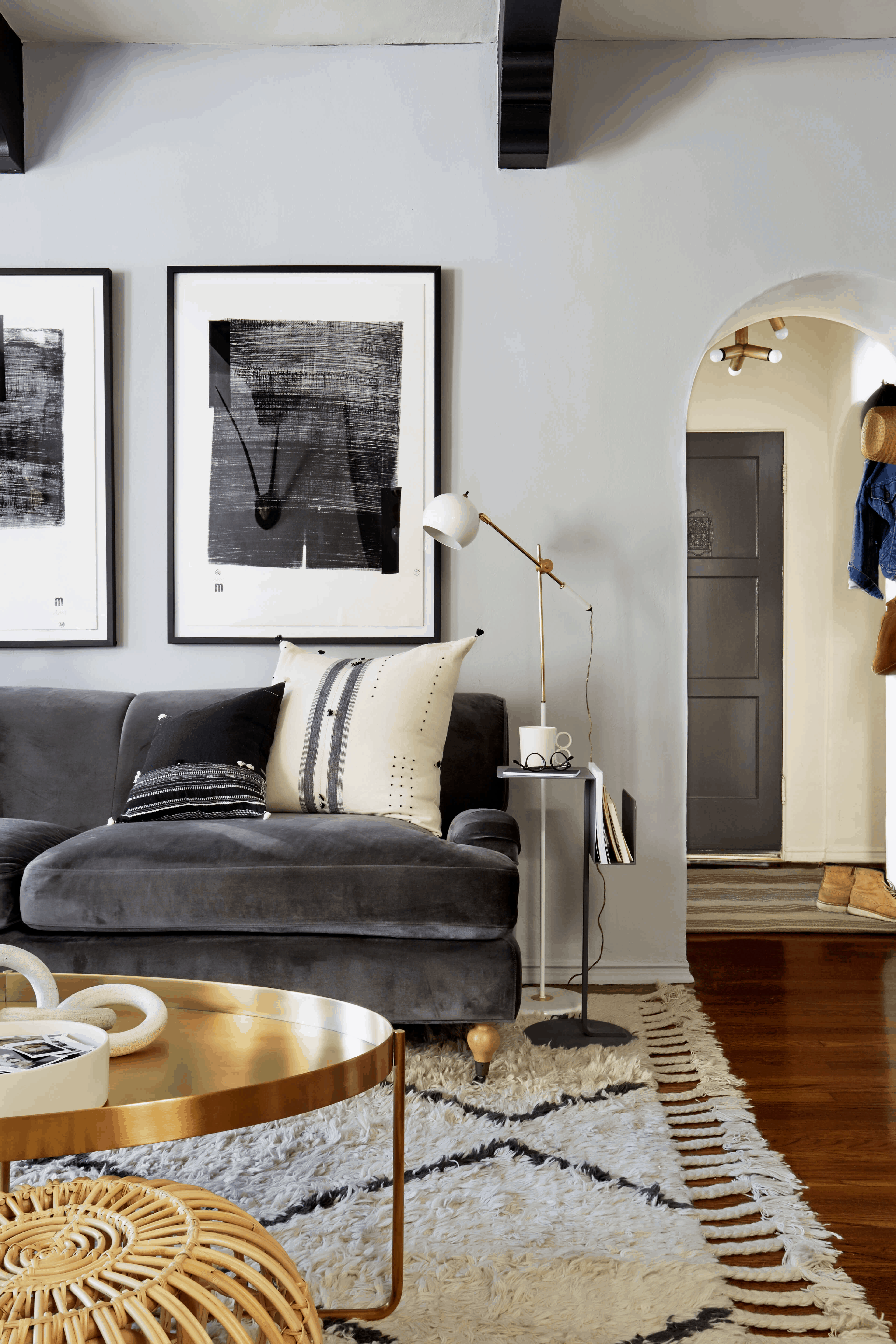 And what bedroom would be complete without luxurious linens?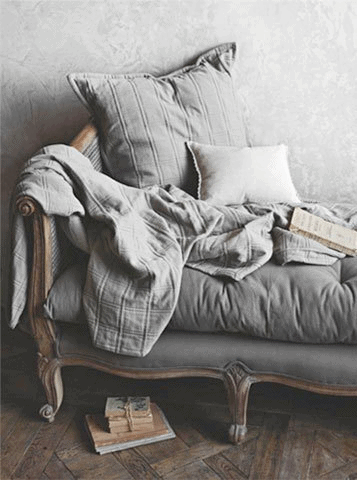 So, I feel like I've painted a pretty good picture of the direction the room is going. Right?
The twist though is to hit all of those marks on a fairly tight budget. To facilitate this, I will be keeping most of my existing furniture.
The Specific Plan & the To-Do List
Install molding from Metrie just as we did in the master bathroom.
Paint the bed. (I know some of you just gasped as you read this but I debated for a very long time and I have decided this is the best option for me and my sentimental side. Not to mention, I do not want a tufted or upholstered headboard. I tend to be a bit of a design rebel and can't stand to create a space that is not unique.)
Simplify the other furniture. (I have a few new pieces coming in from HomePop and editing others which will require me to give up a smidge of storage, but I feel like it will be worth it.)
Create symmetry in the room.  This is probably the one feature of the room I struggled with the most.  I finally had a lightbulb moment a few weeks ago and I can't wait to tell you how I am going to solve this pesky problem!
Reimagine my existing curtains and add shades from Payless Decor. This will help me stay on budget and has the potential to be an interesting DIY.  
Paint my existing vanity. I love this little antique. It is perfectly functional and just needs to blend with the rest of the room. (You can see just a hint of it in the before photos.
Recover the vanity chair.
Give the existing lamps a makeover.  They are extremely well made and have a very convenient switch on the base, a feature we love having next to the bed.  The shape of them is nice and I am always reluctant to get rid of something for the sake of having something new.
New bedding is also in order to fit the new color scheme. 
If, and only if, I can stay on budget I have one more secret change up my sleeve.
I have been extremely fortunate to partner with these amazing companies. I'll be sure to share more details about each them in the coming weeks!!!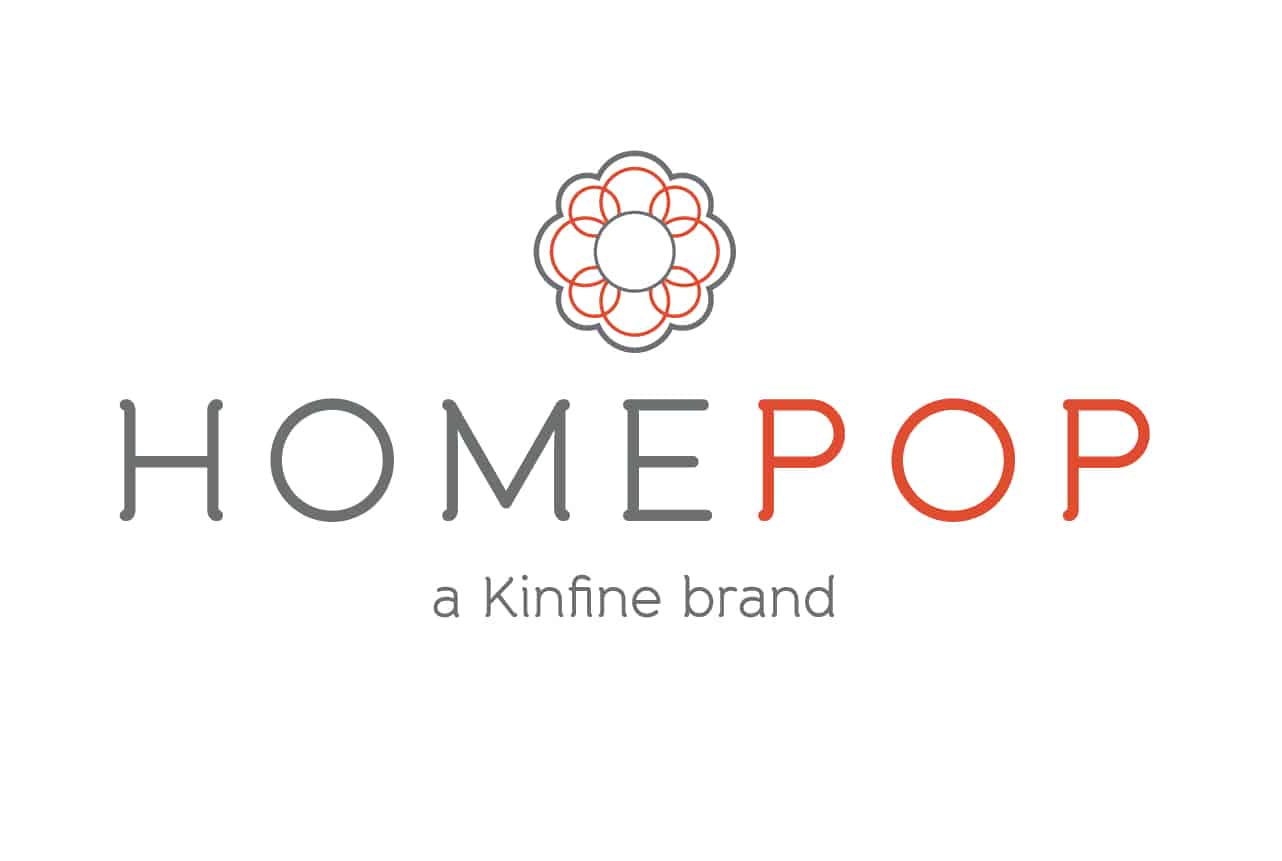 Now, the fun begins! Be sure to check out the Featured Participants here. And it's always so exciting to see how many guest participants are eager to join in this season! Last year, there were 243!!!
The link to the Guest Participants can be found here. It's the most exciting time of the design year to see who is crazy enough to take on this challenge!