The goal for our guest bathroom at the Lake Ridge House was to create a luxurious, yet hard working bathroom for our family and guests. A combination of mixed finishes, glamorous touches, create a dreamy grey bathroom with a designer, custom look.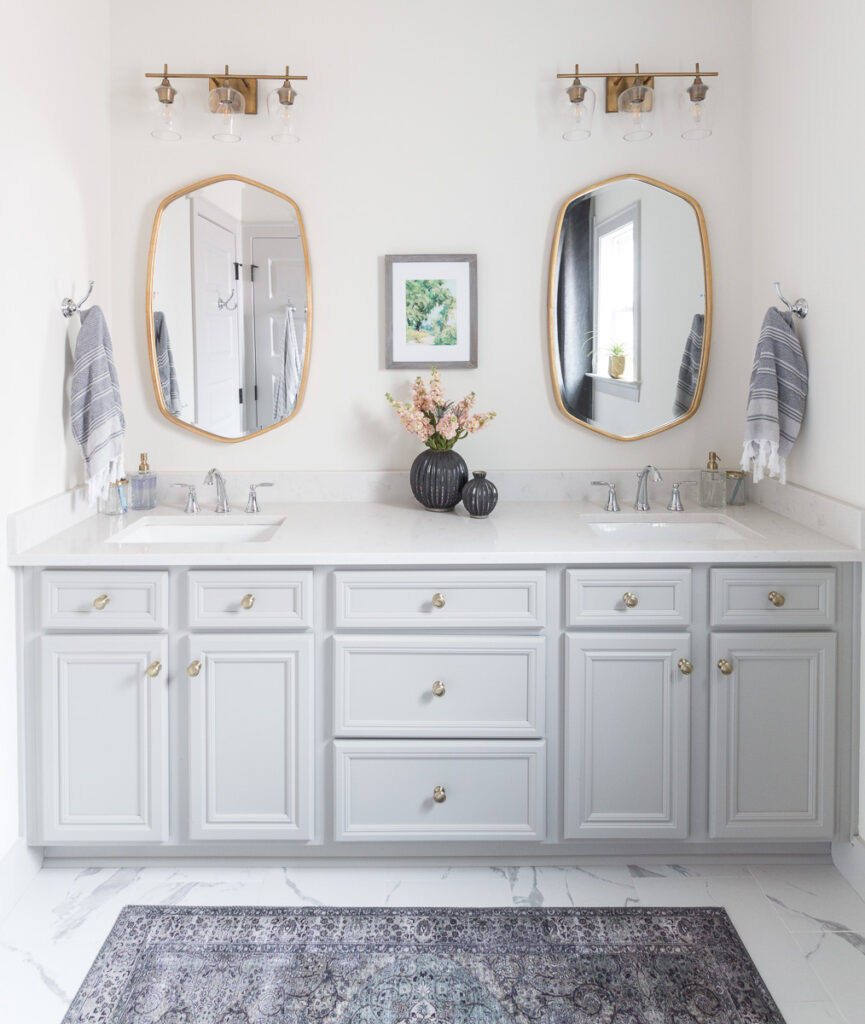 This post is sponsored by Build.com. They provided products to make this bathroom even more beautiful. All thoughts, opinions and words are my own.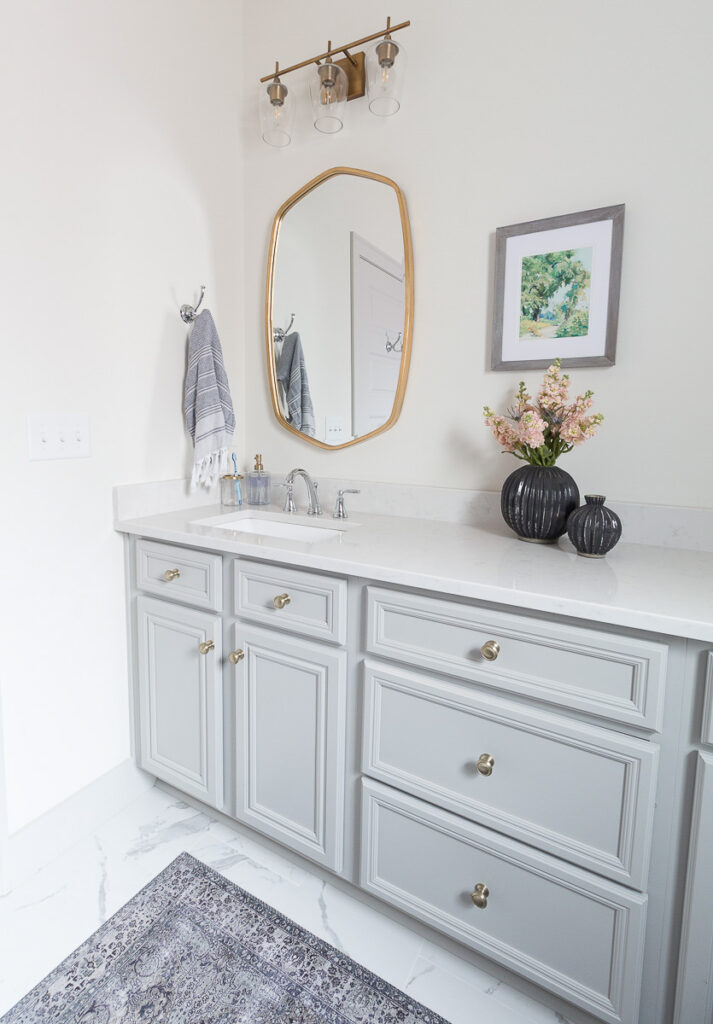 The Before
Here is the very nice, but kind of bland, before. You can see that instead of having the builder install basic mirrors I asked them to leave them off entirely.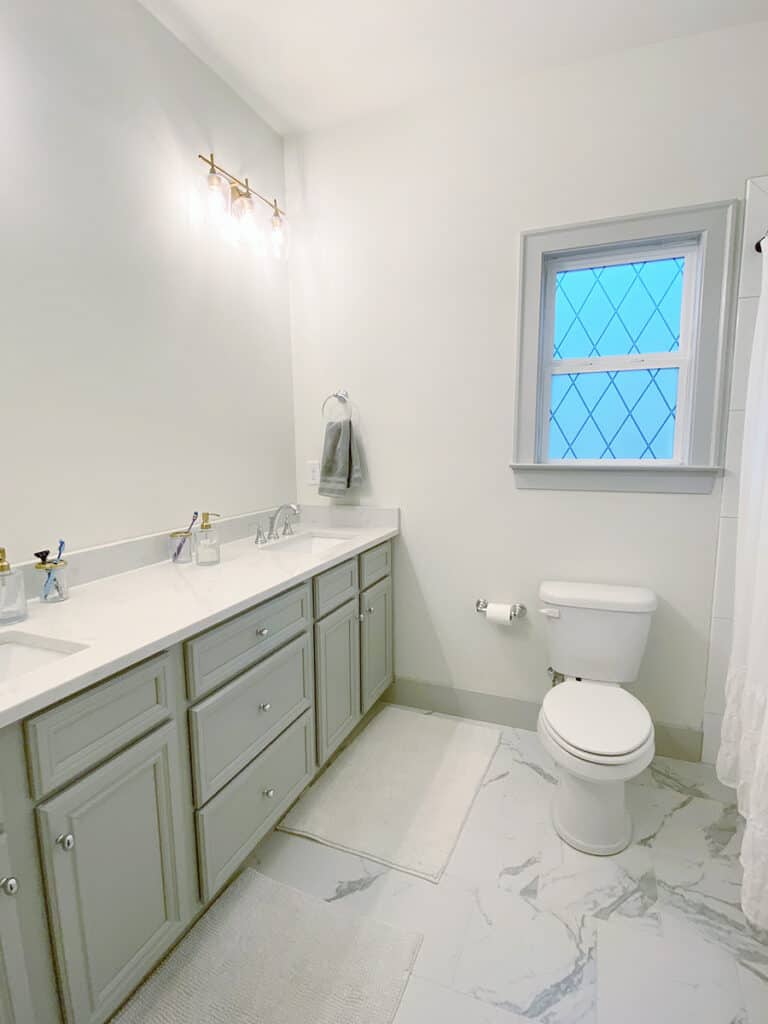 Achieving a luxurious, custom look with our builder would have been expensive and nearly impossible with the very limited available options.
As I thought through the initial design of the bathroom, I considered where it would be best to invest money up front with the builder. I considered what were my must haves in the design, as well as the most difficult to change later.
I had about 8 options for cabinet colors and 2 door styles to choose from with our builder. Interestingly enough there were no less than 3 options for grey. I went with the lightest grey. It's a deviation from the white but still offers many options for exploring color down the road.
Never underestimate the power of paint to transform your existing cabinetry. I talk more about this at the end of the post.
Design Must Haves:
Where I chose to upgrade
The two most noticeable, custom looking upgrades in a bathroom are the sink and the faucet. The basic round sink and centerset faucet is very standard. While there is nothing wrong with these options, bathroom design and creating a luxury look begins with the basics.
Widespread faucets, like this Delta Woodhurst Faucet, is what I chose for both bathrooms in our new house. The design is a graceful, yet simple take on a traditional faucet.
A square sink was also an upgrade I was willing to pay for. I love the clean lined, updated look. Even though it feels more modern, it's classic shape works well for any design style.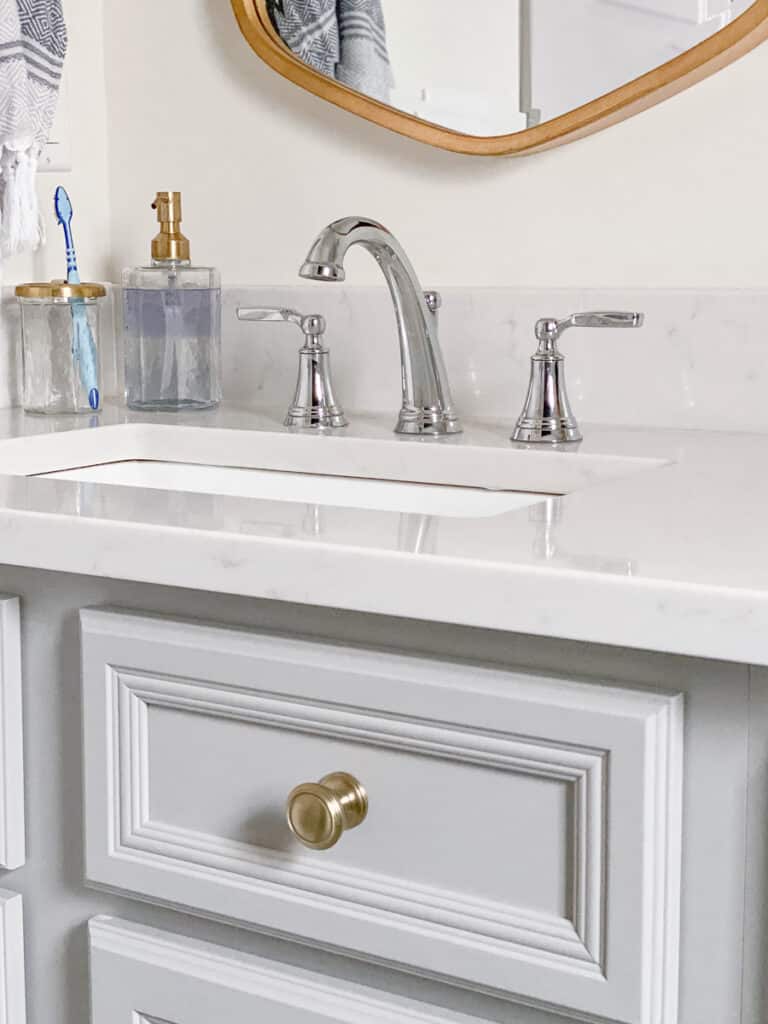 I also knew that adding custom mirrors, upgrading the knobs, the towel hooks, even the toilet paper holder were all relatively easy to change after we closed and moved in.
I was very thankful to partner with Build.com for this bathroom enhancement. They have everything you need for home improvement projects, whether it is a small makeover like this or a complete renovation. Their prices are almost always the lowest I can find and the selection of quality products is unmatched.
Want to get a custom look for your existing bathroom?
Below, I outline the essential, yet simple changes that take a bathroom from basic to glamorous by focusing on easy to change finishes.
Shop the Post

Shapely Mirrors
The unexpected shape of new mirrors add a modern touch to this traditional bathroom. Find this wide Oval Beveled Wood Framed mirror here.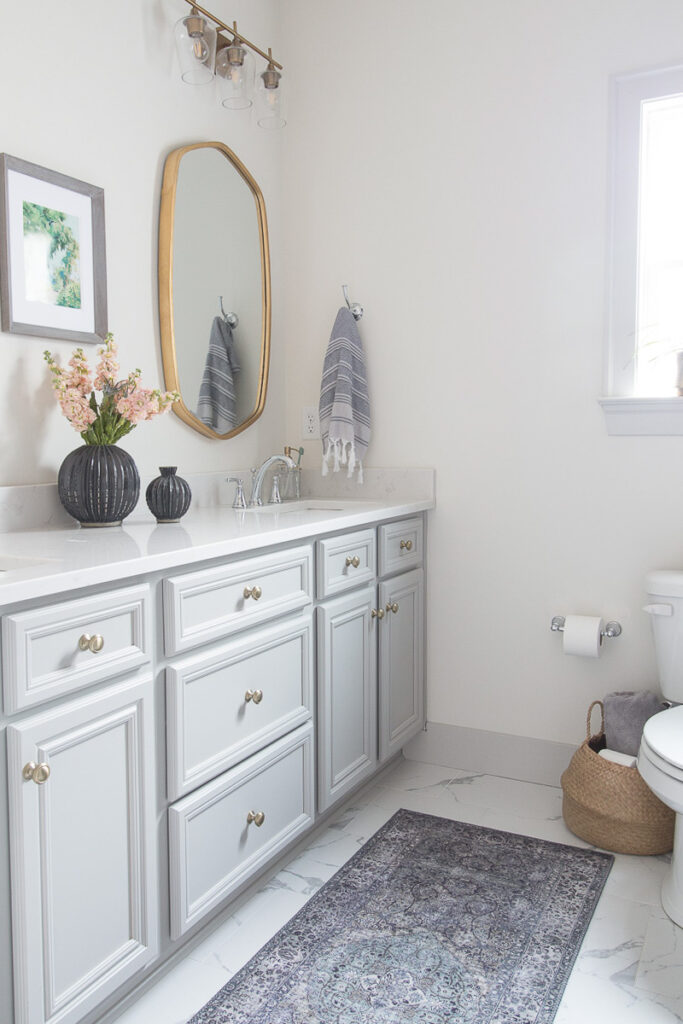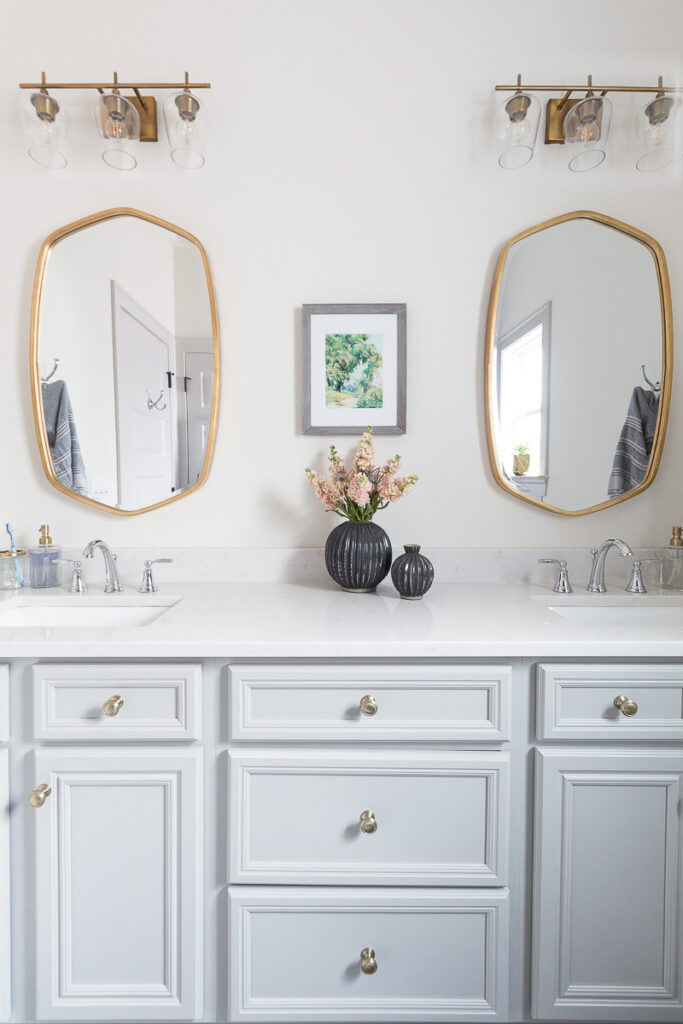 While there are a plethera of options for shapely mirrors. Be sure to consider the available space above your sinks and between the light fixtures. My dimensions were quite narrow, so I had to look for a specific height and width. The wide selection at Build.com made finding a beautiful mirror easy.
Here are a few more shapely options I considered.

Mixed Finishes
Don't be afraid to mix your finishes. I like to stay with two choices in a room. The resulting room, generally feels more high-end because everything wasn't as a bulk. While it may be subtle, it conveys that thought and an eye for detail.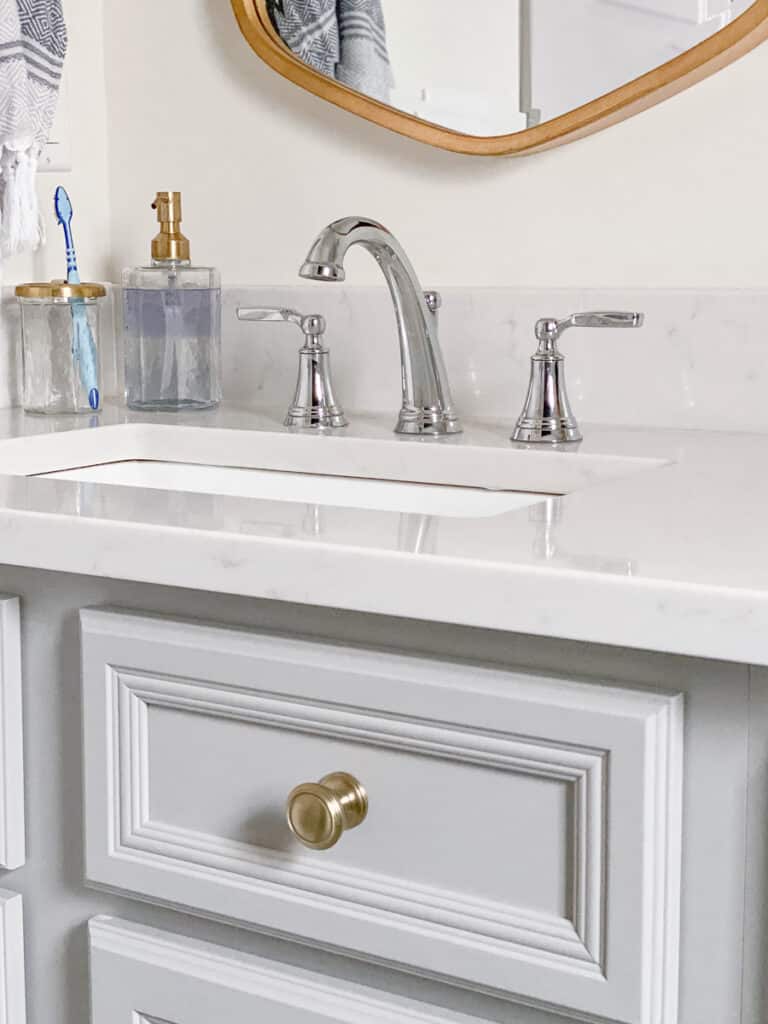 I tend to use chrome and gold toned elements. Polished Nickel is also a great partner to gold finishes. Generally, companies call today's more modern brass looking finish Champagne Bronze.
If your overall style is more modern farmhouse then chrome and black are also a good combo.
Customizing the Knobs
Switching out the basic chrome knobs for a slightly more ornate option in a gold finish elevates the entire vanity. I also love the contrast of the gold against the soft grey cabinets.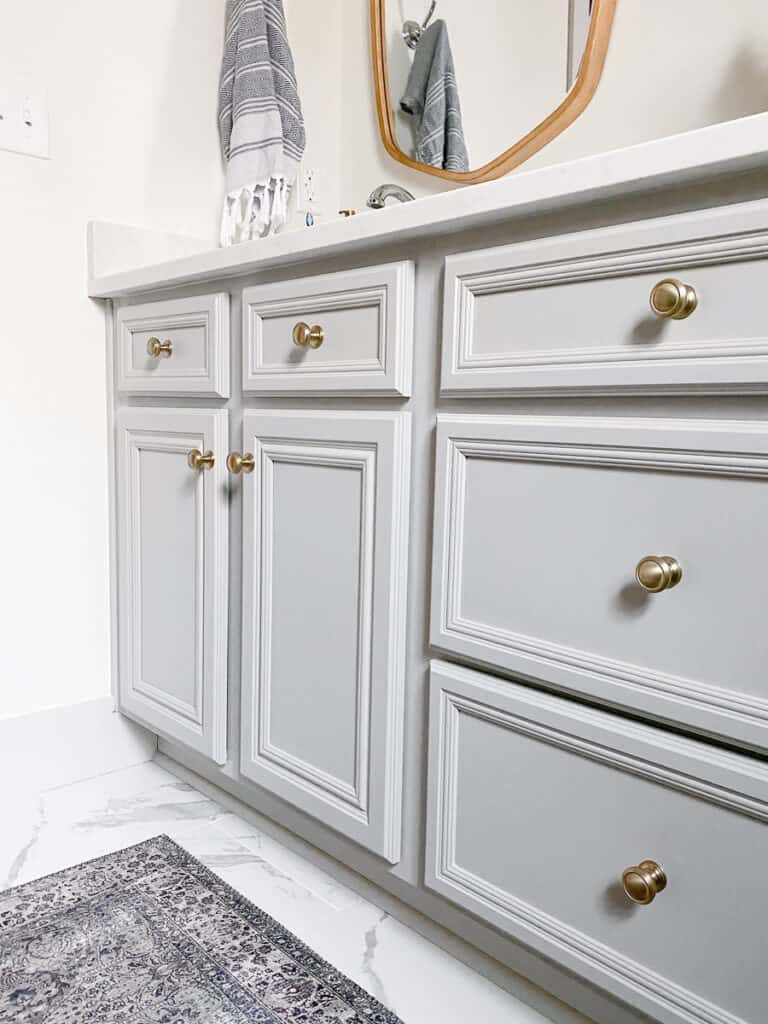 I also added two extra knobs underneath each sink. Adding knobs to the faux panels under the sink gives the entire vanity a much more polished look.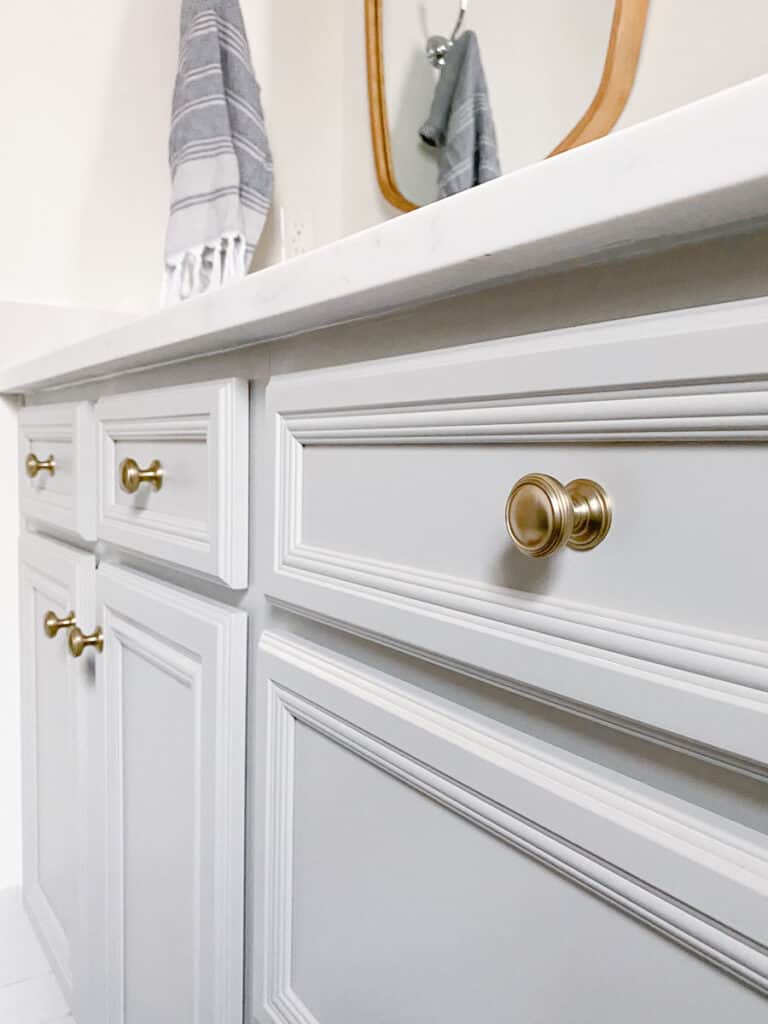 I love the subtle banded details of these golden champagne knobs by Amerock. Find these Revitalize Mushroom Cabinet Knobs here.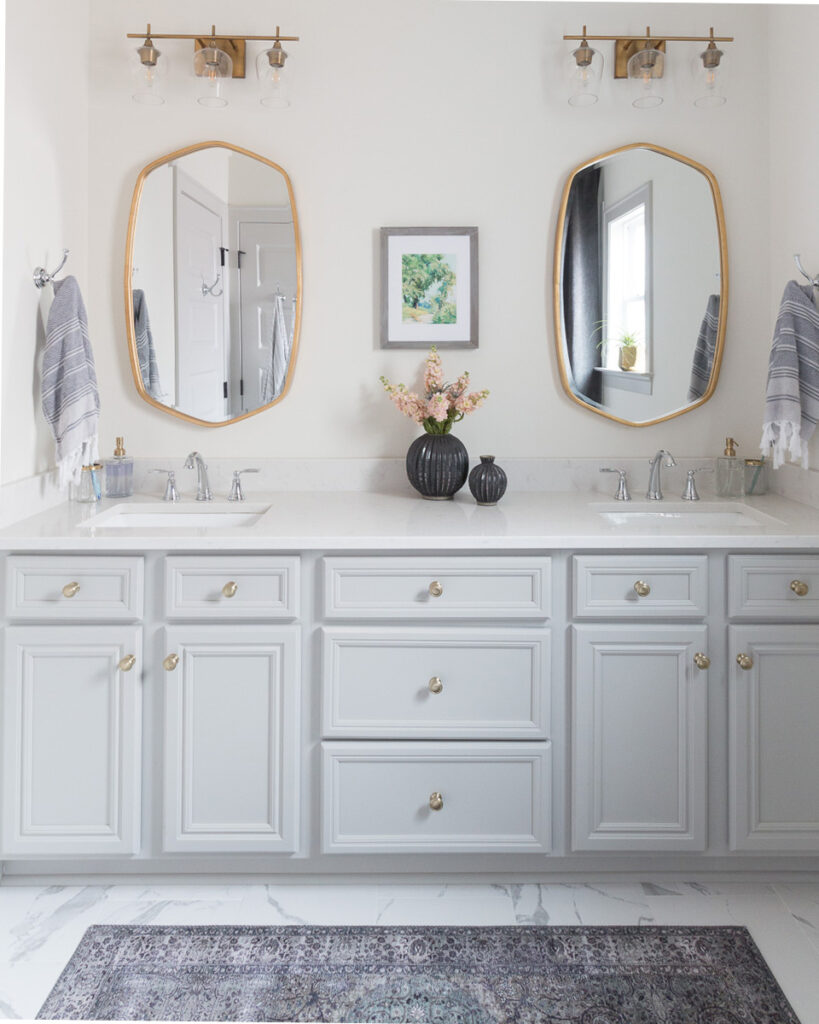 A few more beautiful knob options in a Champagne Bronze finish.

Functioning Hardware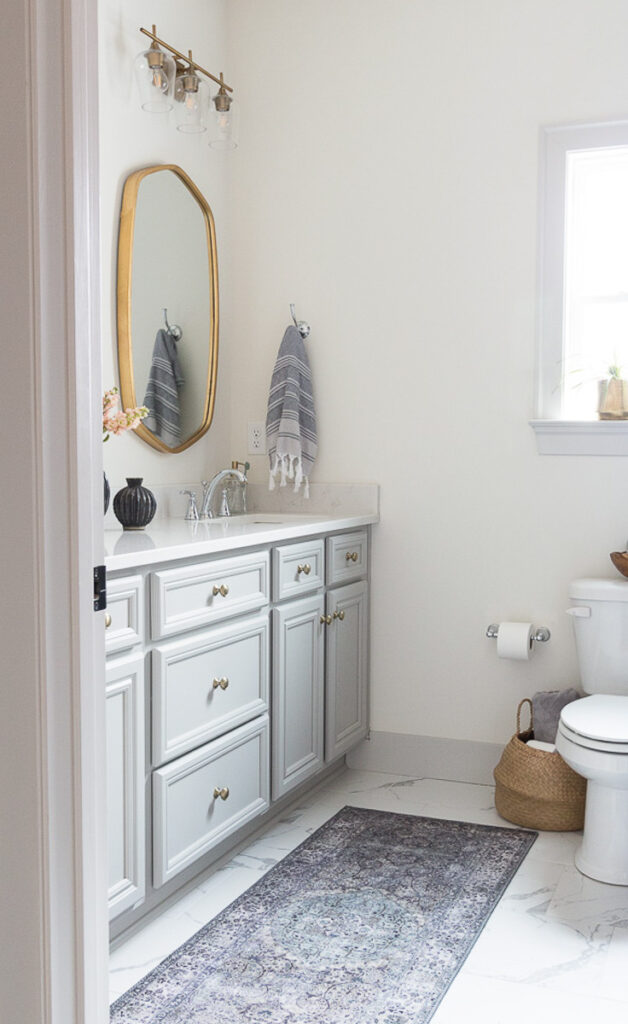 I personally prefer the casual, yet updated look of a basic robe hook instead of a towel ring. The towel ring takes up so much more unnecessary visual space with all of the wasted space at the top.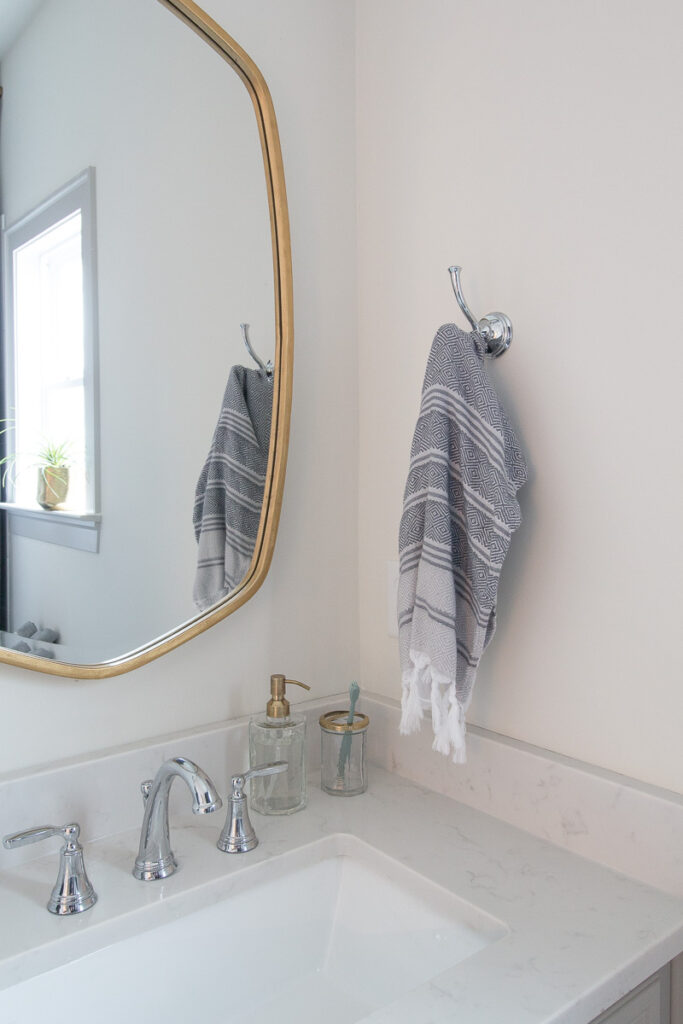 I also upgraded the toilet paper holder. The one the builder installed was very basic and not the same quality as the rest of the hardware.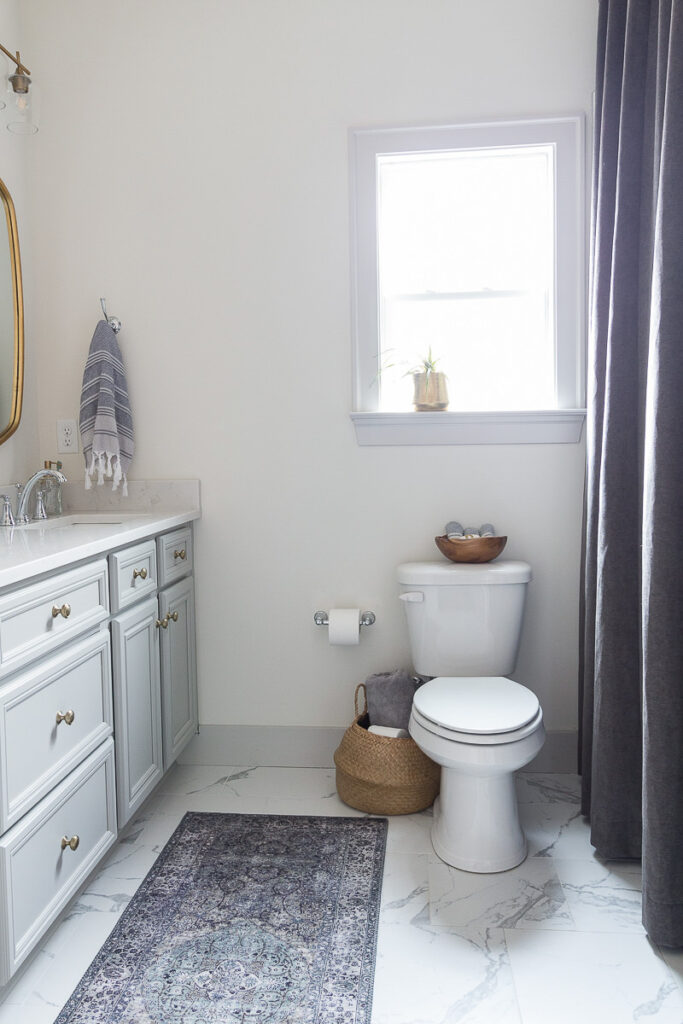 This one has a pivoting post which means there is no annoying spring loaded insert to fumble with when it's time to change the tissue. We first started installing this style at our Hill House.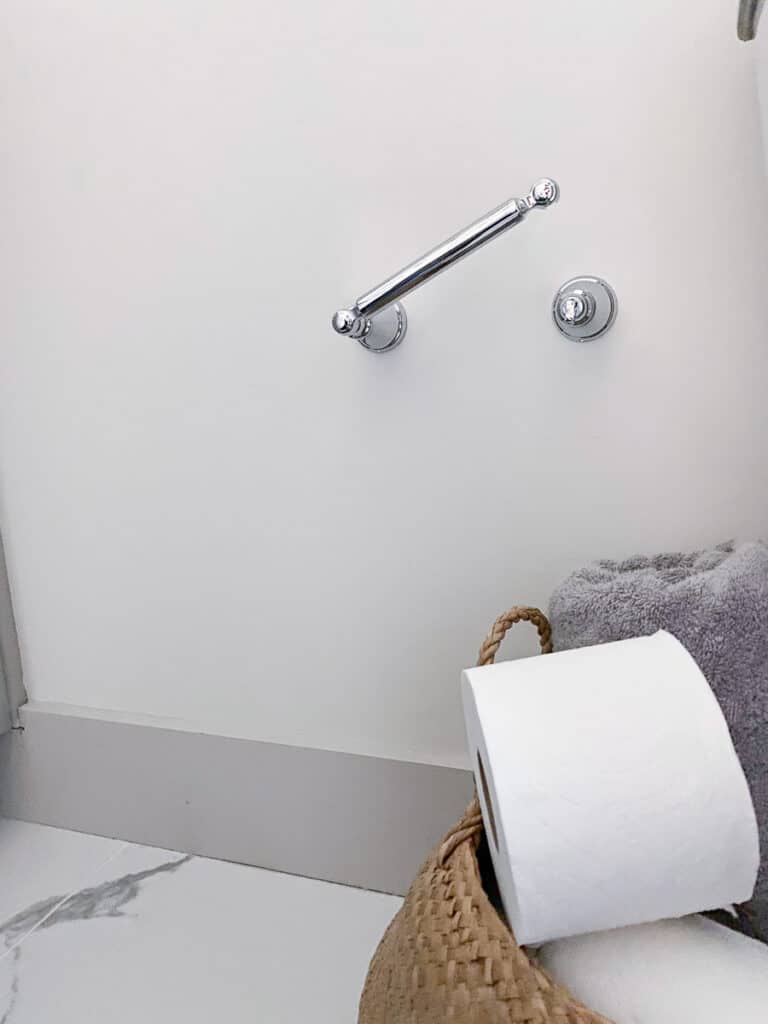 It's a simple change that is worth a little extra when it comes to a more peaceful bathroom. This actually matches the same design style as our Delta Woodhurst faucet.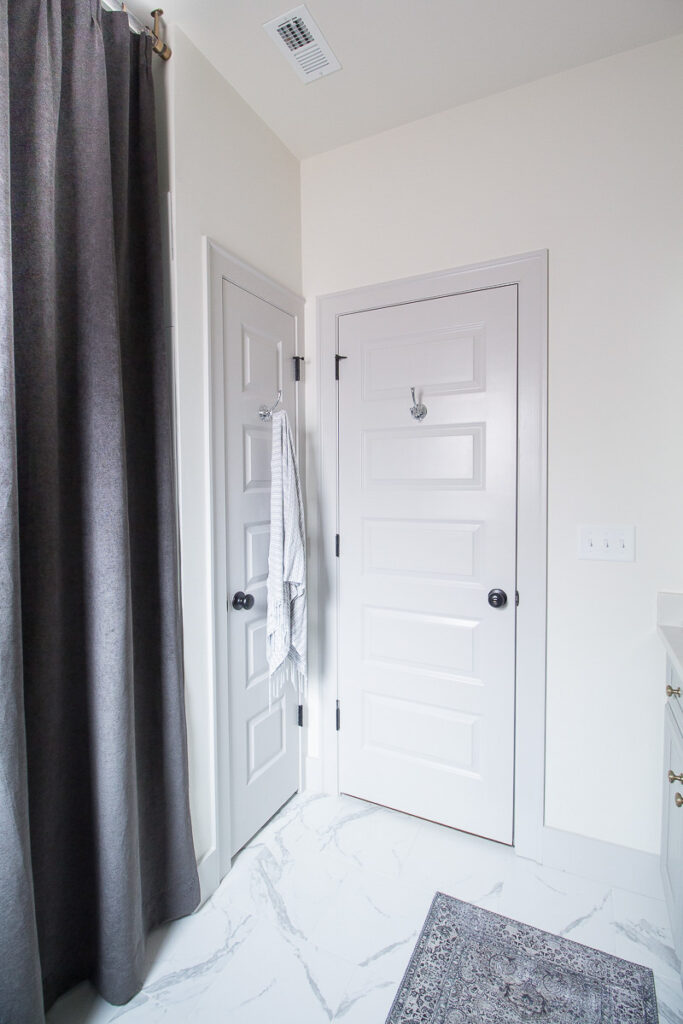 We also added two robe hooks to the back of the doors. There really isn't enough wall space for a towel bar in this bathroom.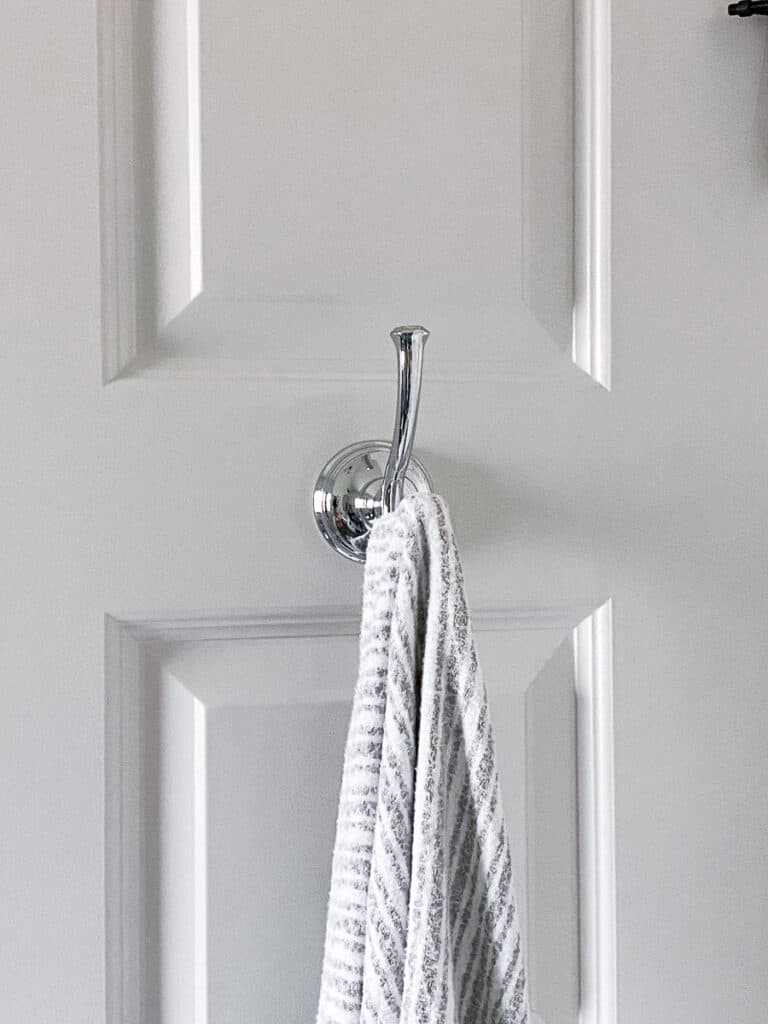 They are a classic style that looks great with our other chrome finishes. Choosing high quality hooks like this one with extra secure mounting hardware ensures it will last a lifetime.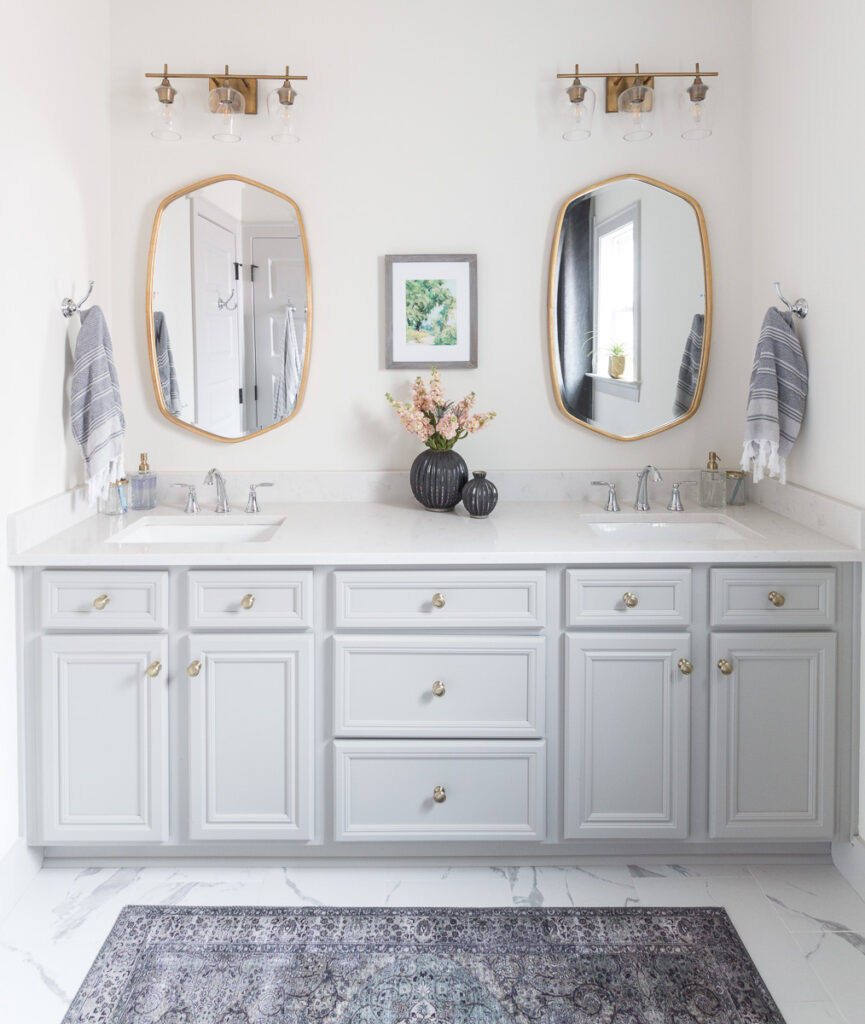 The Perfect Rug
I promise you I don't feel like I'm exaggerating in the least with that statement. This rug is truly a perfect rug for a high traffic areas like a bathroom. It's made by Loloi II and Build.com definitely has amazing prices on rugs. I bet you'd never guess it's under $45!!!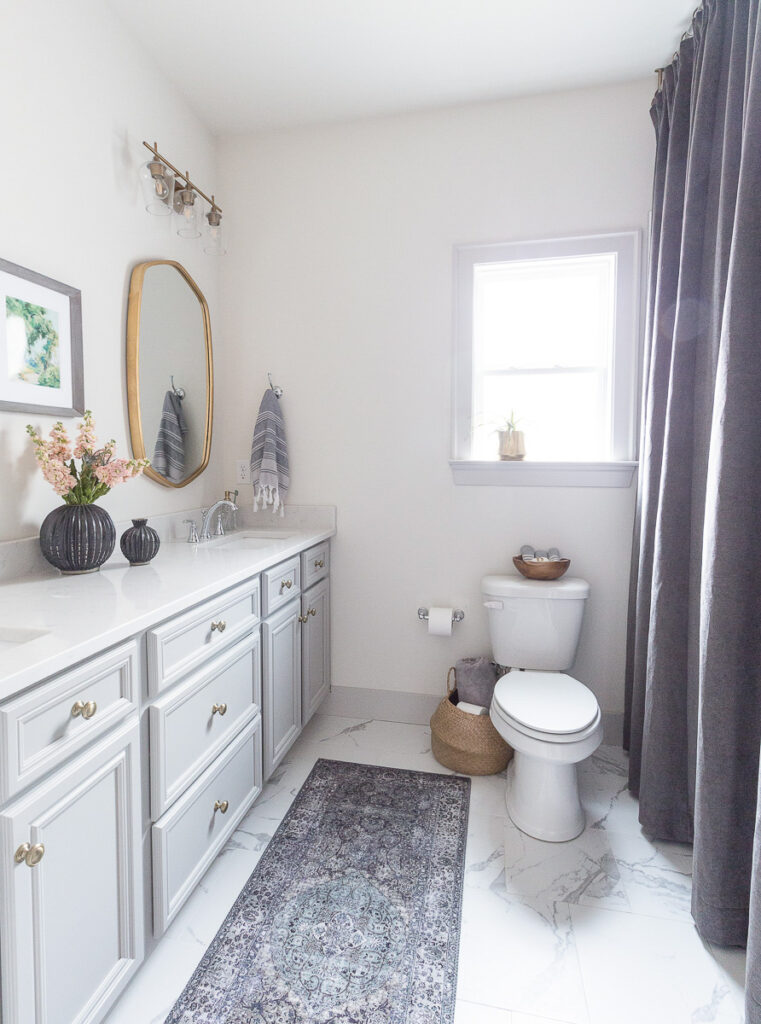 And yet it looks like a traditional, vintage style rug. The material is very soft but not very thick, which I think is a definite plus in a bathroom.
This style of rug comes in several different patterns and color ways. I think they are all stunning!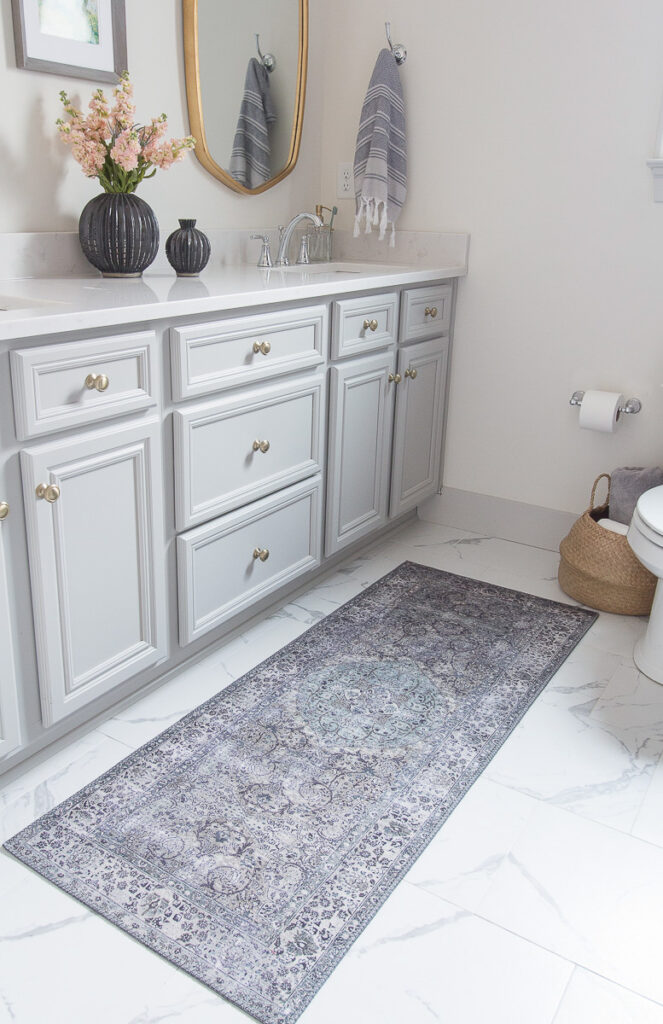 I have a small non-slip pad underneath and it feels so nice underfoot.
Shop the Post

In the previous photo you might have noticed the shower curtain.
Custom Shower Curtain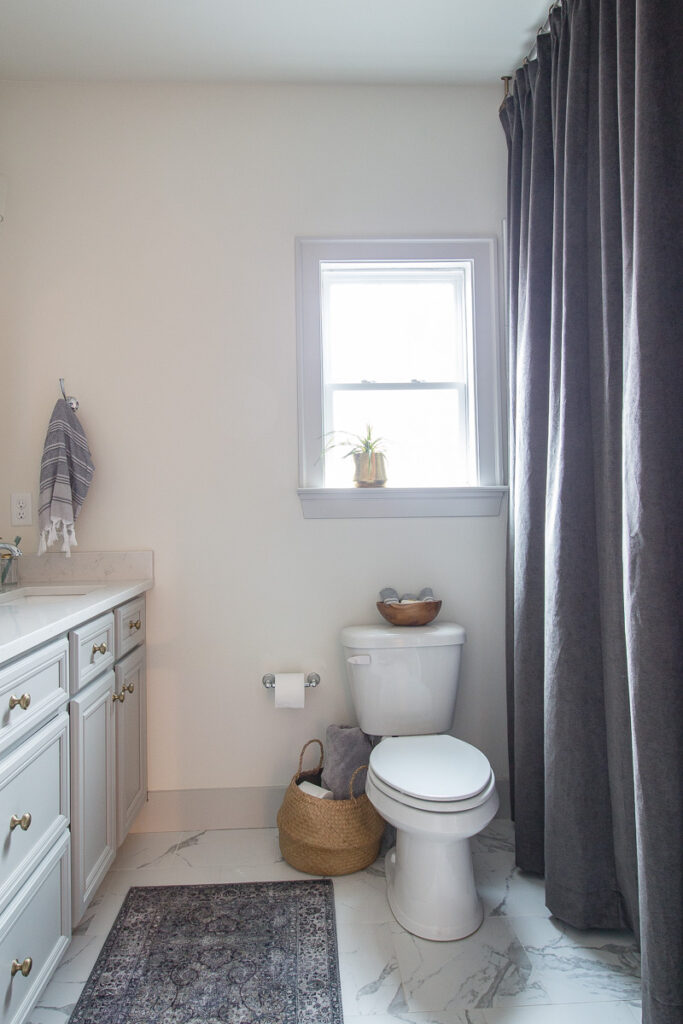 I used the same acrylic rod and similar velvet fabric to make my own shower curtain just like I did in the teal bathroom makeover last year. (Some designs are definitely worth a repeat.)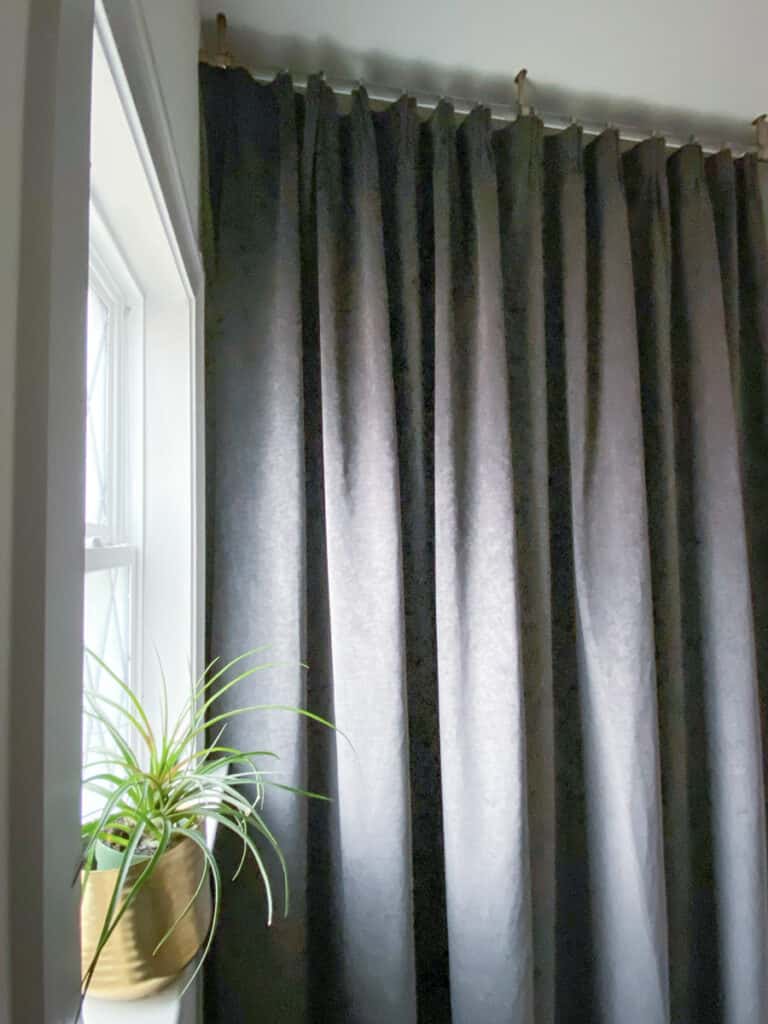 I will be sharing more details on how to install and sew a custom shower curtain in an upcoming blog post. Be sure to subscribe to never miss a post!
Since I brought up the reader favorite teal bathroom, I'll link that bathroom makeover here.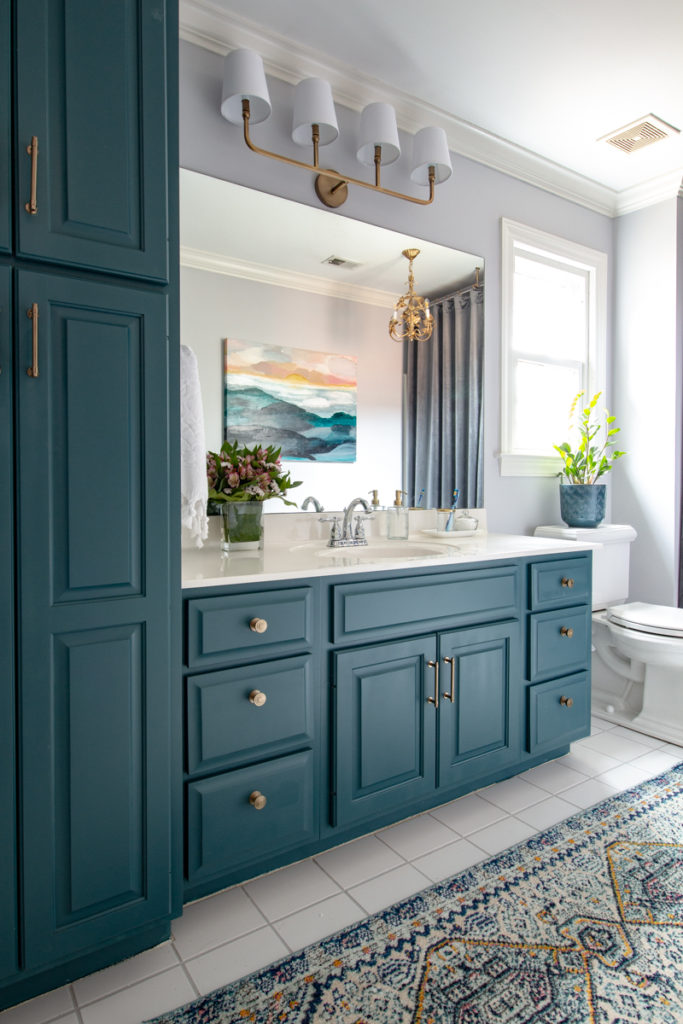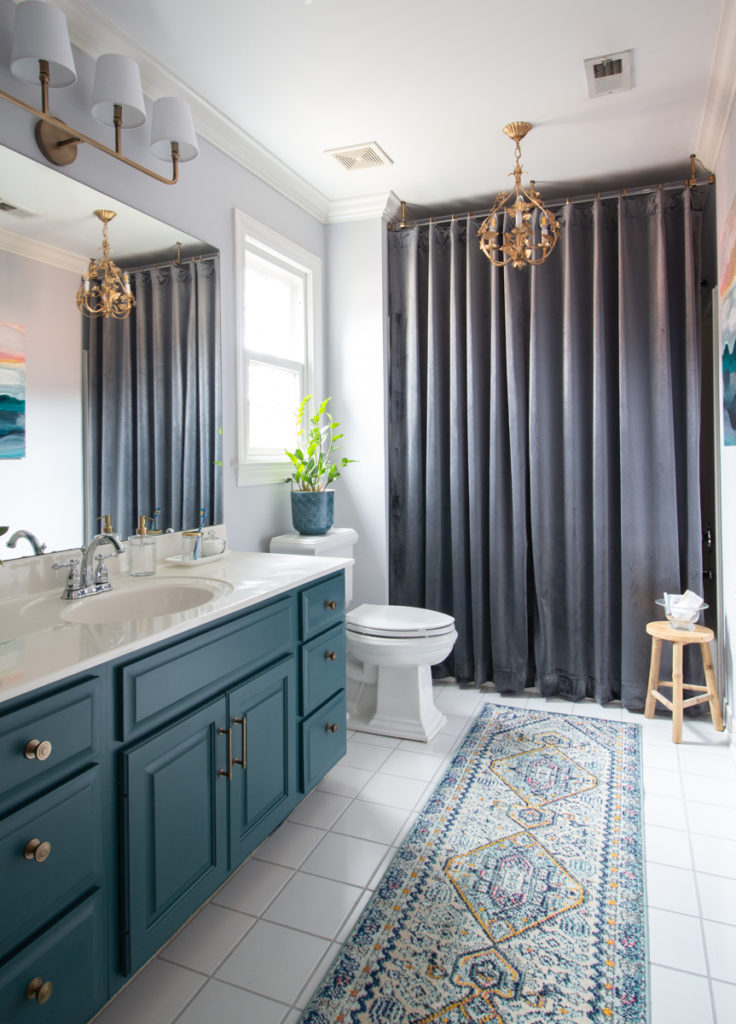 I teamed up with Build.com then to give this boring, wallpaper covered bathroom a budget friendly update. It is definitely worth taking a little tour around this room!
Decor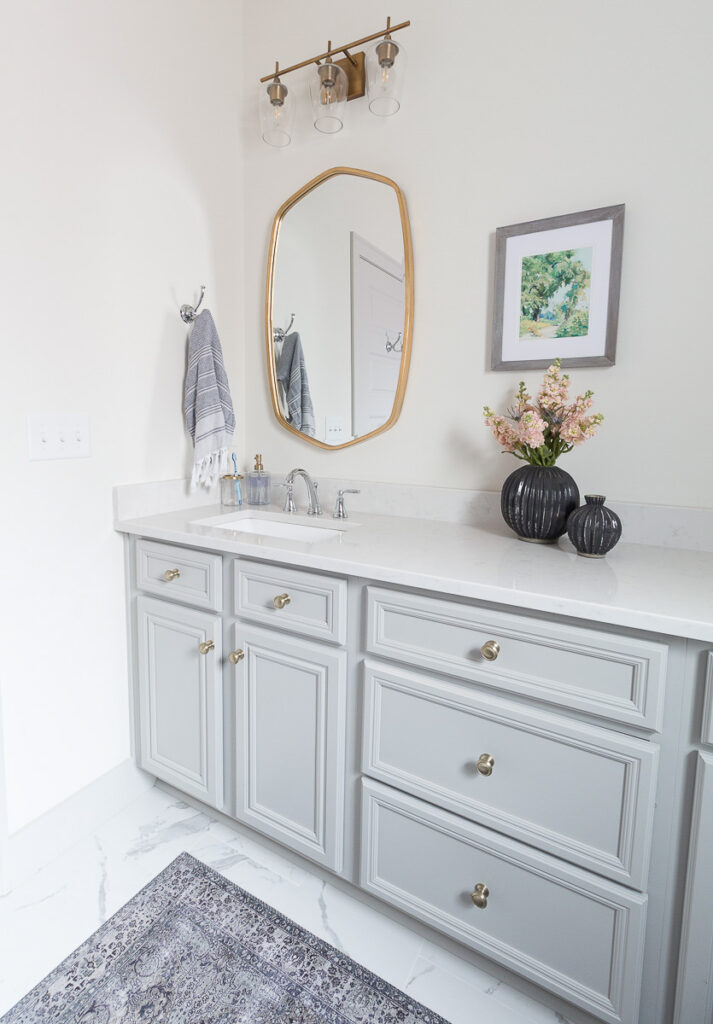 For this room, I wanted to focus on functional beauty and kept the decor simple. A beautiful print from Juniper Printshop is the perfect addition in between the mirrors.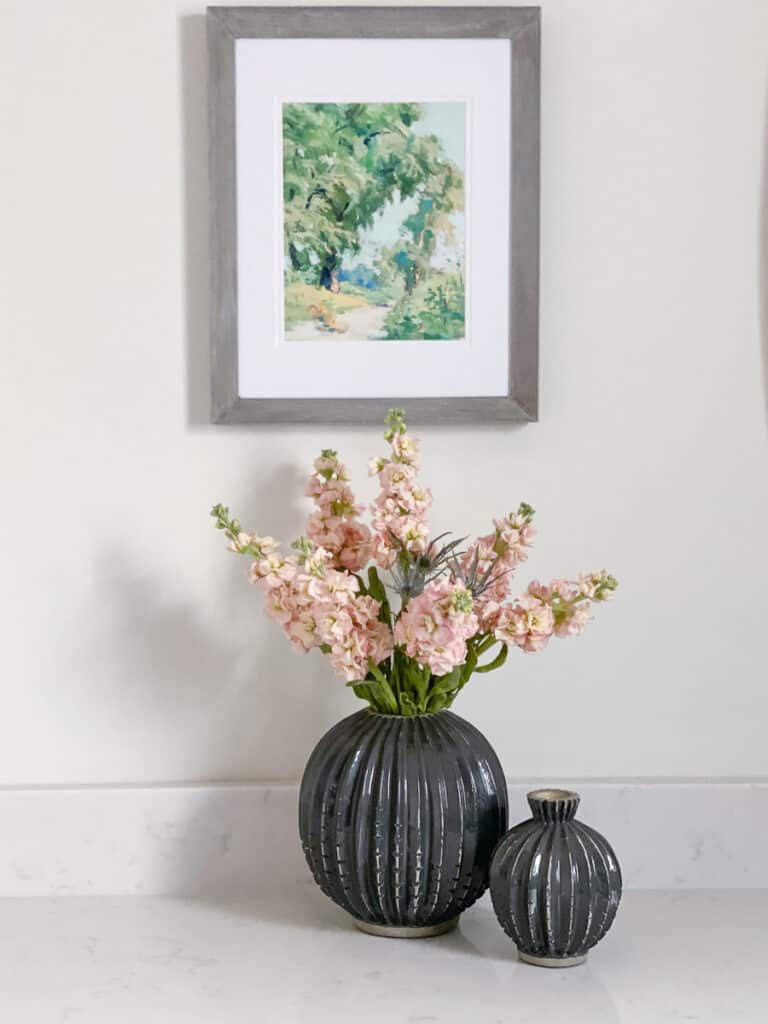 The grey washed wood frame compliments this almost monochromatic room.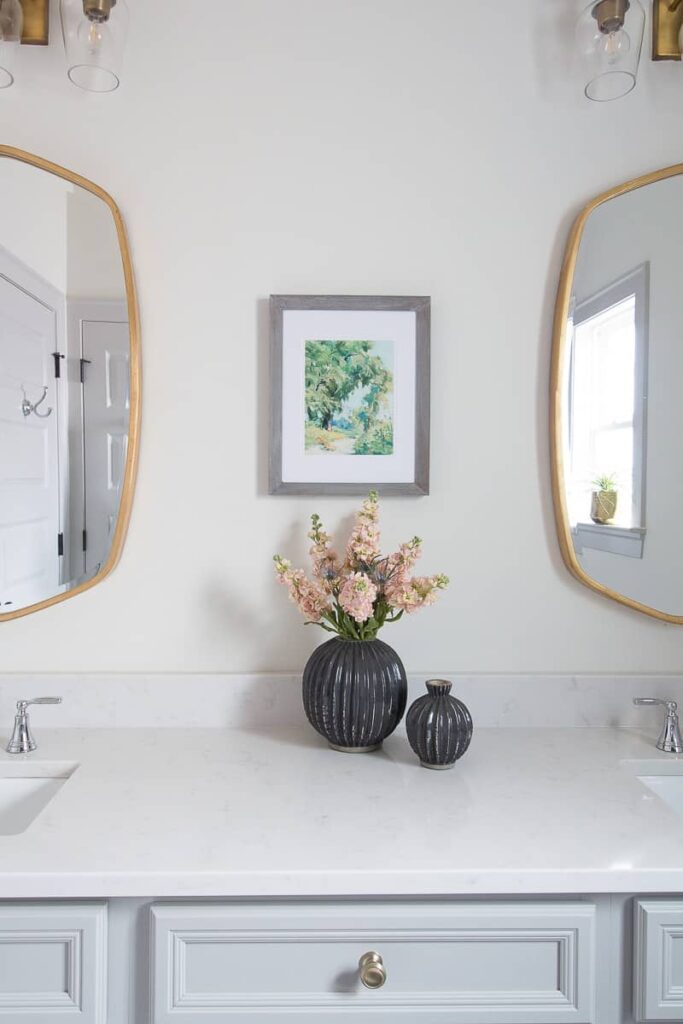 These vases will eventually be filled with a pair of faux palm branches, but these flowers may have me searching for similar blush colored faux blooms.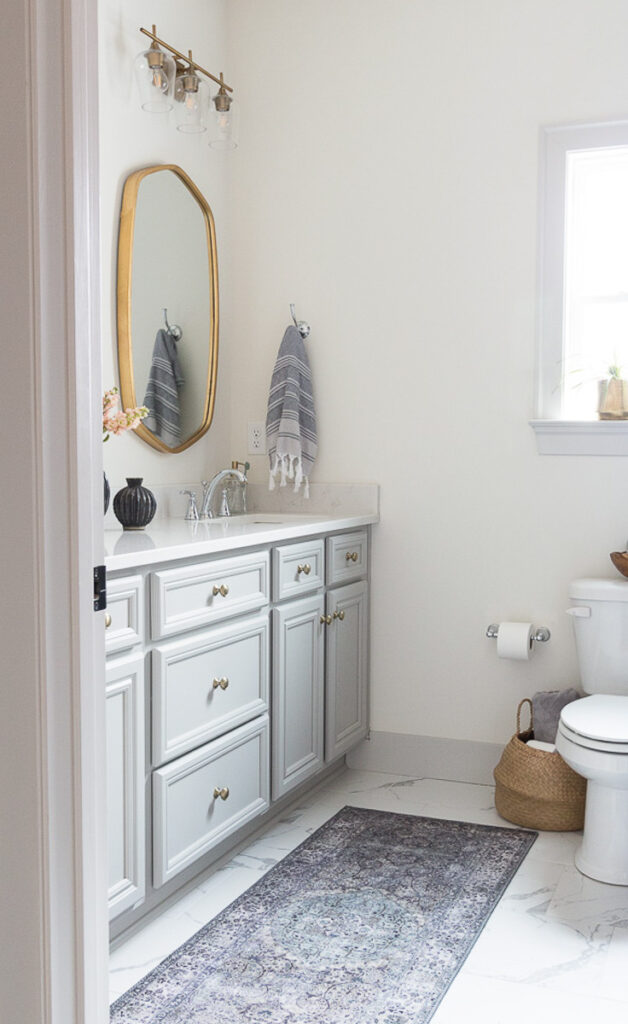 Tucking a basket near the toilet makes it easier for guests to find what they need, when they need it.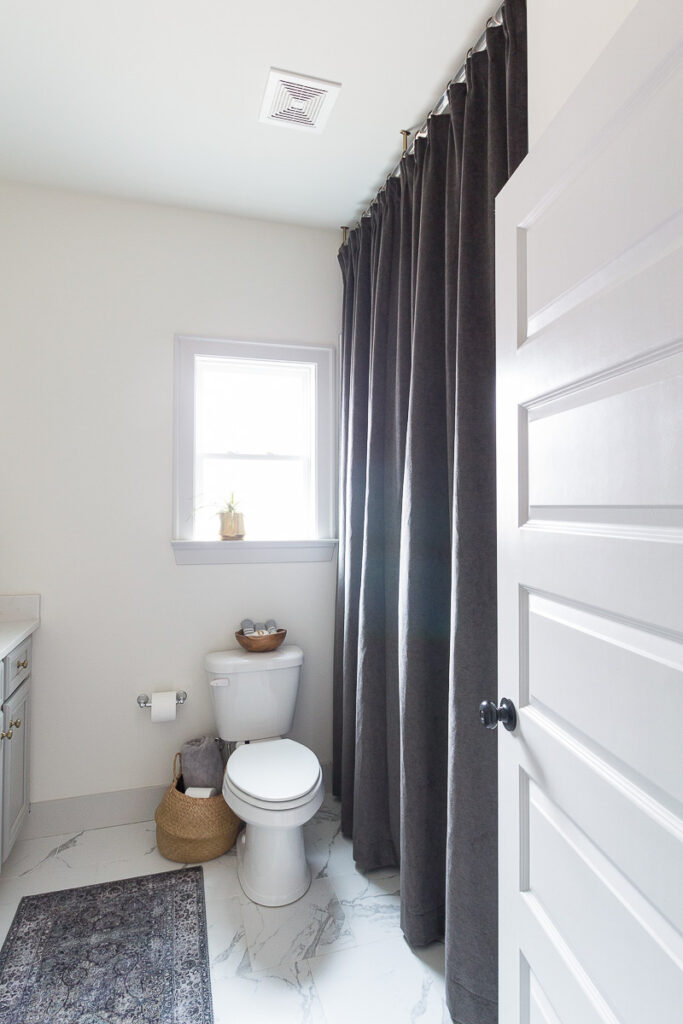 I'd love to know what you would change in your bathroom?
If I had to do it over, I would likely change the light fixture to the chrome finish. I really love the style of the fixture, but I couldn't tell from the builder's one photo per item catalog how dark this gold finish would be. I might still order one just like the one I selected from Build.com too!
Many thanks again to Build.com for partnering with me to bring this bathroom to it's full potential. Be sure to visit them for all your renovation and makeover needs!