After leaving the Haven Conference, instead of coming home and decompressing all that information, I hit the road with my best friend, Dana, to makeover her back patio. Because we live 300 miles away from each other the opportunity to actually work, build and design together was an uncommon treat. And after Haven, we couldn't wait to get to work!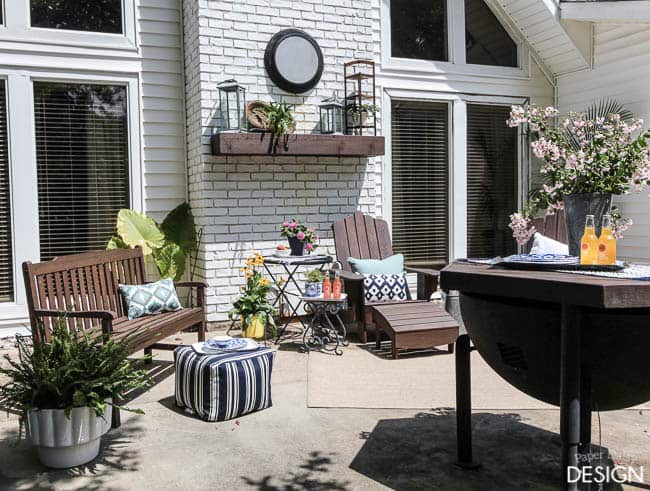 In the before photo below, you can see her patio had all of the key pieces but much of it was showing the years of being baked in the hot Louisiana sun. We thought about adding a teak garden bench, but decided for the overall look we would keep the original furniture and build on that. Our main goals were to add some texture, makeover the crumbling mantle and create a dual function for the fire pit created from a retrofitted vintage sugar kettle her father-in-law procured from an old Louisiana plantation home. This thing is so awesome, y'all.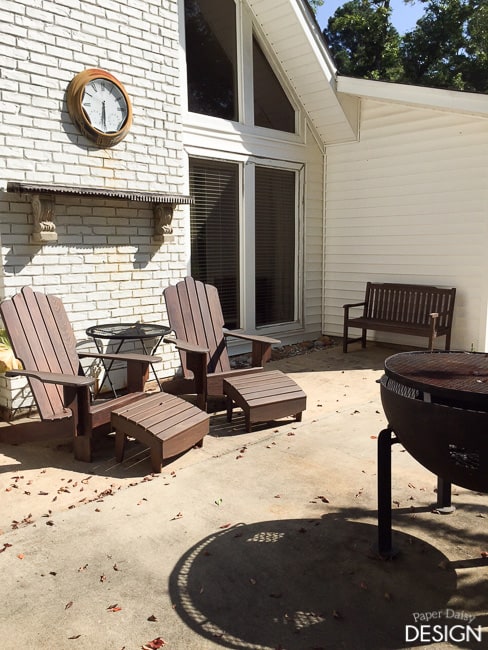 Like my own patio makeover, we started by building her a rustic beam mantle, only on a gigantic scale. You can see how I built a smaller one for only $15 here. The construction was exactly the same except we used a 8″ wide cedar board for the front instead of a standard cedar fence board.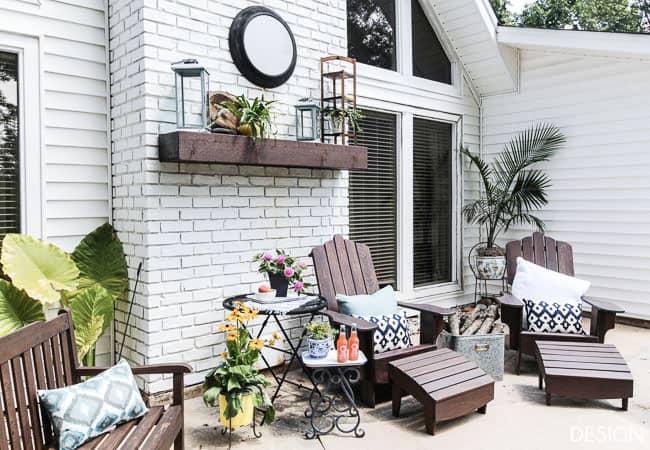 We had intended on keeping the concrete corbels for two reasons. We both thought they were pretty cool and even if we wanted to get rid of them, we had no idea how to take them down. They appeared to be attached to the brick permanently. Or so we thought!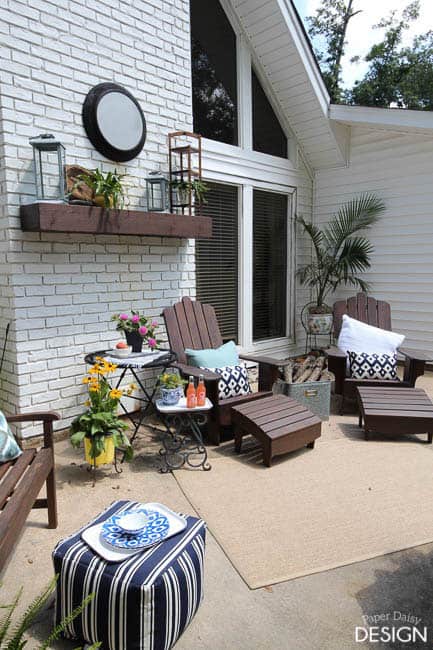 Once the mantle was built, we proudly carried it over to the back of her fireplace and set it on the corbels. While moving it around to get it centered and secured correctly, all of a sudden there was a loud CRASH!
Yep, one of the corbels crumbled into two very large pieces of concrete rubble. It was then that we discovered they weren't up there as securely as we had thought. I'll share all the details on how we hung the mantle in another post because I'm sure you are now very curuious.
The next big DIY project on her list was to build a cover for her fire pit. I saw it as an opportunity to create extra dinning and entertaining seating. The firepit, being up so high seemed like the perfect spot encourage guests to gather even when there wasn't a fire.
True to form, I wouldn't let my best friend settle for just a round fire pit cover. "No, no, that's just boring", I said. I thought it would be totally awesome to create a hexagon tabletop!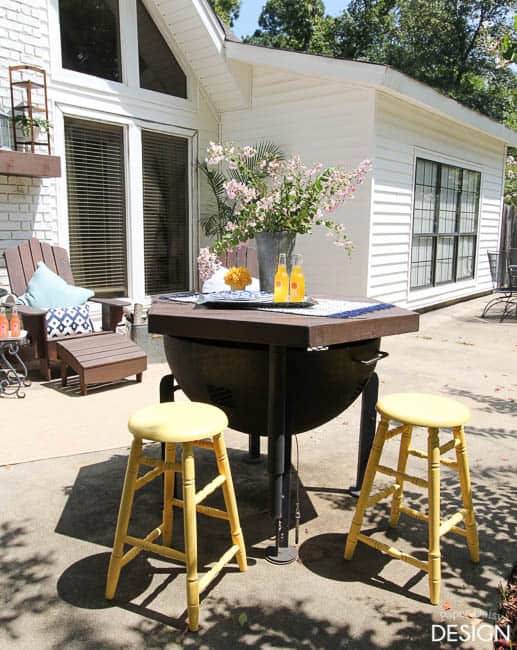 I figured I was pretty good at geometry and thought I could figure out how to build a huge hexagon around a circle, no problem. But I failed to consider I was nowhere near my trusty computer, where I could have sketched it up to get exact measurements and maybe, just maybe figure it out.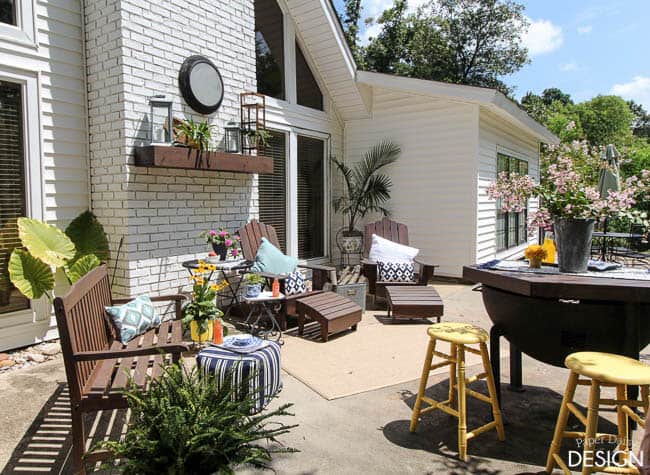 So I did what any intelligent person would do.
I called my Dad!
He just so happens to be an engineer and a rocket scientist. He knew the formula determining the length of the sides of a hexagon around a circle off the top of his head! Somehow those genes skipped me.
Not to worry, I'll be sharing that elusive mathematical equation as well as tips for building your own oversized hexagons soon!
And look, the hinged grate top can be moved to the side with the table top in place! Get a sketch and formulas for building your own hexagon top here.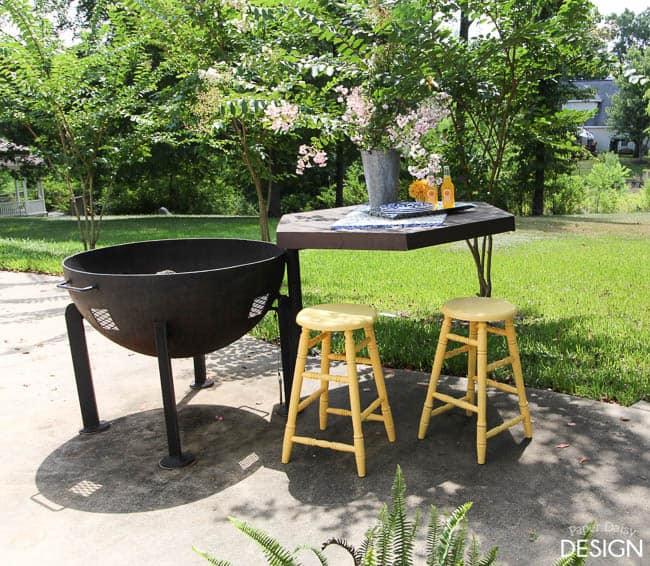 The rest of the makeover was in the details. We shopped her house, her attic, Target and Home Depot. Remember a great makeover doesn't have to break the bank.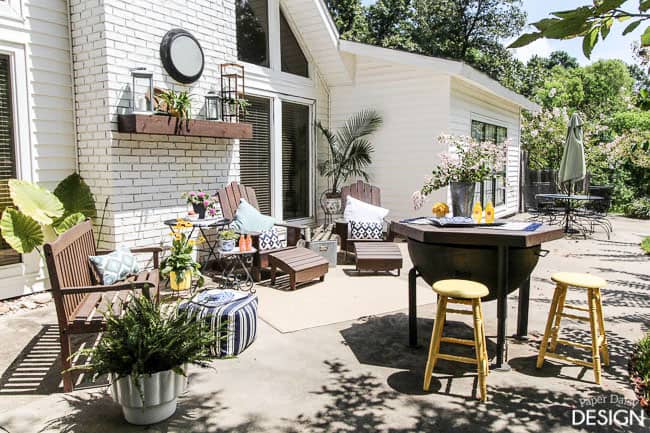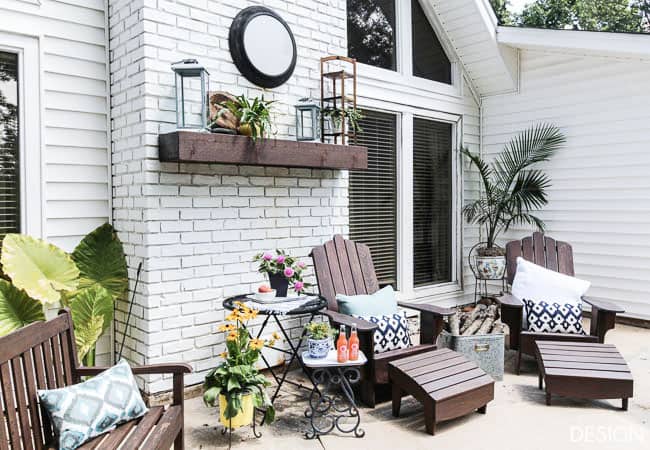 Because it was late in the season and selection was sparse, some of the pillows shown are not suitable for outdoors, but replacements were easily found online, even on sale!
Pillows and furnishings are the key to giving an outdoor space that living room feel.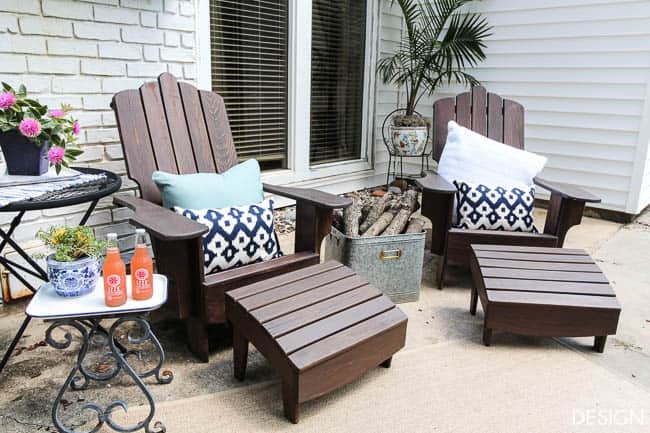 A big palm tree in the corner and sun loving plants make the patio come alive.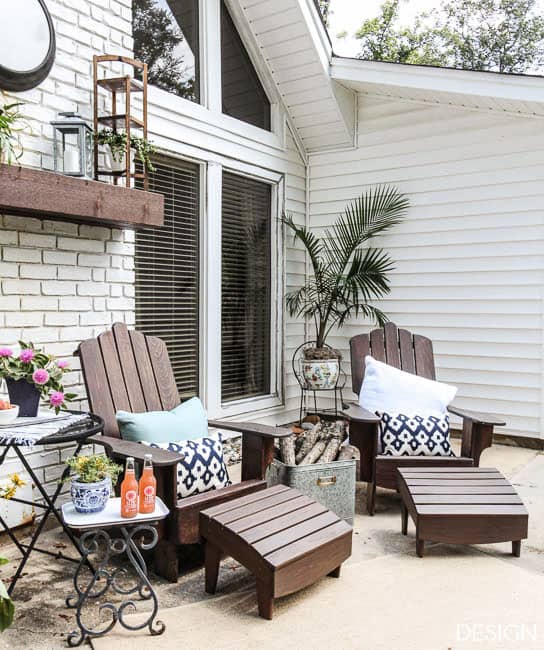 And that rusty, peeling clock that was there in the before? It magically became an outdoor mirror!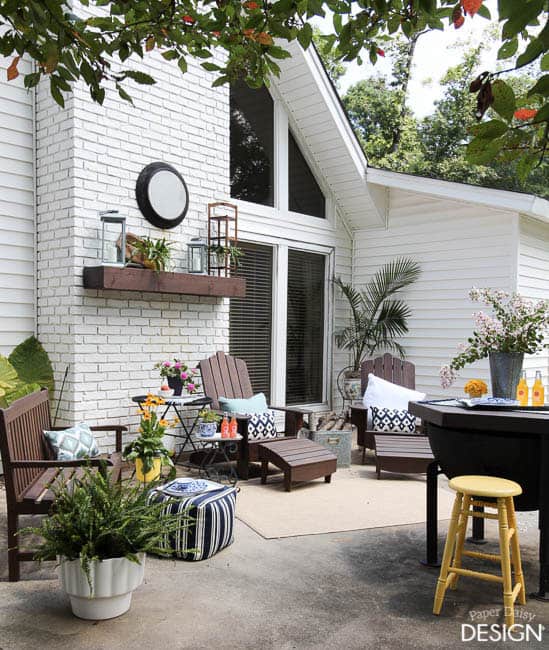 What you see here was accomplished in just two blistering hot days!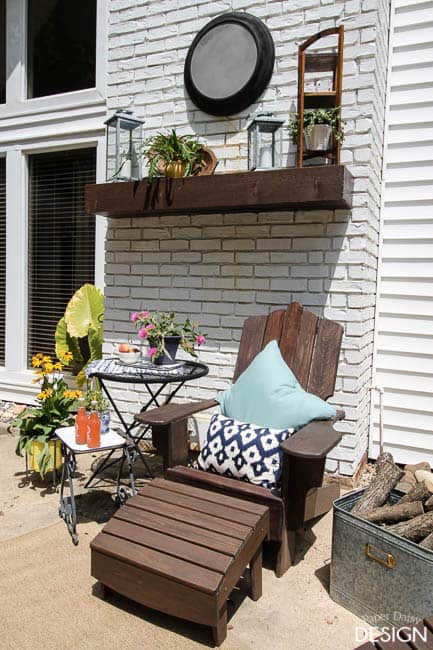 Like any fast and furious makeover, we encountered a few unforeseen challenges. But we are a pair of determined chicks and didn't let those little hiccups stop us! Not even that brutal heat!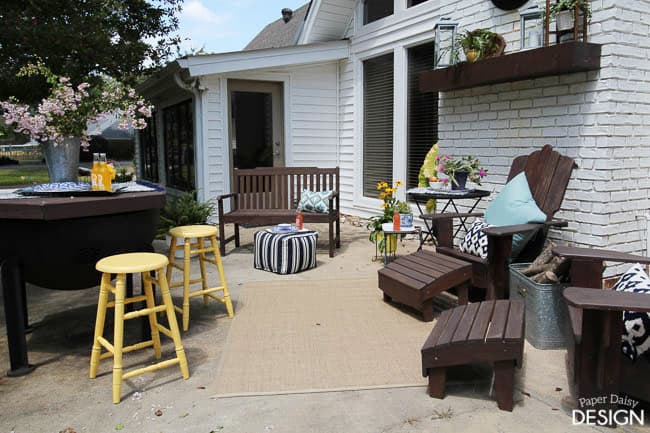 We really were impressed with how much we accomplished with limited tools and time.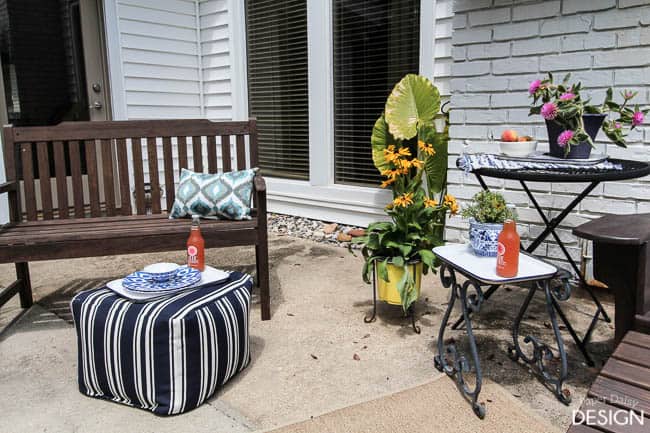 The only regret was we didn't get to actually enjoy the space. As soon as we finished the photo shoot, we had to hit the road again and head further south. Our mothers were waiting for us!
So, what's your favorite part of the makeover? Fall is coming and it happens to be my favorite time to bring the party outside. Just a 4 hour drive and I'm there!
This posted is dedicated to my dear friend Dana. As I mentioned, we live hours away from each other and are rarely given the opportunity to work side-by-side. Her encouragement and support are vital to what happens here at the blog. She is my go-to person for bouncing off my crazy ideas, sharing my disappointments, accomplishments and tirelessly helps me with editing. I'm so thankful she enjoys this part of our friendship. I am forever grateful.
Want more porch and patio inspiration? Check out my own makeover by clicking here.