My favorite small project built for the back patio makeover was this faux rustic mantel. I found it was a good housewarming gift for a friend of mine who moved into a new home (which she got from somewhere like https://www.saussyburbank.com/areas/new-homes-raleigh/), so when I was looking for a new project I decided to have a look into doing this.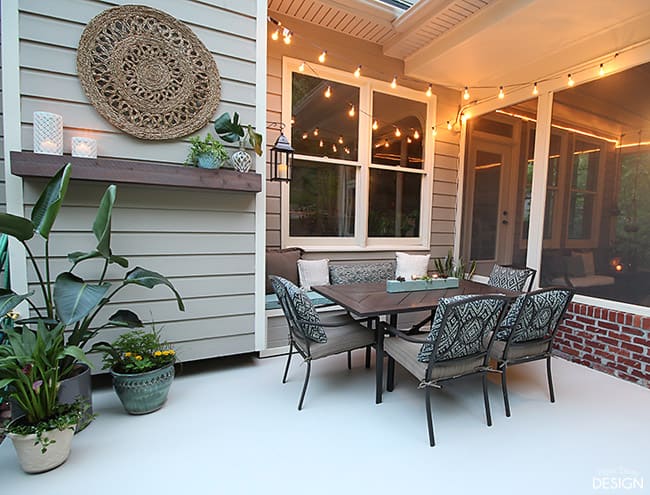 Without this addition to the jut out created by the back of the fireplace, I don't think the space would have been as cozy. Sure, I could have hung something else there, but the faux mantle brings the space to life.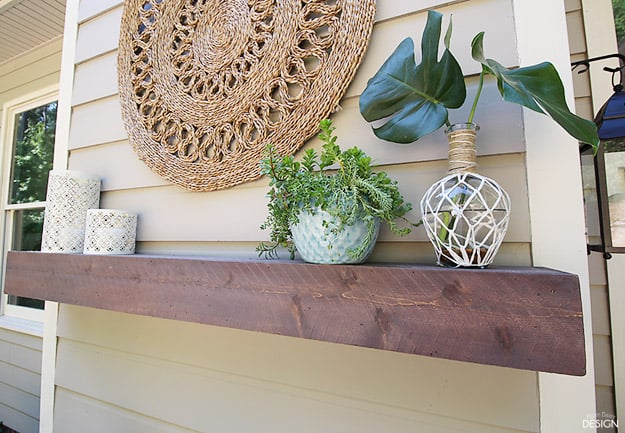 And obviously, if you caught that headline, it literally can be built for less than $15. How is that possible? Untreated 6 ft cedar fencing, my friends.
It's super simple to build too. While I used the 10″ Ryobi Sliding Miter Saw, cedar is very soft, making it very easy to cut using a standard miter box and saw.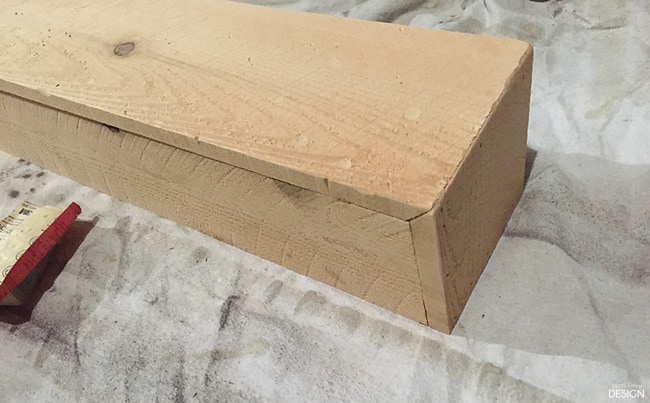 Here are the steps:
1. Decide on the finished size of your mantle and cut your front the full width of your mantle with a 45 degree angle on both sides so that the angles come inwards. To do this, I always cut one side first at the angle and then cut the other at the length I need with the angle.
2. Cut two side pieces using a 45 degree angle, matching the front.
3. Cut your top and bottom boards so that they fit inside the front and sides. To do so, subtract the depth of your fence boards and then multiply by 2. In my case they were 5/8 inch each, so my final size was subtracted by about 1- 1/4 inch. The top and bottom should be completely hidden from the front.
4. Dry fit all your pieces.
5. Wood glue and nail the top to the front, then add the sides.
6. Glue and nail the bottom.
7. If using outdoors, I would recommend cutting a drainage slits in both the top and the bottom. This helps avoid standing water on the top and will allow water to drain through the bottom as well. I used a drill and then a jig saw to cut drip lines. They are pretty small, so no one can see them.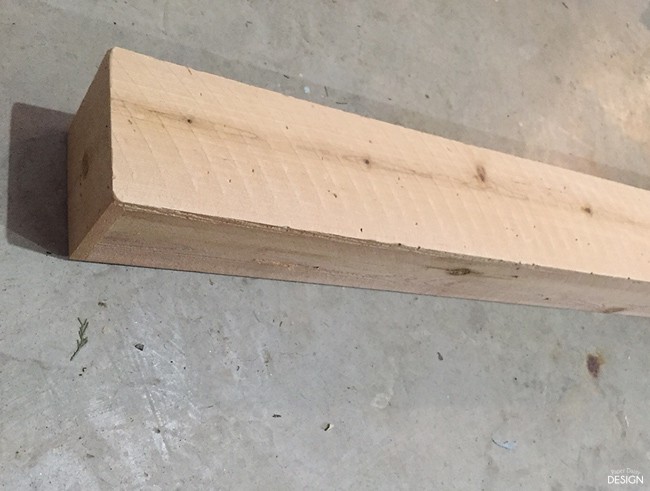 8. Distress the wood if desired. I wanted my mantel to resemble a old rough cut barn beam. I used the end of a crow bar, a hammer, especially along the edges, and the side of a wrench to pretty much beat it up.
9. Stain as desired. I used Minwax Wood Finishing cloths. These did really well given the fact that the cedar is soft and tends to suck up stain.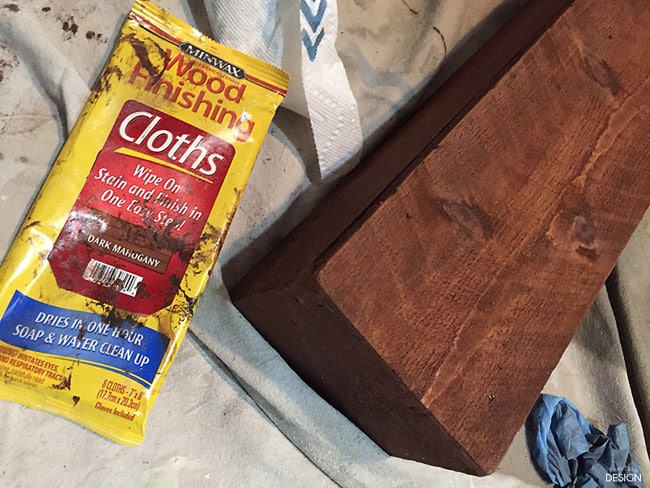 I don't have a photo, but after that dried a little while, I used Varathane Wood Stain in Weathered Grey. I dabbed on little stripes of stain and then worked it along the wood with a cloth soaked in mineral spirits. I just wanted enough grey to make the wood look old and aged.
10. Once dry, finish as desired. I did a quick coat of Wipe on Polyurethane in a satin finish. If your mantle is exposed to a great deal of sun and rain, I'd suggest using a finish that is more weather resistant.
11. Hang cleat in desired location. We used galvanized screws to attach it to the Hardie Plank.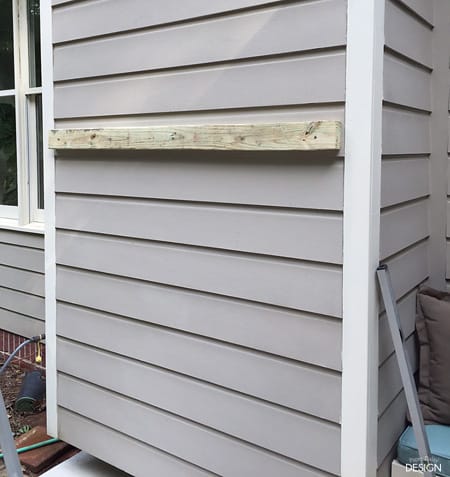 13. From the top side of the mantel, attach screws into the cleat.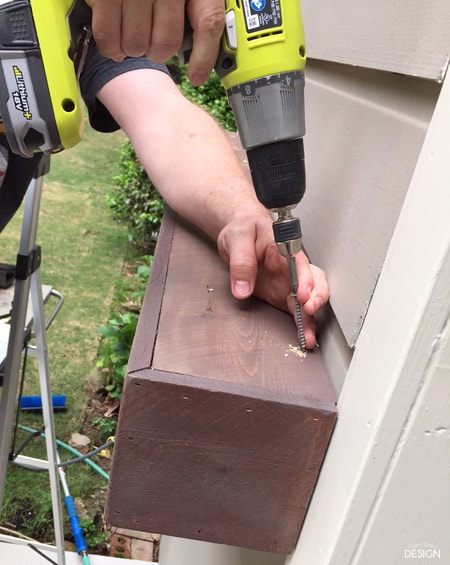 Now you're ready to accessorize!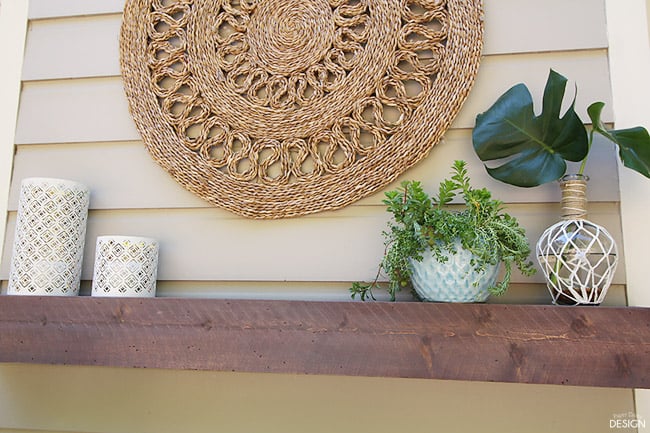 I thought this one came out so well, I created another for a very special house warming project. Here's a sneak peek.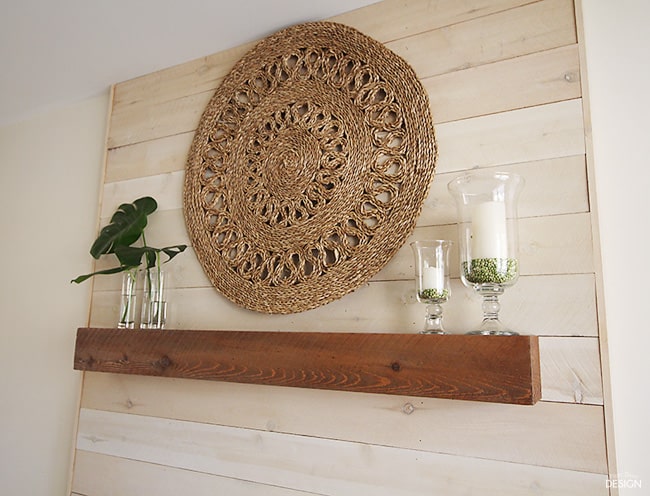 I also can't wait to show you what will be going in under this mantel…later this summer. Did I peek your interest? You'll have to follow along to find out!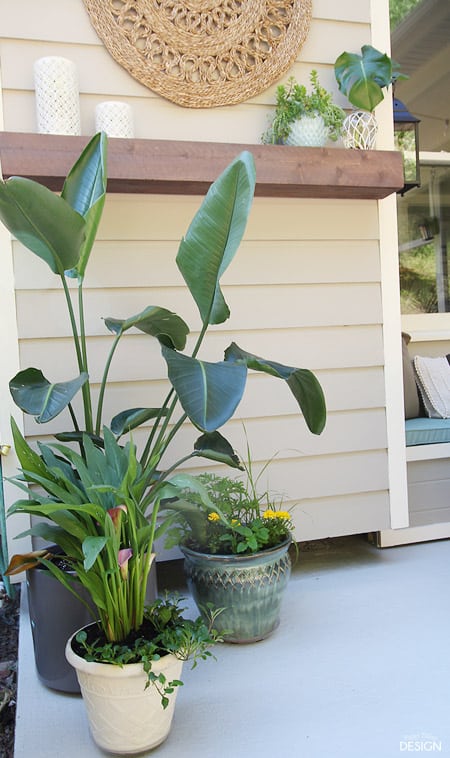 Be sure to tour the rest of this outdoor makeover from my One Room Challenge entry here.