We had such a beautiful White Christmas here in Missouri. It snowed, off and on, all day on Christmas Eve. All total I think we got about 5 inches or so. It was so picture perfect.
Emily went sledding with her friend in the afternoon and then we, my Dad and I, helped her build snow people.
I never really intended to take such an extended holiday from the ole blog this Christmas. Time just slipped away and then I just wanted to enjoy the time with family and friends.
Leading up to Christmas was very busy, as I'm sure most of us can say. But each year I make several gifts for family members and each year I fail to remember how much time it takes to create these gifts.
The grandparents each receive a customized calendars with photos featuring our kids, niece and nephews from Shuterfly. My mother reminds me each year how much she loves her calendar, so every year I try to top the year before. (No pressure there, Mom, lol) They have pretty much become mini digital scrapbook pages.
Here's a peek at a few of the pages. (I do two different sizes and 3 personalized versions.)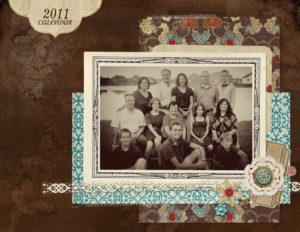 This is the cover for the wall calendar I have made at Shutterfly. I had a great deal of fun with this one. I shadowed/overlayed the butterflies images in the background and picked colors that would coordinate with my MIL's decor (who adores butterflies).
I try and collect free digital elements all year long, but I did decide to purchase a few kits from 2peas since the calendar date templates I used to use were no longer available and I had to make my own. This is one of my favorite pages using "That was yesterday kit" from Michelle Underwood.
Below is the desk calendar version of the same month, June, I made for my Mom, Dad and Richard. As you can see, the proportions are very different, so it takes a good bit of maneuvering to try and use the same layout. (And many of the photos have to be swapped out for the proper relatives.)
One thing I did differently this year, is try and repeat a few small elements on each page, like the ruled paper, staples and stitching. Kind just as a little challenge for me, but I was hoping it also made the pages a little more coherent.
For the December page, I used some of the same elements I used in our Christmas card this year.
I was really happy with the results and I think they were too! Digital scrapbooking is just as rewarding, but I'm totally convinced it isn't necessarily faster. Of course, Shutterfly has many pre-made background styles as well where you just drop your photos into templates.
My Dad and Felicia, my step-mom, arrived the Wednesday before Christmas and spent the holiday with us. We loved having them here for a good relaxing visit.
We did take a little trip to Kansas City with them to shop and eat at the Country Club Plaza. We love that area of KC and it's so beautifully festive with holiday lights during the Christmas season. We had dinner at our favorite place, Buca di Beppo and had made reservations to sit at the kitchen table. It's fun to watch the action in the kitchen, see all the delectable dishes on the way out and greet people as they walk through the kitchen.
On Christmas Eve we baked and decorated sugar cookies. (My Dad took photos of the cookie action, but I can't get my Raw program to work right now.)
And then the children obliged me with the annual photo in front of the tree. I love how they didn't even really balk, they know it's just something we do.
Tucker had either a tail or head in the way for half of the photos, so we got him to sit too. He obviously didn't want to be left out.
Soon afterward, they headed off to bed and I got busy wrapping the last of the gifts. (I'm sure I'm not the only mom who ends up wrapping into the wee hours on Christmas Eve, am I?) I was thankful that Emily had helped me wrap a good number of presents earlier in the week and got to bed earlier than previous years.
We began stirring Christmas morning before 8 am. I always love the photo the scene before the kids come down to open presents. So calm and beautiful. Miles and Emily were hanging out in Miles' room before we called them downstairs, it really warmed my heart to find them waiting together.
(Notice the new mantle set up I spoke of a while back and never got around to sharing. If you look back to Halloween you'll notice the clock replaces the massive art I had. A big thanks to my handy neighbor who fixed this old clock we've had sitting in the garage for the last 3.5 years.)
Santa and the grandparents were very good to Miles and Emily. I believe their "wish lists" were fulfilled and they felt very blessed.
As you can see, from the snow board behind Emily, Santa was prepared for a White Christmas! Did that work out perfectly or what?
Wishing you all the Happiest of New Year's. I look forward to getting back on track to eating clean and healthy, de-cluttering my office, and hopefully carving out some time to scrapbook next week!
Thank you for subscribing to Paper Daisy Designs. Please continue reading on the blog. I appreciate having you as a reader.