I don't know about y'all, but I'm still in love with chalkboard designs.  And let's face it, Thanksgiving is one of those holidays that can be hard to decorate beyond bright leaves, pumpkins and pine cones.
The retailers have us moving so swiftly from Halloween to Christmas these days, I've often experienced all manner of Thanksgiving decor disappearing before I could even think turkey.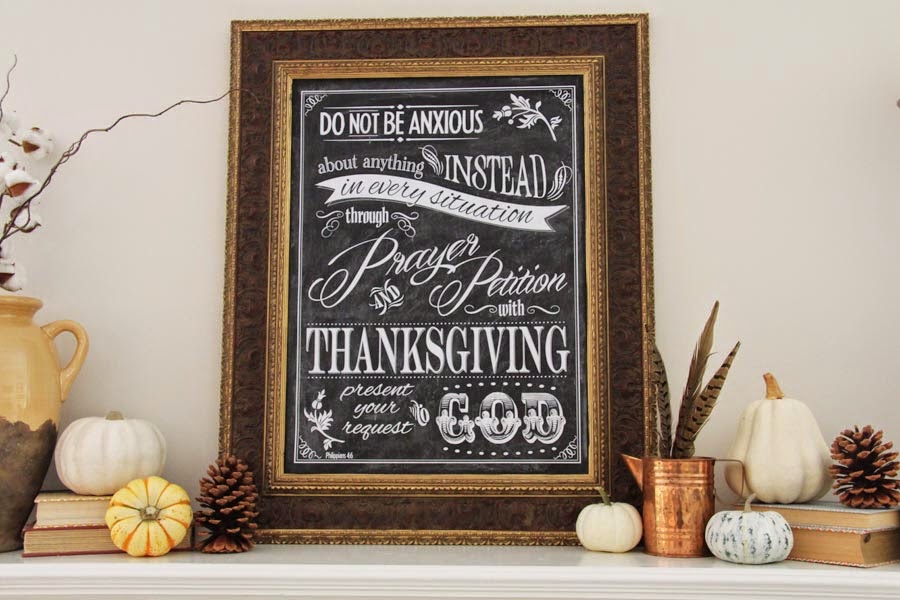 But more than anything, I want our family to be especially thankful for our blessings and remember how faithful our God is. We don't have to have a life filled with worry. God hears our prayers in every situation, in every season. I think Philippians 4:6 is the perfect memory verse and if I could have had a billboard sized mantle art, I would have added verse 7 too.
6 Do not be anxious about anything, but in every situation, by prayer and petition, with thanksgiving, present your requests to God. 7 And the peace of God, which transcends all understanding, will guard your hearts and your minds in Christ Jesus.
The print on my mantle is 18×24 and cost me less than $2. It's an engineer print from Staples. Gotta love that right? I simply uploaded my file to Staples.com and picked up my engineer print in a couple hours.
The one thing I learned from creating a large scale printable last year, is that an engineer print isn't designed to handle grey scale art. So in order for the printable look most like a chalkboard, the background has to be printed in solid black.
After cutting off the white border, I simply added my own authentic chalkboard look with real chalk! I shaded in the banner shadow.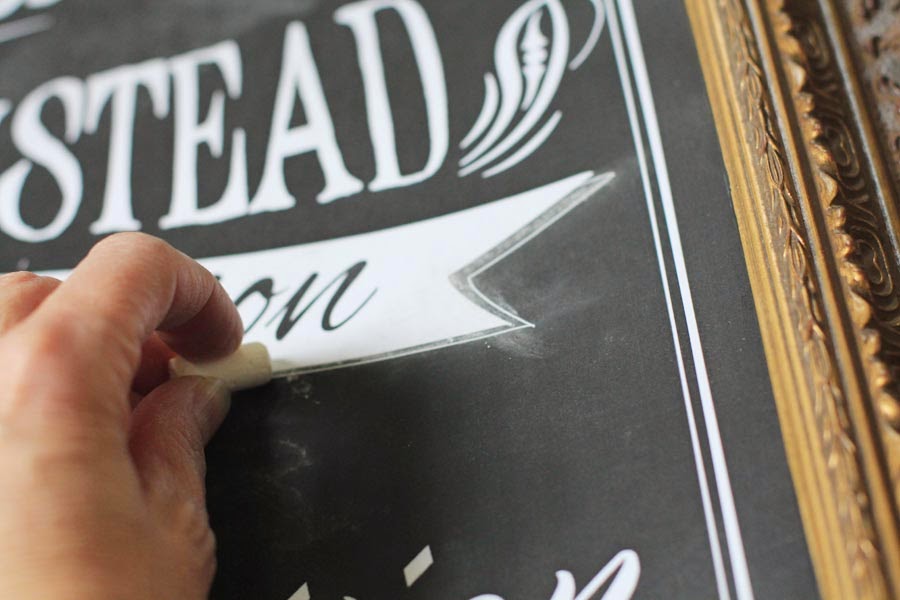 And rubbed the side of a piece of chalk all over the black paper.  I then took a paper towel to soften the smears. I added a bit of extra chalk around the edges where a chalkboard tends to be most chalky.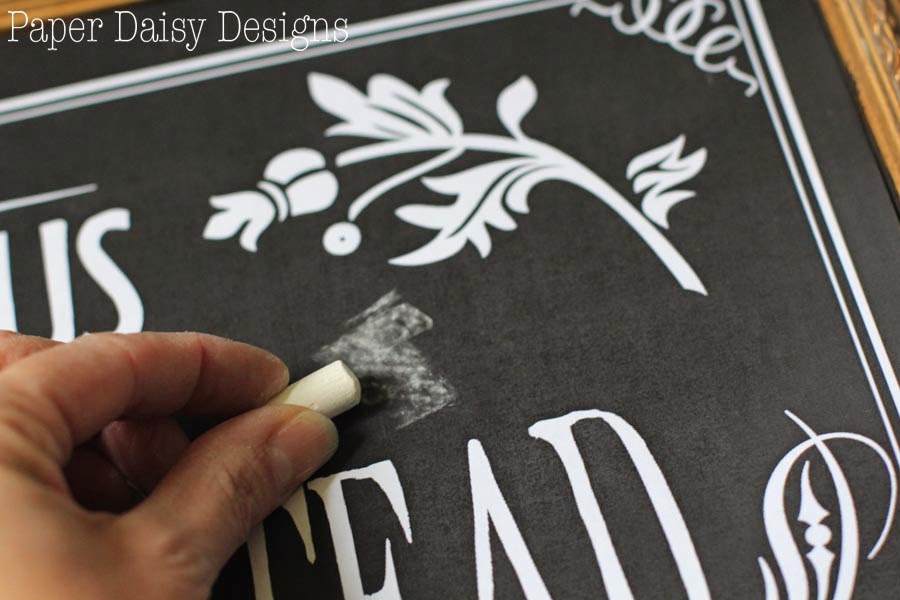 My chalkboard print goes on top of an existing chalkboard, made from a piece of foam core painted with chalkboard paint and then stuck into a frame.  I just apply a few squares of two sided adhesive to the foam core and smooth on the engineer print.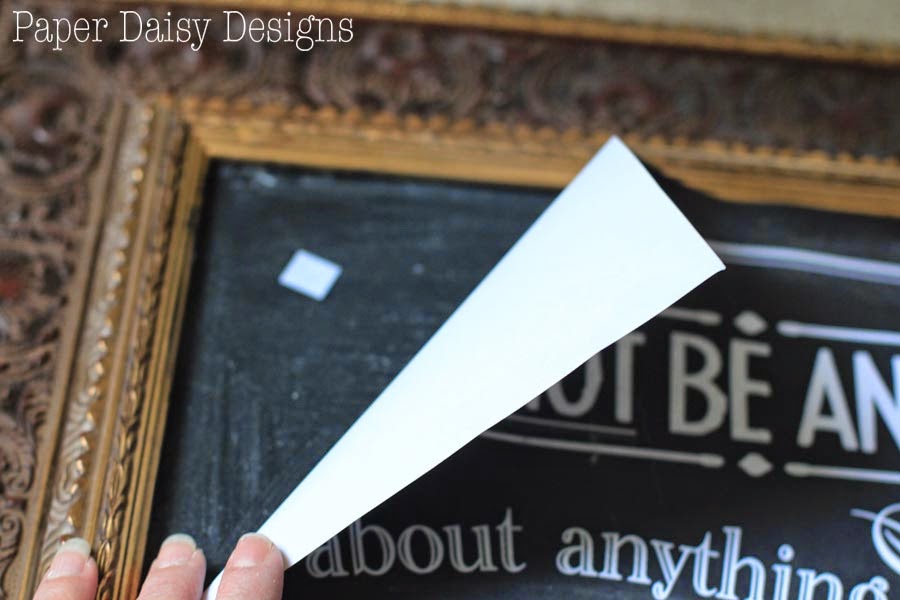 I can still write on the board later or change out the design for last year's Christmas chalkboard.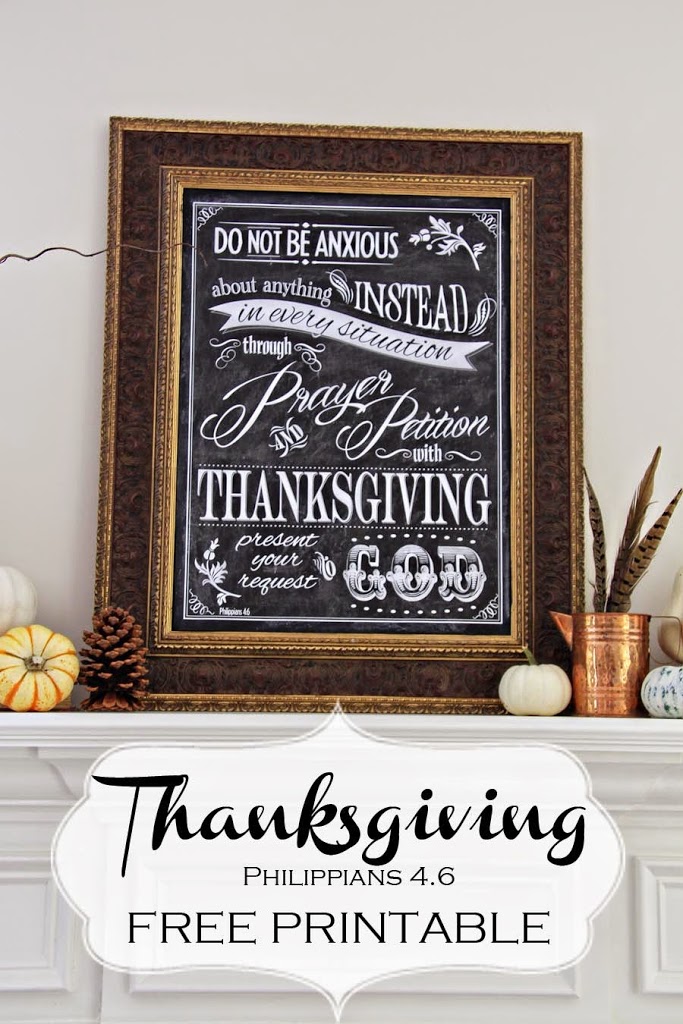 I created several sizes for you as a THANK YOU for reading, following and commenting on my blog. Please feel free to enjoy for your own personal use.
But, I would love for you to do me a favor and choose your favorite media to follow my blog. I've put the Pinterest linky below. Or you can use the little squares just under the end of the post on the left.
I post almost daily on Instagram. I'd love for you to follow me there too!
Thanksgiving Printable Philippians 4.6

For an 18×24 click here for the download.

For a 16×20 click here for the download. For this file you will still order an 18×24 and then cut it down to size.

For an 8×10 click here for download. This one can be printed on a standard printer and will already have a nice chalky background.   Thank you and have a blessed Thanksgiving! I invite you into my home for the full Fall Home Tour 2014.